In 1998, the Mayor of Chicago, Richard M. Daley announced a vision to redevelop the rail tracks and dilapidated surface car park that consumed the northern corner of Grant Park in Chicago, into a public space. Opening to the public in 2004, Millennium Park created a bold landscape, featuring what is often described as the world's largest green roof above two parking lots and a commuter railway line.
In 1852, the parcel of parkland in question had been given to the Illinois Central Railroad in exchange for the construction of a breakwater on Lake Michigan. This resulted in the construction of expansive tracks between Chicago's lakefront and downtown. Considering this an "eyesore", Mayor Daley sought its transformation, regaining the property for the City. A not-for-profit, Millennium Park, Inc, was established to fundraise for the park's planning and construction. The park's development was not without controversy, with the initial plan for a 16 acre landscaped space to be above a parking garage that would help to finance $120 million that would be coupled with $30 million in private donations, to ensure no costs to taxpayers. Instead, a 24.5-acre parkland was developed for $490 million (with $95 million estimated to be tax money) and opened to the public four years after the millennium. Despite the additional time and cost, the park has become one of the top attractions in Chicago and has been a catalyst for the surrounding area, boosting real estate values and tourism revenue by billions of dollars.
The park comprises a series of spaces, including performance venues, art and sculpture, architecture and landscapes, which offer different experiences. The park supports the cultural life of the city with countless free events and monumental public art installations that create a focal point and foster interaction. Cloud Gate by Anish Kapoor is a magnet for visitors, with the enormous polished stainless steel sculpture uniquely reflecting the skyline and surrounding people. The two fifty-foot tall towers of Crown Fountain by Jaume Plensa is rather surreal, incorporating the faces of Chicagoans on a LED screen, who every so often, spit water from their mouths. Lurie Garden is a peaceful 5-acre space with more than one hundred perennial plants, enclosed by a high hedge. There is also an ice rink, a cycle center, and Millennium Station below. The Jay Pritzker Pavilion by world-renowned architect Frank Gehry provides a striking setting for music festivals and performances. The BP Bridge, is a winding pedestrian bridge which crosses Columbus Drive to connect with Grant Park, also by Frank Gehry, and designed to mitigate the impact of traffic noise on the park.
The park is a unique gathering space for residents and one of the biggest tourist attractions in Chicago. The transformation of the site for public parkland reflects Chicago's efforts to revitalize dilapidated urban spaces.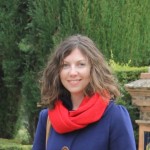 Sarah is an urban planner and artist from Melbourne Australia, currently living in Seattle. She has contributed to diverse long-term projects addressing housing, transportation, community facilities, heritage and public spaces with extensive consultation with communities and other stakeholders. Her articles for The Urbanist focus on her passion for the design of sustainable, inviting and inclusive places, drawing on her research and experiences around the world.