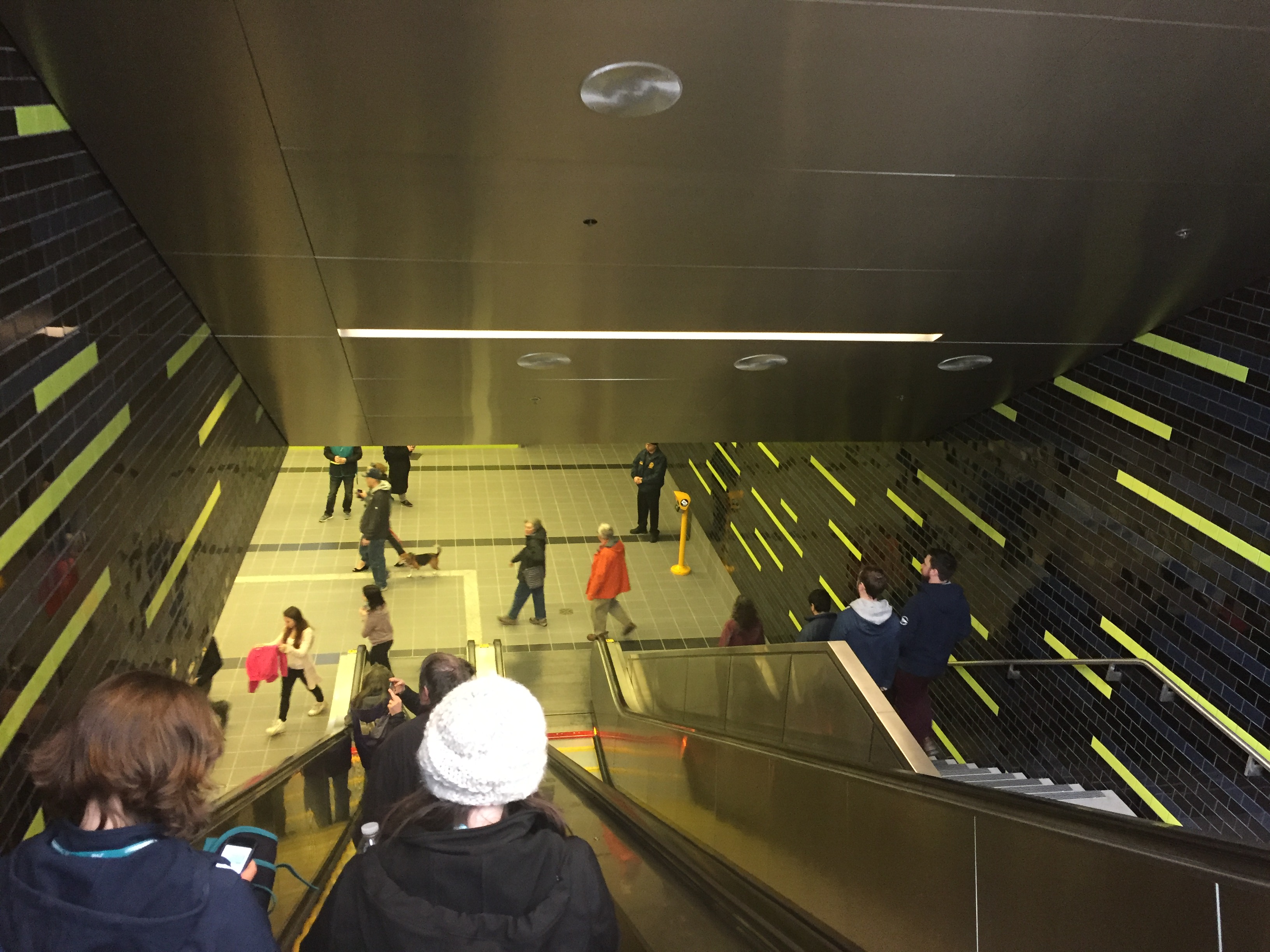 Underwhelming: Sound Transit released its Draft Plan for Sound Transit 3 this week; livetweets for the play-by-play.
Suburbanation: The rate growth in suburban areas once again overtakes dense urban areas.
Other light rail news: With the opening of the University Link extension, ridership on Central Link soars to new heights. Starting next week, Sound Transit will add more capacity ($) on the line to alleviate the crowding (bring on the crowding!). The Judkins Park Station will break ground in mid-2017. And Pamela, one of tunnel boring machines, digging the Northgate Link extension broke through at University District Station on Thursday.
Lawyered up: The Washington State Convention Center has been slapped with a $24 million lawsuit over dropping contractors for their expansion project.
Still relevant: Why Reston, Virginia, inspires planners 50 years on.
Service changes: Metro's service changes, including the University Link restructure, begin today (Saturday, March 26th). Service changes come to Community Transit and Pierce Transit beginning tomorrow (Sunday, March 27th).
Traffic-free Westlake: Former Mayor Michael McGinn says that Westlake Avenue between Denny Way and Stewart Street should be closed to general traffic.
Plan for all communities: Why race matters in planning public parks.
Seatac hotel: A 5-story, 166-room hotel is planned right by the soon-to-open Angle Lake Station in Seatac.
Good and bad: Despite Seattle's ongoing development boom, rental prices on apartments continue to surge upward.
Grab the coloring pencils: Here's a coloring book for all who love architecture.
#StreetFight: Missed out on Janette Sadik-Khan's visit to Town Hall this week with Mayor Ed Murray? We've got tweets so you can relive it!
Agreement: The Tacoma Amtrak station is getting built after all.
Local parking crater: Federal Way has the honors of knocking out Montréal in Streetsblog's annual Parking Madness competition, which they affectionately describe as "an annual hunt for North America's worst parking craters."
Tough confirmation: In a split vote Monday, the Seattle City Council confirmed Larry Weis as the head of Seattle City Light.
New neighbors: 247 new apartment units with retail are planned in the Little Saigon neighborhood of Seattle.
Under investigation: Scott Kubly, the director of the Seattle Department of Transportation, has been hit with an ethics complaint and investigation.

Stephen is a professional urban planner in Puget Sound with a passion for sustainable, livable, and diverse cities. He is especially interested in how policies, regulations, and programs can promote positive outcomes for communities. With stints in great cities like Bellingham and Cork, Stephen currently lives in Seattle. He primarily covers land use and transportation issues and has been with The Urbanist since 2014.