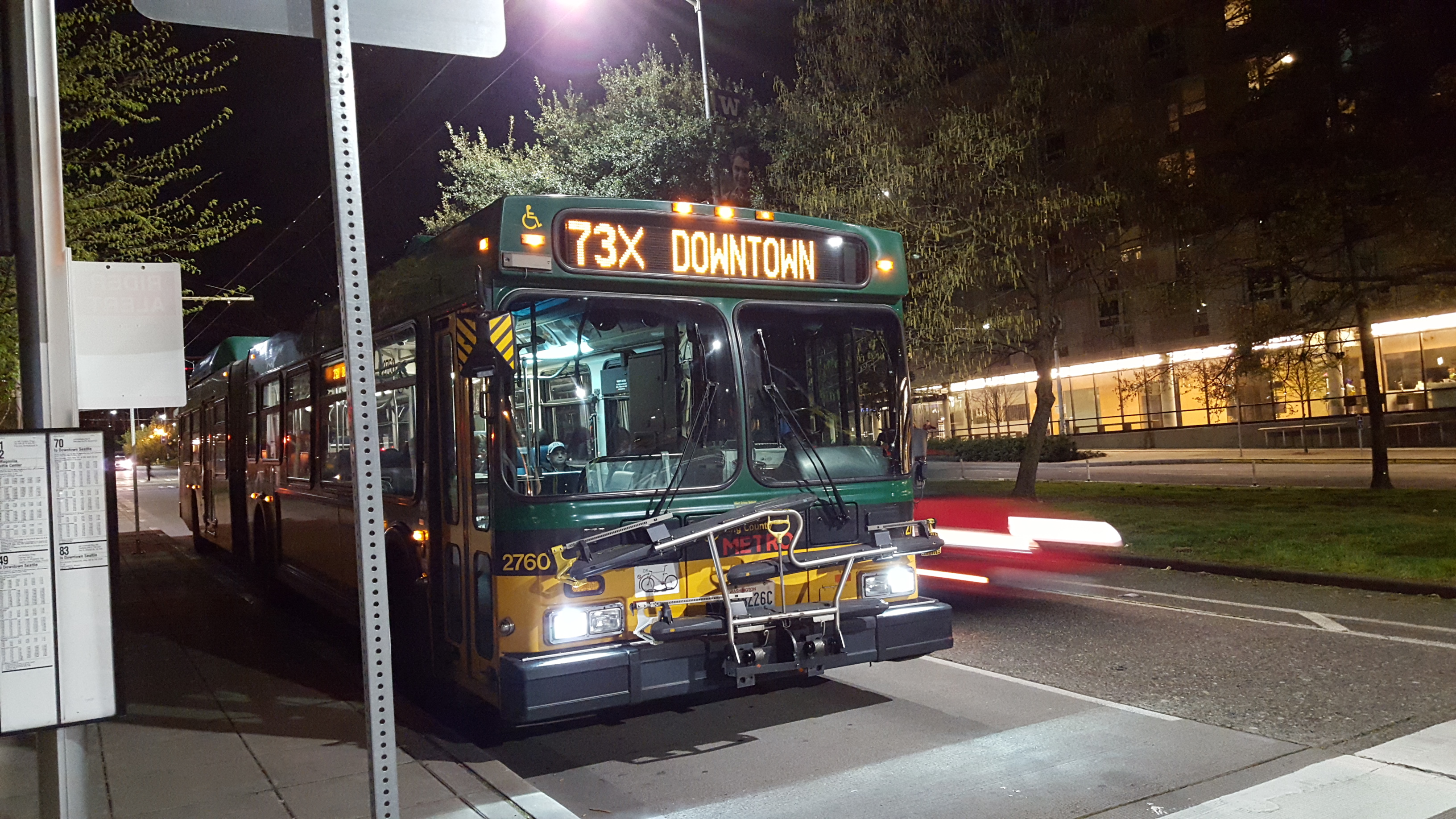 On Saturday, one week after two new light rail stations opened in Seattle, King County Metro implemented its major service change intended to more efficiently connect people with the stations. The changes consist of new, revised, and deleted routes mostly north of the Ship Canal but there were also a few changes that effect riders in the Capitol Hill and Central District areas. With this post I'll give a quick rundown of the changes and offer an ode to the 71/72/73, which have ended their reign as the workhorse routes between northeast Seattle and Downtown.
Metro, Sound Transit, and the Seattle Department of Transportation (SDOT) began planning the bus route changes over a year ago. The goal is to reduce or remove bus service that duplicates light rail service, and to take advantage of light rail's much higher on-time reliability and passenger capacity. With Metro taking the lead, the agencies began a public outreach campaign and formed a Sounding Board of 25 Seattle residents who made specific route suggestions and provided feedback on different alternatives. I was on the Board and made series of posts on the process.
King County Metro has a webpage detailing all of the bus route changes by area and by specific route. Here is a summary:
New routes: 38, 45, 62, 63, 78

Route 38 is the southern half of the route 8, which has been split in an attempt to improve the 8's crosstown reliability. It has the same service span and frequency as the 8, and the two routes will connect at Mount Baker Transit Center.
Route 45 is the northern half of the old 48. The 45 has more steady 15 minute frequency at night and operate a longer span of service on weekdays, 5am to 1am. The two routes overlap between University of Washington Station and NE 45th Street. The route 45 also runs on University Way rather than 15th Avenue NE; I have continuously critiqued this decision because University Way closes on Saturdays for the U-District Farmer's Market and 15th Avenue has much higher traffic capacity and larger bus stops.
Route 62 is ostensibly a renumbered route 16, but its service area is so different it is considered a new route. It's a crosstown milk run for northeast Seattle, no longer serving Northgate but connecting from Green Lake to Sandpoint. In the south it follows the 16's routing through Wallingford, but now uses the Fremont Bridge and Dexter Avenue to reach Downtown rather than the freeway-like Aurora Avenue. Compared to the route 16, it has much improved frequency, running at least every 15 minutes throughout the day and as much as every 7 minutes during rush hour. It'll provide many new transfer opportunities with north-south routes.
Route 63 is also a renumbered route 66X, but it is now a peak-only route with seven morning trips and eight evening trips. Like the 41, it takes Interstate 5 from Northgate Transit Center, but it'll use Mercer Street to provide service to the booming South Lake Union employment hub and the First Hill hospitals via Boren Avenue.
Route 78 replaces service between the U-District and Laurelhurst that is lost with the route 25's deletion. It is a short route, running between Seattle Children's Hospital and the southern half of the UW campus. Westbound it uses Stevens Way on the UW campus, and eastbound it uses Pacific Street and Montlake Boulevard. With Laurelhurst being such a low-density and high-income neighborhood, it only runs every 30-40 minutes 6am to 6pm on weekdays.
Revised routes: 8, 10, 12, 26, 28, 31, 32, 43, 48, 49, 64X, 65, 67, 70, 71, 73, 74X, 75, 76, 238, 316, 372X, 373X

Route 8 is split and operates between Lower Queen Anne and Mount Baker Transit Center. It now has a slightly higher midday frequency, 20 minute nighttime frequency, and will operate one hour later, until 1am, on weekends.
Route 10 service remains the same but now travels between the Pike/Pine corridor and 15th Avenue E via Olive Way rather than Pine Street. This was done to replace lost service with the route 43 reduction.
Route 12 operates slightly more often at night and operates an hour later, until midnight, every day of the week.
Route 26 is now the 26X, an all-day route operating 5am to 1am every 30 minutes, with 10-minute service during peak hours. It retains its routing from Northgate to Fremont, but now uses Aurora Avenue for getting to and from Downtown.
Similarly, route 28 is now 28X, an all-day route operating from Crown Hill to Downtown 5am to midnight every 30 minutes. During peak periods it operates every 10 minutes and also extend to Bitter Lake and Carkeek Park to the north. It shifted to the southern edge of Fremont and uses Aurora Avenue to and from Downtown.
Routes 31 and 32 have moved to Wallingford Avenue N from Stone Way N to replace the rerouted 26.
Route 43 is cut to peak-only service every 30 minutes. Some of its Capitol Hill service area is replaced by the rerouted 10.
Route 48 is split and operates between UW and Mount Baker Transit Center. It also has higher frequencies on weekdays, running at least every ten minutes during the day, and runs twice as often at up to every 15 minutes during weekends.
Route 49 now runs every 12 to 15 minutes on weekdays and Saturdays.
Route 64X is revised to a similar routing as the new 63 to connect South Lake Union and First Hill with northeast Seattle via Interstate 5. Its northern terminus is the Jackson Park neighborhood.
Routes 65 and 67 are through-routed with each other through the UW campus. The 65, connecting UW to Jackson Park primarily via 35th Avenue NE, operates more frequently on weekdays and Saturdays. The 67, connecting UW to Northgate via Roosevelt Way NE, now serves the Maple Leaf neighborhood more directly. The 67 also operates 5am to 1am on weekdays, has a doubling in frequency, and now runs on Sundays. Westbound the routes use Stevens Way and eastbound they use Pacific Street.
Route 70 has increased frequency during peak hours.
Route 71 now terminates at UW Station and no longer operates on Sundays.
Route 73 now terminates at UW Station, no longer operates on Sundays, and is reduced to operating 7am to 10pm on weekdays and Saturdays.
Route 74X, a peak-only route, has added trips in the morning and evening and be rerouted to the Roosevelt couplet in the U-District.
Route 75 runs more often on weekdays and Saturdays.
Route 76, a peak-only route, has added trips in the morning and evening.
Route 238 on the Eastside is extended from UW Bothell to Woodinville.
Route 316, a peak-only route from Shoreline to Downtown, has added trips in the morning and evening.
Route 372X is a direct UW Seattle-UW Bothell route, has doubled frequency throughout the day, operates longer on weekdays 5am to midnight, and now operates on weekends.
Route 373X, a peak-only route from Shoreline, terminates at UW Station and has added trips in the morning and afternoon.
Deleted routes: 25, 30, 68, 72, 242
The deleted routes either had low ridership or duplicated the other new and revised routes and new light rail service.
The success of the network restructure will greatly depend on the promised ease of transferring. With consolidation, some riders have to lose one-seat rides to their destinations but that will be ideally balanced by short waits for a second bus. These two factors — frequency and geographical coverage — are what transit planners balance on a daily basis. This flip towards higher frequency is perhaps the largest service change Metro has implemented in years.
Again, for much more detailed information head over to Metro's website. Seattle Transit Blog has also covered the changes extensively and made a brief post about them last Friday, and in all likelihood they will report on how the new network is working over coming months.
This is part 1 of a two-part series. Part 2 will be posted tomorrow.
This article is a cross-post from The Northwest Urbanist.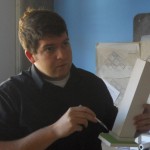 Scott Bonjukian is a car-free urban designer with a passion for sustainable and efficient cities. With degrees in architecture and urban planning, his many interests include neighborhood design, public space and street design, transit systems, pedestrian and bicycle planning, local politics, and natural resource protection. He primarily cross-posts from his blog at The Northwest Urbanist and advocates for a variety of progressive land use and transportation solutions.