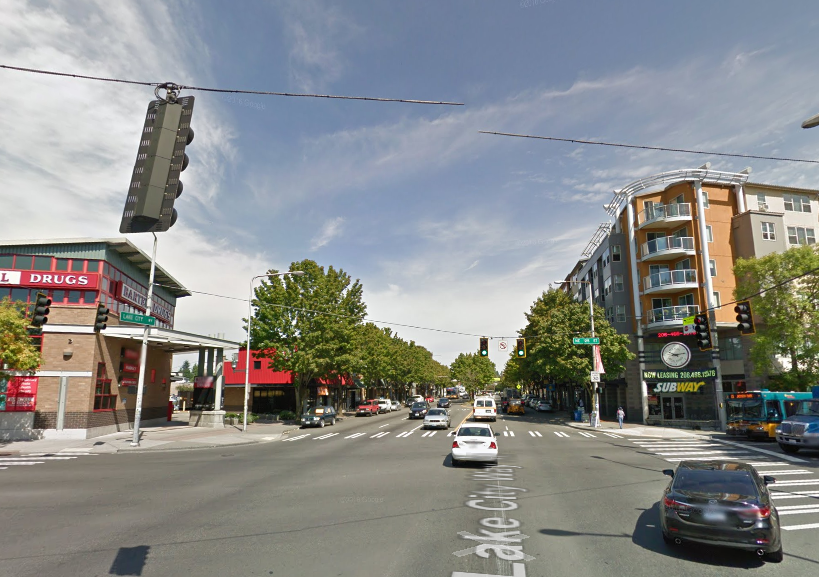 The Lake City neighborhood has been actively working through a three-year envisioning process to create a more walkable and retail-oriented district. The land use control framework has three key aspects it, including:
Area-wide rezones of in the "civic core" and along Lake City Way;
Expanded use of the Pedestrian designation in the urban village; and
New neighborhood-specific development standards to regulate the design of large-scale developments.
Proposed Rezones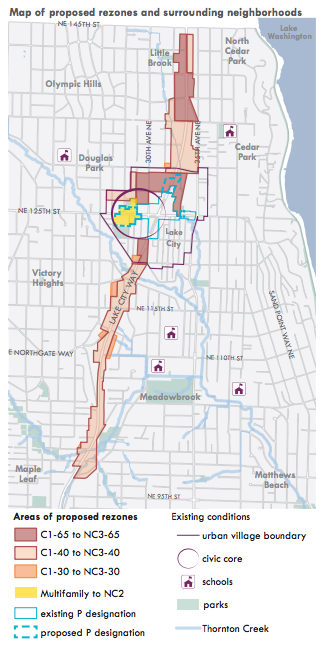 Scores of properties are proposed to be rezoned in the Lake City area, but it's important to note that the rezones would be density neutral rezones. That means rezones wouldn't increase development capacity through additional height, but they would change the type of allowed uses and applicable development standards. Most of the properties proposed for rezoning stretch along the Lake City Way corridor from roughly NE 145th St to NE 96th St; and a batch of properties centered around the civic core at NE 125th St could receive zoning changes as well.
Commercial 1 (C1) is the predominate zoning typology along the Lake City Way corridor. The maximum building height permitted on properties zoned C1 isn't uniform. Instead, maximum building height ranges from 30 to 65 feet depending upon the location. C1 is a general commercial zone that allows for a broad range of commercial and residential uses. The development standards for the zone are often associated with auto-oriented uses, and that's something the City wants to change. Through community outreach, the City determined that rezoning the properties to a zoning typology that encourages walking and active retail districts would be the most straightforward path for the corridor.
The City essentially plans to swap the base zoning designation on properties zoned Commercial 1 with Neighborhood Commercial 3 (NC3). Properties affected by the rezone would not see a change in maximum building heights, as indicated in the map. C1 and NC3 are similar zoning typologies in the sense of allowed use, but their development standards couldn't be much different. As noted before, C1 is often characterized by auto-oriented development that you might see on Aurora Avenue north N 85th St. NC3 is a very different kind of zone because it is premised on pedestrian-oriented development that you might see an active neighborhood business district. In essence, they differ in form and function: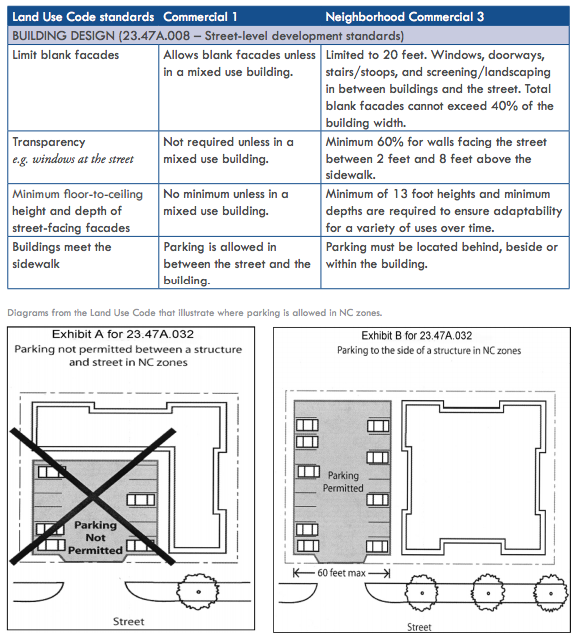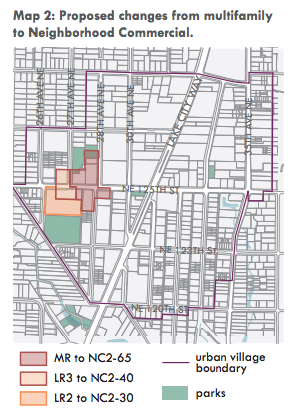 The civic core is an area of special significance to residents in Lake City. Two large parks, a community center, and library anchor the area as a real community draw. During the summer, the civic core also plays hosts the popular community farmers market. Recognizing the importance and vitality of the area, the City has considered ways to reinforce the active nature of the civic core and allow continued use of some long-standing non-conforming uses.
The City has determined that a series of rezones around NE 125th St and 28th Ave NE would be the best approach to further activate the district. Properties in the area are largely characterized by a mix of the multi-family residential zoning types (Lowrise 2, Lowrise 3, and Midrise) with a range of permitted building heights, from 30 to 65 feet. The zones also differ slightly in allowed uses. But like Lake City Way, the City is planning to use a similar rezoning approach here: keep maximum building heights the same as today and rezone the sites to Neighborhood Commercial 2 (NC2).
The NC2 zoning typology is largely the same as NC3, but it is a little more measured in the amount of allowed commercial use to its counterpart. As the map shows, the most intense NC2 zoning will be focused near the intersection of NE 125th St and 28th Ave NE. Following the typical "wedding cake" planning technique, the intensity of allowed uses will be reduced away from the district central focus (the intersection).
Pedestrian Designation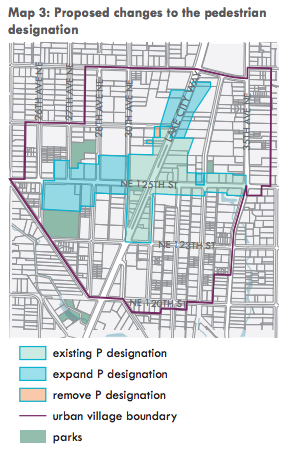 In addition to zoning changes, the proposal would revise the Pedestrian designation within the neighborhood. The existing Pedestrian designations are principally located in the heart of Lake City near the intersection of NE 125th St and Lake City Way. About a seven or eight full blocks have a corresponding designation on them today, but the designation could be expanded three blocks west of 30th Ave NE, two blocks north of the intersection at NE 127th St and Lake City Way, and on a single parcel at 33rd Ave NE. The proposal could also eliminate the designation from two small parcels near NE 127th St.
The Pedestrian designation, as the name might suggest, is focused on creating great pedestrian environments, particularly in urban villages and established shopping districts across the city. It achieves this through a broad set of regulatory requirements for new development, which include things like:
Active street level uses;
Restrictions on the amount and location of parking;
High levels of transparency on the ground floor;
Overhead weather protection;
Minimum floor area ratio (i.e., development density on a site); and
Sidewalk standards.
Adding this designation on more parcels could go a long way toward building a more active and walkable community near the heart of Lake City.
Development Standards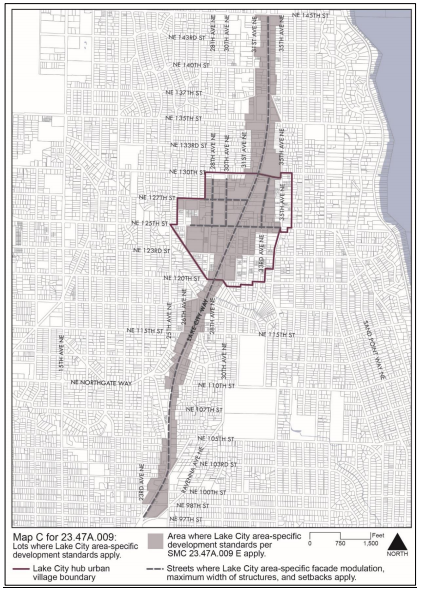 But proposal goes further and seeks to create new neighborhood-specific development standards that would apply to certain properties (specifically, when a lot is 40,000 square feet or larger and shown in grey on Map C). The driving force behind the standards is a community desire to achieve pedestrian-oriented development that is attractive, diverse, and safe. The development standards are built on four basic design elements:
Maximum lot coverage. Generally, new structures would be limited to covering 80% of the site area. This type of regulation typically encourages developments to include other amenities on the "uncovered" portions of the site, perhaps as a courtyard, plaza, mid-blocking passageway, or landscaping.
Facade modulation. For buildings proposed within 10 feet of a designated street on Map C, modulation would be required for the first 45 feet in building height. Modulation of a structure would be required at least once for every 100 feet of building length by stepping back upper floors a minimum depth of 10 feet and width of 15 feet. The idea here is to create visual interest and break up building massing closer to the pedestrian realm.
Maximum structure width. The blocks along Lake City Way tend to be relatively long with large parcels of land. Some developers have taken advantage of these characteristics and built structures with continuous facades that are well over 200 feet and as long as 400 feet. That's a lot of length when you consider that the average block in Seattle is only 250 feet long. So it's no coincidence that the proposed regulations set a maximum structure width of 250 feet on street designated on Map C.
Upper-level setbacks. On streets all streets designated on Map C, upper-level setbacks will be required on any portion of a building above 45 feet in height. Two types of upper-level setbacks may apply to a building. An average setback of 10 feet from the adjacent street would be required above 45 feet and up to 65 feet in height. Portions of a building above 65 feet would have to achieve an average setback depth of 15 feet from the adjacent street.
However, some or all of the above requirements could be waived or modified. But in order for that to occur, a developer would have to propose superior design features through the Design Review process. Two types of alternative design features could be considered for the modification. Either:
Usable open space that interacts directly with the street; or
A through-block pedestrian connection that also acts as separation between structures.
The open space would have to be at least 20 feet in depth from the sidewalk and run along 30% of a building's street-facing facade. The open space also couldn't be more than 4 feet above or below the adjacent sidewalk. The impetus for this is to encourage more publicly-oriented open space in an area that lacks those kinds of neighborhood amenities. In the case of a through-block pedestrian connection, a development would have to provide an east-west passageway that is at least 20 feet in width and directly connects with north-south streets adjacent to a site. The goal here is to encourage more pedestrian permeability through the neighborhood, especially on long blocks that effectively act as serious barriers to walking.
The proposal is headed to committee review by the Council very soon and should be adopted sometime this year.

Stephen is a professional urban planner in Puget Sound with a passion for sustainable, livable, and diverse cities. He is especially interested in how policies, regulations, and programs can promote positive outcomes for communities. With stints in great cities like Bellingham and Cork, Stephen currently lives in Seattle. He primarily covers land use and transportation issues and has been with The Urbanist since 2014.