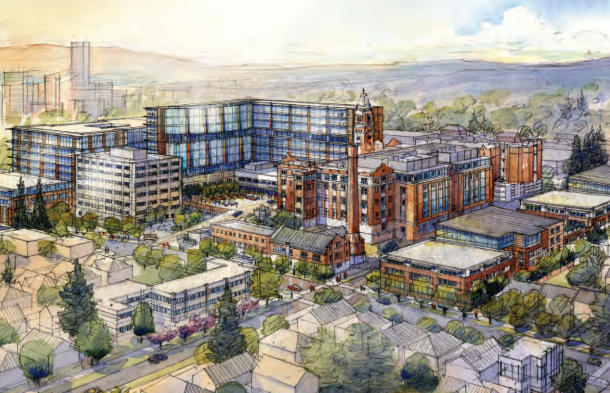 Swedish Medical Center has cleared two major hurdles in its quest to expand its primary campus on Cherry Hill. In unanimous votes yesterday, the Seattle City Council approved an updated campus master plan and rezoned portions of the medical center campus. Swedish started the process to update its master plan in 2011 with a goal of developing an additional 1.5 million square feet in the area for medical-related services. Under terms of the approval, expansion of the campus will be limited to the existing site and come with specific requirements for development standards and public improvements.
Need For Growth And Context
The last master plan for the Swedish Cherry Hill campus was adopted in 1994 and envisioned long-term development of the site. More than two decades on, a lot has changed: medical facilities have aged, population served by the hospital has risen, scope of medical services have broadened, and options for development within the campus have tightened. Swedish estimates that its Cherry Hill campus will need to add at least 1.9 million square feet of new medical space over the next 30 years just to keep up with increasing demand. That comes out to a growth rate of about 3% per year. But expansion of the current site is very challenging since most of the site is developed. Functional buildings would have to first be taken out of service and demolished before new ones could replace the square footage lost and net new space to the campus.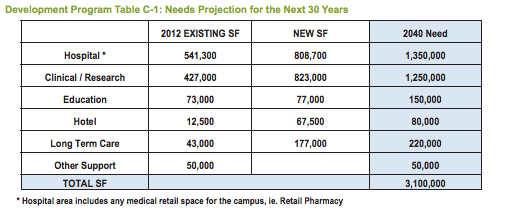 The Swedish campus master plan covers a large, eight-block area in Cherry Hill bounded by Jefferson, 15th Ave, Cherry, and the half-block east of 18th Ave. Single-family residential areas essentially surround the campus on three sides with streets largely acting as the primary buffer between them, although a small portion of the campus abuts facilities owned by Seattle University. In a unique arrangement, 60% of the land is owned by Swedish and another 40% is owned by Sabey, a development and property management company. Sabey primarily leases property back to Swedish, but also has agreements with other organizations that provide complimentary health care services.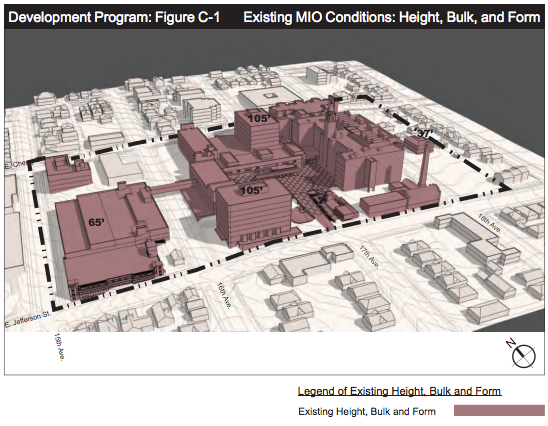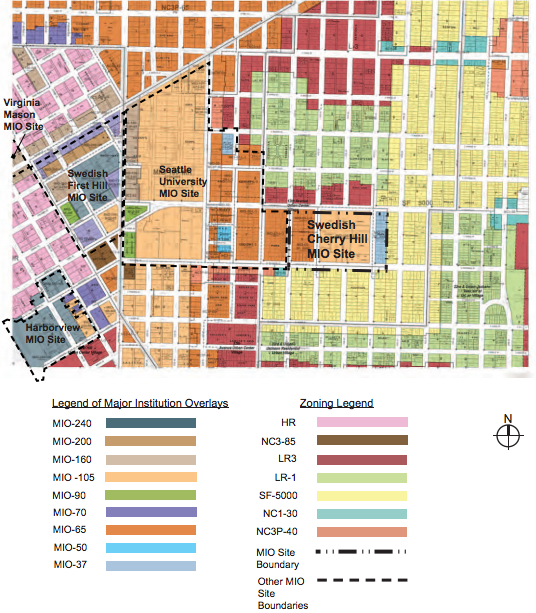 Expansion Proposal
Swedish evaluated a variety of different expansion proposals, but settled on one that would focus redevelopment within the existing campus footprint, albeit with increased lot coverage (previously 52%, but now up to a maximum of 76.5%). Most of the bulk regulations in place today would remain in effect at the edges of the campus whereas maximum height limits would rise toward the center and western portions. Specifically, the Council agreed to rezone three blocks of the development with varying height limits (up to 160 feet in some areas, see below).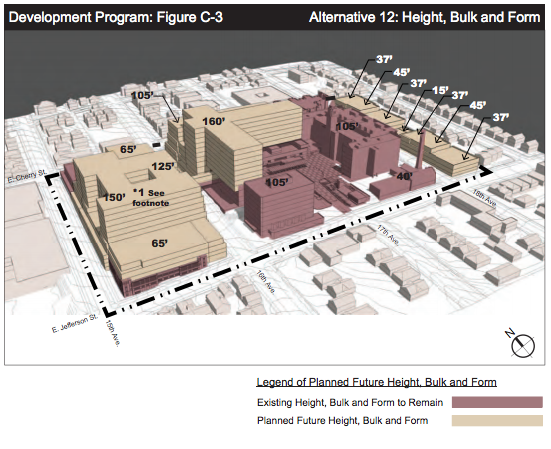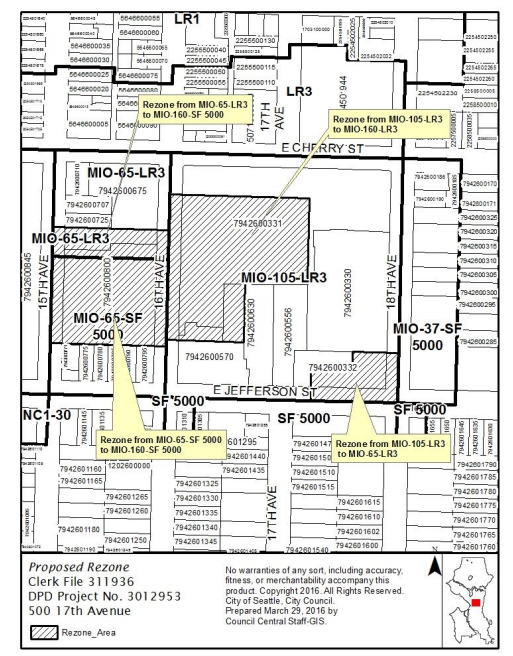 Making sense of the zoning may seem complicated. But essentially, the Major Institutional Overlay (MIO) sets the allowable heights for development while retaining the base zoning (e.g., LR3 or SF 5000). Departures from the base zoning bulk requirements have to be justified by the master plan. In the course of developing a final alternative for the plan, Swedish specified the proposed setbacks along each block face: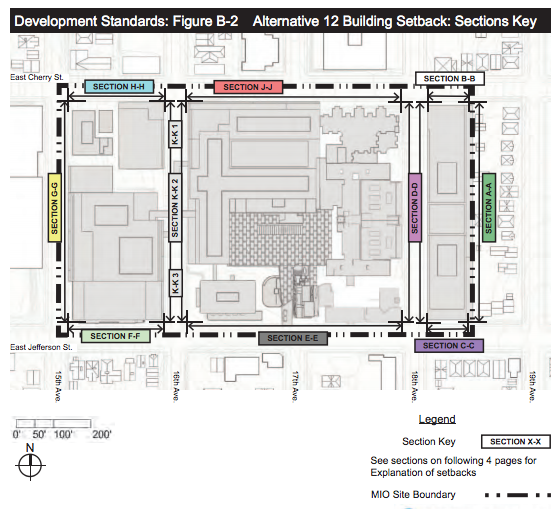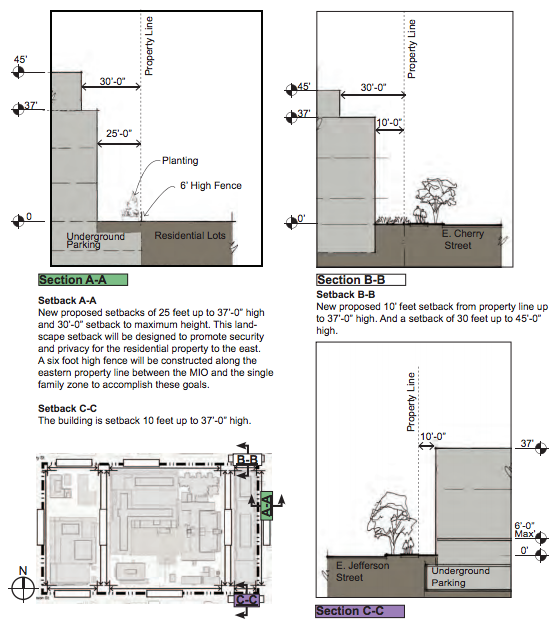 The Council generally agreed with the proposed setback requirements, but modified a few sections to allow further separation from adjacent properties.
Landscaping, open space, and public facilities form a central part of the campus plan. Swedish will implement a comprehensive landscape program to soften the edges of the campus with generous landscape buffers and native plants. Landscaping and open space generally go hand-in-hand, which is why most of the open space will be found along the perimeter of the campus. Swedish will develop the spaces for a variety of users, including the public, patients, and staff. Four pocket parks are planned along the Cherry frontage, with the largest of these slated for the entrance near 17th Ave. Swedish also plans to enhance a large community space, called the "Zen Garden", located toward the center of the campus. Walking and biking will get a boost, too, in the campus expansion. Swedish will build wider sidewalks, create an internal network of pedestrian pathways, and establish a new "Health Walk" around the perimeter of the campus to promote activity. To promote biking, Swedish will help contribute to the construction of a new greenway along 18th Ave.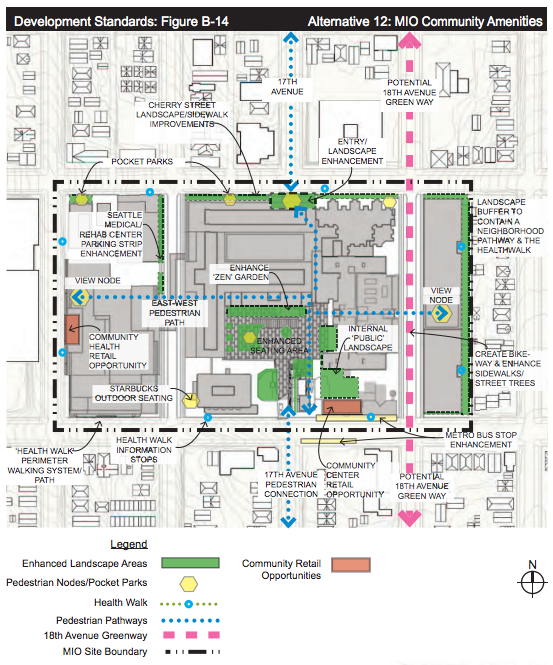 Specific Conditions To The Proposal
The master plan approval comes with some steep requirements for Swedish to attain in the realm of transportation.
Before any new building or demolition permits for expansion can be issued, Swedish will have have to demonstrate that it has achieved an employee drive alone rate of 50% or less at the campus. The requirement is applicable to all half-time and full-time employees who arrive to work between 6 a.m. and 9 a.m. Over the life of the master plan, Swedish will have to strive for even lower drive alone rates. The conditioned approval stipulates that Swedish will have to demonstrate a two percentage drop in drive alone rates every two years for the first 18 years of the plan, meaning a maximum drive alone rate of 32% for employees.
Transit stops along Jefferson will need to be apart of street improvements. Between 15th Ave and 17th, eastbound and westbound stops will require the installation of real time information signs, construction and expansion of shelters and seating, new pedestrian-oriented lighting, and an inbound passenger boarding area that can accommodate space for two buses in the bus zone.
Swedish will be required to provide a mix of bicycling improvements. For instance, Swedish will have to pay for and install Pronto bikeshare stations within the campus and provided discounted memberships to staff. And campus expansion will be required to meet specific bicycle parking standards like long-term parking for staff in secure access locations, shower and locker facilities, and ramps and lighting to provide safe and easy access to bike parking facilities.
Swedish will be required to provide a full suite of transportation improvements near its campus, including the following: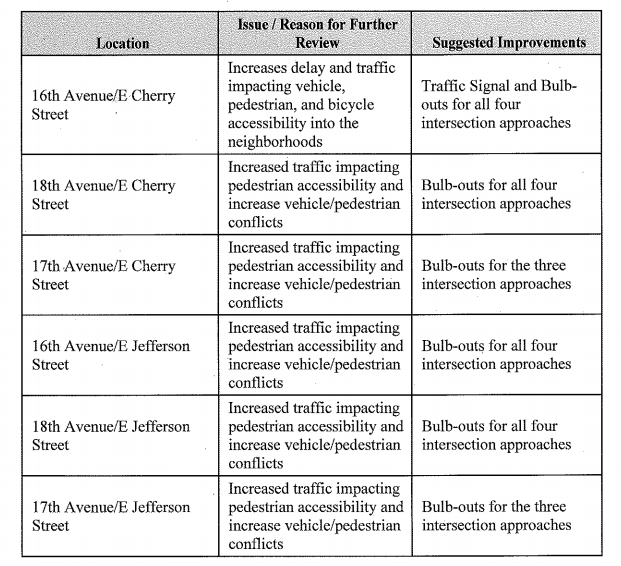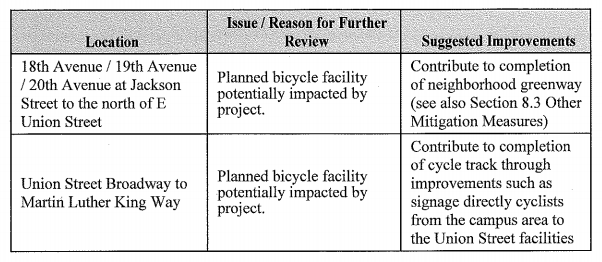 A variety of key changes were made to the the campus design guidelines. Just to name a few, the approval conditions added the following:
Revision of language encouraging elimination of blank walls to an outright requirement for elimination;
Use of murals on facades as an architectural technique;
Increased requirements for pedestrian-oriented entrances with window transparency and high quality design programming;
Deployment of wayfinding to direct patients and staff to the First Hill Streetcar and the two hospital campuses;
Use of green screens and vertical planting along blank facades; and
Encouragement of green roofs with public access.
And perhaps importantly, Swedish will be limited to two skybridges (an increase of one) in its campus expansion. Hospitals of this scale typically require quick movements between buildings at different altitudes, so skybridges make for logical connections. The conditions outline various requirements for the skybridges, but generally point toward reducing visual impacts on view corridors, visual transparency, and modern architectural designs.
What's Next
With the approval of the master plan and rezones in hand, Swedish can now begin to move forward with the master permit application and building permit process. Look for more to come in the months ahead.

Stephen is a professional urban planner in Puget Sound with a passion for sustainable, livable, and diverse cities. He is especially interested in how policies, regulations, and programs can promote positive outcomes for communities. With stints in great cities like Bellingham and Cork, Stephen currently lives in Seattle. He primarily covers land use and transportation issues and has been with The Urbanist since 2014.