This year's Worst Intersection in Seattle is the car-choked crossroads where Green Lake Way N intersects with N 50th St and Stone Way N.
So many cars are coming from and going to so many different roadways that nobody wins. People stuck in their cars often wait through multiple light cycles as backups can stretch for several blocks in all directions. And it's worse for pedestrians, who also have long wait times and often have to cross more than one street.
The worst experience is walking north from the west side of Stone Way N. People on foot cross a right turn lane and have to wait on a little island, surrounded by a sea of metal and concrete. Then, there's the wait to cross at least two streets. Yasmeen, who nominated this intersection, says: "There are so many intersections at that point that it can be several minutes before you get a walk light."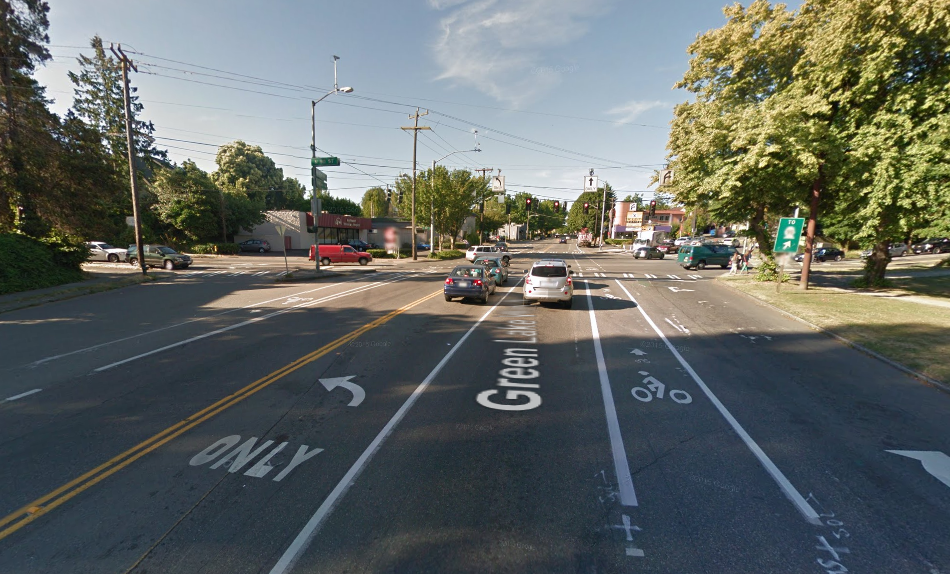 Once through the intersection, it's a walk in the park — but only in a literal sense as the sidewalk disappears and there are unpaved paths on the edge of Woodland Park. Good luck enjoying yourself if you're pushing a stroller with small wheels or just wanting to keep your dark shoes clean. This area is busy with joggers, walkers, bicyclists — all sharing a narrow path and wondering what happened to the sidewalk. If you want the luxury of a paved sidewalk, you'll have to cross yet another intersection to get to the east side of Green Lake Way N.
Seattle Bike Blog calls the intersection "a complete mess," though people on bikes may be the only ones who don't completely hate the intersection as north-south bike lanes have been added in recent years.
Of course, one of the primary reasons why this intersection is so bad is that so many streets intersect here. But, that wasn't always the case. As shown below, this intersection used to be just one of many four way intersections in the city.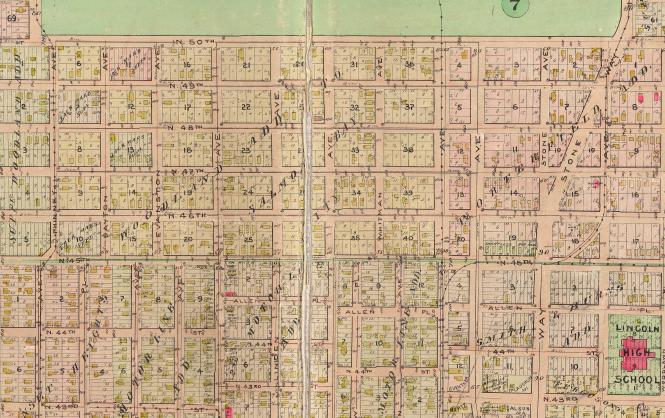 However, when the Pacific Highway was built in the early 1930s, traffic engineers sliced through the existing residential grid so that motorists could get to Downtown faster. The new road was labeled Green Lake Way N and, like Bridge Way N ten blocks south, required tearing down existing homes to provide access to the new highway, now called SR-99.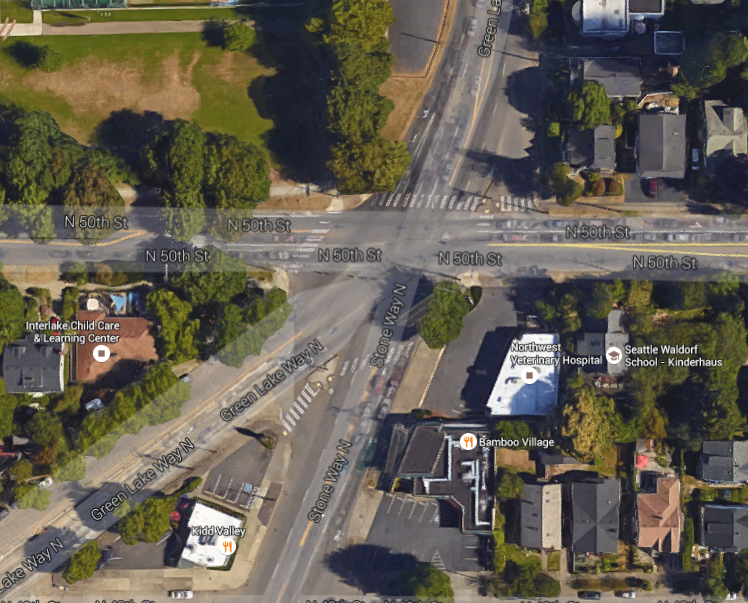 So, is this intersection fixable? What if, to borrow a software development term, we rolled the intersection back to a previous version? As suggested by blogger Al Dimond, we could improve the intersection by removing the diagonal route to Aurora and turning it back into a four-way intersection. This extension of Green Lake Way might be a real-world Braess' Paradox, meaning that removing it could actually improve travel times for everyone. At the very least, as Dimond says, it would create a "more cohesive and walkable neighborhood with more pedestrian-friendly intersections."
If you're not sold on that, then commenter Izaac Post recommends a roundabout: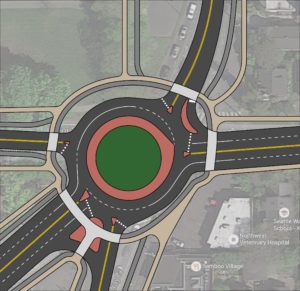 Roundabouts are proven to reduce collisions and fatalities. And, while this intersection isn't one of Seattle's deadliest intersections, pedestrians would welcome the decreased vehicle speeds that a roundabout would bring. However, the intersection is already pretty complicated, so would a roundabout make it even more confusing? This would be the busiest roundabout in the city and drivers and bicyclists would need to share it. Would bicyclists feel comfortable sharing a roundabout with drivers?
While the City has a Vision Zero plan to eliminate roadway fatalities, the ten terrible intersections we had to choose from and recent rollbacks to the bicycle master plan show how far there is to go toward creating a safe street network that is comfortable for all users. This intersection configuration at the corner of Woodland Park has been with us for over 80 years and it may not change in another 80 years. We should have hope, though, that at least by then there will be paved sidewalks.
Troy is a pedestrian advocate who serves on the board of Seattle Neighborhood Greenways. He loves cities and walking, hiking, and biking. He wrote a book to help others looking to find the right place for them, called Move to the Place of Your Dreams: A Relocation Handbook. By day, he is a professional consultant for a technology firm.