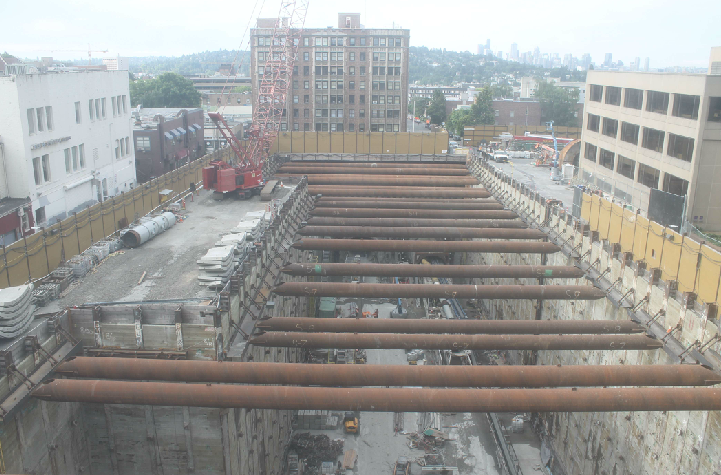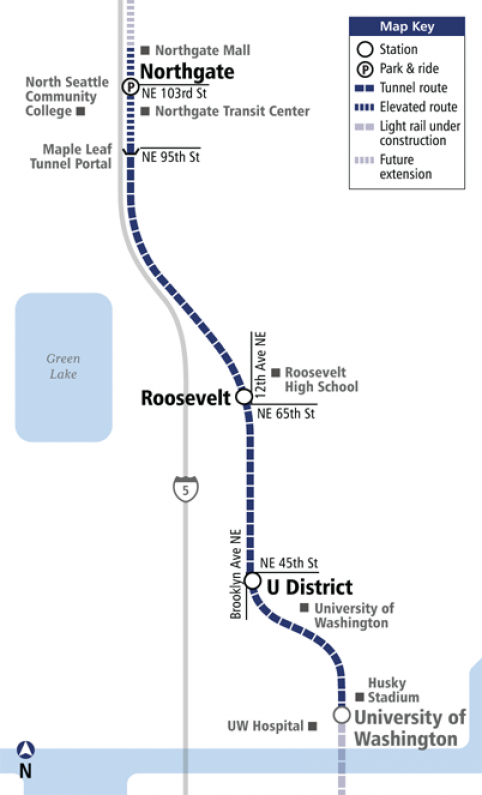 Sound Transit's contractor, JCM Northlink, quietly began boring the last leg of the Northgate Link extension this week. Their tunnel boring machine (TBM #1) will dig its way from the University District Station to University of Washington Station during the summer, completing the twin bore tunnel segment along the corridor. That means that TBM #1 will have dug four of the six tunnel segments from the Maple Leaf Portal to University of Washington Station, which roughly equates to 4.5 miles of tunneling (the corridor itself is 3.5 miles).
TBM #1 is the same tunnel boring machine that made the first lap from University District Station to University of Washington, reaching the station on March 30th. Its companion tunnel boring machine was unfortunately damaged in December while digging from Roosevelt Station to University District Station, leading to the TBM to shut down completely for more than a month for in-tunnel repairs. The shutdown left TBM #2 an agonizing 650 feet from the University District station box. But by late March, TBM #2 made it to the University District itself. Sound Transit's contractor then assessed whether to relaunch the TBM or swap it out. JCM determined that the best solution was to remove TBM #2 and instead transport TBM #1 to University District Station, and then reassemble and refurbish it for relaunch.
If TBM #1's last lap is anything to go by, transit enthusiasts can expect approximately 84 days of digging before the TBM reaches University of Washington Station. Or put another way, look toward the week of September 12th for breakthrough (barring any calamities). Sound Transit's contractor still has a lot of work to do in the tunnels, including construction of cross-passages and fire suppression systems, laying track, installing signals and communications, and stringing power systems.

Stephen is a professional urban planner in Puget Sound with a passion for sustainable, livable, and diverse cities. He is especially interested in how policies, regulations, and programs can promote positive outcomes for communities. With stints in great cities like Bellingham and Cork, Stephen currently lives in Seattle. He primarily covers land use and transportation issues and has been with The Urbanist since 2014.