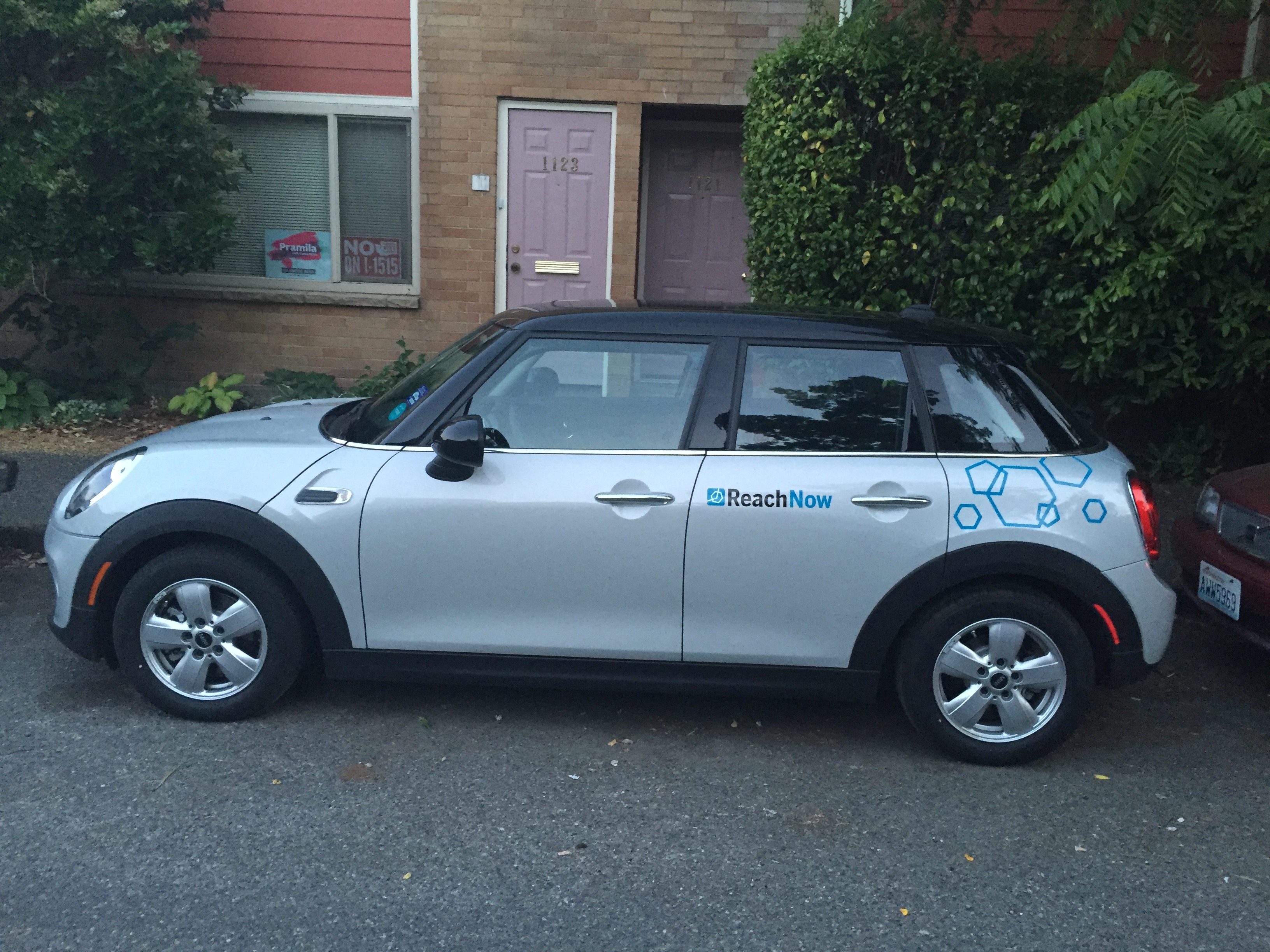 Seattle is seeing intense competition in the growing carsharing market. In a few short years, Car2Go has managed to top some 77,000 active members in the Seattle area. ReachNow, launching just two months ago with than fewer than 300 vehicles and a service area of barely half of the city, has greatly expanded its fleet and service area. And last week, carsharing pioneer Zipcar followed suit on the one-way trip model with its own spin. Between these three companies, Seattle has a carshare fleet that now exceeds 1,750 vehicles.
Zipcar is making their service much more flexible than the old days when patrons had to pick-up and drop-off vehicles at the same designated lot (that's still an option, though). Now Zipcar members can book a reservation up to 30 minutes before pick-up and select any available designated drop-off location. It's not quite like Car2Go and ReachNow where you can park vehicles on any public street (where allowed), but it does give patrons more choice in where they want to go than the traditional model. In fact, drivers can select destinations outside of Seattle like Bellevue and Sea-Tac Airport. Zipcar is also letting drivers change their drop-off location on-the-fly. That's handy for people who may have thought they were going to drop by Northgate on the way home, but instead decided a happy hour trip to Ballard was a better choice.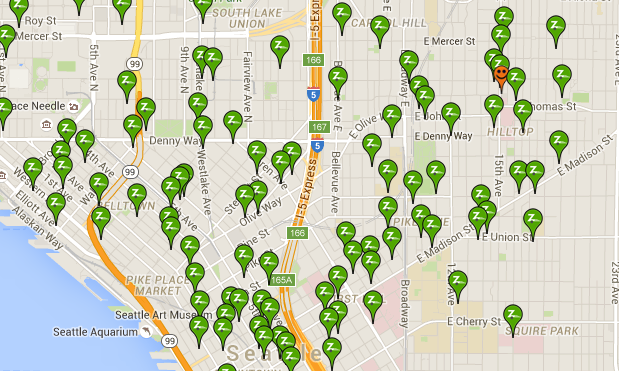 Vehicles available in the Zipcar flexible program are exclusively Honda Fits and Civics for now (big enough for five passengers or two bikes), but those who want a wider selection of car classes can still reserve and return those the old way. With initial roll out of the flexible program, Zipcar has allocated 100 cars for city streets in addition to the 400 other standard Zipcars in the traditional program. Zipcar is keeping much of their basic service structure in place though. Drivers pay for the service in half-hourly increments  instead of per minute and are required to pay a monthly or annual membership fee. However, Zipcar promises some very inexpensive half hourly rates for rentals in their flexible program—starting as low as $5 for 30 minutes, which is dramatically cheaper than Car2Go and ReachNow, even with hourly price caps.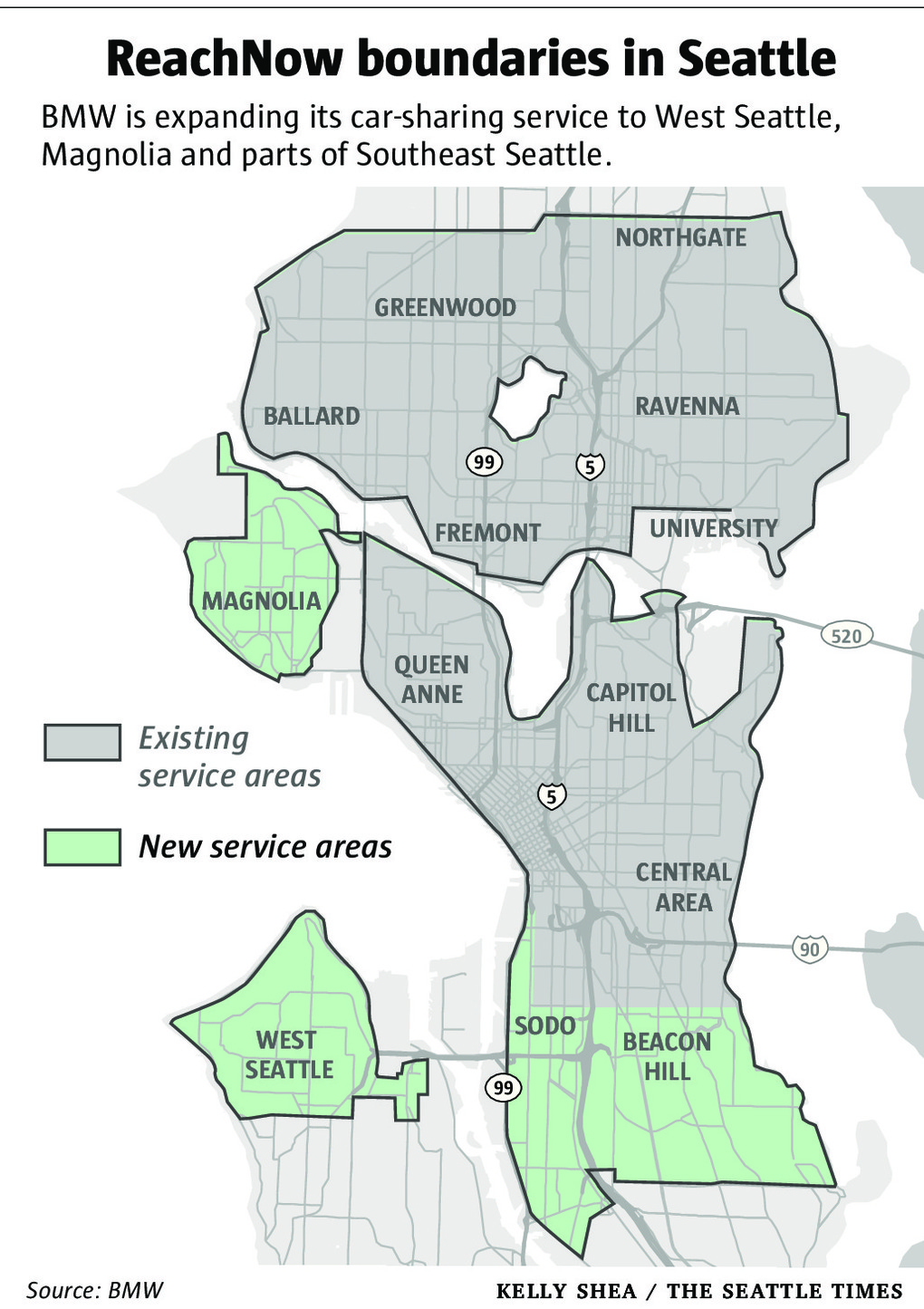 Meanwhile, ReachNow is making huge strides to ramp up its expansion. In April, the company launched with fewer than 300 vehicles in its fleet, but now has ramped up to 520. The latest expansion round added 150 MINI Clubmans. ReachNOW has also made physical expansions to its service area, which include: Magnolia, West Seattle, SODO, and portions of Southeast Seattle. The company is still pushing for an expansion to Sea-Tac Airport and could soon have a lot available for vehicle pick-ups and drop-offs.
Car2Go is ReachNow's primary competitor in the one-way trip carsharing market. The main difference between the two German-owned companies is that ReachNow offers semi-luxury cars in five classes: the BMW i3 Electric, MINI Clubman, MINI Cooper 2 Door, MINI Cooper 4 Door, and BMW 328xi; Car2Go offers the modest Smart Fortwo. The ReachNow vehicles are more spacious giving drivers the ability to carry more passengers and goods from Point A to Point B, which can be very practical. ReachNow vehicles also have a bit more edge on the swank factor with heated seats, brilliant sound systems, USB and Bluetooth capabilities, and other high quality features. And while Car2Go boasts the highest number of local members, ReachNow is quickly gaining with more than 13,000 active members so far.
Still, Car2Go has become a staple in the Seattle carsharing market with their tiny blue and white cars buzzing around. The company went big last year with expansion to virtually all parts of the city and adding a further 250 vehicles for a total of 750. Previously, the company covered two-thirds of the city, but still had gaps similar to ReachNow's current coverage area. Expansion meant that many of Seattle's most socially disadvantaged areas would be fully serviced, offering greater equity. Car2Go has also reported that over 4,500 people had given up their own cars thanks to their service.
Car2Go has some truly unique advantages. The small vehicles make it easy for drivers to grab some of the smallest on-street parking spaces, something that their competitors can't offer. Car2Go also provides service in many other major cities in North America, Europe, and China, meaning that members can take their membership with them and hop in a car in Washington, D.C. or Vancouver, B.C. without skipping a beat (membership access to European and the Chinese market is not yet available). Portability is certainly an advantage, although Zipcar shares in this to some degree (the flexible program is only offered in six American cities to date).
In other North American markets, Car2Go has dedicated parking stalls on- and off-street, electric-powered models, and cars with bike racks. Those haven't made it to Seattle yet and there hasn't been any announcement that they're on the way, but they could be valuable improvements as the company matures.
It certainly doesn't seem like we've hit peak carshare in Seattle proper with continued growth in a denser population and a large trend to car-lite lifestyles. But what sort of further innovations in the carsharing market we will we see during the months and years ahead? And what's the next big thing? Major expansions to other Puget Sound cities?

Stephen is a professional urban planner in Puget Sound with a passion for sustainable, livable, and diverse cities. He is especially interested in how policies, regulations, and programs can promote positive outcomes for communities. With stints in great cities like Bellingham and Cork, Stephen currently lives in Seattle. He primarily covers land use and transportation issues and has been with The Urbanist since 2014.