This past weekend The Seattle Times broke the news that Motivate, the current operator of Pronto bike share, is right now coming in second place in the City's process for requesting proposals for the expansion of the system, currently scheduled to take place next summer. Coming in first is Bewegen, based out of Québec. The most notable fact being that Bewegen is proposing to roll-out a fleet of bikes for Seattle that are entirely electric-assist. The other six proposals were for mixed systems, with the electric assist portion likely to be added after launch.
Selecting a provider who will bring in an all-electric fleet would mean that the current bikes, used in the system since launch in October 2014 and purchased by the City this Spring in order to keep the Pronto system operating in the black, would not be used for the expansion.

The director of bikeshare at the Seattle Department of Transportation (and former Olympic cyclist!), Nicole Freedman, is quoted in the Times piece in response to the decline in users for Pronto over the months since the system's launch:
We're striving to add more members and get more trips…the number-one thing we're doing is moving some low-performing stations to higher-performing locations.
While there has been a small amount of station reshuffling, most notably the move of First Hill's lonely station next to the Frye Art museum to a spot directly adjacent to Capitol Hill's new light rail station, most of the other station moves have been lateral at best. We wrote about the move of a prominent station on Denny Way directly adjacent to the Dexter cycletrack to an out-of-the-way spot near Seattle Center. The only other station move was the relocation of the Central District's only station at 12th Avenue and Yesler Way to the waterfront.
Meanwhile, there remains no bikeshare station on the same block as a Downtown transit tunnel entrance. Many stations are really doing their best to be as hidden as possible.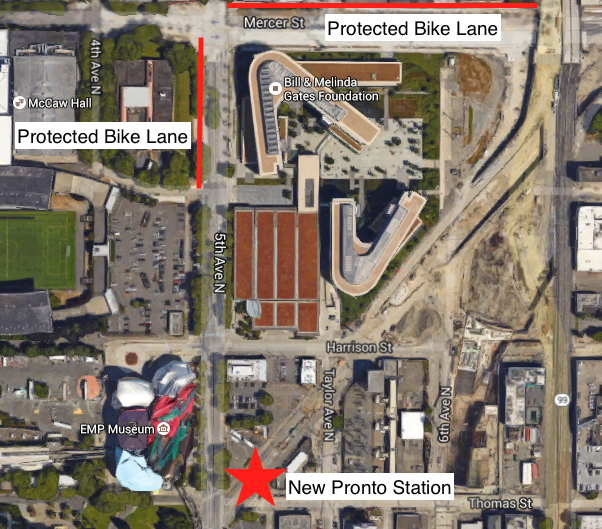 The City did recently announce that they would be relocating a station to be on the same side of Montlake Boulevard as the University of Washington Station, but no word yet on when that will happen.
Portland's bikeshare system, now a month old, is running laps around us already. Despite being only twice the size of Pronto, Biketown saw more than five times the number of rides that Pronto did in its first month. Biketown's system has a lot of advantages to Pronto: one-way fares (why are we not doing this?), on-bike locks that allow you to make a stop between stations or even leave your bike outside a station for an extra fee, some tricked-out features like baskets with sides. And of course, King County's helmet law certainly isn't helping matters.
An all electric-assist fleet could be a feature that compensates for some of what is lacking compared to other systems, but only if paired with an expansion that recognizes that station density and prime station placement are the solid bedrock on which bikeshare needs to be built. A lack of a connected bike network Downtown will continue to make that a challenge, and continued unannounced bike lane closures are certainly not enticing first-time riders.
Electric-assist fleets are fairly rare at this point in North America, and are mainly found in large, mature systems in Europe like Madrid or Copenhagen. Interestingly, one of North America's all electric fleets is found in Birmingham, Alabama, a hilly city of around 200,000 people that boasts 13,000 bikeshare members–approximately 10 times Pronto's membership base and an exponentially higher percentage of the population than Seattle. But it certainly doesn't help the argument that population density is why Pronto is not succeeding.
On Tuesday, Pronto announced that this Sunday (September 4th) will be a free-ride day thanks to a corporate sponsor. Free days are a good marketing opportunity, the last one being on Bike Everywhere Day in May. But I do have to wonder how effective it will be to promote the bikeshare on the Sunday of a three-day weekend when most people are going to be out of town.
The next steps in the expansion proposal process is a review by City Council. With Councilmembers Tim Burgess and Lisa Herbold being so publicly anti-bikeshare after the buyout vote, it will be interesting to see how that segment of the process unfolds.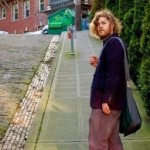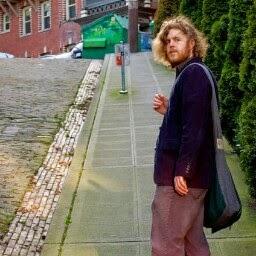 Ryan Packer lives in the Summit Slope neighborhood of Capitol Hill and has been writing for the The Urbanist since 2015. They report on multimodal transportation issues, #VisionZero, preservation, and local politics. They believe in using Seattle's history to help attain the vibrant, diverse city that we all wish to inhabit. Ryan's writing has appeared in Capitol Hill Seattle Blog, Bike Portland, and Seattle Bike Blog, where they also did a four-month stint as temporary editor.