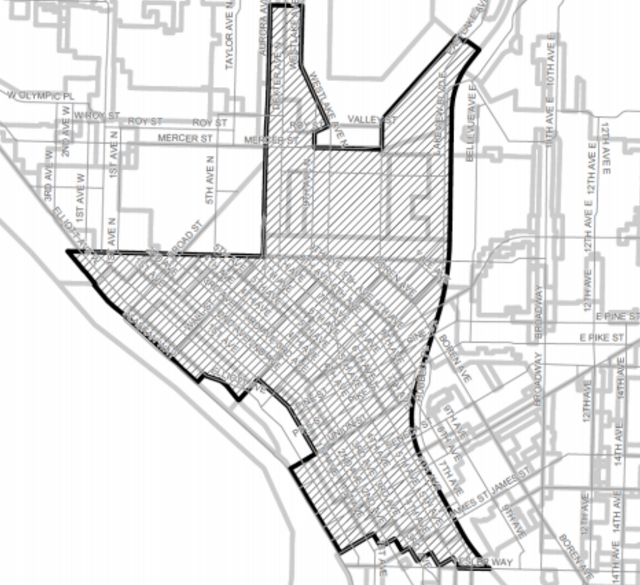 Proposed zoning changes for Downtown Seattle, South Lake Union, and a sliver of the International District are headed to the Seattle City Council. Later today, legislation for the proposed rezones and corresponding development regulation changes are scheduled to be referred to the Planning, Land Use, and Zoning Committee for review in early 2017. The proposed zoning changes are the result of the Mayor's Housing Affordability and Livability Agenda (HALA), which seeks to tie increases in development capacity with requirements to deliver affordable housing (referred to as "Mandatory Housing Affordability" (MHA)) as part of residential and commercial development in Downtown and South Lake Union zones. We've written at length about how the program works, but the sum of it is that developers generally have a choice to build affordable units on-site or pay a fee in lieu to the City to fund affordable housing development.
The Downtown and South Lake Union zoning changes were originally planned to be referred to the City Council earlier this fall as the first piece of the MHA rezone process, but the Downtown Residents Alliance (DRA) filed a SEPA appeal against the proposal in August over certain livability concerns that weren't addressed in the proposed ordinance. Instead, the City Council turned to the University District rezone and urban design proposal to kick off the MHA rezones. In early September, the DRA decided to drop their appeal allowing the City to move forward on the proposal, but it seems likely that the DRA will push the City Council to heed their concerns before a final ordinance is passed.
While the delay may have some downstream impacts to benefits of the MHA program and certain projects, it may not be entirely problematic given that the City is still in the process of adopting revised Mandatory Housing Affordability-Commercial provisions, which are largely meant to harmonize the code with policies adopted this summer as part of the Mandatory Housing Affordability-Residential requirements.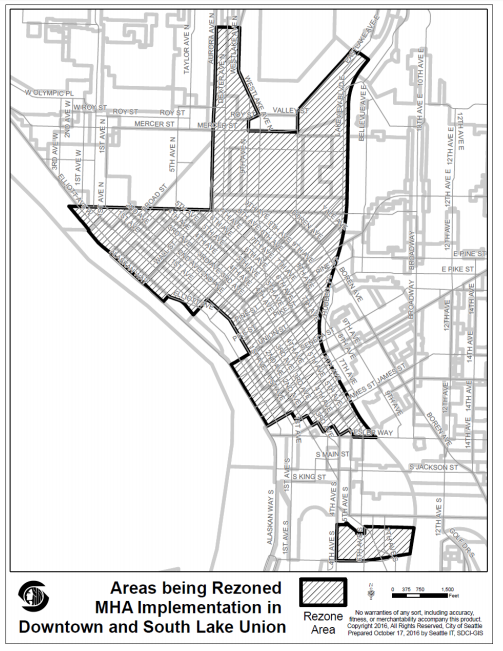 As the map above suggests, the rezone areas will be quite extensive in the Downtown and South Lake Union Urban Centers. Historic districts like Pike Place Market and Pioneer Square, areas with high risk of displacement like the heart of the International District, and a few other specific zones for various reasons1 (i.e., constraints due to the Shoreline Management Act and designated public view corridors) won't be subject to the rezone proposal.
Most proposed zoning changes will provide at least an additional 10 feet of building height for residential development and 0.5 to 1.0 of additional floor area ratio allowance for commercial development. In some zones, allowed building heights for residential development could be raised 40 to 50 feet while commercial development could get an additional 10 to 20 feet. The IC 85-160 zone, located at the south end of the International District, is the lone zone without additional development for residential uses, but could get a 15-foot height boost for commercial to become the IC 85-175 zone. In a similar circumstance, the SM-SLU 85-240 isn't proposed to get a development capacity increase for commercial uses, but would get an additional 40-foot height limit boost for residential, becoming the SM-SLU 85-280 zone.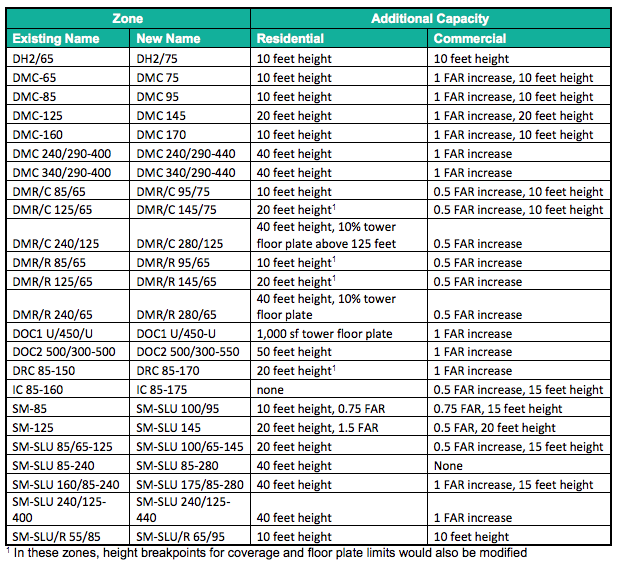 Using the table above, you can deduce on your own how the the proposed zoning changes would unfold in the maps below, if adopted as-is by the City Council: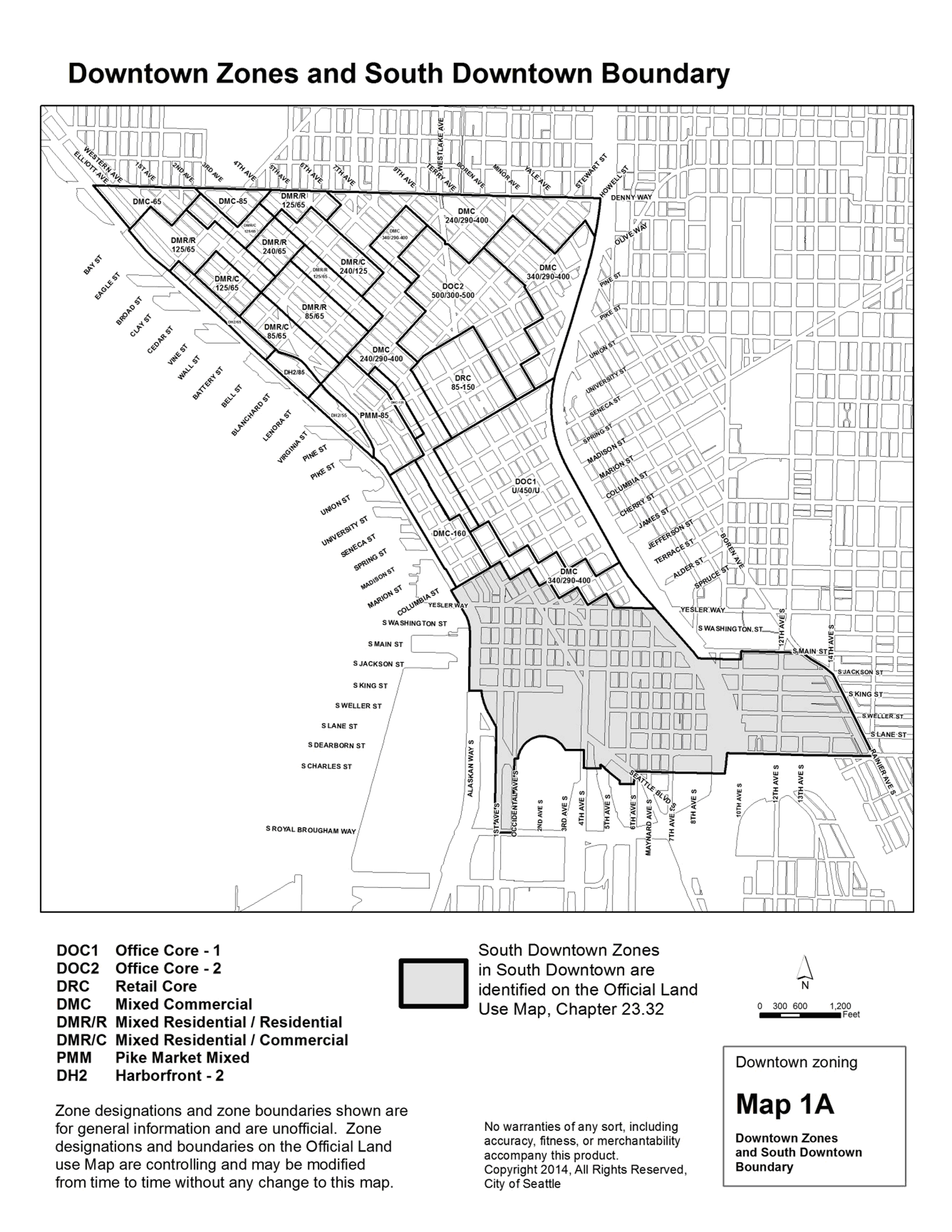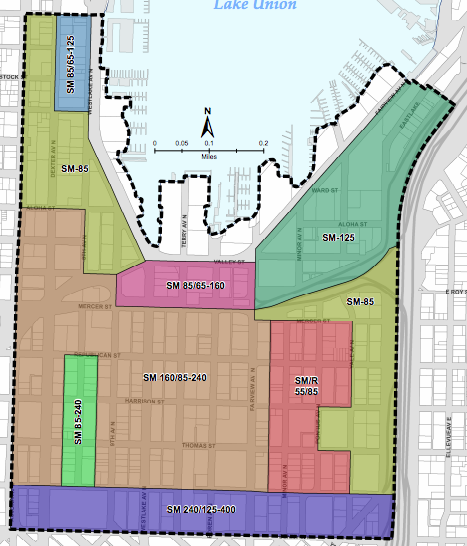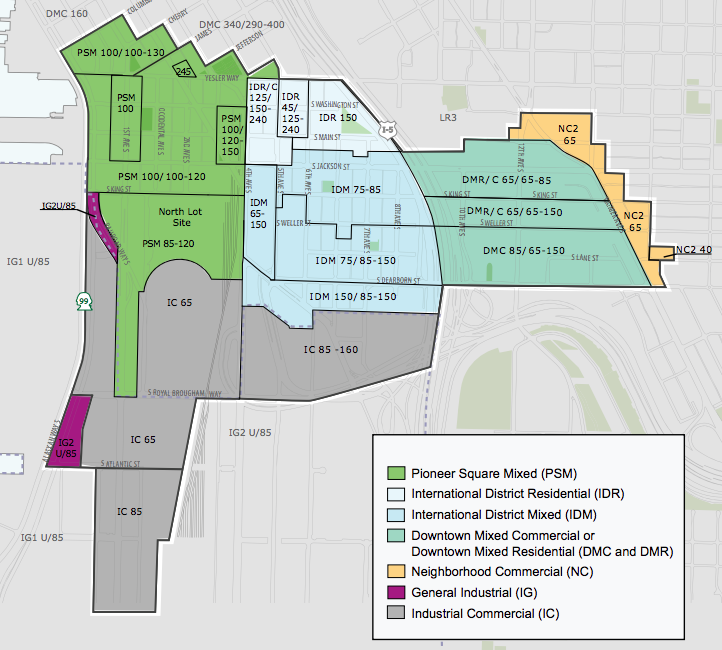 As noted before, the zoning change will require new residential and commercial development to become subject to Mandatory Housing Affordability requirements. These will be zone-specific and dependent upon whether the developer chooses to build on-site (or in some cases off-site) affordable housing units or pay a fee to the City. Generally, the requirements breakdown this way:
For residential development where a developer elects to pay a fee in lieu of building on-site affordable units, the fee will range from $5.50 to $13.00 per square foot of total residential space. But if a developer elects to build on-site affordable units, the requirement will range from 2.1% to 5.1% of units to be set-aside as income-restricted.
For commercial development where a developer elects to pay a fee in lieu of building on-site affordable units, the fee will range from $8.00 to $16.00 per square foot of commercial space. But if a developer elects to build on-site affordable units, the requirement will be a ratio of total commercial space to rentable affordable housing space that ranges from 5.0% to 10.6% of the total square commercial footage.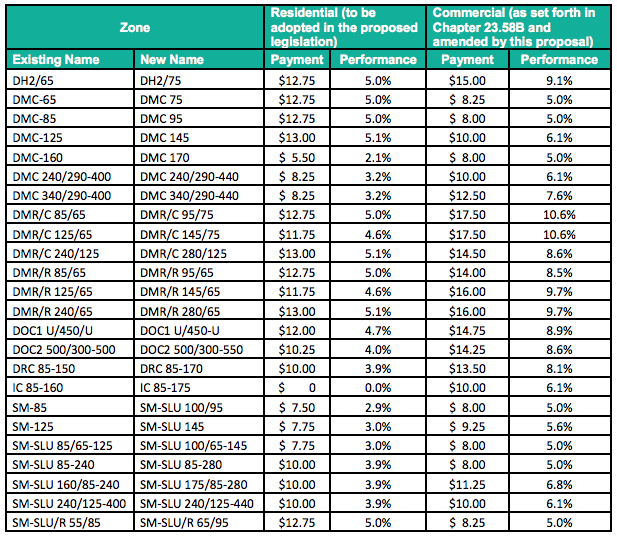 The zoning proposal would also make deeper development regulation changes that we will touch on in a future post. Look for further action on the overall proposal in early 2017.
---
The DH1 and C2-40 zones are located within designated Shoreline areas subject to special regulations required to implement the state Shoreline Management Act and that limits development capacity. DH2/55 and DH2/85 zones are located within a designated public view corridor from Victor Steinbrueck Park that would otherwise be impacted by development capacity increases. And similarly, the SM-SLU 85/65-160 zone is located within a designated public view corridor.
Director's Report – SLU-Downtown MHA Rezones by The Urbanist on Scribd

Stephen is a professional urban planner in Puget Sound with a passion for sustainable, livable, and diverse cities. He is especially interested in how policies, regulations, and programs can promote positive outcomes for communities. With stints in great cities like Bellingham and Cork, Stephen currently lives in Seattle. He primarily covers land use and transportation issues and has been with The Urbanist since 2014.