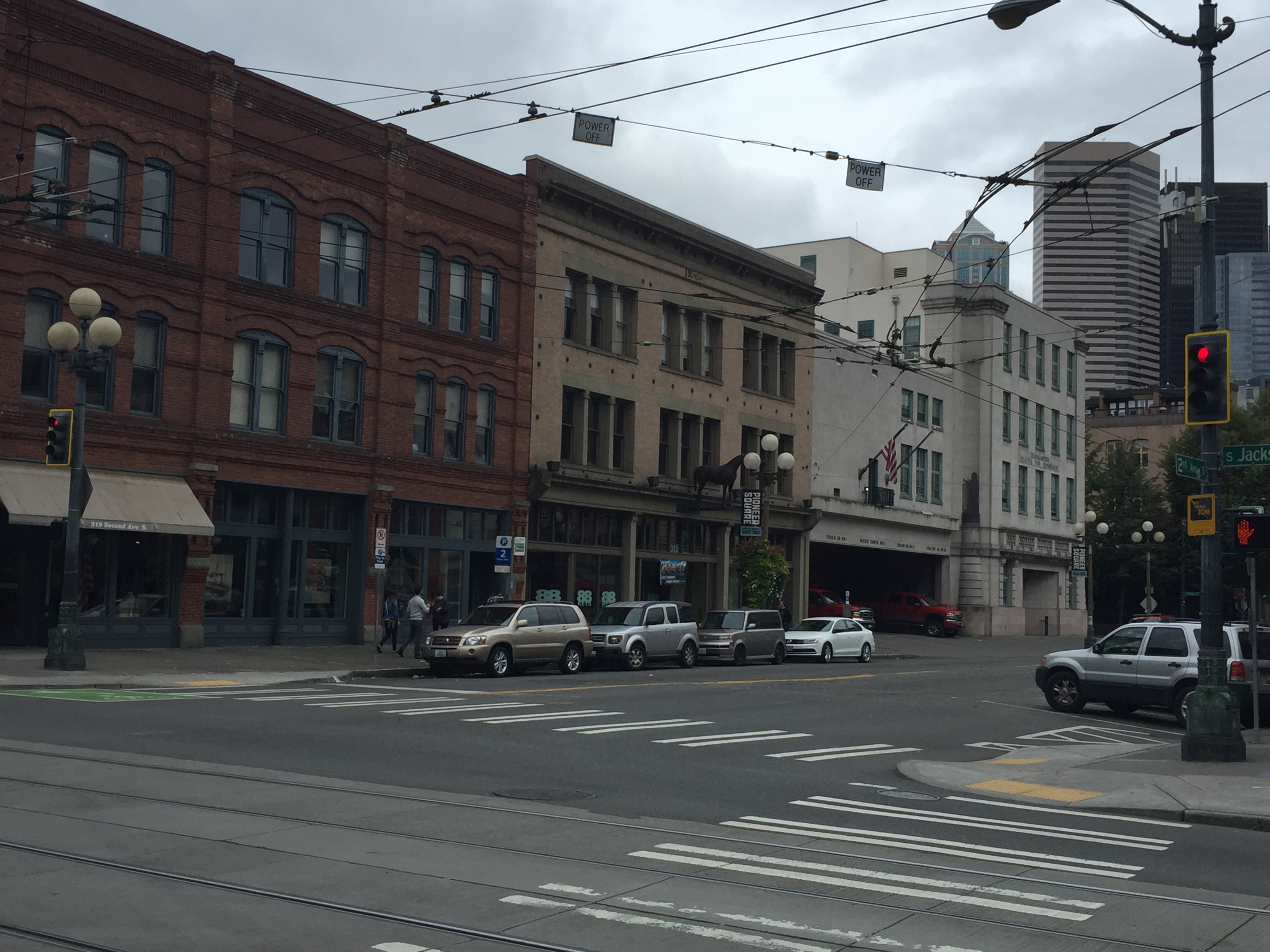 Commercial affordability has become a bigger issue in recent years Seattle due to speculation and rising rents and property values for commercial property. The issue rocketed to the forefront of local policymakers' minds with small businesses on 23rd Avenue begging for help after major declines in patronage due to full-scale road construction on the corridor.
Seattle eventually offered mitigation payments to some businesses, but broader proposals to help fledgling small businesses have been floated, including providing financial assistance to "legacy" community businesses and instituting rent control or rent stabilization for commercial businesses. Councilmember Kshama Sawant has long supported the latter, but that idea may be permanently quashed if one bill circulating the halls of the Washington State Legislature is passed.
House Republicans are proposing a new ban on local rent control laws, this time targeting regulations on commercial rents. Introduced on Tuesday, House Bill 1082 is co-sponsored by Representatives Matt Manweller (R-Ellensburg), Cary Condotta (R-Chelan), and Vincent Buys (R-Lynden). The law would add a new section to Chapter 35.21 RCW locking out local governments from considering any form of rent control or rent stabilization for commercial businesses.
At least for some at City Hall, passage of the proposed state preemption law might not be received with too much consternation. Last year, Mayor Ed Murray convened an advisory committee made up of more than a dozen stakeholders to develop recommendations on how to address commercial affordability. The committee delivered five sets of policies to make Seattle more affordable for commercial businesses, particularly those that are small-scale, locally-owned, and led by low-income and moderate-income proprietors. Some policy actions include establishing no-interest loans, reducing barriers and streamlining the permitting process, tax exemptions and reduced tax assessments, and providing additional technical assistance from the Office of Economic Development. The committee specifically addressed commercial rent control stating they did not support it.
Nonetheless, Councilmember Sawant sent a letter to House Speaker Frank Chopp (D-Seattle) on Tuesday demanding that the House Committee on Local Government reject the substance of House Bill 1082 and instead repeal RCW 35.21.830. In her letter, Councilmember Sawant prefaced why she opposed the bill:
Cities and towns in Washington State and around the country are suffering from skyrocketing rents spurred on by speculative real estate investing. And at the same time that it has become harder and harder for regular working people to afford a roof over their heads, thousands of small businesses are being priced out of locations where they have thrived for decades. Especially impacted are businesses owned by women, immigrants, and people of color.
Councilmember Sawant also included her revised version of the bill that cleverly took a shot at the Republican sponsors: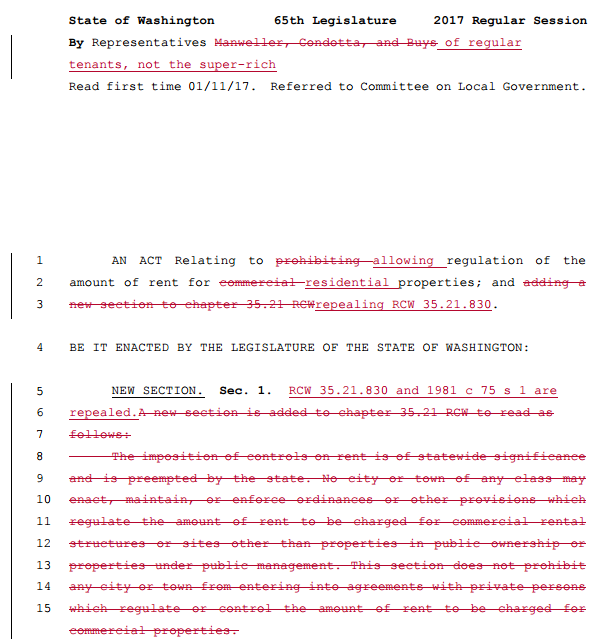 Councilmember Sawant's proposed changes would have the effect of ending the state's prohibition on local governments instituting residential rent control. As recently as this past fall, Speaker Chopp expressed support for repealing the ban residential rent control, but it's not clear that he would offer an amendment to the bill similar to the one Councilmeber Sawant is proposing. And while House Bill 1082 did have a public hearing this week, it's very unlikely that the Democratic-controlled House would pass the legislation let alone move it out of committee. However, a companion bill has been introduced in the Senate as of this morning where it has a better chance of passage. But without the House seriously entertaining the proposal, that's a moot point, leaving the option open for local government to regulate rents for commercial tenants for the foreseeable but with no change on housing.
The proposed bill does suggest that state legislators (from outside metropolitan Seattle) are paying attention to issues that Seattle legislators are trying to tackle, and in some cases, are attempting to maneuver the reins of state law to block policies that local legislators deem important.

Stephen is a professional urban planner in Puget Sound with a passion for sustainable, livable, and diverse cities. He is especially interested in how policies, regulations, and programs can promote positive outcomes for communities. With stints in great cities like Bellingham and Cork, Stephen currently lives in Seattle. He primarily covers land use and transportation issues and has been with The Urbanist since 2014.