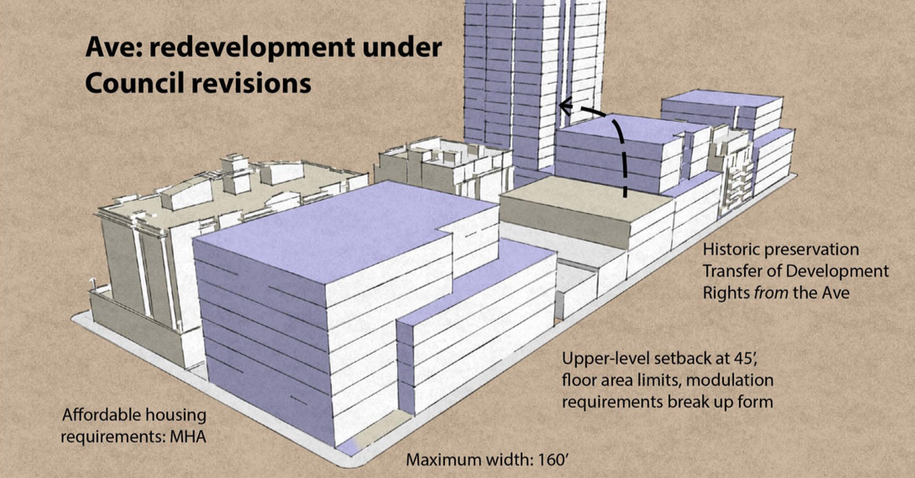 Seattle councilmembers will meet this morning to take up discussion and make possible votes on amendments to the University District rezone and urban design legislation, setting up a process that could send a final bill to the full City Council in the next week or so for approval. Last month, we covered many of possible amendments that might be proposed, which numbered more than a dozen at the time. These touched on issues like whether the City Council should stick with the Mayor's proposed zoning to increase building heights on The Ave by two floors or only one, commercial affordability, historic preservation, and need for small retail space. Members of the Planning, Land Use, and Zoning (PLUZ) Committee also heard public support for giving more incentives to develop family-sized units.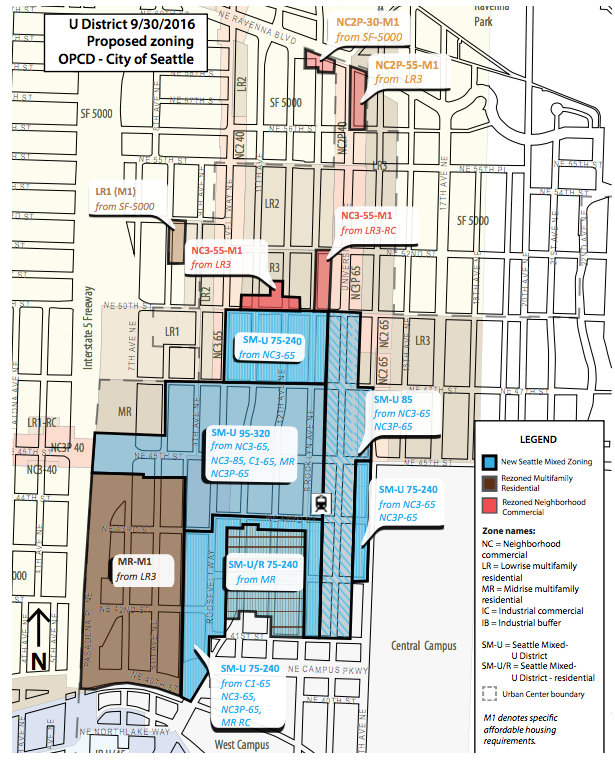 Before jumping into the full menu of proposed amendments, let's go over what is in the proposed University District rezone and urban design ordinance today:
Development capacity increases (rezones);
Urban design standards (e.g., height, bulk, scale, transparency, modulation, setbacks, stepbacks, and width);
Other incentives for green building, childcare, transportation demand management, and human services; and
Mandatory housing affordability requirements.
Most of the amendments covered in this article have been discussed before, but many of them have been further refined and there are a few new amendments being proposed as well.
Amendments Related To The Ave
As mentioned before, the PLUZ Committee had two divergent policy choices for The Ave: go with the proposed zoning allowances for development or amend the proposal by chopping off one floor in building height. The choice to do one or the other was important because it meant considering knock-on effects to other policies already calibrated to the original zoning proposal. For instance, if the PLUZ Committee chose to pursue SM-U 75 instead of SM-U 85 zoning, it meant that keeping a full scale transfer of development rights (TDR) program for the area wouldn't be particularly useful. So one option was to tighten up the scope of the program in the SM-U 75 zone to only allow for property owners there to sell TDRs to higher density zoning areas in the University District. The Committee, however, is now faced with an even bigger policy question on The Ave: rezone or no rezone.
Delay or proceed with rezones. The first consideration with regard to The Ave is whether or not the City Council should move ahead with rezones along The Ave now, or delay them pending additional study of possible impacts on small businesses. If a delay is chosen, it's not clear what the timeline would be for the study and subsequent processing of a rezone bill specific to the area. The business community on The Ave has been adamant about postponing a rezone on the business corridor until the City can complete a full study on the implications that a rezone could have on commercial affordability. A companion resolution to the University District rezone and urban design proposal, however, would enumerate ongoing and future initiatives related to the University District and memorialize the City's intent to develop specific policies and programs for the business district. These include creating zoning that supports small business, incentivizing preservation of older buildings, and building mixed-income housing, and revising the neighborhood design guidelines. The resolution also commits the City to harnessing the Community Affordability Consulting Team in the neighborhood, providing financial support to small businesses, developing tax incentive schemes, instituting a Legacy Business preservation program, and reviewing properties and areas for historic preservation. (DELAY PASSED)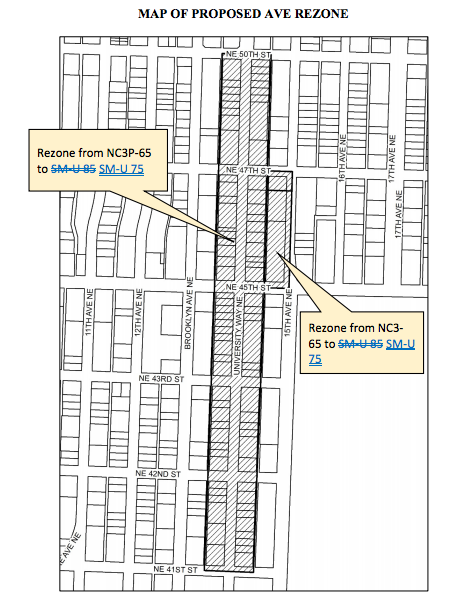 Modify zoning on The Ave. If there is no delay on rezoning The Ave, the Committee would still have a key choice to make: amend the zoning proposal on The Ave or go with the Mayor's proposed rezone. The difference is whether The Ave goes to SM-U 85 (the Mayor's proposal) or goes to SM-U 75. In either case, the maximum FAR would be 6.0. But the SM-U 85 zoning would require a developer to use incentives to get any floor area beyond 4.75. That's not so with SM-U 75 zoning. (NOT ADOPTED)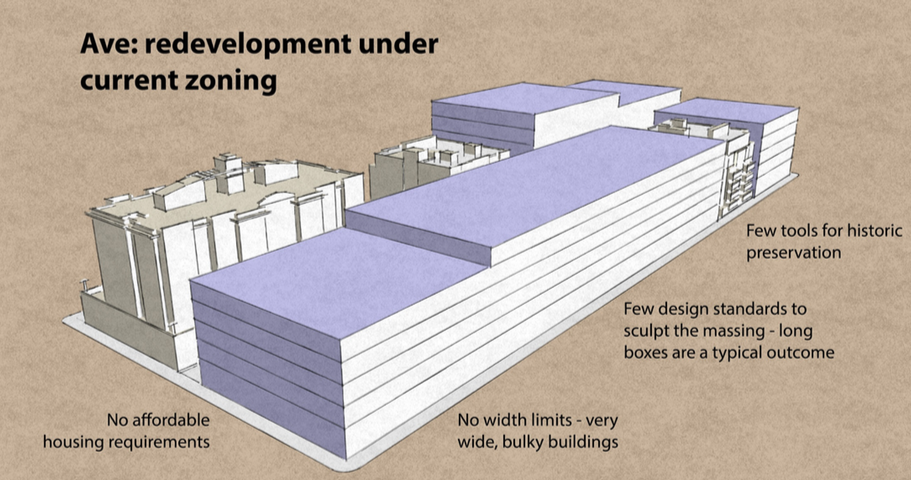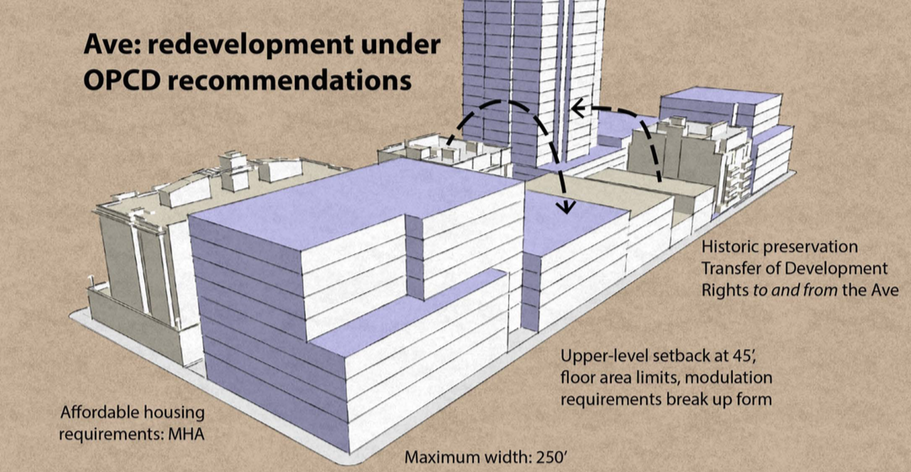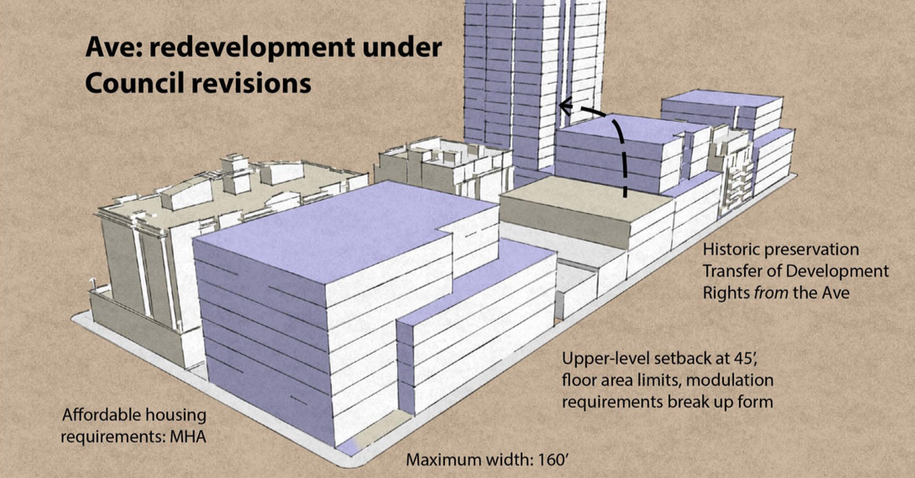 Revise TDR program. In the proposed SM-U 75 zone, TDRs would only be allowed to be sent from properties along The Ave which qualify for inclusion in the TDR program. TDRs from elsewhere in the University District wouldn't be allowed to be used for increased development allowances along The Ave–unlike what is proposed for SM-U 85 zoning. Properties with landmark structures, vulnerable masonry structures, and open space could qualify for the TDR program. (NOT ADOPTED)
Maximum building width. In the proposed SM-U 75 zone, maximum building widths could be set at 160 feet instead of the 250 feet otherwise proposed under the Mayor's recommended bill. (NOT ADOPTED)
Exempt certain uses from FAR. Certain uses along The Ave could receive an exemption FAR calculations if the use is street-level, street-facing with no more than 2,000 square feet. (NOT ADOPTED)
Ground floor commercial space. Another suite of amendments could shape the size of commercial space on The Ave. The maximum street frontage of a commercial space could be set at 40 feet with an average of 30 feet meaning that some spaces would have to be smaller than 30 feet in width if there are commercial space frontages greater than 30 feet in width. Commercial space separated from street frontage by another business or has a separate pedestrian access to the street would not subject to maximum street frontage requirement. Additionally, any new structure with more than 5,000 square feet of street-level commercial would have to provide small commercial spaces, as indicated in the table below. (NOT ADOPTED)
| Total amount of square feet in commercial use at street level | Number of required commercial spaces for individual business establishments averaging 2,000 square feet or less in size |
| --- | --- |
| Up to 5,000 square feet | 0 |
| More than 5,000 square feet, up to 8,000 square feet | 1 |
| More than 8,000 square feet, up to 12,000 square feet | 2 |
| More than 12,000 square feet, up to 16,000 square feet | 3 |
| More than 16,000 square feet | 4, plus 1 additional space for each additional 4,000 square feet above 16,000 square feet, up to a maximum of 8 |
Amendments Related To Zoning Changes
By and large, the zoning changes discussed at the last PLUZ Committee meeting are still on the table, but there may be a delay in one rezone. A new amendment, not previously discussed, would delay rezoning a one-block segment of University Way NE between NE Ravenna Blvd and NE 56th St. Zoning for the properties is LR3 but is proposed to go to NC2P-55 (M1) in the Mayor's zoning proposal. The delayed zoning change could be picked up through the other MHA zoning changes that are being proposed city-wide (PASSED).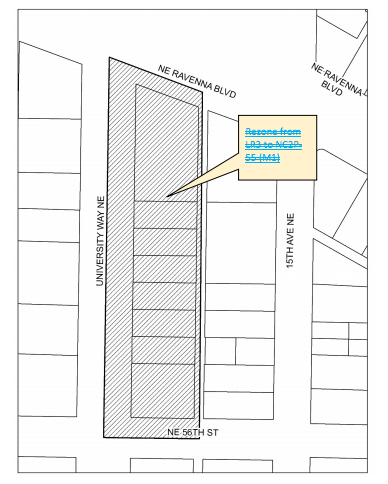 The other proposed rezones include dozens of properties just west of the University Heights Community Center and two properties on NE Ravenna Blvd. The properties between NE 50th St, the mid-block east of Brooklyn Ave NE, NE 52nd St, and the alley west of 11th Ave NE are proposed to be rezoned to NC3-75 (M1) and MR (M1) (PASSED):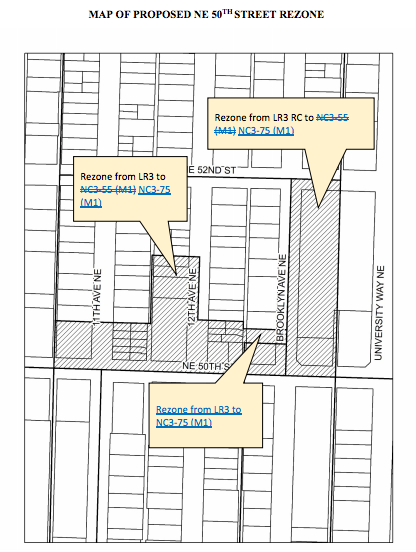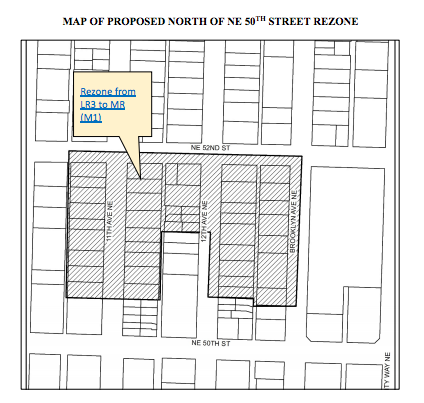 The properties on NE Ravenna Blvd are associated with Cowan Park Grocery and an apartment complex (PASSED, but eliminated the apartment complex site from the rezone):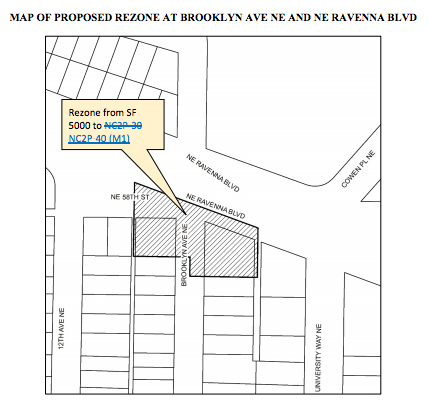 Amendment Topics Previously Discussed
A basket of other amendments touching on commercial floorplates, transportation, TDR, and open space are also in the mix:
Commercial floorplates. At the last PLUZ Committee meeting, there were two primary approaches that were being considered for commercial floorplates: one would would provide greater flexibility for office high-rises generally and another would be targeted toward only greater flexibility for the University of Washington's future high-rise above the light rail station and research and development uses. The surviving amendment language would take the latter approach. The University of Washington's future high-rise on top of the light rail station site and offices primarily dedicated to research and development would be allowed to have an average floorplate of 24,000 square floorplate for the first 160 feet of the structure, which is 4,000 square feet per floor more than otherwise allowed under the proposed ordinance. (NOT ADOPTED)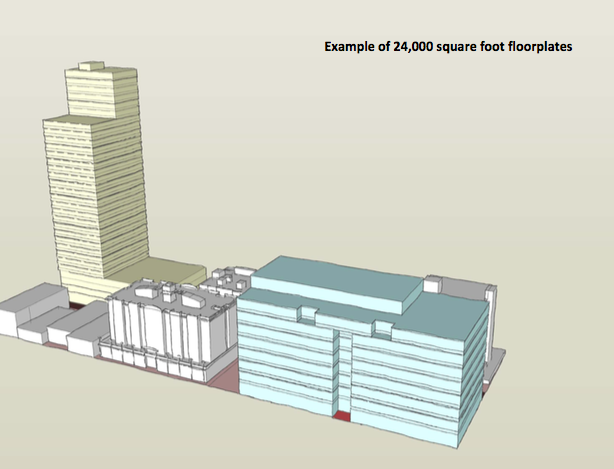 Transparency. A minor amendment could eliminate transparency requirements for light rail station uses. The Mayor's proposal requires that at least 60% of street-level facades achieve transparency (except residential uses), but the University District light rail station as designed will not achieve that standard. This amendment would recognize this by directly exempting the tower site that will still likely have high visibility between the station headhouses and station entrances. Transparency requirements proposed for SM-U zones would otherwise remain intact outside of the light rail station site. (PASSED)
Loading. A loading berth waiver could be added for SM-U zones to allow modifications from off-street loading requirements typically conditioned for certain uses and activities. The waiver would allow alternative means for loading. (PASSED)
Midrise TDR program. Part of the rezone will include properties going to Midrise zoning. The TDR program could be expanded to allow properties zoned as MR (M1) within the University Community Urban Center to be eligible as sending sites when a site contains a qualifying landmark structure. (PASSED)
Parks and open space. Language related to open space amenities could be amended to require that open spaces must be publicly accessible if they are to qualify for equivalent additional bonus square footage for a development proposal. (PASSED)
Transportation and parking. Another amendment would add a requirement for certain non-residential and multi-family residential developments that would generate significant P.M. hour single-occupancy vehicle (SOV) trips to develop a Transportation Management Program Plan. The threshold for the requirement would be set at any non-residential development generating 50 or more student or employee SOV trips during a given P.M. hour, or multi-family residential development that generates same number of SOV trips during a given P.M. hour or creates a demand for 25 or vehicles to be parked on-street overnight. (PASSED)
Mandatory housing affordability. The Mandatory Housing Affordability (MHA) requirements appear poised to get a modest boost from the M1 type to the M2 type within the areas proposed for high-rise development. As proposed, the MHA-Commercial fee in-lieu (payment) requirements would jump from $20.00 to $22.25 per square foot of commercial space while on-site set-aside (performance) requirements would jump from 9% to 10% of total square footage to be set-aside as affordable housing, and the MHA-Residential fee in-lieu and on-site set-aside requirements could also see similar jumps to that of MHA-Commercial. The tables for other zones to become subject MHA requirements are also proposed to be filled in with definitive payment and set-aside amounts, though there have been some revisions to the tables since the last PLUZ Committee meeting. (NOT ADOPTED, for the M2 MHA proposal which are highlighted in Table A for 23.58B.040, Table A for 23.58B.050, Table A for 23.58C.040, and Table A for 23.58C.050; PASSED, for Table B for 23.58B.040 and Table B for 23.58B.050)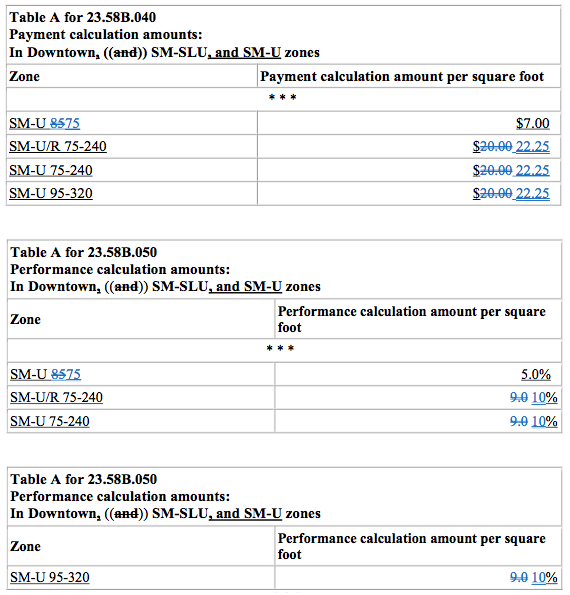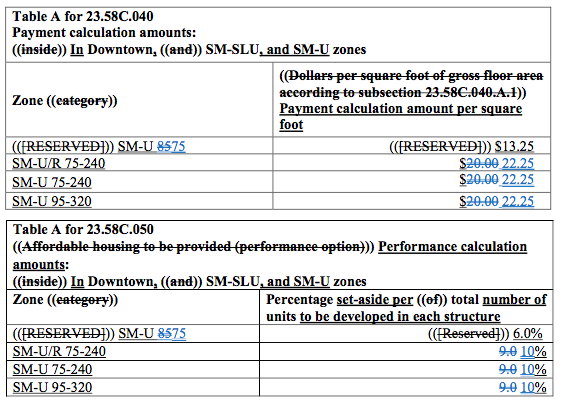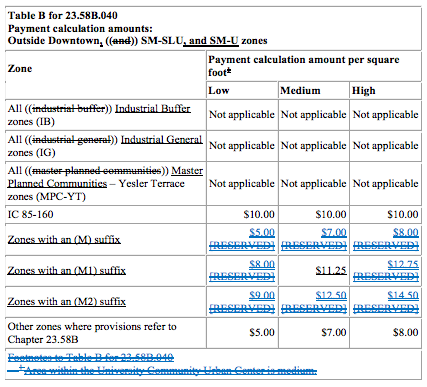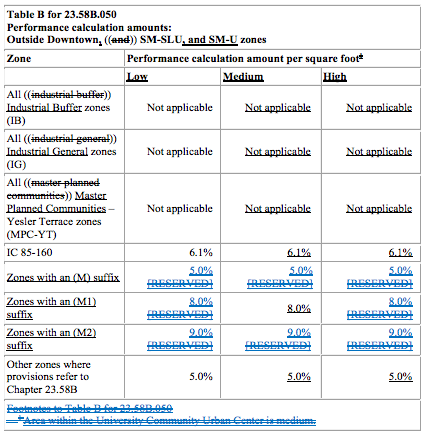 New Amendment Topics
There has been a lot of conversation by community members over the issue of family-sized units. The proposed ordinance would allow a development proposal to unlock additional floor area allowances over the base maximum FAR if family-sized units are built, but the proposed amendment would go further in incentivizing the two- or more-bedroom dwelling units. Across the board, developments in SM-U zones could get an FAR boost above the absolute FAR maximums if they include family-sized units. So using the SM-U/R 75-240 zone as example, structures that don't exceed the midrise height limit generally have a maximum FAR of 6.0. But if a development in that zone included family-sized units, the FAR could go to 7.0.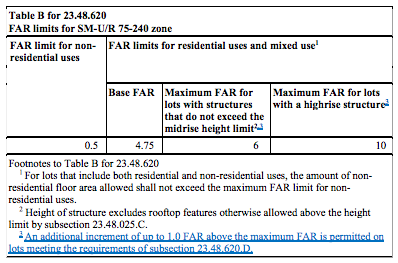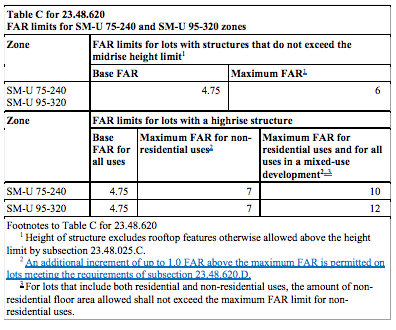 The sum of this amendment would be to maximize incentives for family-sized units on SM-U zoned sites while encouraging developers to focus their efforts on standard FAR bonuses built into the code (e.g., open space, green streets, historic preservation, and childcare). (PASSED)
Separately, the PLUZ Committee will consider amendments related to MHA that would require an annual–as opposed to once every two years–report on the performance of the MHA program and include a new requirement that the report specify a list of projects that have been granted a modification for either of the in-lieu payment or on-site performance affordable housing requirements. The amendment package will also include more than a dozen non-substantive technical amendments to correct minor errors and omissions (PASSED).
Meeting
The PLUZ Committee will hold a meeting today (February 7th) at 9.30am in the Council Chambers. Those who wish to provide public testimony should arrive early to sign up. E-mail is also an option if you wish to contact Councilmember Rob Johnson, the PLUZ Committee Chair, before the meeting. It is possible that a final ordinance could pass out of committee with some or most of the above amendments, in addition to others that might be proposed at the meeting.
UPDATE 2/8/17: With amendments adopted to the bill, a substitute bill will be introduced. The full City Council is expect to vote further amendments and a final bill on Februrary 21st. Some amendments considered at the PLUZ Committee may be proposed again before the full Council.
City of Seattle – Central Staff Memo With Potential Amendments – University District Rezone and Urban Desig… by The Urbanist on Scribd

Stephen is a professional urban planner in Puget Sound with a passion for sustainable, livable, and diverse cities. He is especially interested in how policies, regulations, and programs can promote positive outcomes for communities. With stints in great cities like Bellingham and Cork, Stephen currently lives in Seattle. He primarily covers land use and transportation issues and has been with The Urbanist since 2014.