The Washington State Convention Center (WSCC) expansion is a massive undertaking that will reshape four city blocks in Seattle's urban core. We, a coalition of community organizations serving adjacent neighborhoods, believe the project's size, central location, public ownership, and extensive request for public right-of-way compels the WSCC to offer an accordingly large-scale public benefit package for our community.
If you agree, sign this petition asking local decision-makers to adopt a Community Package of critical public benefits.
The four neighborhoods that intersect at the Convention Center–Downtown, South Lake Union, Capitol Hill, and First Hill–face significant shortages of public open space, active transportation facilities, and affordable housing. Needs for these facilities will grow acutely with the WSCC Addition project, and the WSCC leadership has an opportunity to make significant investments in our community. The WSCC can grow its legacy as a steward for central Seattle by balancing the need for growth and the impacts of that growth by contributing to a more attractive, safe, livable, and affordable city center.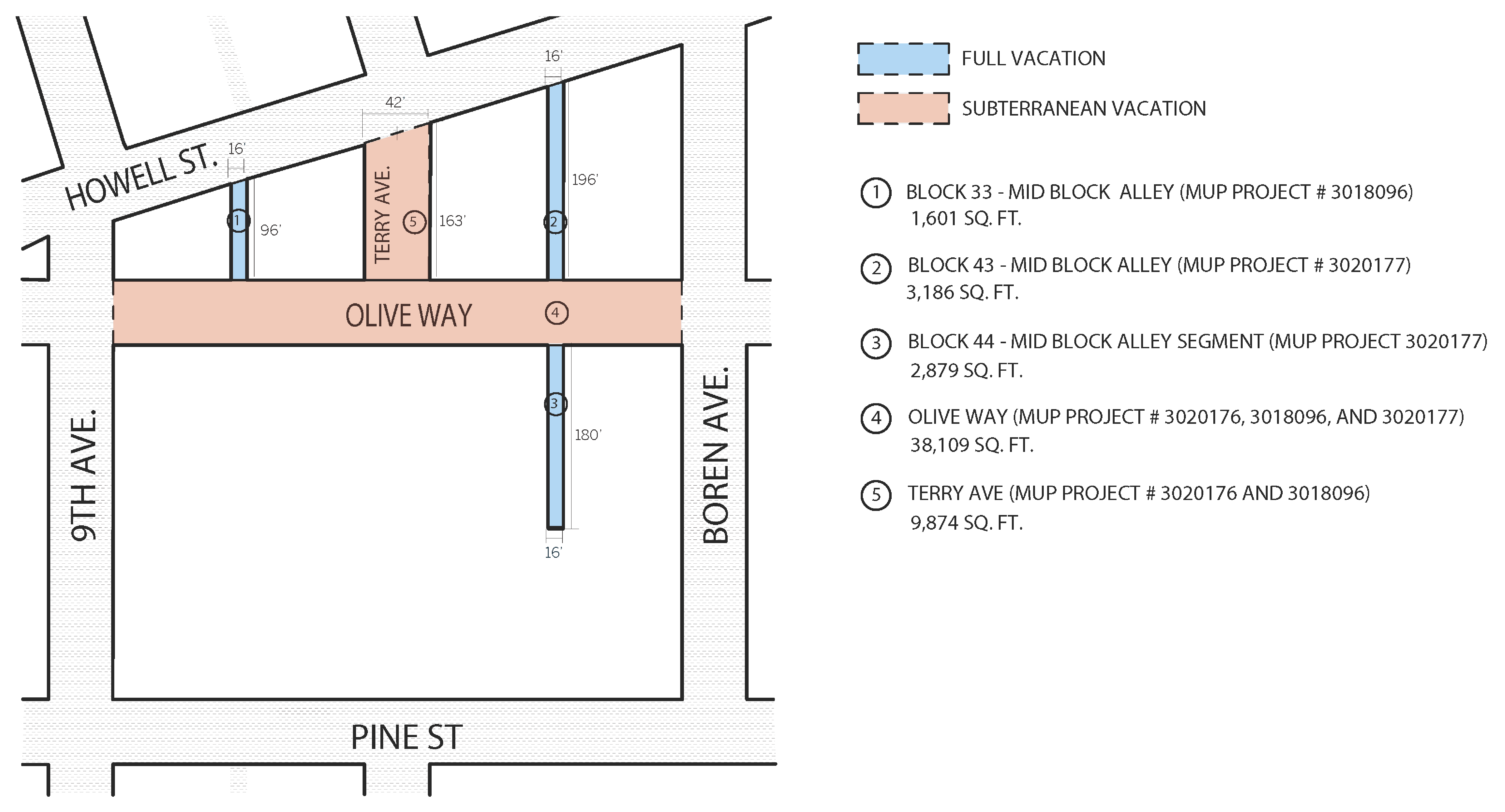 The WSCC has petitioned the City of Seattle for a full vacation of three public alleys in Blocks 33, 43, and 44 totaling 7,665 square feet, and subterranean vacations of Terry Avenue and Olive Way, totaling 47,985 square feet. Seattle City Council Resolution 31142 enables the provision of off-site and in-lieu public benefits in exchange for street and alley vacations which are independent of the development project. The Seattle Design Commission poses the key question: "Has the petitioner proposed a public benefit package that provides the public with amenities that adequately offset the loss of the street or alley being vacated and that are commensurate with the benefits of the scale of development resulting from the vacation?"
The WSCC Addition preferred alternative cost estimate is $1.6 billion and the largest real estate development in Seattle history–more costly than Safeco and CenturyLink Fields combined. It is also approximately triple the cost of the SoDo arena, a similarly large project which has offered $21-25 million worth of public benefits for a single street vacation. Accordingly, we anticipate the WSCC must offer a public benefits package valued in the range of at least $62-73 million.
We propose full adoption of a Community Package which is comparable in scale to the vacation petition. Together, the Community Package components are bold investments in Seattle's public spaces, transportation network, and affordable housing. These investments are interrelated and are critical to ensuring the area proximate to the Addition remains livable as we welcome the many new visitors, staff, and traffic the project will bring. The Community Package aligns with the Design Commission's desire for a wide array of benefits which are fully integrated into the surrounding neighborhoods.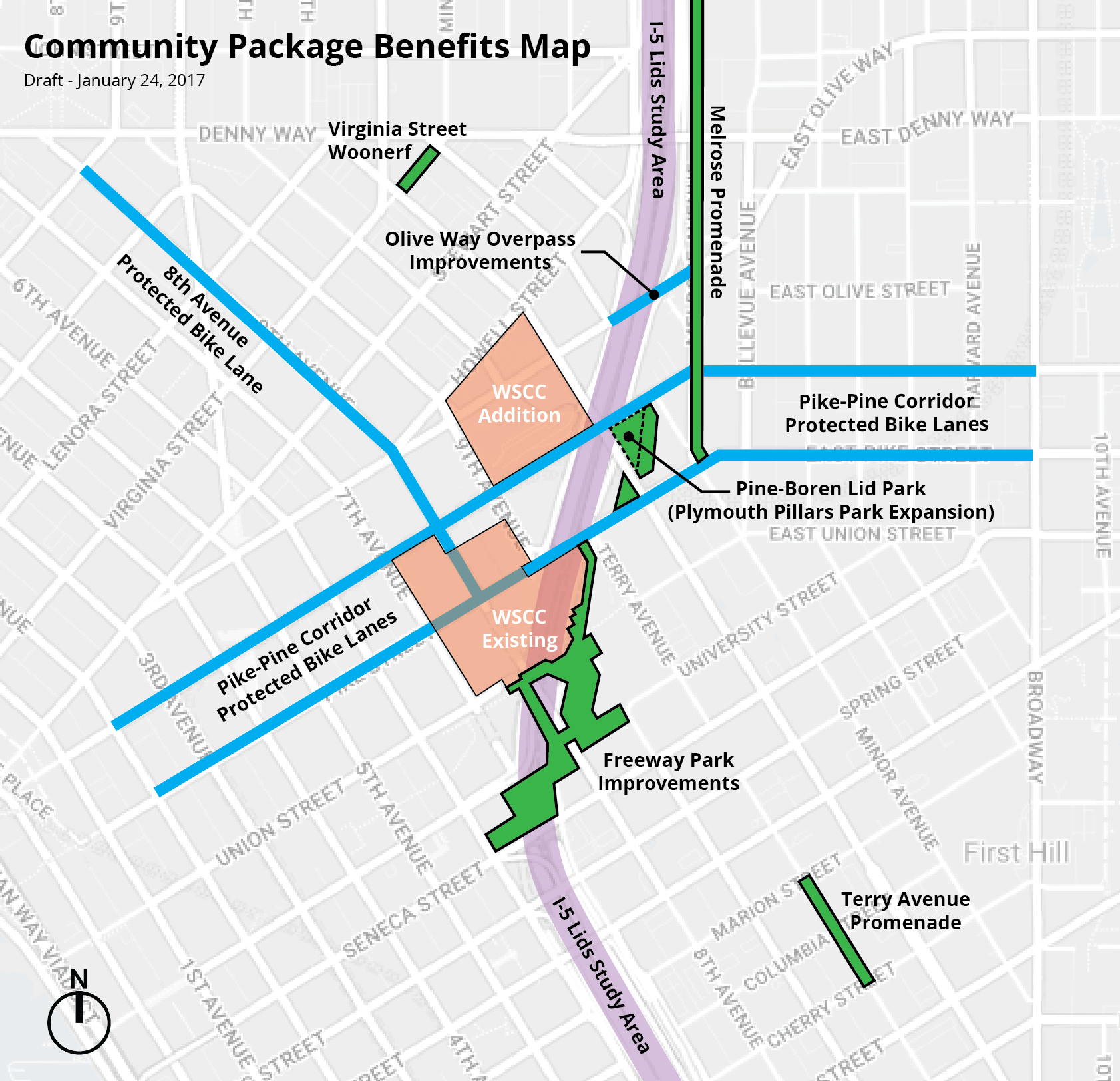 Projects funded with this package can be leveraged with additional funding from the street vacation fee, which may be appraised as at least $20 million. Half of the fee proceeds must be dedicated to open space and transportation projects in Seattle, and half may be allocated by the City Council at its discretion. We urge the City Council to maximize the potential of public benefits by combining these distinct funding opportunities.
The Community Package is summarized as follows. Please see the embedded letter below for full details.
The Community Package
Public Parks and Open Spaces
Freeway Park Improvements. Improve Freeway Park to be more safe, accessible, and enjoyable for local residents, employees, and Convention Center visitors.
Interstate 5 Lid Feasibility Study. Fund a City-led technical study of extending Freeway Park and lidding Interstate 5 in the Center City and beyond for parks, affordable housing, new streets, and other civic uses.
Melrose Promenade. Implement walking and bicycling improvements, public space, and public art along Melrose Avenue in Capitol Hill.
Pine-Boren Lid Park. Expand Plymouth Pillars Park by building an approximately 14,000 square foot lid park over Interstate 5 at the east corner of the Pine Street and Boren Avenue intersection.
Terry Avenue Promenade. Build a pedestrian-oriented woonerf on Terry Avenue between Cherry Street and Marion Street.
Virginia Street Woonerf. Build a pedestrian-oriented woonerf on Virginia Street between Boren Avenue and Minor Avenue.
Active Transportation
8th Avenue Bicycling Improvements. Build a northbound protected bike lane between Pike Street and Bell Street.
Interstate 5 Overpasses "Kit of Parts". Implement a suite of pedestrian improvements for I-5 overpasses, such as landscaping and sound buffers, between Olive Way and Madison Street.
Olive Way Interstate 5 Overpass Walking Improvements. Implement a roadway reconfiguration on the Olive Way I-5 overpass and I-5 interchange to increase pedestrian safety and reduce traffic conflicts.
Pike-Pine Corridor Bicycling Improvements. Build protected bike lanes on Pike Street and/or Pine Street between Downtown and Capitol Hill.
Affordable Housing
Affordable Housing. Contribute funding to create 300 affordable homes for workers earning hospitality industry wages (50-60 percent of area median income) within one mile of the Convention Center Addition. For more information on this component, click here.
We wish to work collaboratively with the Washington State Convention Center, the Seattle Design Commission, the City departments involved, the City Council, and the Mayor on further refinement and advancement of the Community Package. We look forward to the progression of the WSCC Addition project as it moves through the approval process.

How You Can Help
With your support, we can secure these critical investments for Seattle's growing city center and make the Community Package a reality.
Please message the following key public officials supporting the Community Package by February 10th. If you don't have time to send a personalized message, you can also sign this petition.
The Seattle Design Commission will host the unveiling of the WSCC's official public benefit proposal on Thursday, February 16, 9:00 AM-10:30 AM, at Seattle City Hall room L2-80. You are invited to attend and support the Community Package to help build a better city for all.
Coalition Letter
The Community Package coalition's letter to the WSCC Board of Directors, which was presented at the January 24th Board meeting, may be viewed below. The letter has full details on each component's scope, cost, and supporting organizations.
Final Community Package Letter – WSCC Board – 1-24-17 by The Urbanist on Scribd
Feature image credit to LMN Architects.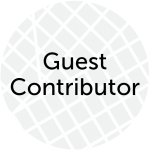 Community Package Coalition