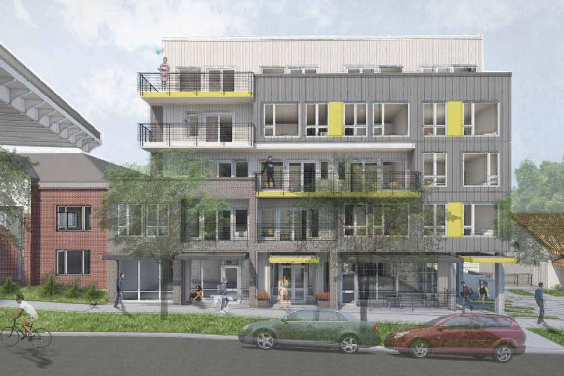 Last Tuesday, the Seattle Planning, Land Use, and Zoning (PLUZ) Committee heard two short briefings on a proposed contract rezone in Fremont and a draft resolution that requires a detailed report analyzing residential displacement, in addition to more than a dozen amendments to the University District rezone and urban design ordinance.
Fremont Contract Rezone
A 54-dwelling unit, 1,915-square foot commercial project in Fremont (734 N 35th St) has been working its way through the land use approval process since September 2014. To date, the project has received design review approval from the Northeast Design Review Board and a City Hearing Examiner reviewed the corresponding contract rezone last year, recommending approval subject to recording of a property use and development agreement and payment or construction of affordable housing. Fremont Apartments, LLC is backing the mixed-use project and hopes to win final approval of the contract rezone from full City Council.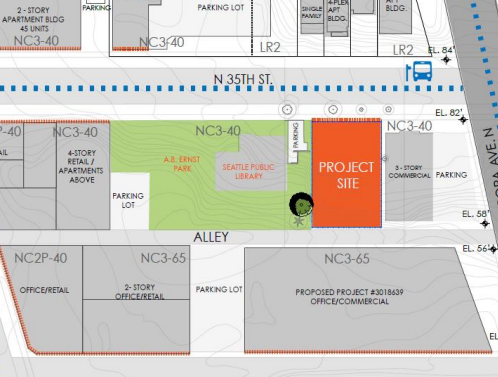 The proposed structure is planned to be five stories, but current zoning on the property is Neighborhood Commercial 3-40 (NC3-40)–a 40-foot height limit–which has necessitated a contract rezone in order to achieve the proposed density and building height. The applicant has requested a rezone to Neighborhood Commercial 3-65 (NC3-65), which would allow a structure up to 65 feet.
The site is immediately adjacent to the landmarked Fremont Public Library, which was partially funded by philanthropist Andrew Carnegie. Built in 1921 and designed by Daniel R. Huntington, the library is highly identifiable for its modest Spanish Revival architecture. The developer has recognized this as a unique amenity to the development site and proposed structure. To enhance this relationship with the library, the developer has proposed to help construct a shared open space between the new building and the library.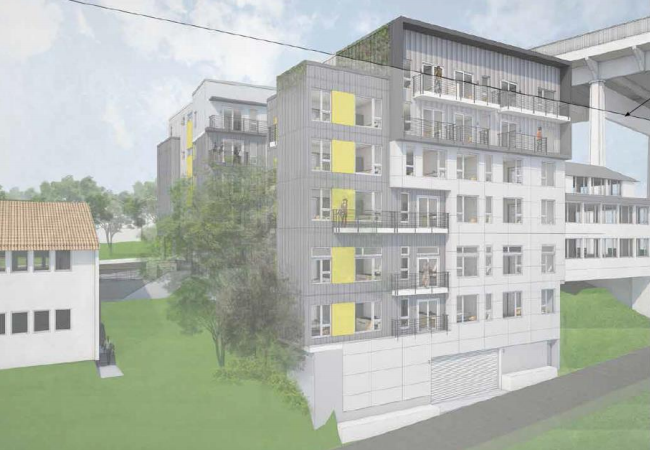 Most of the proposed dwelling units will be one-bedrooms and studios, but five units will be sized as two-bedroom dwellings. On the ground floor, there will be two commercial spaces for businesses to occupy, one of which would have a view toward the shared open space next to the library. Access to the commercial space will be from N 35th St. The developer also plans to construct ten parking stalls below grade, which rounds out to 0.2 parking stalls per dwelling unit. Vehicles would access the parking garage from the alleyway.
As part of the project, the developer will have choose whether to construction on-site affordable housing units or pay a fee to the City to construct them elsewhere. The on-site affordable housing requirement would be equal to 6% of the total residential square footage on-site while the fee in-lieu option would be priced at $13.25 per square foot of residential space. The ground floor commercial space is exempt from the affordable housing requirements since it is below the City's threshold of 2,000 square feet.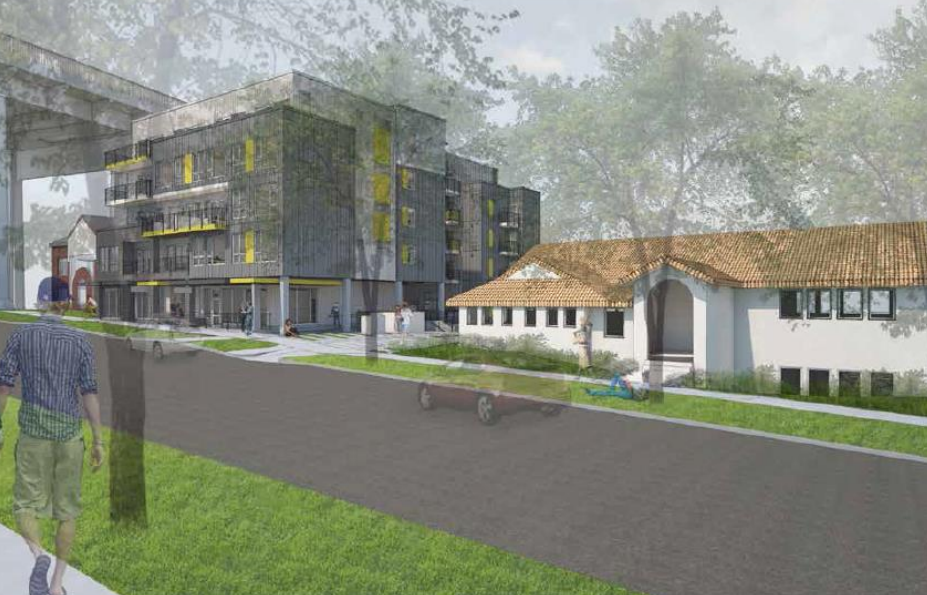 The approved building design includes some expansive open spaces on the property for residents, including a rooftop garden and deck, and ground-level courtyard. But the developer has chosen to do something particularly special by installing artwork on the eastern and western facades of the new building to interact with SR-99 and adjacent library. This responds to the Fremont Neighborhood Plan's community character policies that encourage public art and cultural amenities. Fremont Apartments, LLC will collaborate with 4Culture to pick an artist that would create the artwork, which is budgeted at $75,000.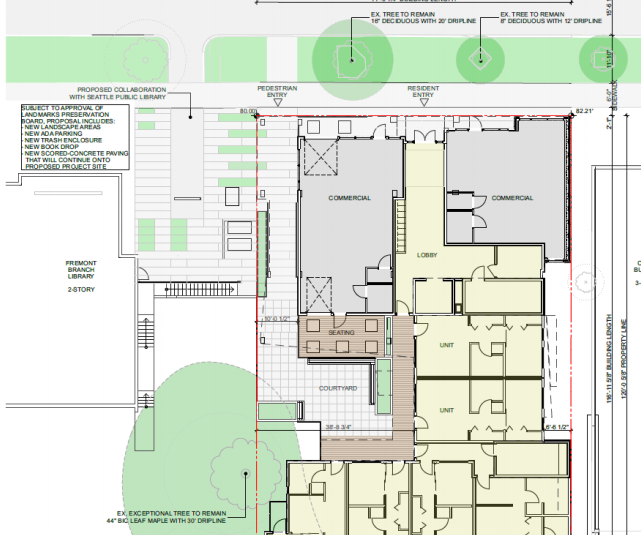 As part of the project, the developer is also collaborating with the Fremont library to design and construct a shared open space that would connect to the developer's property but be located on the library's property. The space will essentially function as a plaza that directly links to a landscaped corridor connecting to a semi-private courtyard on the developer's property. Together, these spaces would build a more whole space for the enjoyment of new residents and patrons to the library. The collaborative nature to this approach is a rare one, but the benefit of it should be fairly obvious in the proposed design above.
Once the developer has obtained their requested rezone, the project will still need approvals for the Master Use Permit, site construction permits, and building permits before development on the site structure can begin. In the meantime, the contract rezone will head to the full City Council for final approval.
Displacement Analysis
Councilmember Lisa Herbold is sponsoring a resolution that would require the Office of Planning and Community Development (OPCD) to conduct a "detailed analysis of the potential for residential displacement, both direct and indirect, that could result from increases in development capacity." The resolution would direct that the analysis evaluate if proposed development capacity increases would increase or decrease residential displacement due to demolition, and if they would introduce or speed up changing socioeconomic conditions that could result in displacement of vulnerable populations. The resolution would also specifically require, but not limit, the scope of the analysis to include information on:
Population and household characteristics (e.g., age, race, ability, and income status), including change over time;
Housing characteristics, which is broken up into three buckets–housing stock (e.g., housing mix, housing tenure, housing age, vacancy rates, and recent demolitions), housing affordability (e.g., cost burden, average monthly rent by age of structure, and average monthly rent by number of bedrooms), and housing supply (e.g., anticipated new units and affordable units);
Redevelopment characteristics of sites (e.g., number of redevelopment sites currently and under proposed rezoning, likelihood of development over the next 20 years, number of existing dwelling units, and estimate of number of low-income tenants that could be displaced);
Types of displacement (e.g., economic, cultural, and direct), which would be mapped to depict where it could occur;
Qualities of anticipated growth (e.g., market strength, access to opportunity, and different applications of MHA) for each neighborhood, urban center, and urban village; and
Recommendations on appropriate mitigation strategies that could respond to dwelling units that are at risk of demolition and vulnerable populations at risk of displacement.
OPCD would be expected to deliver a full report to the City Council by May 15th of this year. The City Council could rely upon the analysis to develop and implement strategies to address displacement, particularly for vulnerable populations. The resolution will go to the full City Council for review and consideration.

Stephen is a professional urban planner in Puget Sound with a passion for sustainable, livable, and diverse cities. He is especially interested in how policies, regulations, and programs can promote positive outcomes for communities. With stints in great cities like Bellingham and Cork, Stephen currently lives in Seattle. He primarily covers land use and transportation issues and has been with The Urbanist since 2014.