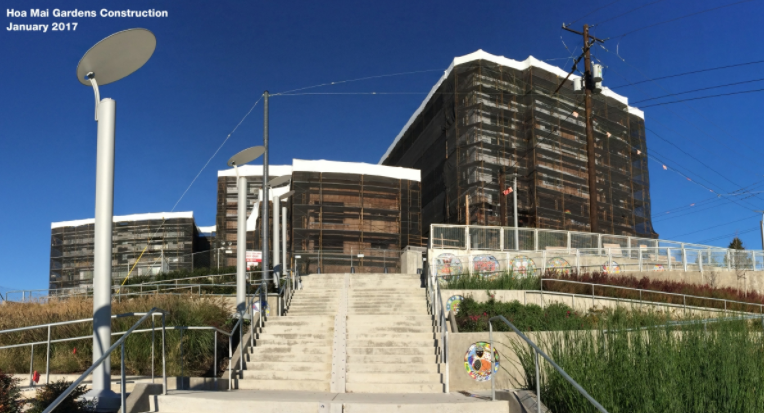 The Seattle Housing Authority (SHA) recently met with the Seattle City Council to provide a briefing on progress to redevelop Yesler Terrace, the largest public housing district near Downtown Seattle. Yesler Terrace's redevelopment plan involves a massive remake of the district in terms of income levels, housing types, and community facilities. The ambitious plan seeks to replace ageing low-income public housing (LIPH) units–which are predominately two-story townhouses–with five- to seven-story mixed-use and multi-family residential buildings. The redevelopment plan also includes major investments in new parks, community centers, and transportation infrastructure (e.g., hillclimb, streetcar, and bike lanes).
Yesler Terrace Redevelopment Progress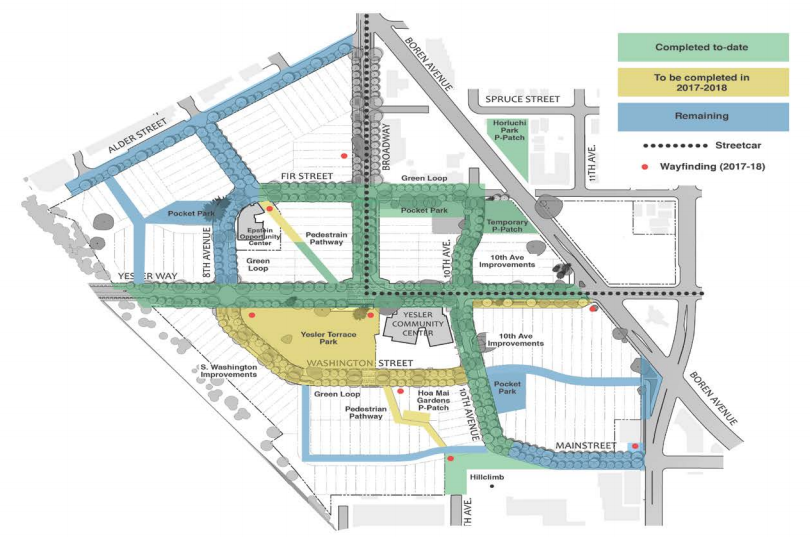 Redevelopment of Yesler Terrace is in full swing with multiple residential and mixed-use development under construction. In the past few years, the SHA and its partner agencies have reached some important milestones with the completion of the 10th Ave S Hillclimb, final design of new parks (i.e., Yesler Terrace's central park and the Fir Street pocket park), and the renovation of two historic structures (i.e., Washington Hall auditorium and steam plant at the Epstein Opportunity Center). In terms of delivering housing, SHA reports substantial progress:
148 LIPH replacement units and units at 30% of the area median income (AMI) have been constructed with another 70 currently under construction;
53 units at 60% of the AMI have been constructed with another eight currently under construction;
30 units at 80% of the AMI have been completed with 72 currently under construction; and
90 market-rate units have been completed with another 156 currently under construction.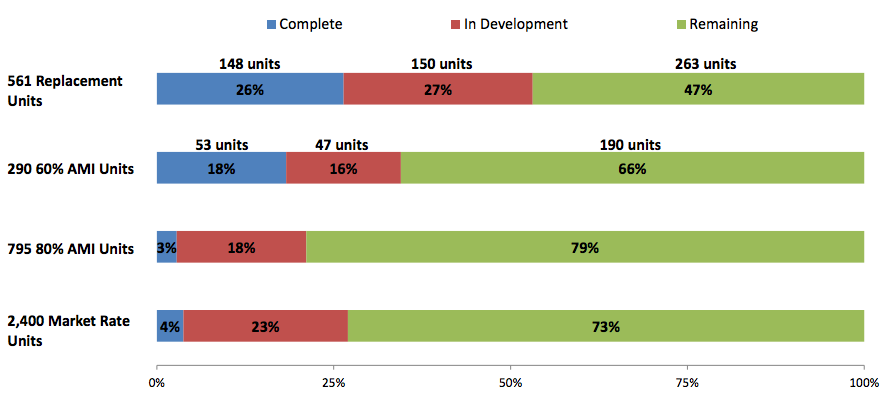 Note: market-rate and affordable housing units targeted at 80% of the area median are being constructed by private developers.
SHA's multi-phase redevelopment is by all measures ahead of schedule for replacing low-income public housing units and developing new deeply affordable housing units. In its second phase, Yesler Terrace redevelopment is more than halfway done with creating 561 LIPH units. 133 of the 498 original households relocated as part of the redevelopment have returned to Yesler Terrace to reside in the new LIPH units. This reflects SHA's relocation policy that gives priority to residents who were moved from a community such as Yesler Terrace that is under redevelopment to return upon rehabilitation of the community. Another 179 households that were moved out of Yesler Terrace are eligible to return in the future. Separately, 151 households still live in the original LIPH units at Yesler Terrace; these will eventually be demolished as part of the redevelopment and some households may need to relocate in the future either within Yesler Terrace or off-site.
So far, SHA's redevelopment of Yesler Terrace has secured $200 million in funding with significant shares coming from tax credit equity, land sales, and debt. The City of Seattle has also backed $17 million with another $13 million remaining to be allocated. SHA expects to secure another $253 million on top of the City's commitment to help fund the overall redevelopment goals of Yesler Terrace for LIPH and deeply affordable housing units. The largest shares are projected to come from land sales ($104 million) and tax credits ($102 million). In total, SHA expects to have dedicated $466 million to redevelopment of LIPH and deeply affordable housing.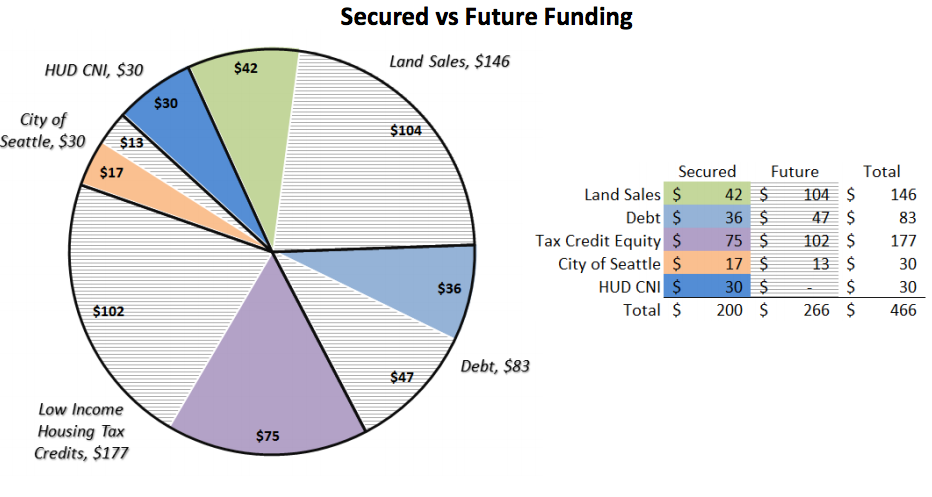 While much of the focus on redevelopment of Yesler Terrace is on housing, public investments in community space and infrastructure are important aspects to the revitalizing district. Last year, a hillclimb connecting S Main St and S Jackson St opened at 10th Ave S. The hillclimb serves as an important linkage between Yesler Terrace and Little Saigon. The staircase features community-designed glass mosaics, a runnel for bikes, small plaza space, and soft landscaping. In 2014, Horiuchi Park was completed providing 28 p-patch plots for Yesler Terrace and First Hill residents on an under-utilized park space.
In the earlier years of redevelopment, SHA sought to preserve meaningful cultural and historic spaces for the community. SHA contributed funds to the restoration of Washington Hall as a community performing arts center, which was completed in 2010. A few year later, the old steam plant–now known as the Epstein Opportunity Center–opened in 2014 as a central community space. Now a 1.7-acre central park space in Yesler Terrace is under construction.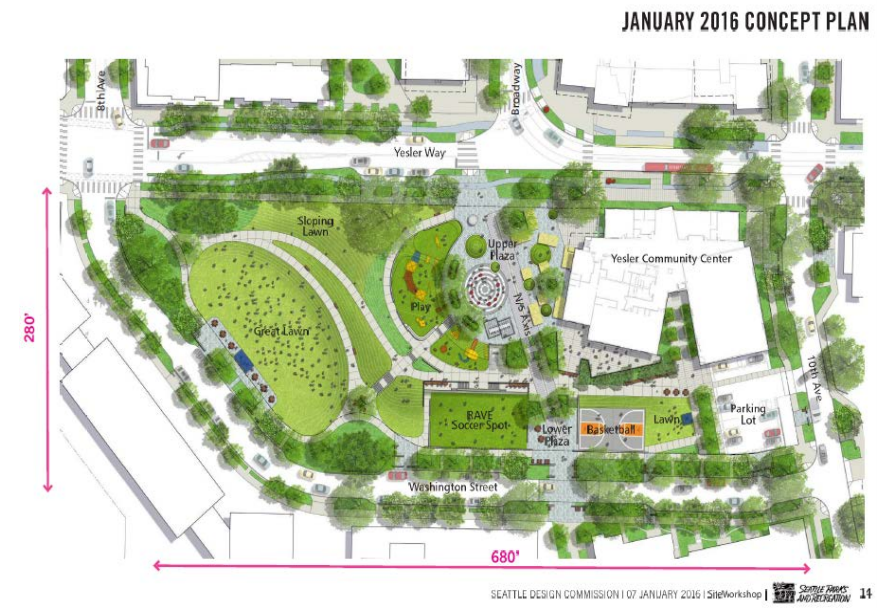 Phase II Ahead Of Schedule; Modified Cooperative Agreement
Last month, SHA sought and received approval from the City Council to modify terms of an agreement (known as the "Cooperative Agreement") between the housing authority and City of Seattle stipulating housing production goals within Yesler Terrace. The agreement, which was signed by both parties in 2012, commits the agencies to financial obligations and implementation of the redevelopment plan. Changes proposed to the agreement centered on housing production funding commitments by the City in Phase II of the redevelopment plan due to SHA being well ahead of schedule in delivering replacement and new deeply affordable housing units.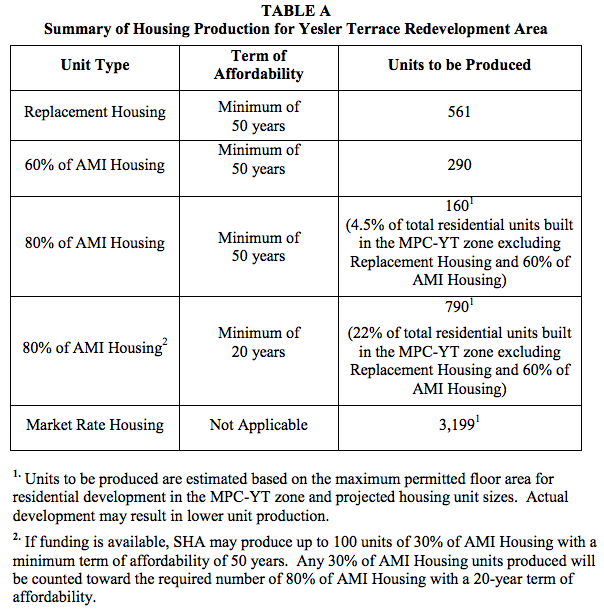 For Phase II, the agreement stipulated a goal of producing at least 174 units as replacement low-income public housing (LIPH) and deeply affordable housing units (104 LIPH and 70 rent-restricted units at or below 60% of the area median income) over two development projects. The first project, Raven Terrace was completed in 2014, delivering a total of 83 units. Through the 2009 Housing Levy, Seattle chipped in $1.8 million for LIPH and deeply affordable housing units. Raven Terrace was originally only expected to be developed with 60 units under the terms of the Phase II agreement with 36 replacement LIPH and 24 deeply affordable housing units. However, SHA was able to deliver 50 LIPH and 33 deeply affordable housing units in the project.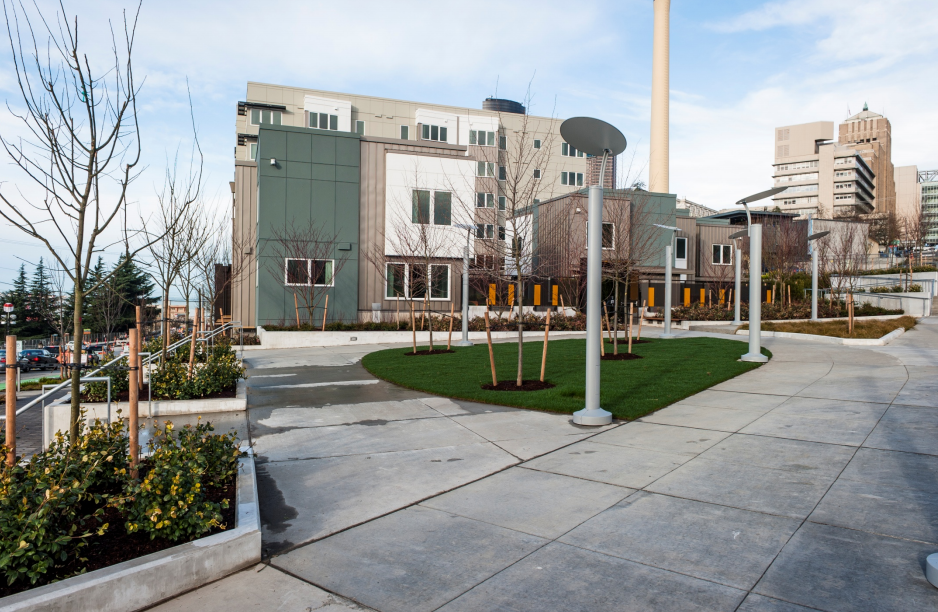 Under the terms of the agreement, the City of Seattle was supposed to make its next funding contribution toward replacement and deeply affordable housing units in Phase II during 2016. But SHA was able to speed ahead of that timeline to get Hoa Mai Gardens–a 111-unit deeply affordable housing apartment building with 70 LIPH units–permitted, financed, and under construction in 2015. Closing on the project before 2016 meant that the project wouldn't be eligible for the City's $3.42 million contribution despite being completed on Block 6 of Yesler Terrace where the City's funding contribution was earmarked. To resolve this issue and ensure that overall deeply affordable housing production goals would be met, SHA and the Office of Housing sought to revise the agreement.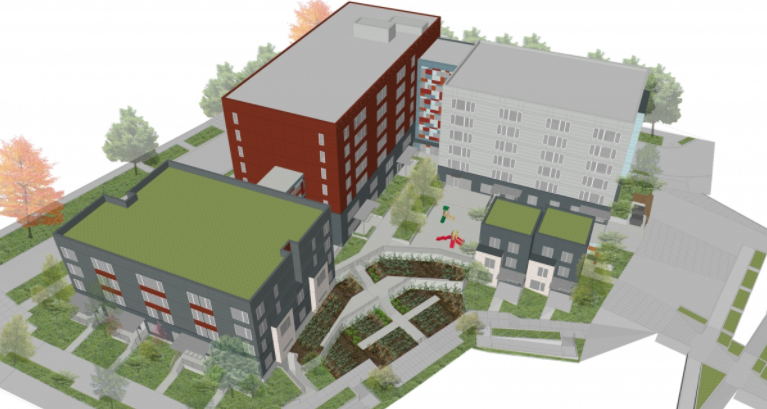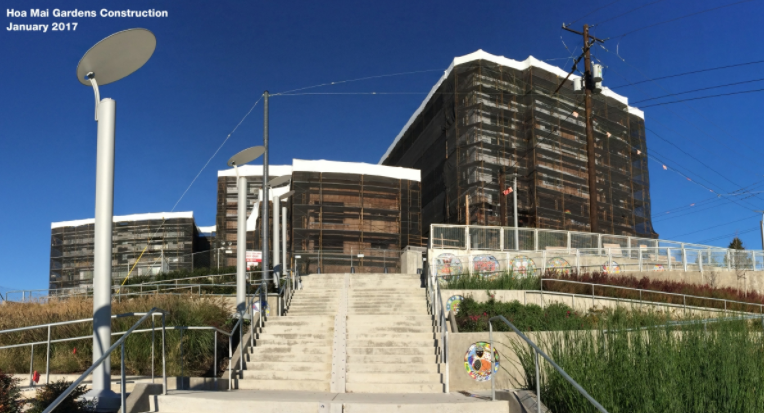 In adjusting terms of the agreement, the City's contribution to the second project in Phase II is pushed back to this year and transferred to Block 8 in Yesler Terrace where SHA plans to build its next replacement and deeply affordable housing project: Red Cedar.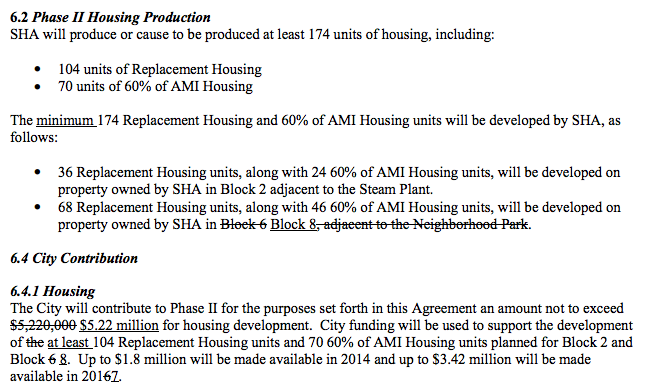 To get a sense of where Block 6 (where Hoa Mai Gardens is located) and Block 8 (where Red Cedar is proposed) are located within Yesler Terrace, the map below highlights the areas of the blocks: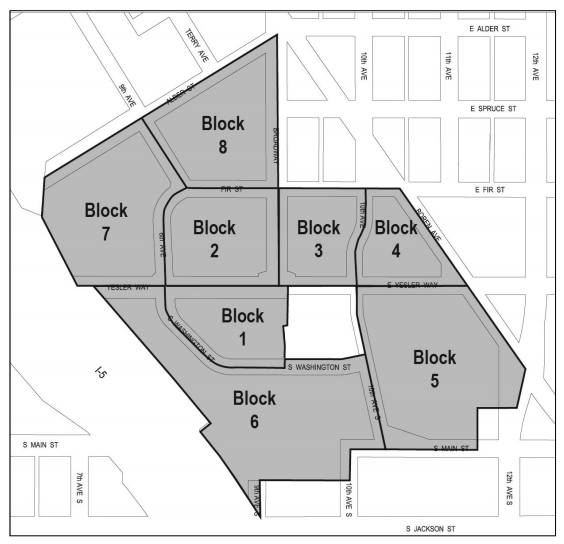 Red Cedar is planned to be a six-story apartment building with 132 LIPH and affordable housing units. SHA's original cost estimate put the project in the $30 million to $40 million range, making the City's share cover anywhere from 8.5% to 11.5% of the total cost. Construction on the project is expected to breakdown this month and first occupancy of the building is anticipated in 2019.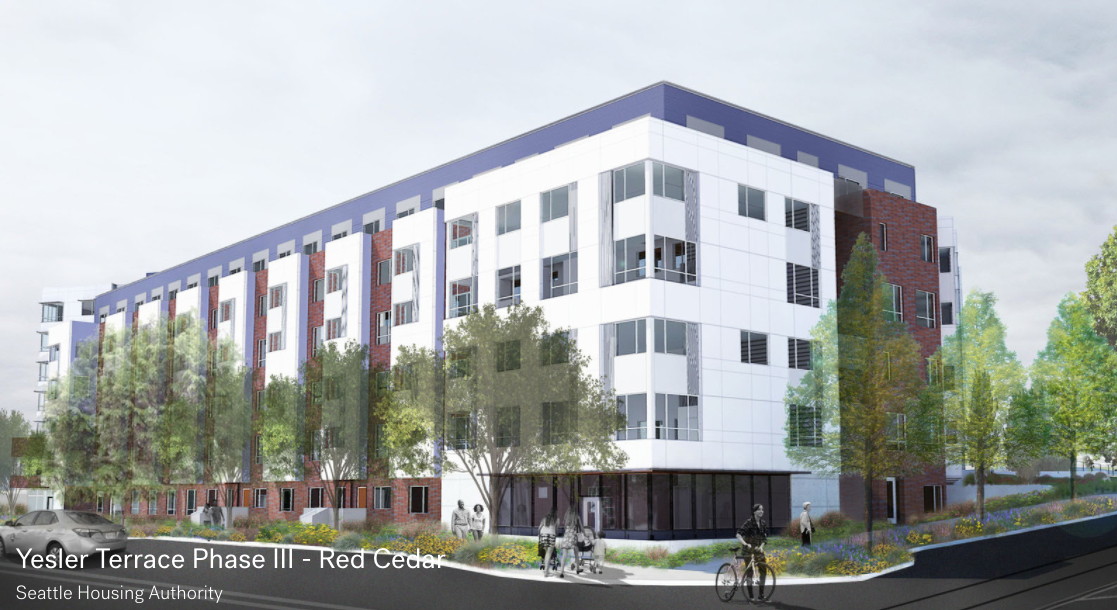 Importantly though, the revised terms of the agreement mean that SHA will be able to finance Red Cedar and deliver on the promise of deeply affordable housing production mutually agreed upon by SHA and the City. The pace of delivery, however, just happens to be further ahead of schedule, which ultimately is a good thing in a city that badly needs more deeply affordable housing stock now.

Stephen is a professional urban planner in Puget Sound with a passion for sustainable, livable, and diverse cities. He is especially interested in how policies, regulations, and programs can promote positive outcomes for communities. With stints in great cities like Bellingham and Cork, Stephen currently lives in Seattle. He primarily covers land use and transportation issues and has been with The Urbanist since 2014.