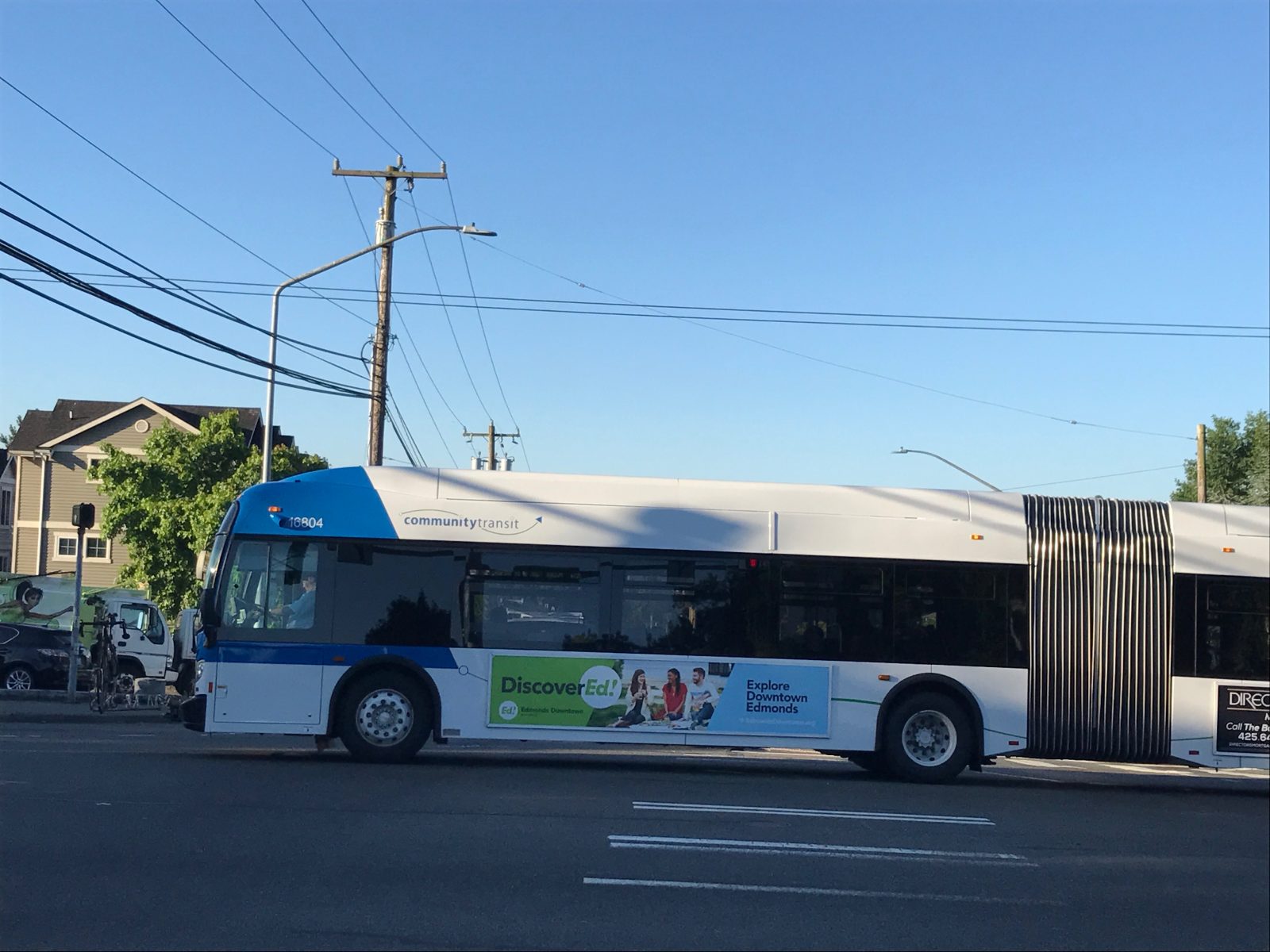 It's not just King County Metro Transit getting fall service improvements. Community Transit, Pierce Transit, and Sound Transit are slated for increased service levels starting this weekend. Headlining improved service are the introduction of two new Sounder trips each weekday, a brand new peak-hour route and better Sunday service in the Community Transit network, and beefing up on weekend service for Pierce Transit. Service changes to Intercity Transit, Everett Transit, and Washington State Ferries will be considerably more quiet.
Community Transit Service Changes
The biggest change coming the Community Transit's network is the launch of a new weekday bus route that will serve the Boeing Everett/Paine Field area. Several routes will also be realigned and extended to provide better local service.
Route 105 is being extended during peak periods north of Marine Park-and-Ride. The service extension will provide better access to Boeing Everett/Paine Field via Airport Road for commuters of the Paine Field manufacturing industrial center. This route extension will also help provide a shadow local bus service along the entire length of the Swift Green Line service planned for 2018.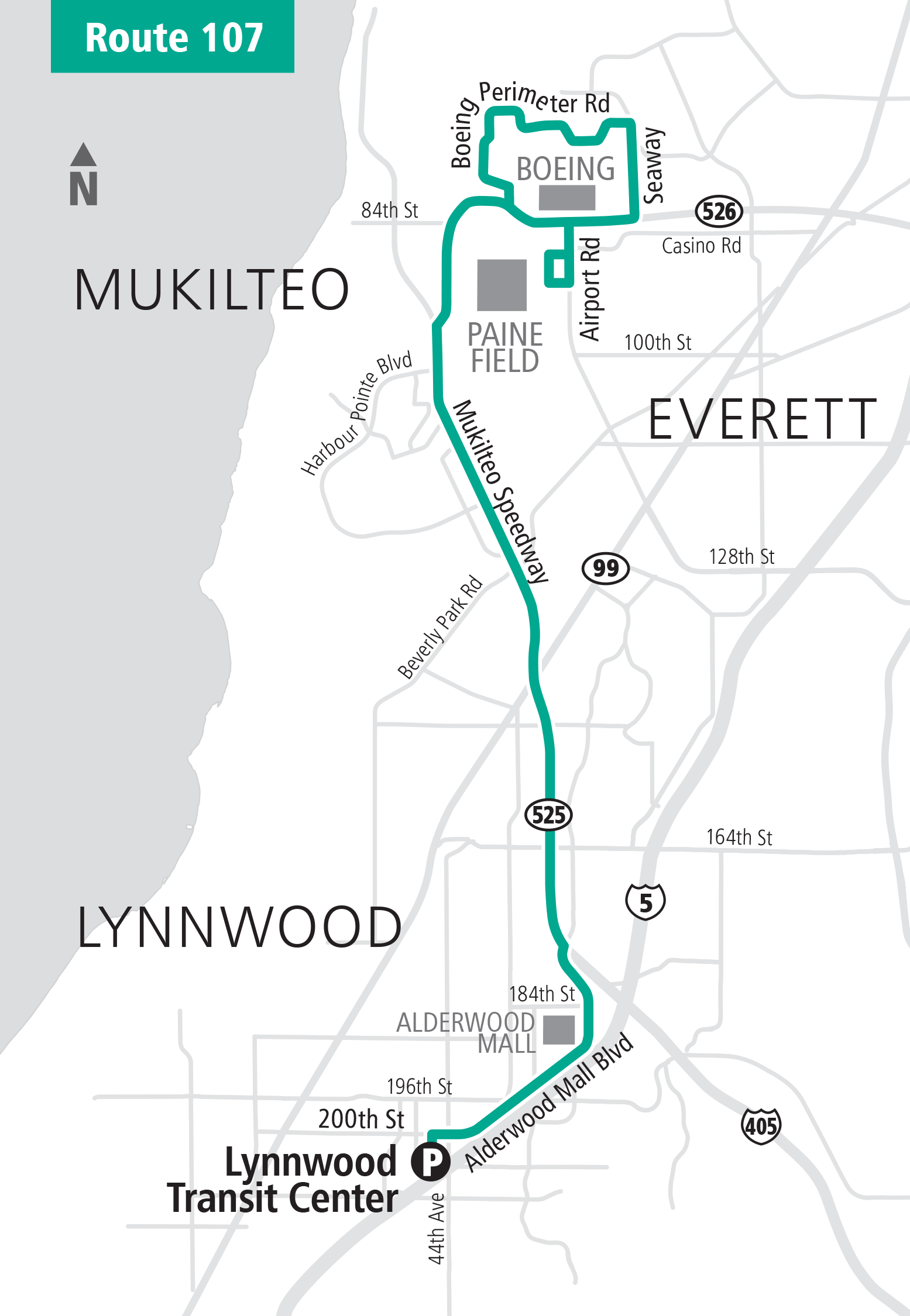 Route 107 will be a new peak-hour, peak-direction bus service between the Lynnwood Transit Center and Boeing Everett/Paine Field area. It will operate via the Mukilteo Speedway to serve commuters of the Paine Field manufacturing industrial center. The service will include three trips in the morning and three trips in afternoon.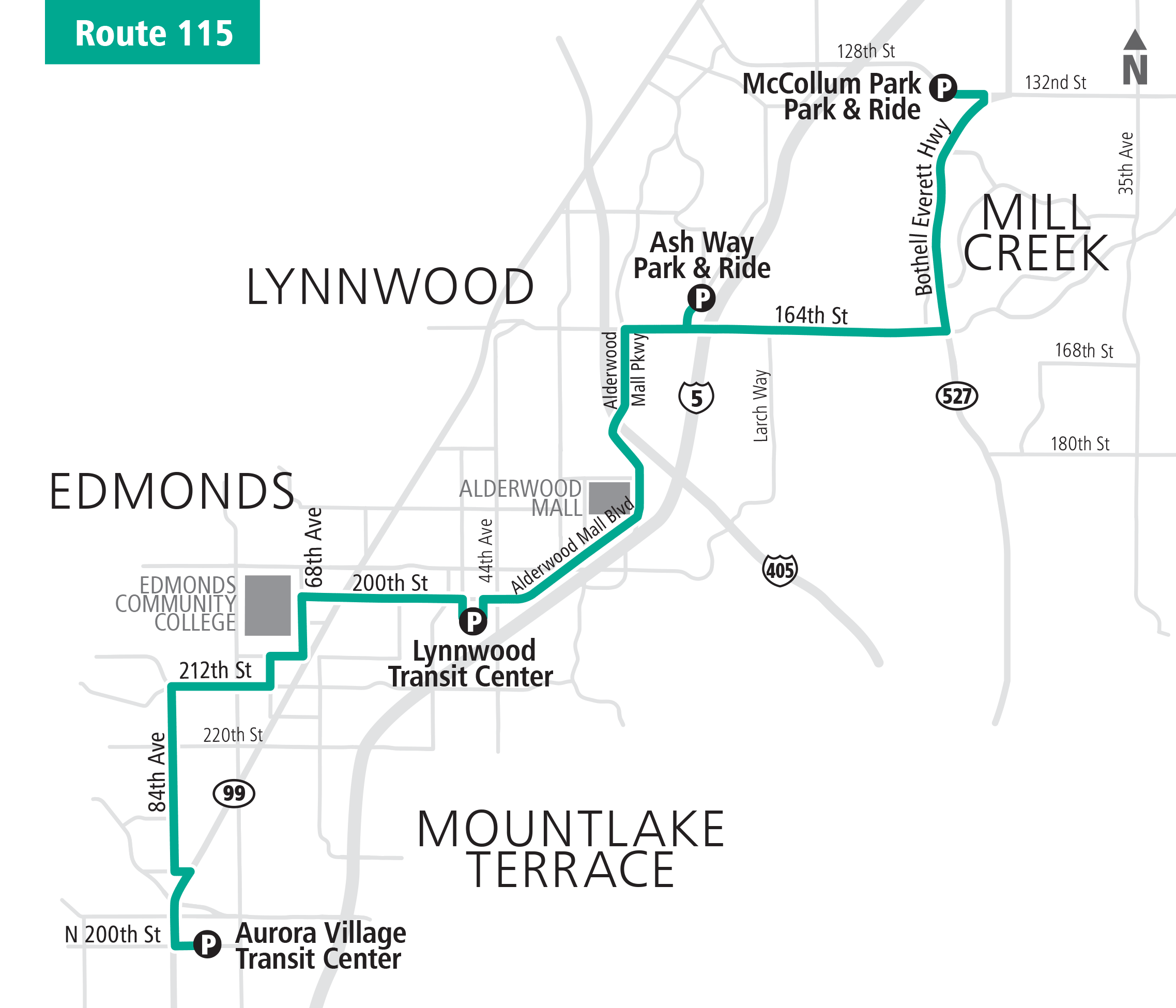 Route 115 will be realigned in the Mill Creek area. Realignment means that the route will no longer terminate at Mariner Park-and-Ride. Instead, service will terminate at McCollum Park-and-Ride about a mile east of the current terminus.
Route 196 will be extended northward from its terminus at Alderwood Mall. This extension will provide a direct connection with Ash Way Park-and-Ride to provide better regional connections and support a rise in service demand on the Alderwood-Ash Way corridor.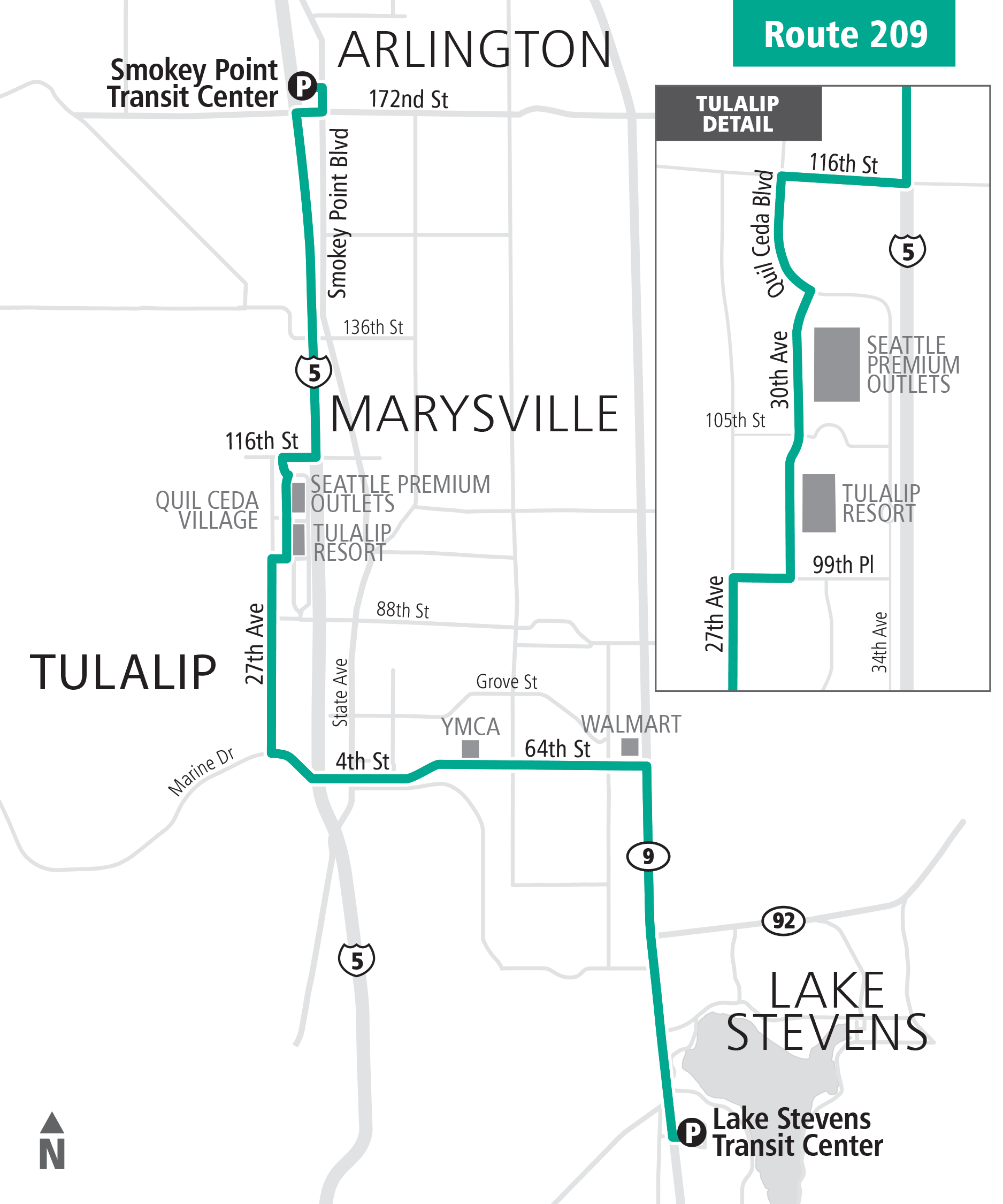 Route 209 will be extended further north of Quil Ceda Village, which will provide service to the Smokey Point Transit Center. The extension will operate via I-5 and allow new connections to Routes 220, 230, and 240 at the transit center. The route currently operates between Quil Ceda Village and Lake Stevens via Marysville.
Route 277 will no longer operate after the service change. Routes 270 and 271 will compensate for the service loss to Boeing Everett.
Route 280 will receive two minor route revisions in Lake Stevens and Granite Falls.
Sunday service will get a substantial boost with a total of 37 additional midday trips spread across Routes 240, 271, and 280. This will allow for all-day service on these core routes with baseline hourly frequency.
Lastly, Commuter routes in the 400 and 800 series will get an additional 22 daily trips on weekdays. This will support growing demand for service between Snohomish County and Downtown Seattle and University of Washington. Most of the extra trips will be added as morning southbound service, but a handful will help improve afternoon northbound service. New morning trips will go to Routes 412, 413, 415, 421, 422, 425, 435, 880, 810, 855, and 871. Meanwhile, new afternoon trips will go to Routes 402, 412, 413, 415, 422, 425, 810, and 871. The new trips will allow for extended span of service and increased frequency, depending upon the route. Schedule adjustments may be made to accommodate the new trips.
The service changes begin on Sunday, September 24th.
Community Transit To Boost Service In September 2017 And March 2018
Pierce Transit Service Changes
Pierce Transit is making service improvements by adding service to weekday and weekend service and adjusting schedules to facilitate better on-time performance. A large chunk of the new trips are focused on weekends. 31 trips will be added to Sunday schedules while Saturdays will get another 24 trips. Weekdays will get 14 new daily trips. The new service will be spread across more than a dozen routes.
Extra weekday trips will go to Routes 1, 3, 4, 16, 41, 53, 54, 206, 214.
Extra Saturday trips will go to Routes 1, 3, 4, 41, 42, 52, 53, 57, 202, 206, 402, and 500.
Extra Sunday trips will go to Routes 1, 2, 3, 4, 16, 41, 48, 52, 53, 54, 57, 202, 206, 402, and 500.
Most routes will see some adjustment to their schedules. The service changes begin on Sunday, September 24th.
Sound Transit Service Changes
Perhaps the most notable service improvement coming to Sound Transit this fall are two new roundtrips on the South Sounder Line. Those trips will begin on Monday providing better frequency and offering an additional reverse peak direction option. Track changes will accompany the South Sounder Line schedule adjustments at Tacoma Dome Station.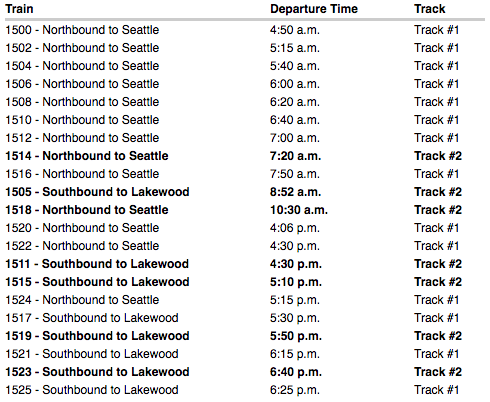 To support the new Sounder trips, Sound Transit will adjust schedules and add trip to Routes 567, 580, and 596 to meet the trains. Sound Transit is focusing the lion's share of other changes on performance meaning schedule adjustments to ST Express routes. This will affect Routes 532, 540, 541, 542, 545, 550, 554, 560, 566, 590, 592, 594, and 595. Minor changes to transit center bay locations and completion of construction will mean slight revisions to Routes 550, 555, 556, 560, 566, and 574. The service changes will be phased in Saturday through Monday (September 23rd through September 25th), depending upon service type and whether a route terminates in Snohomish, King, or Pierce Counties.

Stephen is a professional urban planner in Puget Sound with a passion for sustainable, livable, and diverse cities. He is especially interested in how policies, regulations, and programs can promote positive outcomes for communities. With stints in great cities like Bellingham and Cork, Stephen currently lives in Seattle. He primarily covers land use and transportation issues and has been with The Urbanist since 2014.