Councilmember Debora Juarez intends to introduce legislation today that would encourage more housing and pedestrian-oriented urban development in the Aurora-Licton Springs Urban Village. The proposed legislation would achieve this by putting a temporary moratorium in place for up to one year for certain uses. This would give policymakers time to complete the citywide Mandatory Housing Affordability (MHA) process, which is successively rezoning urban districts across the city. Residential and most pedestrian-oriented non-residential uses would continue to be allowed throughout the targeted moratorium.
The proposed legislation would only affect commercial zones in the Aurora-Licton Springs Urban Village. Specifically, the legislation would prohibit heavy commercial, manufacturing, and warehouse uses in the Commercial 1 (C1), Commercial 2 (C2), and Neighborhood Commercial 3 zones that line much of the urban village.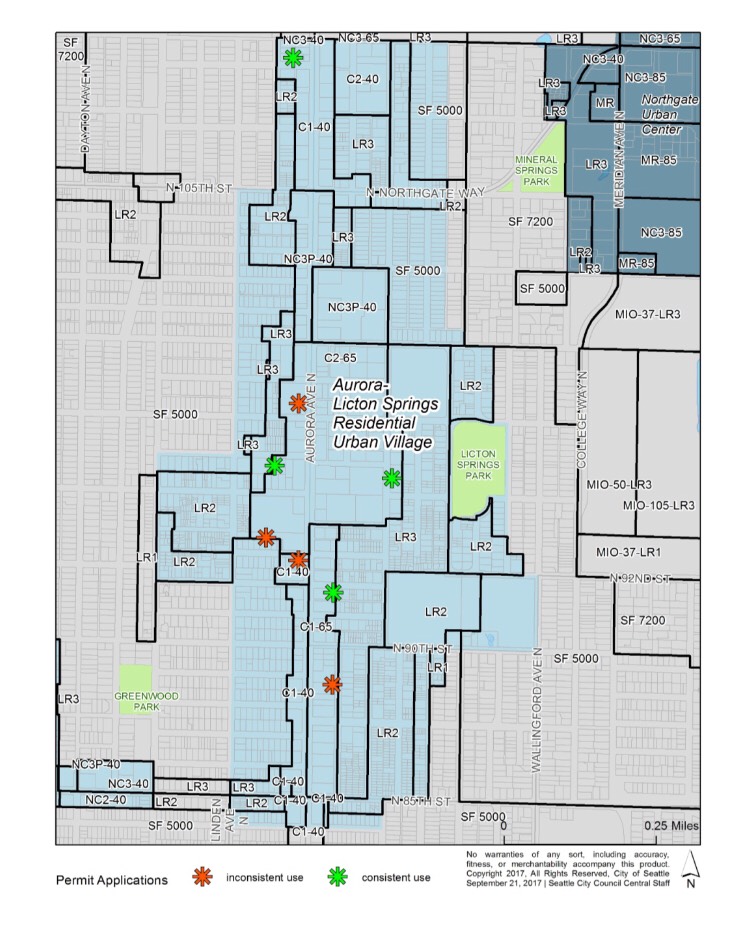 The moratorium would mean that uses like drive-in businesses, outdoor storage, general manufacturing, recycling and solid waste uses, warehousing, vehicle sales and rental, mini-storage, wholesale showrooms, standalone long-term parking, and towing services would not be allowed. Councilmember Juarez fears that continuing to allow these types of uses would mean less future development capacity in the urban village and greatly affect pedestrian-oriented urban development. A lot of those types of uses continue to be developed in the urban village according to permitting data, which adds credence to the concern.
The draft MHA rezones for the Aurora-Licton Springs Urban Village would generally change C1 and C2 to a Neighborhood Commercial zoning type. Some of this would be paired with Pedestrian zone designation placing further controls on the types of activities allowed to encourage denser pedestrian-oriented development. Councilmember Juarez reports that many people in the Aurora-Licton Springs Urban Village area support rezoning the district and are welcoming to more pedestrian-oriented development.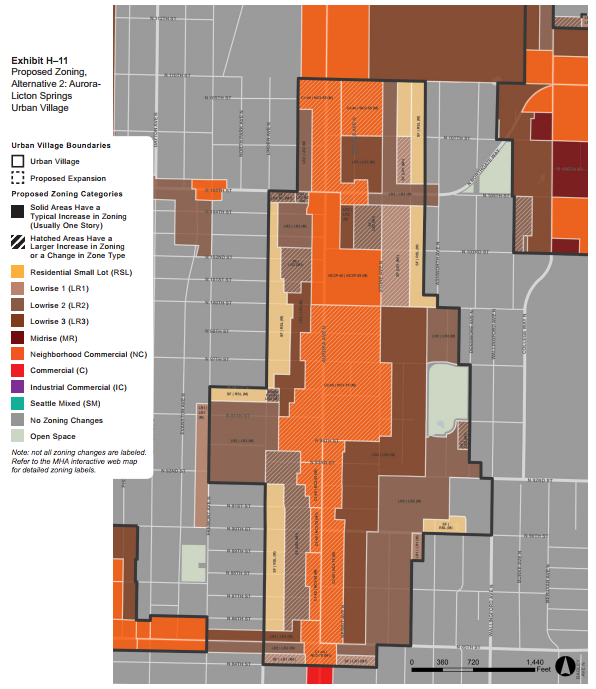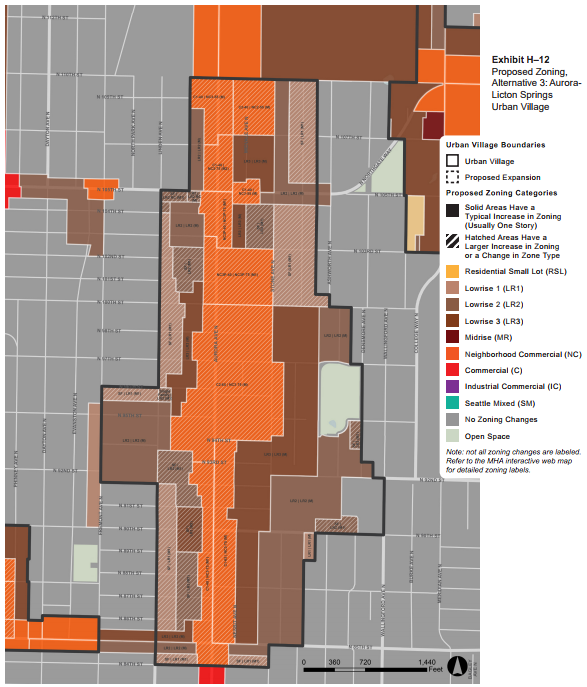 Councilmember Juarez hopes that the emergency legislation will be adopted by the City Council by October 2nd. Under state law, a public hearing must be held on any temporary moratorium within 60 days of its adoption to affirm continuance of it. Projects that are already vested under existing land use laws may continue to be processed and approved under those laws despite the moratorium. So the proposed legislation would not stop those projects from going forward, but it would affect any other development proposals after its adoption.
Title image courtesy of Google Maps.

Stephen is a professional urban planner in Puget Sound with a passion for sustainable, livable, and diverse cities. He is especially interested in how policies, regulations, and programs can promote positive outcomes for communities. With stints in great cities like Bellingham and Cork, Stephen currently lives in Seattle. He primarily covers land use and transportation issues and has been with The Urbanist since 2014.