The Urbanist hosted a tour of the South Lake Union and Cascade on Saturday morning, offering a glimpse of these booming neighborhoods that most Seattleites rarely see up-close in their day-to-day lives. Many pass through in their commutes cursing the traffic, but how often do we take a leisurely stroll in Cascade to enjoy the interplay of urbanism old and new?
Starting at the Museum of History and Industry (MOHAI) we headed south and snaked around the neighborhoods, seeing points of interest including a new Google campus under construction, the Mercer Mess, three historic commercial laundries, a giant housing development on a Seattle Times parking lot, a retirement community with a 24-hour bar, and a Facebook campus under construction.
Our Vision Zero reporter Ryan Packer touched on some of the efforts to improve transportation in the traffic-clogged area of town, which include soon-to-be-installed dedicated lanes for the Route 8 in choice spots. Seattle Office of Housing's Deputy Director Miriam Roskin and Bellwether Housing CEO Susan Boyd broke down some of the affordable housing efforts–Bellwether is building Anchor Flats on Dexter Avenue. Seattle Tech 4 Housing's founder Ethan Phelps-Goodman gave an overview of all the redevelopment on the way in this part of town–the Denny Way corridor alone could see more than 10,000 new homes if all plans are built. Many replace parking lots.
Roskin describes the Mirabella, the Brewster, and the limitations of historic preservation in the clip above.
This slideshow requires JavaScript.
Below is a clip of Phelps-Goodman describing the Seattle Times development and the larger boom along Denny Way. Those projects include a nearly topped out tower at 970 Denny Way and twin towers like Crescent Heights and these wavy towers at 1200 Stewart.
To some South Lake Union–a formerly forgotten seedy Seattle sideshow now teeming with tech workers and sprouting shiny towers–represents everything that is wrong with Seattle today. A cursory tour shows there's more to the neighborhood than the stereotype. Yes, expensive restaurants and boutique store abound, but so do preserved historic buildings, quiet streets between loud construction projects, bustling street cafes, and cozy neighborhood spots. More than anything there's potential.
This building hearkens back to Cascade's past. Commerical laundries were popular business back in the way. #SLUboom pic.twitter.com/4qWwpGmTv9

— The Urbanist (@UrbanistOrg) September 23, 2017
In addition to our own live tweets, check out @seatech4housing and @Paigetastic01 (who used #TheUrbanistTours) for more tweets from the event. Thanks to them for helping to document the tour.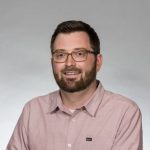 Doug Trumm is publisher of The Urbanist. An Urbanist writer since 2015, he dreams of pedestrianizing streets, blanketing the city in bus lanes, and unleashing a mass timber building spree to end the affordable housing shortage and avert our coming climate catastrophe. He graduated from the Evans School of Public Policy and Governance at the University of Washington in 2019. He lives in East Fremont and loves to explore the city on his bike.