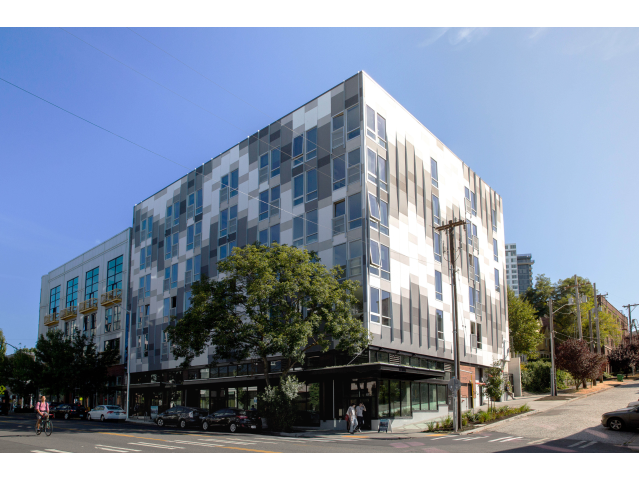 Seattle is in the midst of one its largest booms in a history that is almost nothing but a string of booms and busts. The city is changing at breakneck pace. A street one has known for years is rendered almost unknown in a short span. The change is so pervasive that it is what people–not just urbanists nerds like us–discuss in bars, cafes, and on the street. People find it alternately thrilling and terrifying.
Regardless of one's thoughts on the growth, one thing many people seem to agree on is the lack of design quality of many of the new buildings. If the early 20th century is the era that gave our city many of the beautiful brick building that neighborhoods such as Capitol Hill, Lower Queen Anne and the University District are know for, our era will be remembered as the time of Hardie panel—Hardie being the mixture of wood pulp and cement that is so irresistibly cheap and durable that is has come to be the dominant facade of new buildings.
Behind all of this new construction are the architects who design the buildings we love, hate, or feel nothing about (possibly the worst outcome). They work within the zoning code and its setbacks, facade length maximums, height limits and bonuses, amenity area requirements, pedestrian overlays, exceptional tree requirements, power line setbacks, design guidelines, design review, and other requirements to make a building that will ideally look like something people would want to live or work in. Add in the specific needs of the program (what goes in the building), the economics of the client, parking requirements, angry neighbors, bank requirements, structural engineering considerations, and of course the Building Code with its life safety requirements (very important). This is not to bemoan the job of the architect but rather to say that architecture is often occurring within a very constrained box. Before one even starts designing many of the key decisions have already been made, creativity must happen within the few feet of wiggle room left and beauty is often an afterthought. Yet, somehow buildings that inspire and move still get built and architects still aspire to a higher good whether aesthetic, social, or civic.
It is in this context that the annual American Institute of Architects (AIA) Seattle Honor Awards for Washington Architecture are happening again. The awards are one of the few times a year that design is showcased, celebrated, and judged as the nominees compete for honors which are announced in front of their peers. Interestingly, the projects are all self-nominated and then judged by a panel of out-of-town guest jurors. Projects are divided into "Built" and "Conceptual" categories and range in scale from small sheds to community buildings to high-rises to urban plans.
Interestingly in Portland the AIA has at various time had two awards that are not found among Seattle's awards: The Mayor's Award for Design Excellence and the People's Choice Award (as well as several other minor categories such as Craft and 2030 Challenge Awards). Both add value to design as a field and a subject for community discourse. The Mayor's Award for Design Excellence, like having a poet laureate, sends the message that design is a quality that is of civic import and elevates it to a thing that should be reflective of our values as a city. The People's Choice Award, on the other hand, takes design and pulls it from the rarefied air of the black clad designer down to the level of the everyday citizen. It says that while you may not have a Masters in Architecture or know who Mies van der Rohe is, your opinion still matters. Traditionally a display of the nominees was put up in the Pioneer Place mall (Portland's Westlake Mall) so citizens could review and vote while the scent of Cinnabon wafted by and the latest Taylor Swift song played in the background. Perhaps in the future the Seattle AIA will look to open up the judging of architecture to a wider audience.
Below are a few projects that are all interesting but for very different reasons. Each shows the importance and power of design within our city. Please note, at this point the names of the design firms are being withheld at the request of the AIA  Seattle Honor Awards organizers.

The Hub

This project shows the social impact that architecture and architects can have. The Hub serves as the security gate for the Othello tiny-house village for people experiencing homelessness. It was designed and built by high school age girls with the help of local designers as part of an after school program intended to foster equality in the male dominated building trades. The project served a crucial role in Othello Village and provides an aesthetic anchor to the city sanctioned encampment.
Common Ground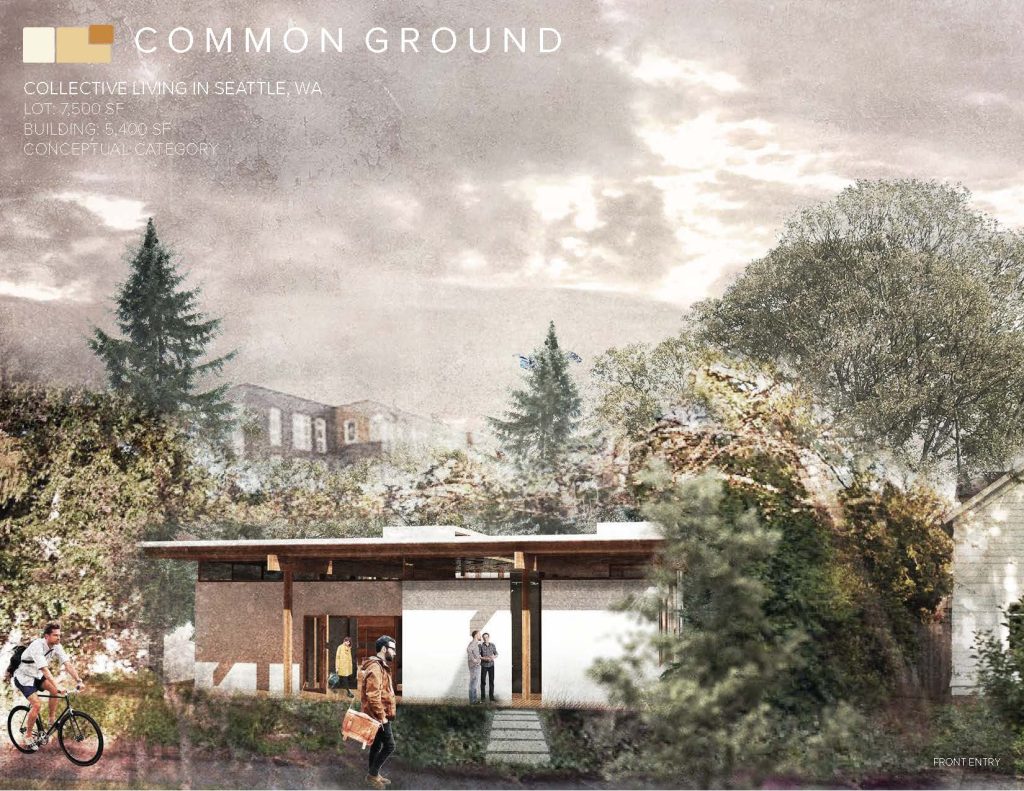 Conceptual architecture can be used to explore ideas that the government is not ready to allow and the market is not yet ready to finance. Common Ground is a conceptual project designed as part of a housing competition by a team of University of Washington Graduate students. The project explores the blurring of the line between live and work, private and common, single and multi-family as it imagines a new form of living that can be fit into a traditional single-family neighborhood.
UW West Campus Utility Plant
We often take for granted that what is utilitarian is ugly and what is special is beautiful. The West Campus Utility Plant flips that logic on its head by taking a very plain utility plant and turning it into a thing of simple elegance. By wrapping the mechanical systems with screen, the designers turned what could be a very drab wall into what they call the "shadow canvas" where the interplay of light and shadow will provide a dynamic image for the passersby.
The Publix Hotel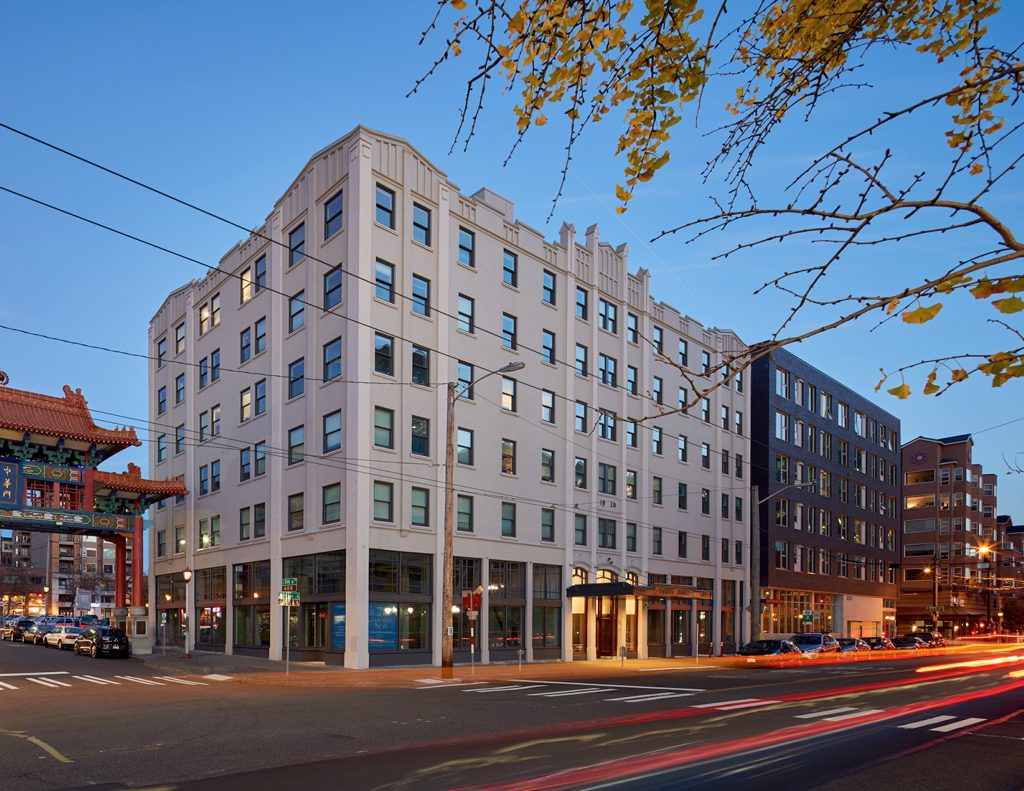 In a city that is often accused of destroying its history, it is nice to see an old building be given new life. In this case, a 1927 single room occupancy building that had sat empty since 2003 was rehabilitated. The building was entirely redone and seismically upgraded while maintaining many of the historic elements that give it character. Tiny original rooms were combined into more modern apartments (often still quite small) and a large addition added over an existing basement. What was once a vacant building is now providing housing and active retail adjacent to the biggest transit hub in the state.
100 Stewart Apartments and Hotel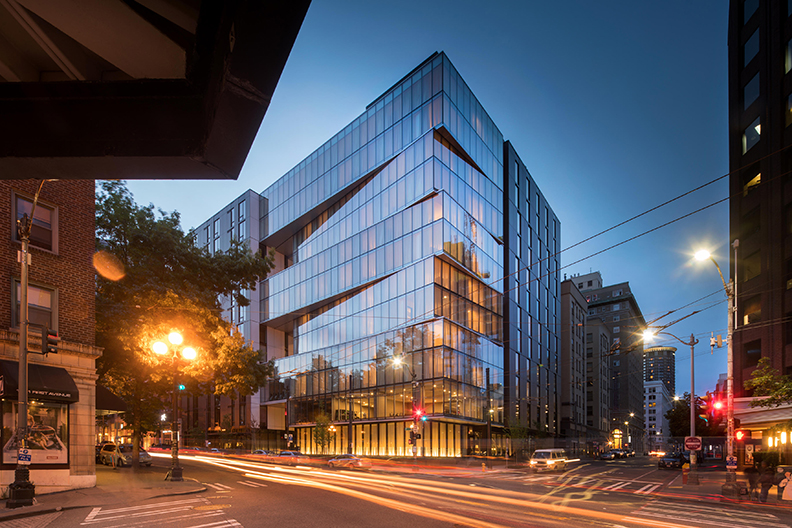 Sometimes it is good to be deferential and sometimes it's good to be bold. The 100 Stewart project attempts to do both simultaneously. Located at a bend in the street grid located near Pike Place Market, it would have a difficult time hiding no matter what it looks like. The project creates a highly transparent lantern of sifting floors. It is bright and dynamic and unmissable. The project then flanks this glowing beacon with two more stoic volumes that seem to be trying to reference the older brick buildings of the neighborhood through the use of regular window openings in a solid field. It is both very modern and yet attempts to pay homage to its surroundings—a very delicate balance.
Seattle Mass Timber Tower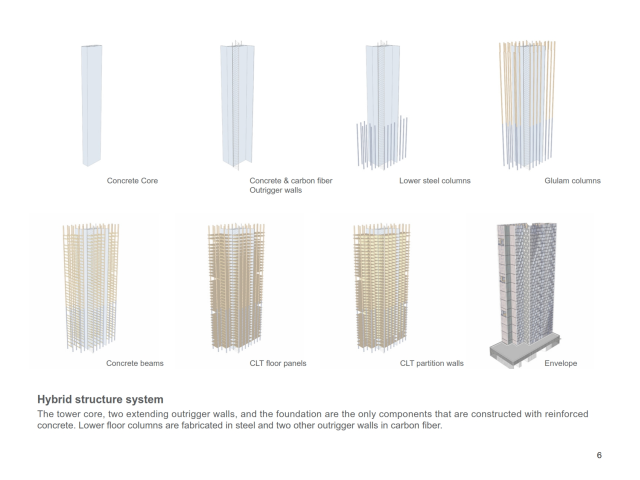 Seattle is the city with a history of wood—logging, ship building, the craftsman bungalows that dot the city. But wood could also be our future in the form of cross laminated timber (CLT) structural wood panels that allow wood to go much higher that the four or five stories it is used for now. Long used in Europe, CLT construction has the potential to change the building industry. In Vancouver, there is already an 18-story wood dorm building and in Portland they will hopefully soon break ground on 12-story wood building—the tallest in America. The Seattle Mass Timber Tower is a study of what it would take to construct one of the typical new 400-foot towers out of CLT. It is a boundary pushing analysis of hypothetical architecture.
The Right Way
Lastly, sometimes hypothetical projects can be used to examine ideas that are bigger that what we can allow ourselves to imagine in the world of politics and budgets. The Right Way proposes that instead of filling the Battery Street Tunnel with the ruble of the viaduct as the state transportation department intents, we open it up to the sky and pair ecological restoration with a new vertically multilayered circulation street. Battery Street, along with University Street, are restored into forested creeks, like the ones the settlers of Seattle filled and culverted so many years ago. The new ravines of native plantings serve to cleanse urban runoff, provide auto-free pathways through the heart of the city, and allow for the sights and sounds of nature amongst the tall buildings.
The AIA Seattle Washington Honor Awards will be held November 13th at Benaroya Hall. The entire collection of nominated projects can be seen online. The jurors will be Shirley Blumberg of KPMB Architects, Robert Harris of Lake|Flato, and J. Meejin Yoon of MIT / Höweler + Yoon / MY Studio. The event will be moderated by Vikram Prakash from the University of Washington. Tickets and more information can be found at the Seattle AIA.
All images have been provided by the Seattle AIA.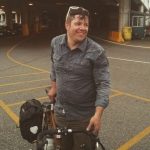 Patrick grew up across the Puget Sound from Seattle and use to skip school to come hang out in the city. He is an designer at a small architecture firm with a strong focus on urban infill housing. He is passionate about design, housing affordability, biking, and what makes cities so magical. He works to advocate for abundant and diverse housing options and for a city that is a joy for people on bikes and foot. He lives in the Othello neighborhood with his fiance and kitty.