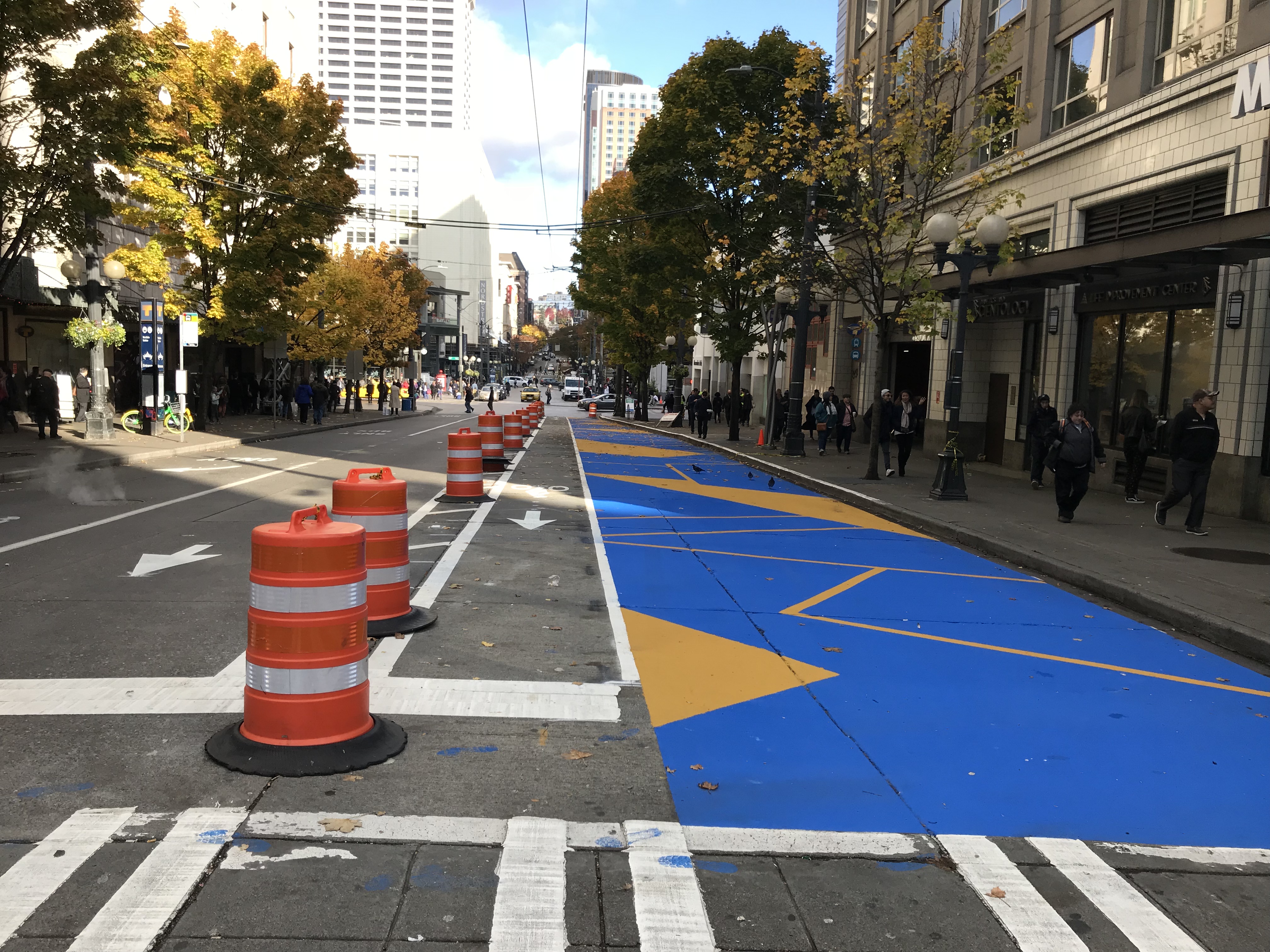 A new pavement park is slated to open in Downtown Seattle later this month. The Seattle Department of Transportation (SDOT) recently removed on-street parking on the south side of Pine Street between Third Avenue and Fourth Avenue. In place of the parking, SDOT painted down a new blue and yellow design to mark and beautify the future pavement park. A protected bike lane was also installed.
A little more than a week ago, City Traffic Engineer Dongho Chang broke the news in a tweet:
Splash of color for people on Pine people space pic.twitter.com/muZ4nYRxmY

— Dongho Chang (@dongho_chang) November 4, 2017
Chang noted that planters would eventually be installed to keep regular vehicle traffic out of the pavement park and bike lane.
The pavement park won't just be a space for seating. SDOT will also provide a portion of the pavement park as a sidewalk food vending zone. Up to two food trucks (food carts are not eligible) will be able to use vending zone seven days a week. Hours of food vending will be set from 10am to 2pm. Vendors who want to participate will need to able to serve food from the left side of the vehicle and obtain a special permit from SDOT. A city business license, health department permit, and insurance will also be required for food vendors.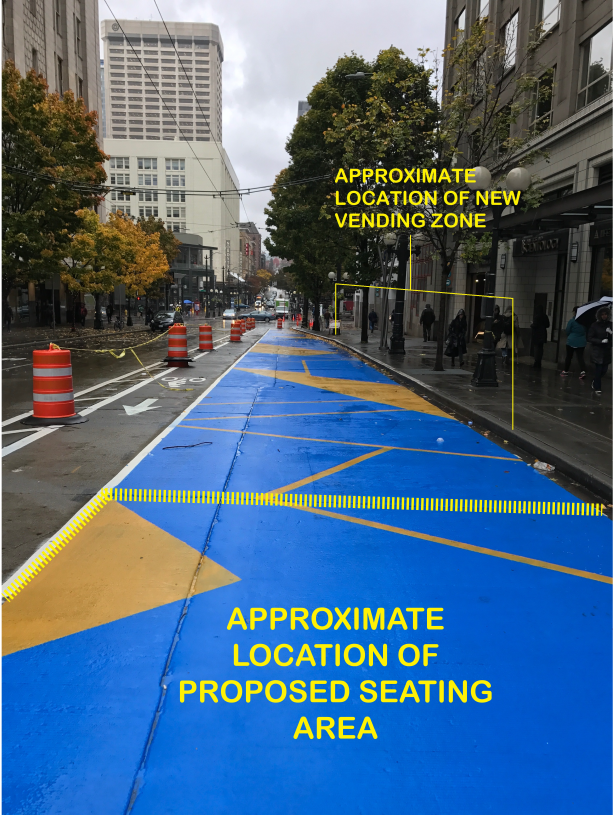 The Downtown Seattle Association (DSA) is sponsoring and will be responsible for programming the pavement park. Aside from funding the street painting, the DSA will help provide some of the other nuts and bolts to the park such as tables, chairs, planter boxes, and bathroom access agreements.
Conversion of the street space to something more dynamic has long been at the top of the list for many safe streets and street activation advocates in Downtown. There are several obvious contextual reasons for that, including: the prominence of Pine Street as a connector between Third Avenue–the busiest surface transit corridor in Downtown–and Westlake Plaza and the retail core, an entrance to the transit transit tunnel, and high levels of foot traffic. An active public space in the street always seemed like a sensible response to many advocates, especially after a general traffic lane separated by a mid-street bus stop island was replaced with the recently removed on-street parking.
SDOT says that first day of food vending is expected to be on Monday, November 20th. A formal official launch party date has yet to be announced, but should come soon.

Stephen is a professional urban planner in Puget Sound with a passion for sustainable, livable, and diverse cities. He is especially interested in how policies, regulations, and programs can promote positive outcomes for communities. With stints in great cities like Bellingham and Cork, Stephen currently lives in Seattle. He primarily covers land use and transportation issues and has been with The Urbanist since 2014.