The Urbanist will be joined by Erin House at our December 12 meetup. Erin is the Coalition and Outreach Manager for Seattle for Everyone, where she works with a broad coalition of affordable housing developers and advocates, for-profit developers and businesses, labor and social justice advocates, environmentalists and urbanists to advance the first-ever comprehensive package of affordable housing policies in Seattle, known as the Housing Affordability and Livability Agenda (HALA).
House has a Masters in Geography and Environmental Studies from Northeastern Illinois University in Chicago. She has worked on various environmental and social justice initiatives, including habitat restoration with the Audubon Chicago Region and community organizing with the Illinois Hunger Coalition.
Our monthly meetup is free and open to everyone. Come by to meet fellow housing and transportation advocates and to hear from our monthly speaker. We'll be at the Elephant & Castle Pub on Tuesday, December 12, 5:30-7:30 PM. You can find us in the billiards room on the lower level, and our guest speaker starts at 6:15 PM.
We hope to see you there! You can optionally RSVP on Facebook to help us get a headcount.
The featured image is courtesy of Futurewise.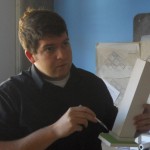 Scott Bonjukian is a car-free urban designer with a passion for sustainable and efficient cities. With degrees in architecture and urban planning, his many interests include neighborhood design, public space and street design, transit systems, pedestrian and bicycle planning, local politics, and natural resource protection. He primarily cross-posts from his blog at The Northwest Urbanist and advocates for a variety of progressive land use and transportation solutions.