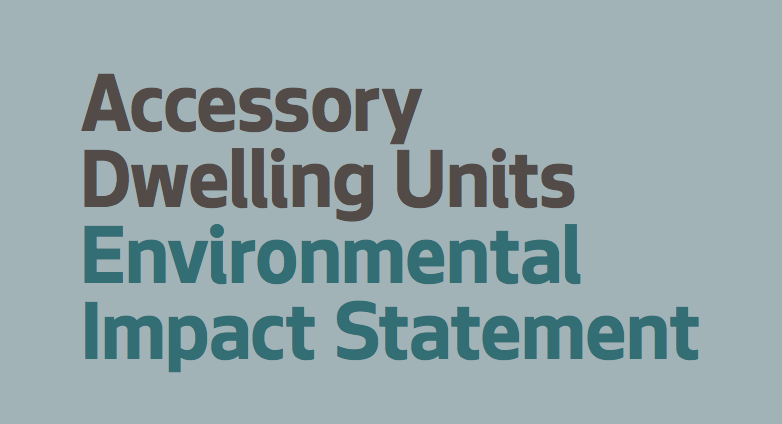 On Monday, a scoping report on reforming backyard cottage (also known as "accessory dwelling units" or "ADUs") regulations in Seattle was released. The scoping report summarizes the feedback that the city received and how the city intends to respond through development of a Draft Environmental Impact Statement (EIS). The Draft EIS will consider a range of alternatives and identify possible mitigation measures to ensure compatibility.
According to the report, over a thousand comments were received during the initial comment period in October. These comments are summarized thematically. The breadth of them is far reaching touching on all elements of environment, such as light, aesthetics, built form, and transportation. Many comments requested that the EIS process consider alternatives well beyond the topic of ADUs.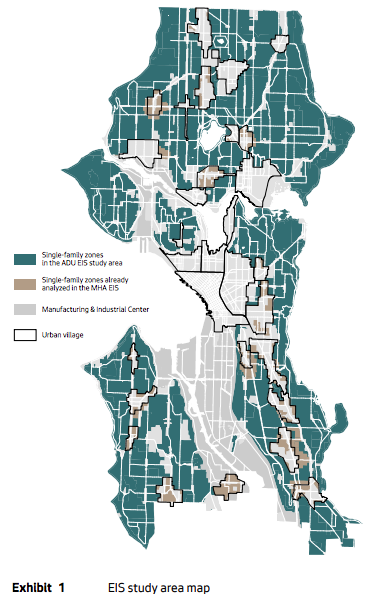 "Several comments addressed the number and composition of alternatives, including requests that we expand the proposed action alternative or add a third alternative in order to broaden the scope of the analysis," the report states. "Some comments suggested a third alternative composed of a more aggressive scenario that allows duplexes, triplexes, and small apartments and considers smaller minimum lot sizes for subdivision in single-family zones. Others requested an alternative whose intensity is between our proposed Alternative 1 (No Action) and Alternative 2 by excluding certain changes, such as leaving the owner-occupancy requirement in place, or through other actions that restrict ADU production."
The EIS will consider three separate alternatives that would affect single-family zones outside of urban villages. Typically, only on action alternative and one no action alternative are required, but the city has chosen to include an additional action alternative in response to range of requests for a wider evaluation of regulatory changes.
The EIS will conduct an evaluation of possible impacts by changes in land use regulations by considering unique situations, such as the difference between areas with large lots and small lots, areas with and without alley access, and areas with and without transit access. The evaluation will also consider impacts from different scales of development, such as at the block level and individual site level.
The action alternatives will consider the following regulatory changes:
Varing parking requirements;
Allowing two attached ADUs on a lot;
Allowing one attached and one detached ADU on a lot;
Allowing ADUs to maximum square footage in certain cases;
Establishing a floor area ratio limit in single-family zones;
Varying owner-occupancy requirements;
Allowing one or two additional feet in height for detached ADUs when they meet green roof standards;
Requiring participation in the Mandatory Housing Affordability program; and
Varying household size standards.
There were some suggestions that have been set aside for the purposes of further evaluation. Major ones that didn't make the cut include: reducing the minimum lot size for subdivision in single-family zones, rezoning single-family zones (e.g., rezoning to Residential Small Lot, a denser residential zoning type), and further restricting development in single-family zones.
For now, city staff are in the process of preparing the Draft EIS, which should be released later this year for public comment.
City Begins EIS Process on Backyard Cottage Proposal, Comment by November 1

Stephen is a professional urban planner in Puget Sound with a passion for sustainable, livable, and diverse cities. He is especially interested in how policies, regulations, and programs can promote positive outcomes for communities. With stints in great cities like Bellingham and Cork, Stephen currently lives in Seattle. He primarily covers land use and transportation issues and has been with The Urbanist since 2014.