After a delicious lunch of tempura-fried egg on rice in the neighboring area of Koenji, I've headed over to Asagaya on a train to check out a shopping street I've heard about. Tokyo is full of these streets, or shotengai, and they're all pretty similar: narrow arcades lined with various stores and restaurants, usually with a roof and almost always with some kind of seasonal decorations strung up, and pedestrian-only. I'm there in late December, and Christmas music plays on an endless loop.
It's one stop on the train to get to Asagaya. I exit the station onto a busy intersection where the station buses stop to drop off and pick up passengers. It's an okay place, but there are a lot of cars around, which detract a little from what could be a much nicer area. Still, the entrance to Asagaya Pearl Center–the street that I want to investigate–is visible from where I'm standing, so I cross a few roads, avoid some buses, and enter the street.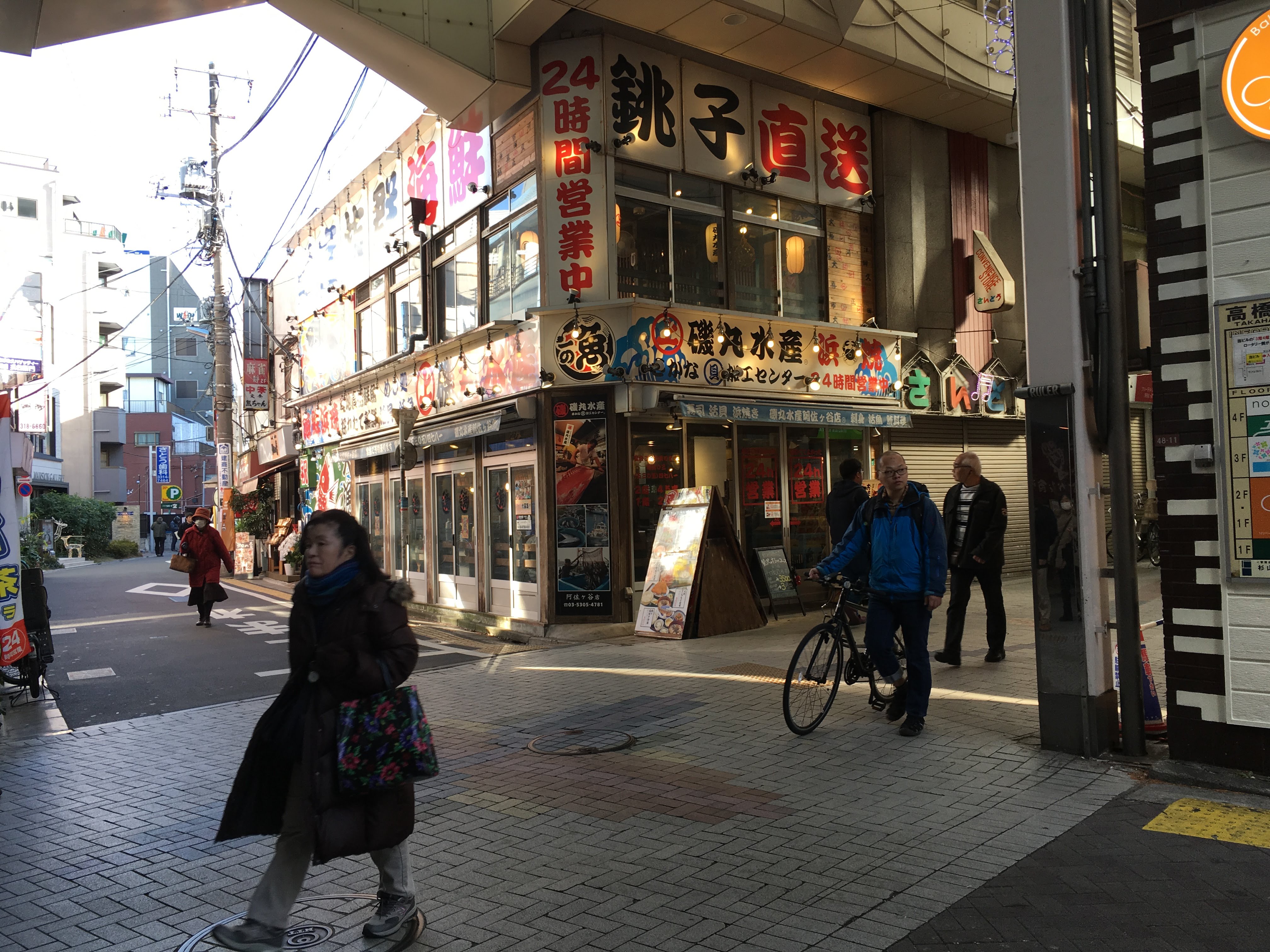 Walking into the Pearl Center from the road outside the station, it runs left and right. Straight ahead continues into what looks like a nice residential street, but though it looks nice, you can find those all over Tokyo (although the narrow, twisty streets with a jumble of apartment buildings and vending machines and tiny parks provide a very different atmosphere than a residential area in Seattle). I head left first, right away passing a Lawson: the first of many convenience stores around here.
Inside the Pearl Center it's much nicer than the streets outside the station. The street is colorfully tiled, and a semi-translucent roof is high overhead. The Christmas music around here is less obtrusive than it has been in other places, and there's not a motorized vehicle to be seen–except the odd motorcycle, but those only cut across to continue on their way. Plus, there are LED lights strung up across frames attached to the ceiling, and for no reason I can understand they're in the shapes of musical notes and instruments and playing card suits.
The end of the street arrives much more quickly than I expected, though there's still lots of shops in the other direction. The last few shops lead up to a tiny Christmas tree, not the hundred-foot-tall shopping mall kind, but one that's maybe five feet and strung with rainbow lights. Three different streets lead off from the circular end, but I'm planning to turn around and head back to the other end of the shotengai.
Starting back, I notice the people more than the shops. There are numerous parents with babies and kids walking around, though that might be because it's getting close to New Year's and more people are starting to get a winter vacation from work or school. Lots of bicyclists zip by. Bike riders in Tokyo seem to have an uncanny ability to zip along streets and sidewalks and maneuver amongst crowds without even coming close to hitting anyone.
I stop near the Lawson across from where I entered, and wait for a car to cut across the road before continuing. I'm starting to see a lot of similar shops now, clothing and cloth, little family-run grocery stores that open right onto the street, and the ever-present armies of convenience stores. The biggest standout is a two-story, glass fronted BookOff, a popular Japanese bookstore chain. The area is nice, but starting to get repetitive (though it's definitely a fun area to walk in), until I stop in front of a little pet store.
There are many pet stores in Tokyo, a lot more than Seattle, and they're all full of really expensive kittens and puppies. This one's no exception, except it also has some noisy birds and (quieter) fish. Eventually, the lady working there notices me staring at a fluffy orange kitten, and takes pity on me. She unlocks its cage and passes it to me. That cat was so fluffy; it made the whole trip worth it.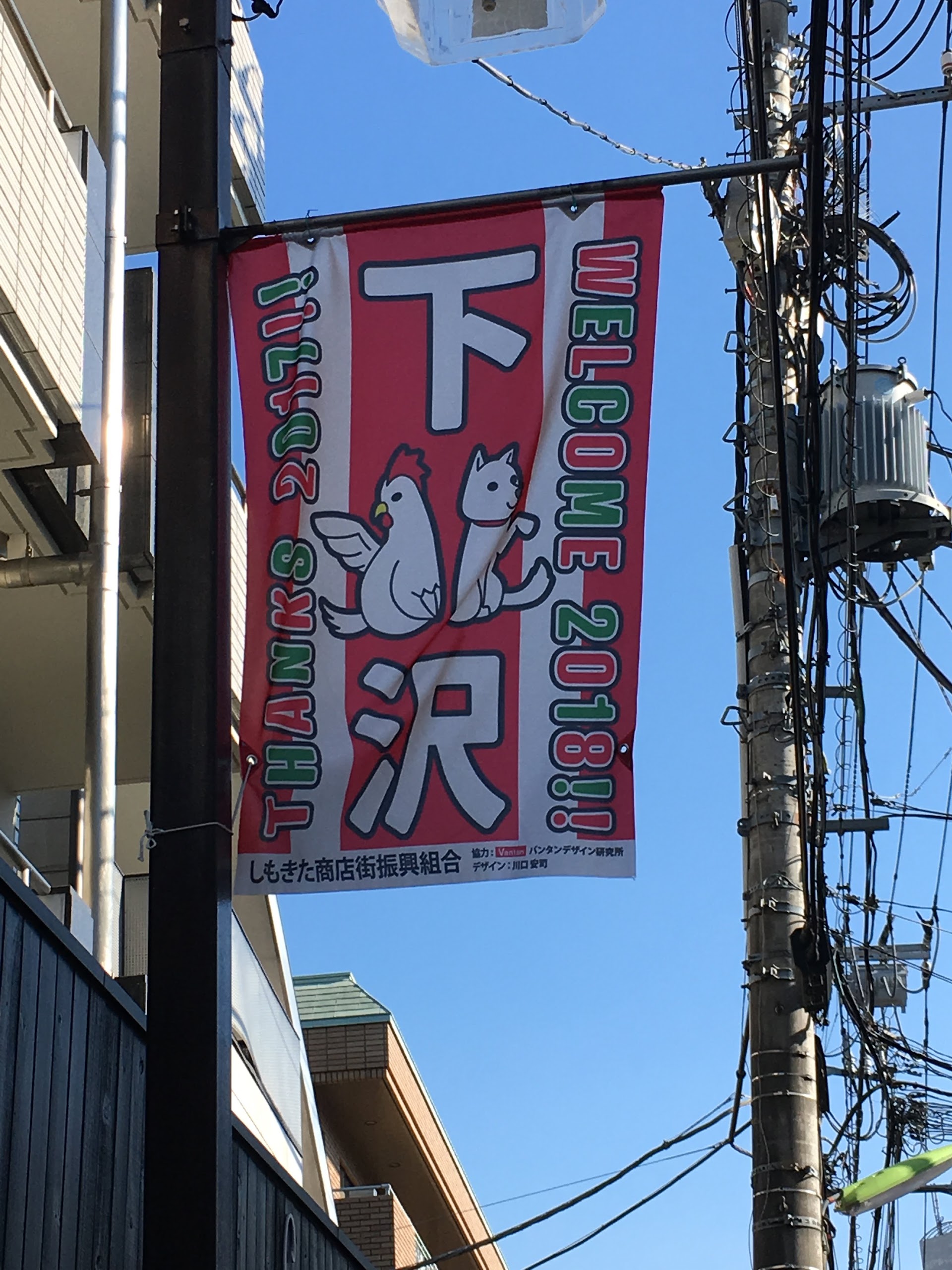 Stepping out of the train station, I can already tell that Shimo-kitazawa (or Shimokita for short) is a very different neighborhood from Asagaya, or anywhere in the US. It took two trains to get there, the second one a lovely little train—little by Tokyo standards, though it's still a full two cars longer than the Link train in Seattle—that travels briefly through a park.
The north side of Shimokita, where I'm exploring, is a maze of narrow streets of houses and shops interwoven with wider avenues and tiny parks. With no plan of where to go, I turn right, and then left, and then right again, getting slightly lost after a while, but relishing my lostness.
The narrower streets that I'm doing my best to stay on are wonderful. There are almost no cars, they're surrounded by interesting sights and tall buildings, and even the slightly wider ones have pedestrian-friendly blocks of green paint, like sidewalks painted directly onto the street. It's around 10:30 in the morning, and I want to find a snack somewhere, but I manage to turn onto a residential street that leads over to a little park.
Japanese parks are one of the things that are nearly always less nice than American ones. This one is no exception, consisting mostly of a large square of concrete and bricks with a few benches and trees. It's still nice, though, and there are a few kids hanging around. I stop and sit down on a stair to write a few things down, waving at a baby nearby, before I notice that behind the bush I'm sitting near are a dozen preschoolers wearing matching hats and singing off-key in Japanese. It's the cutest thing ever.
Eventually, I leave the park, stumbling onto a FamilyMart convenience store by some stroke of luck. I step inside and buy a chahan (fried rice) rice ball, taking it outside and sitting at a little table to eat. Japanese convenience stores are nothing like American ones. They're so much better.
After tossing the wrapper into a FamilyMart trash can, I head back out to hit the streets, stopping to laugh at a little restaurant called Robson Fries. It's closed, which is too bad, because it serves Canadian-style poutine with various extravagant toppings you can add. Maybe next time. Shimokita is mostly full of a lot of trendy secondhand stores, fabric shops, and lots of little dessert and brunch places. This is very clearly the cool hipster neighborhood of Tokyo, and in addition it's one stop on an express train from Shibuya.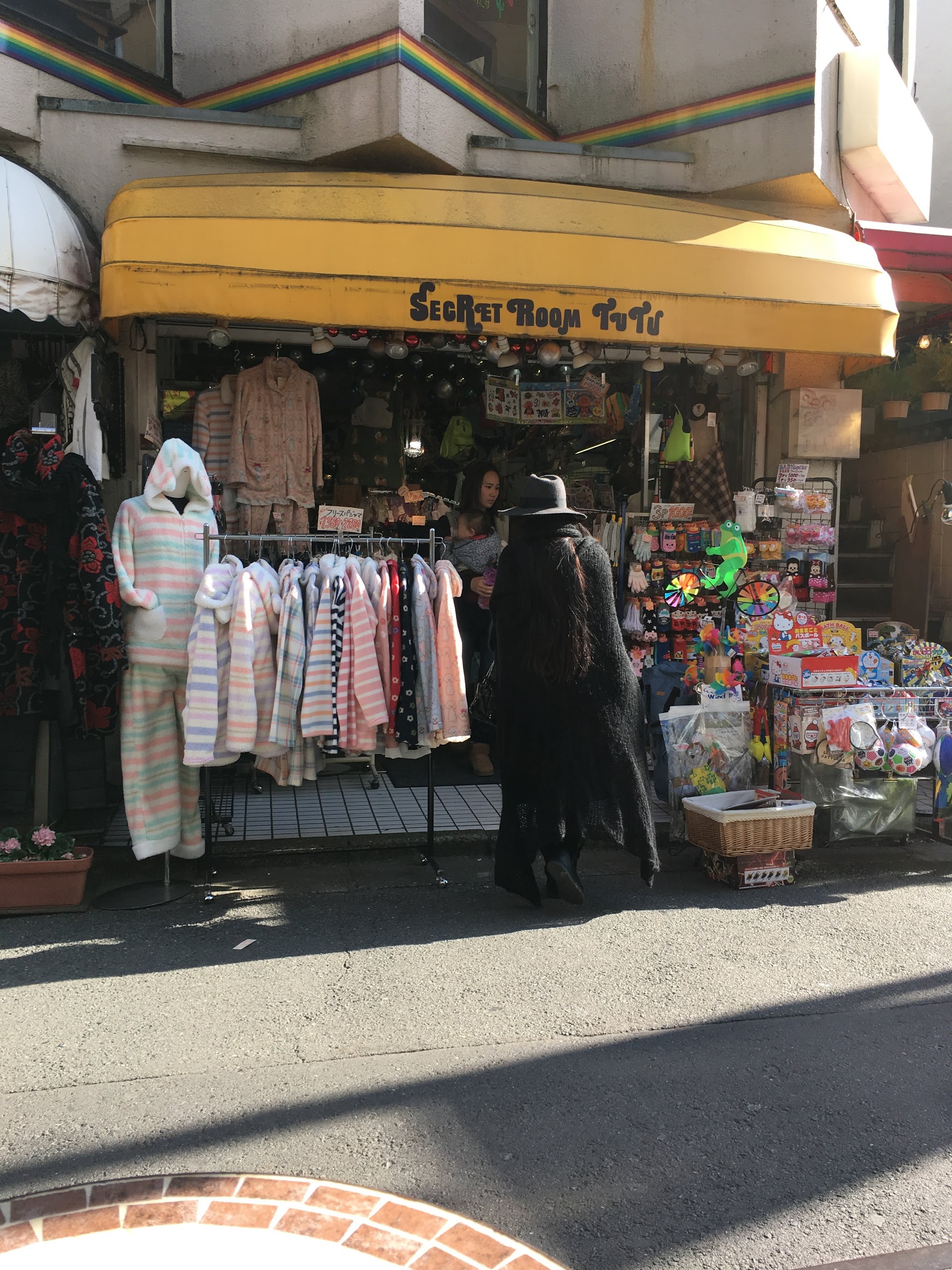 Another, slightly odder, observation is that I've seen many more tourists (or at least English speakers) here than I have any other place. Perhaps it's the atmosphere of the area, but I'd definitely recommend visiting this neighborhood to my friends, so maybe that's just what everyone's been doing.
It's closer to noon now, and searching for a place for lunch, I find a Mos Burger–a popular Japanese burger chain. It's good enough, so I order a yakiniku rice burger. This is one of those over-the-top-but-delicious foods you'd only find in Japan, and it's good. The "burger" consists of two pressed patties of rice that form the bun around grilled, saucy meat, and lettuce. It's delicious.
It isn't that difficult to find the station again, luckily, and I hop on a local train back towards home. I'm going to miss this neighborhood. It's so nice to just walk around in. Switching to an express train at Eifukuchō, I glance back longingly in the direction I came from. Well, that was fun.
#
At first glance, Tokyo seems like an urban city not that different from New York or Los Angeles. But really, it's so much more, filled with hidden gems like the Asagaya Pearl Center and the entire neighborhood of Shimo-kitazawa. Things like this are why I keep going back, and to tell the truth, it's a much more pleasant place to hang out and walk around in than most of Seattle. Japan overall, and especially Tokyo, can really just nail urban design features that get implemented almost nowhere in the US. Really, Seattle, if you're going to have wide streets, can't you at least make the buildings taller?
Tokyo is a lovely place to explore, get lost, and eat delicious food in, and I'd recommend it to anyone. Take a train. Go somewhere new. It's worth it.
Iris Amster-Burton is a Seattle teen with a passion for writing and travel. She loves eating and walking in Tokyo. She lives with her parents and cat on Capitol Hill.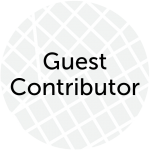 Iris Amster-Burton (Guest Contributor)