Sound Transit and King County Metro Transit are planning changes to the bus routes on a portion of the I-90 corridor. Changes are slated to take effect in September. The primary reason for the service changes is that construction on the East Link Extension will directly impact buses that stop at the Rainier Freeway Station next to Judkins Park. The freeway station is accessed from I-90 HOV lanes and connecting ramps, but construction of the new Judkins Park Station (opening in 2023) means that both the stops and roadway must become a construction site. As a result, all buses will be routed through the area via the I-90 mainlines or Rainier Ave S during the interim.
Routes that will impacted by the freeway station and roadway closure include: ST 550, ST 554, and Metro routes 111, 114, 212, 214, 216, 217, 218, and 219.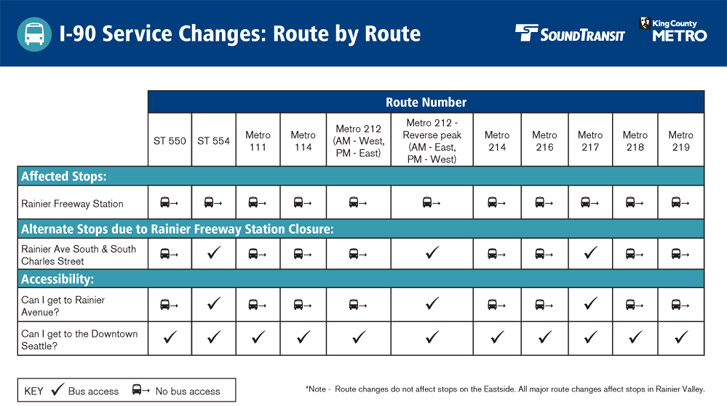 The service change proposal would modify routes in several key ways:
Route 550 will no longer be able to access the transit-only lanes between the Downtown Seattle Transit Tunnel. Instead, the route will use the I-90 mainlines and circulate its way between the transit tunnel and I-90 using general traffic ramps and surface streets. This will mean longer trips most of the time.
Route 554 will no longer be able to access the transit-only lanes between S Dearborn St and I-90. Instead, the route will stick with surface streets between S Washington St and the I-90 ramps at Rainier Ave S. New stops would be added: one stop added on the 2nd Ave Ext S and one stop pair on Rainier Ave S.
Routes 111, 114, 212, 214, 216, 218, and 219 will operate in the same manner as Route 554.
Route 217 (and some Route 212 trips) will operate in the same manner as Route 550.
This slideshow requires JavaScript.
To facilitate these changes, Sound Transit and Metro will make improvements to local streets by:
Modifying the signal timing at the intersection of 4th Ave S and S Atlantic St, which will benefit buses headed in the southbound direction out of town;
Allowing limited bus-on-shoulder operations during peak hours on I-90 near the I-5 interchange;
Adding new bus-only lanes to several on- and off-ramps; and
Adding a new bus-only lane on 4th Ave S between S Jackson St and the I-90 westbound off-ramp.
The comment period on the proposed service changes is open through February 16, 2018. Riders can learn more about the proposal through an online open house and provide feedback.

Stephen is a professional urban planner in Puget Sound with a passion for sustainable, livable, and diverse cities. He is especially interested in how policies, regulations, and programs can promote positive outcomes for communities. With stints in great cities like Bellingham and Cork, Stephen currently lives in Seattle. He primarily covers land use and transportation issues and has been with The Urbanist since 2014.