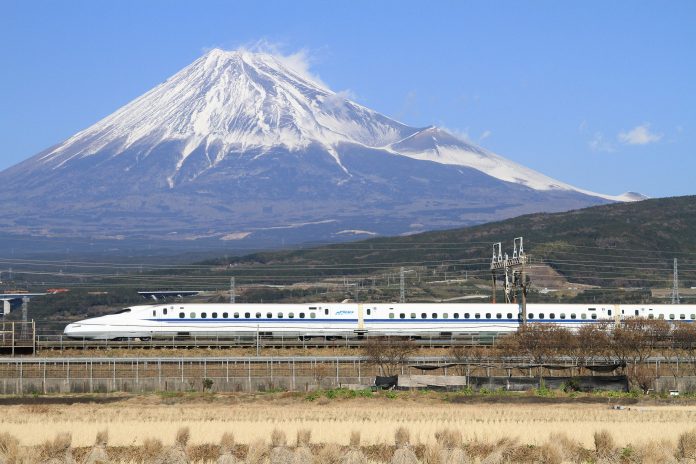 State legislators received a briefing this week on the Washington-led effort to study and plan high-speed rail in the Cascadia Megregion, stretching from Vancouver, British Columbia to Portland, Oregon. Early survey results suggest that there is public interest in a high-speed rail system. The Washington State Department of Transportation (WSDOT) also shared some key issues that they are exploring on how to form and deliver a high-speed rail program.
Earlier this month, Governor Jay Inslee's (D-Washington) transportation appropriations bill for the upcoming biennial period (through 2021) was introduced to the state legislature. That bill comes with a $3.25 million proviso to create an interstate high-speed rail corridor authority in partnership with the governments of British Columbia and Oregon. The primary purpose of the authority would be develop a governance structure, conduct outreach, and start preliminary environmental review of high-speed rail. In other words, the authority would move the ball forward on deeper planning for something that could be shovel-ready.
High-speed rail would be a lot cheaper than new highway lanes
WSDOT Secretary Roger Millar introduced the high-speed rail topic to legislators. "We need to be investing in our [transportation] system with an eye to the future. Building a high-speed rail transportation system between Seattle and Portland to the south and Vancouver, BC to the north is about much more than transportation," he said. "It's about creating opportunities and connections that will carry this megaregion into the future. Better access to jobs, to affordable housing, the ability to share resources, to increase collaboration, and advance economic prosperity for the entire region."
Secretary Millar pointed out that the Central Puget Sound Region is often compared to places like Brussels, San Francisco, Melbourne, and Singapore when it comes to economic activity and size. He said that "one of the minuses that comes up continually is a lack of connectivity" for the movement of "talent." By this, he meant over long distances to other parts of the megaregion even though other transportation options may be doing their job within the Central Puget Sound Region.
He also acknowledged that high-speed rail would not be cheap, but neither is adding highway lanes:
One of the things we hear is this $20 to $40 billion-ish cost of building this [ultra high-speed rail] system. That it's just an outrageous expenditure of money. And it is a big dollar amount and the time it would take to achieve it is a lot of time.

But if you were to put it in a context, if you were to direct us to add a lane in each direction to I-5 between the Oregon border and British Columbia. That would be $110 billion-ish to build and would probably take as long as it would take to build a high-speed rail system between the communities. And it would add a lane of travel in each direction and would probably be full of traffic by the time we got finished building it. And it would still take you all day to get from Portland to Vancouver, B.C. With the investment in ultra high-speed rail, we're talking about an hour to Vancouver or maybe an hour and a half down to Portland, and that would be a gamechanger.
In concluding his comments, Secretary Millar said that WSDOT and Governor are not "asking for $40 billion" for high-speed rail. "We're asking for an increment of funding to explore governance, and community outreach, and financing options that might be available to it."
Initial survey results on interest and mode share capture
Last year, WSDOT's consultant began a survey to gauge public interest in high-speed rail, willingness to pay for tickets, and service preferences. That survey suggests that 74% of respondents would "definitely try" high-speed rail.
According to early analysis, high-speed rail could pick up a significant share of trips between key city pairs. An interesting result from the modeling is the popularity of high-speed rail between Portland and Vancouver, British Columbia as compared to smaller intraregional trips between large cities:
25% of all trips between Portland and Vancouver, British Columbia would be by high-speed rail, mostly by capturing automobile trips. To a much smaller degree, the mode would capture existing Amtrak Cascades and air travel trips.
23% of all trips between Portland and Seattle would be by high-speed rail, mostly by capturing automobile trips. But a sizable share of trips would also be captured from existing Amtrak Cascades and air travel trips.
14% of all trips between Seattle and Vancouver, British Columbia would be by high-speed rail, again mostly by capturing automobile trips. But a sizeable share of trips would also be captured from existing Amtrak Cascades trips and some bus and air travel trips.
Respondents were also asked if they currently drive or fly along the corridor and if they would choose high-speed rail over that in the future. Of those who drive (2,170 surveyed), 43% said they would choose high-speed rail. Meanwhile, of those who fly (257 surveyed), 52% said they would choose high-speed rail.
Legislators briefed, raise pertinent questions
Ron Pate, Director of WSDOT's Rail, Freight, and Ports Division, followed after Secretary Millar to provide a detailed brief to legislators. Early in his remarks, he emphasized that WSDOT expects that both public and private investments will be made in high-speed rail. "We don't anticipate only public or only private side of the equation," he said.
Preliminary analysis of high-speed rail along the Cascadia corridor indicates annual ridership could range from 1.7 to 2.1 million soon after opening. Construction costs range from $24 to $42 billion, an intentionally broad number, Pate said. "That's a function of the level of the feasibility study," he said. "We wanted to be very conservative and say 'hey, this is what we think it's going to be.' We weren't going to say $24 billion 'cause…[we didn't want] to come back with another study and say 'well it's another $45 billion.'" It is possible that operating costs of high-speed rail could be fully covered by riders, depending upon the technology chosen.
Pate emphasized several benefits of a project. According to WSDOT's study last year, high-speed rail could generate 200,000 jobs along the corridor through construction and ancillary economic benefits of connectivity. It could also increase gross domestic product by $321 to $388 billion over a 20-year period. Greenhouse gas emissions could go down by 28,000 metric tons per year, too.
An interesting tidbit from Pate's remarks was that WSDOT has been in conversation with Virgin One. That company appears interested in hyperloop technology, but Pate acknowledged that WSDOT is not really sure where that might go, given that the technology is at such an infancy stage.
Representative Andrew Barkis (R-Olympia) asked about how the high-speed rail system might connect with passenger rail to Eastern Washington. Pate explained that there has been some research as part of the study about this, but that it would likely be done with conventional rail separately. Amtrak currently operates the Empire Builder between Seattle and Chicago via Spokane, but there has been work and interest in more service, perhaps as an extension of Amtrak Cascades. Cascadia Rail has urged a faster passenger rail connection to Spokane from Seattle using a different corridor from the one Amtrak operates today.
During an exchange with Representative Vadanna Slatter (D-Bellevue), Pate recounted a recent trip to Southern Florida where met with staff from Brightline, a privately-owned company and operating a higher-speed rail line. "Their business model…is more about development of the land, properties, investments than the rail system," he said. "The rail system is the transportation part, and if you can make that work, there's a lot of opportunities for getting that private investment, getting the funding to make this more successful."
Representative Beth Doglio (D-Olympia) asked Pate to address station stops in city center locations versus suburban locations versus airport locations. As she noted, it can often be faster and easier to take the Greyhound bus from Olympia to Sea-Tac Airport than the train since the station is located outside the city center. "We're trying to prevent that from happening here," Pate said. "What are the right catchment areas? How do we connect to airports? How do we connect to the right travelers?" He explained that WSDOT and their consultant are working through the connectivity issue so that stations go into the right places to serve customers.
Representative Sharon Shewmake (D-Bellingham) spoke on funding and finance, pointing to Hong Kong's metro, which is a fully profitable public transit system due to integrated land use development around transit facilities. She asked, "Before they run the metro line out, they buy it at predevelopment prices and are able to develop that as a joint profit, so have we looked at value capture as a way to fund some of this work?" Representative Shewmake also mentioned that Hong Kong uses special taxes areas around stations, based upon assumed property value appreciation associated with the transportation investment.
Pate said that the planning and decision-making process could be a long time and possibly mean that available land along future right-of-way could be gone by the time something is built. Nevertheless, there are models that could work, with Pate again pointing to Brightline, which is developing large-scale commercial and housing projects near its station in Miami and generating ongoing revenue from consumers, who also in turn use the train. He also said that people in discussions on high-speed rail have had similar thoughts on a special local area tax near stations, but that it has not been looked at specifically yet.
Representative Ed Orcutt (R-Kalama) wanted to know how additional or fewer stations could impact the system and how the $3.25 million requested for the interstate high-speed rail corridor authority would be used. Pate said that WSDOT is studying nine station locations, but "not saying that there are going to be nine station stops." He elaborated to say that WSDOT is evaluating alternative ways of using the system, too, such as by having some trains operate express between major cities or skip stop. Pate also said he was not sure if WSDOT would be looking for staffing for the new authority yet; that is still to be determined.
Chair of the House Transportation Committee, Representative Jake Fey (D-Tacoma), asked what level of ridership would be required to make the project climate positive. He also wanted to know if the full $3.25 million requested would be necessary, shared among partners, or if there are similar requests of other partners.
Pate said that WSDOT would get additional data on climate impacts from doing a project. In terms of authority funding, he said that WSDOT would be open to funding from other partners, but he was not aware of any formal requests of them at this point.
Chair Fey said that he wanted WSDOT work with him through the budgeting process to ensure that the right funding amount gets in the new biennial transportation appropriations bill this year.
The discussion as a whole was very robust, and will not be the last that WSDOT has with state legislators this year. Next week, there will be a similar briefing and discussion with the Senate Transportation Committee, where perhaps more details will be elucidated.
The featured image is courtesy of tannsaisuketti on Wikipedia.

Stephen is a professional urban planner in Puget Sound with a passion for sustainable, livable, and diverse cities. He is especially interested in how policies, regulations, and programs can promote positive outcomes for communities. With stints in great cities like Bellingham and Cork, Stephen currently lives in Seattle. He primarily covers land use and transportation issues and has been with The Urbanist since 2014.