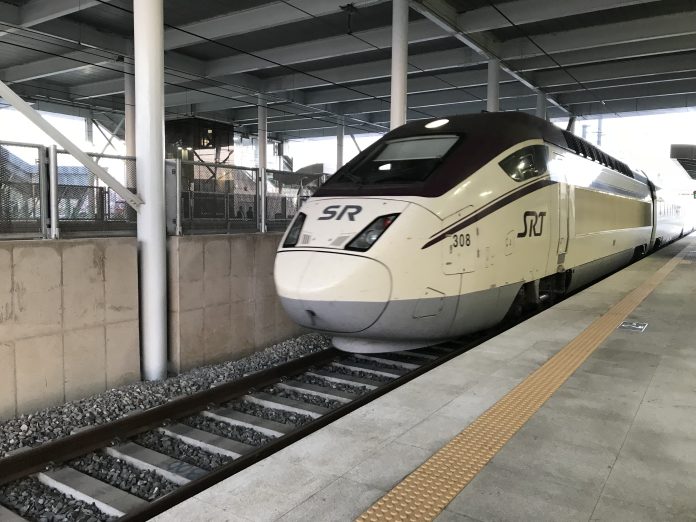 On Tuesday, Democrats in the Washington State Legislature introduced Governor Jay Inslee's (D-Washington) legislation for new transportation funding that would support creation of an interstate high-speed rail authority. The legislation would provide up to $3.25 million in biennial appropriations through 2021 to establish the authority in partnership with the State of Oregon and Province of British Columbia. The move takes Seattle a step closer to one-hour train trips to Portland and Vancouver, British Columbia.
"Feasibility studies show that our region has the critical mass of a growing population, the muscle mass of a great economy and the traffic problems to justify a system like this," the Governor's Office said. "The development of a new ultra high-speed corridor authority will take this project to the next level."
What the legislation would do
The legislation specifies that the interstate high-speed rail authority would be charged with developing an organizational structure that operates harmoniously across two states, a province, and an international boundary. The structure would need to address issues like governance, operations, contracting requirements, jurisdictional laws and regulations, and the powers of the authority.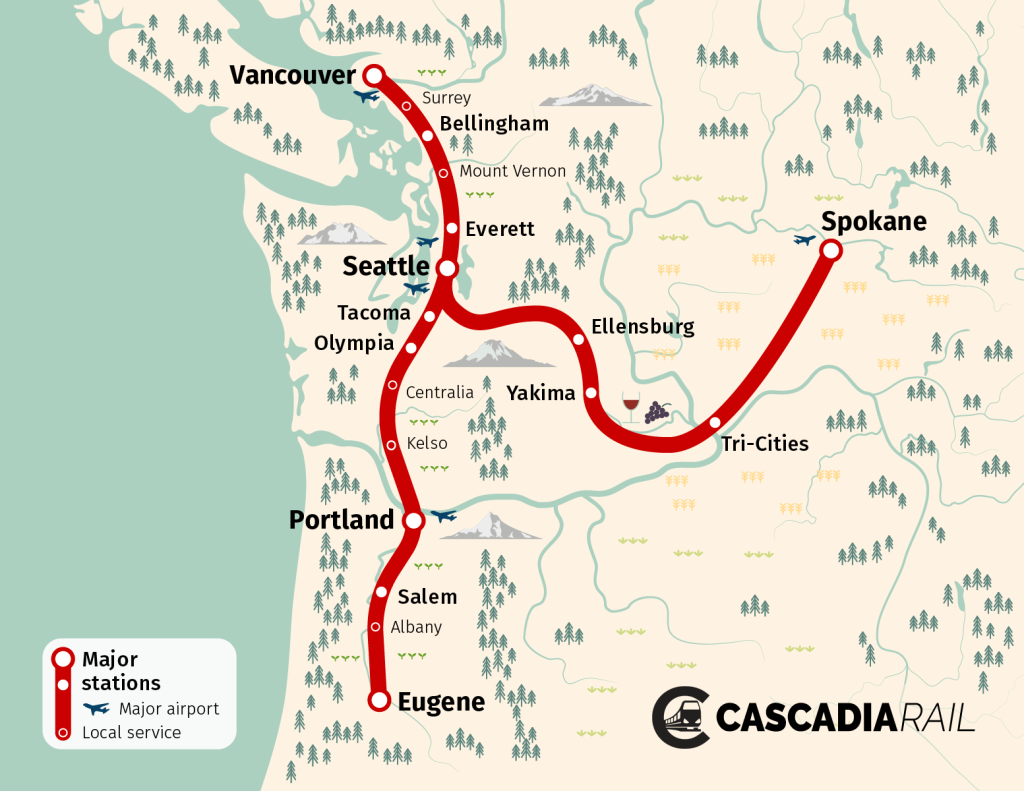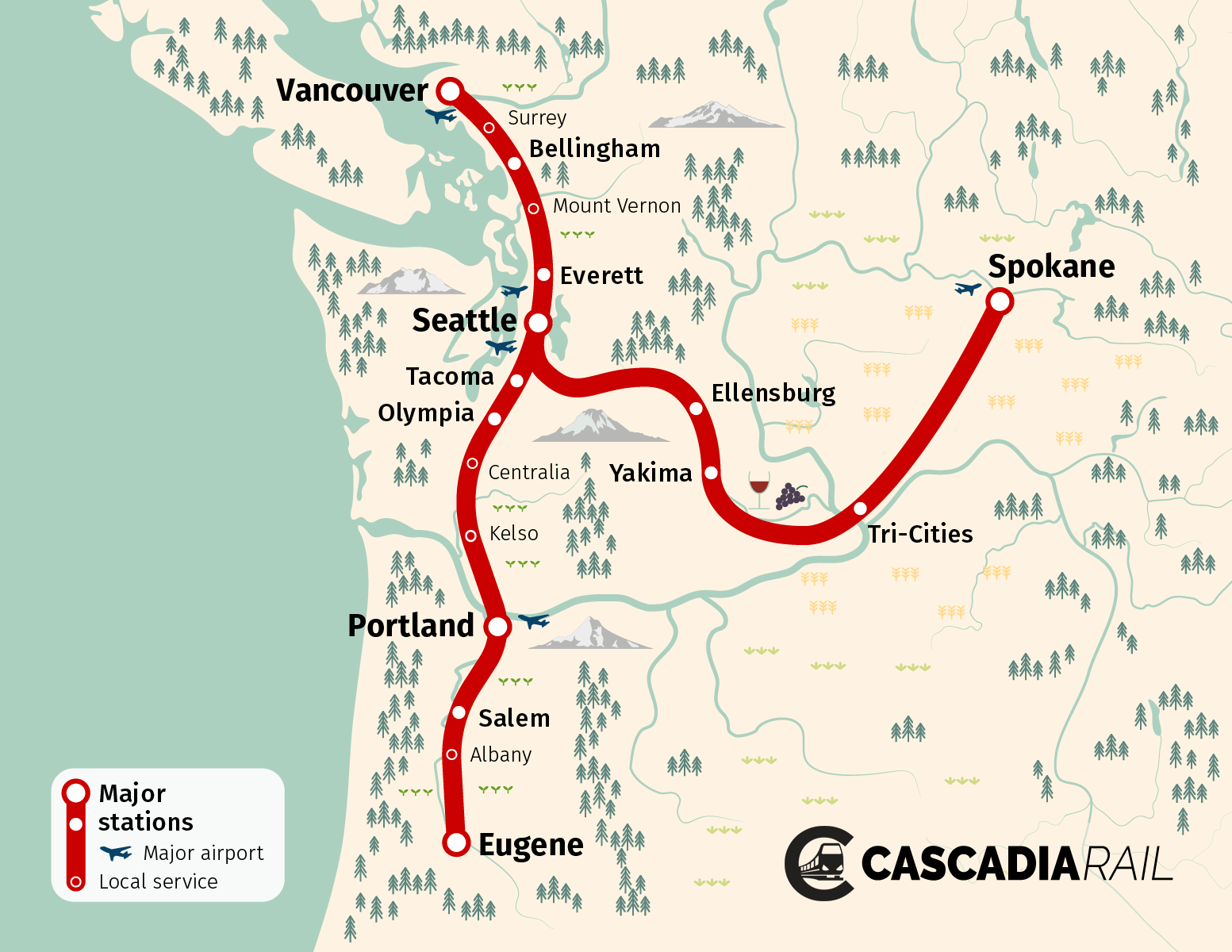 The authority would also engage with communities along the corridor to refine the alignment and make recommendations on funding levels and responsibilities to carry out advanced project development. A key aspect would be environmental review, which means at minimum preparing an Environmental Impact Statement under the purview of the Federal Railroad Administration. A companion process for the Canadian governments would also be necessary.
Recommendations from the authority would need to be submitted to the governor and state legislature no later than June 30, 2020 on any laws, regulations, or agreements necessary to achieve corridor development. As a basic framework to deliver a regional high-speed corridor, the authority would need to build upon results from a business case study, which is currently in development, and ensure that whatever high-speed rail technology is ultimately chosen will be capable of reaching at least 250 miles per hour at top speed.
High-speed rail advocates scored big wins in 2017 and 2018
High-speed rail advocates landed a big victory last year when the state legislature committed $1.2 million–of which was $750,000 in direct state grants–to a business case study for high-speed rail from Vancouver, British Columbia to Portland. The consultant for the state has been earnestly working on the study, which is due for completion by the of June.
"We are excited for passage of legislation this session that will fund creation of an ultra high-speed rail authority, bringing passenger rail that operates at speeds up to 250 miles per hour to Cascadia," said Paige Malott, vice president of Cascadia Rail, a grassroots non-profit organization. "We look forward to supporting our partners in British Columbia, Washington, and Oregon in building the fastest rail line in North America and empowering our region to be more connected."
State in the midst of a business case study
One thing the business case study will do is identify potential station locations and conceptual alignments. This will be based upon the economic interrelationship of population centers, transit, employment centers, and new industries. A detailed market analysis should also be forthcoming in the study, which would provide information on service levels, equipment needs, ridership, financing options, fares, and operations.
In the fall, consultants ran an online survey to determine how prospective riders would react to different scenarios for high-speed rail travel options as compared to other travel options. Factors evaluated in the survey included a variety of travel times, cost ranges, and high-speed rail technologies.
An interstate advisory group was commissioned as part of the study. So far two meetings have been held to guide the study and corridor planning process.
At the October meeting, the advisory group provided consultants with feedback to incorporate into the study process. A key takeaway was the need to evaluate current and future conditions of the regional corridor, including how high-speed rail could alleviate congestion on important segments of the highway system. The advisory group also urged consultants to consider how high-speed rail could affect greenhouse gas emissions, analyze social equity in corridor planning, and model how far riders would travel to access high-speed rail.

The business case study builds upon an earlier feasibility study that was completed in late 2017. The initial feasibility study suggested that Cascadia high-speed rail would be economically viable.
$3.25 million is still a small startup nest egg
The legislation that both Senate and House transportation committees will consider would set aside $3 million in guaranteed funding from the state multimodal transportation account for the interstate high-speed rail authority. Another $250,000 would be granted for the authority if private parties (e.g., Microsoft or Amazon) or local governments provide additional funding.
While $3.25 million is a good starting point to get the interstate high-speed rail authority going, more funding is likely needed to facilitate staffing up, administration, and consultant contracts. Over a two-year period, funding comes out to about $1.62 million per year, which means that the authority would only be able to hire 10 or so staff members. The authority, as envisioned, would be concerned with drafting legislation for multiple governments, actively conducting planning and analysis, and negotiating. Hiring seasoned experts to fill those roles will not come cheap.
If the business case study is anything to judge by, the State of Oregon and Province of British Columbia are in line to add money to the pot, increasing the two-year startup budget for the interstate high-speed rail authority. Last year, Oregon promised to pitch in $200,000 while British Columbia committed another $300,000 (in Canadian dollars). Microsoft also joined the team with $300,000 in private funding for the business case study after contributing another $200,000 for initial feasibility study the year prior.
Given that the 105-day legislative session just started on Monday, there is a long way to go before a transportation funding bill is passed. Typically such bills are passed just before the state legislature adjourns, likely meaning a final decision in April. Legislators should soon receive a briefing on draft findings from the business case study underway, which may help them make that decision easier.

Stephen is a professional urban planner in Puget Sound with a passion for sustainable, livable, and diverse cities. He is especially interested in how policies, regulations, and programs can promote positive outcomes for communities. With stints in great cities like Bellingham and Cork, Stephen currently lives in Seattle. He primarily covers land use and transportation issues and has been with The Urbanist since 2014.