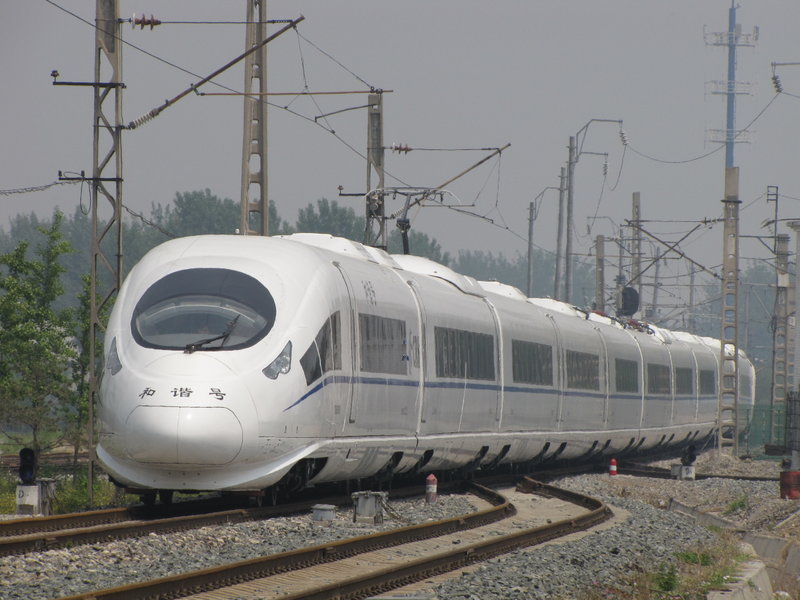 Governor Jay Inslee (D-Washington) has gotten his wish on high-speed rail. A deeper study of the topic is set to take shape over the next year and a half. The Washington State Legislature has authorized up to $1.2 million to be spent on a business case analysis. Where the feasibility study last December scratched the surface on background information and feasibility, the business case analysis will study the finer details of what could make high-speed rail work in Cascadia. The study will be funded by $750,000 in direct grants by the state and could be supported by another $450,000 in private and local funding.
The governor praised funding authorization for the study and expressed optimism about high-speed rail. "We are pleased to have secured $750,000 in state funds, and another $450,000 in appropriation authority for private and local funding to conduct a business case analysis of a new ultra high-speed corridor connecting Seattle and Vancouver, BC with potential stops in Portland and beyond," he said. "This analysis will provide us the detailed ridership and revenue numbers to attract further private sector investment and move the project forward. The analysis builds on the promising results of a recent feasibility study that found within a few years of operation, ridership could be as high as 1.8 million and, with the right technology, the service could pay for its own operations and maintenance."
The governor further highlighted environmental, traffic, and economic benefits that high-speed rail could bring to the region. "A related economic benefits analysis showed a 20 to 1 return on investment, a reduction of 40,000 metric tons of greenhouse gas emissions, removal of up to 17% of trips from our freeways, and the creation of up to 201,200 jobs per year," he said. "These early results demonstrate a compelling case for a new ultra high-speed corridor that will help create jobs, increase affordable housing options, reduce traffic, and clean air."
Advocates of high-speed rail also are pleased by the commitment of the state legislature.
"Cascadia Rail applauds the efforts of Washington State Representatives Judy Clibborn, Gael Tarleton, Jake Fey and Senators Steve Hobbs and Marko Liias for their successful, visionary efforts to advance high-speed rail to our region," said Paige Malott, vice president of Cascadia Rail, a grassroots non-profit organization. "Whisking between Portland/Seattle and Seattle/Vancouver in 40 to 50 minutes is an achievable dream, and every incremental step matters."
"We commend the Washington Legislature for stepping up," said Michael Zirkle, a fellow advocate from Cascadia Rail in Tacoma. "Tacoma to Seattle in 10 minutes and Tacoma to Portland in half an hour is transformational. The regional value is clear."
There was some uncertainty about where funding for the study would land in the supplemental transportation budget bill. The House had planned to aside $900,000 in state funding and allow private and local matches to bring that up to $1.2 million, similar to the approved funding levels. The Senate, however, only had planned to authorize the study if private and local funding was identified. Fortunately, the two sides managed to end up at a good compromise though it falls short of the $3.6 million that the governor had originally requested.
"Our state is undergoing a transition from the transportation methods of the past to those of the future," said Senator Steve Hobbs (D-Lake Stevens), one of the chief authors of the bill authorizing the study. "As we do this, I think it is critical that we consider every option and decide what modes of transportation best connects and serves Washington's communities. Taking a good look at ultra high-speed rail certainly meets that measure. I will be interested to see what this study reveals."
The legislation tasks several state departments to participate in advisory group, including the Washington State Department of Transportation and Washington State Department of Commerce. Representatives from Oregon and British Columbia will also be invited to join the advisory group in addition to several state legislators, representatives in communities along the study corridor, and stakeholders from the public and private sectors. The study will likely conduct a market analysis of potential riders by areas served and evaluate a variety of relevant factors (e.g., service levels, operational model, equipment needs, ridership, comparative market analysis, public-private partnership scenarios, and financing and fares). The feasibility study was a limited study in comparison, with its main focus on projecting farebox recovery ratios based on long-distance high-speed rail demand.
Some remaining questions that the business case study could help answer include:
Whether or not opportunities exist to pair high-speed rail stations with real estate development to offset some of the capital costs, similar to Brightline's rail business model in Florida.
How high-speed rail will interact with existing Amtrak Cascades service. The feasibility study assumed Amtrak would operate at the same levels.
Whether or not high-speed rail will entice trips within a metropolitan area like Tacoma to Seattle or Kelso to Portland. One limitation of the model used in the earlier study is it could not measure short trips.
There were two other related rail proposals that didn't make the final cut in the supplemental transportation budget bill. The Senate had proposed setting aside $250,000 to evaluate passenger rail to Eastern Washington via Stampede Pass. This was a concept championed by All Aboard Washington and studied by Central Washington University last year. The Senate had identified several cities would be evaluated by the study for service, including: Auburn, Cle Elum, Ellensburg, Yakima, Toppenish, and the Tri-Cities. Another proviso by the Senate would have created a workgroup to look into what it would take to electrify railroad mainlines in the state, which could provide speed and environmental benefits to freight and passenger rail alike. With any luck, those proposals could find their way in next year's transportation budget.
The business case analysis on high-speed rail is due by June 30, 2019, which should give ample time for policymakers to prepare for next steps they could take in the 2020 legislative session.
The featured image is a Chinese CRH380CL train produced by CRRC and courtesy of Jwjy9597 on Wikipedia.
Olympia Poised to Partially Fund High-Speed Rail 'Business Case' Study

Stephen is a professional urban planner in Puget Sound with a passion for sustainable, livable, and diverse cities. He is especially interested in how policies, regulations, and programs can promote positive outcomes for communities. With stints in great cities like Bellingham and Cork, Stephen currently lives in Seattle. He primarily covers land use and transportation issues and has been with The Urbanist since 2014.