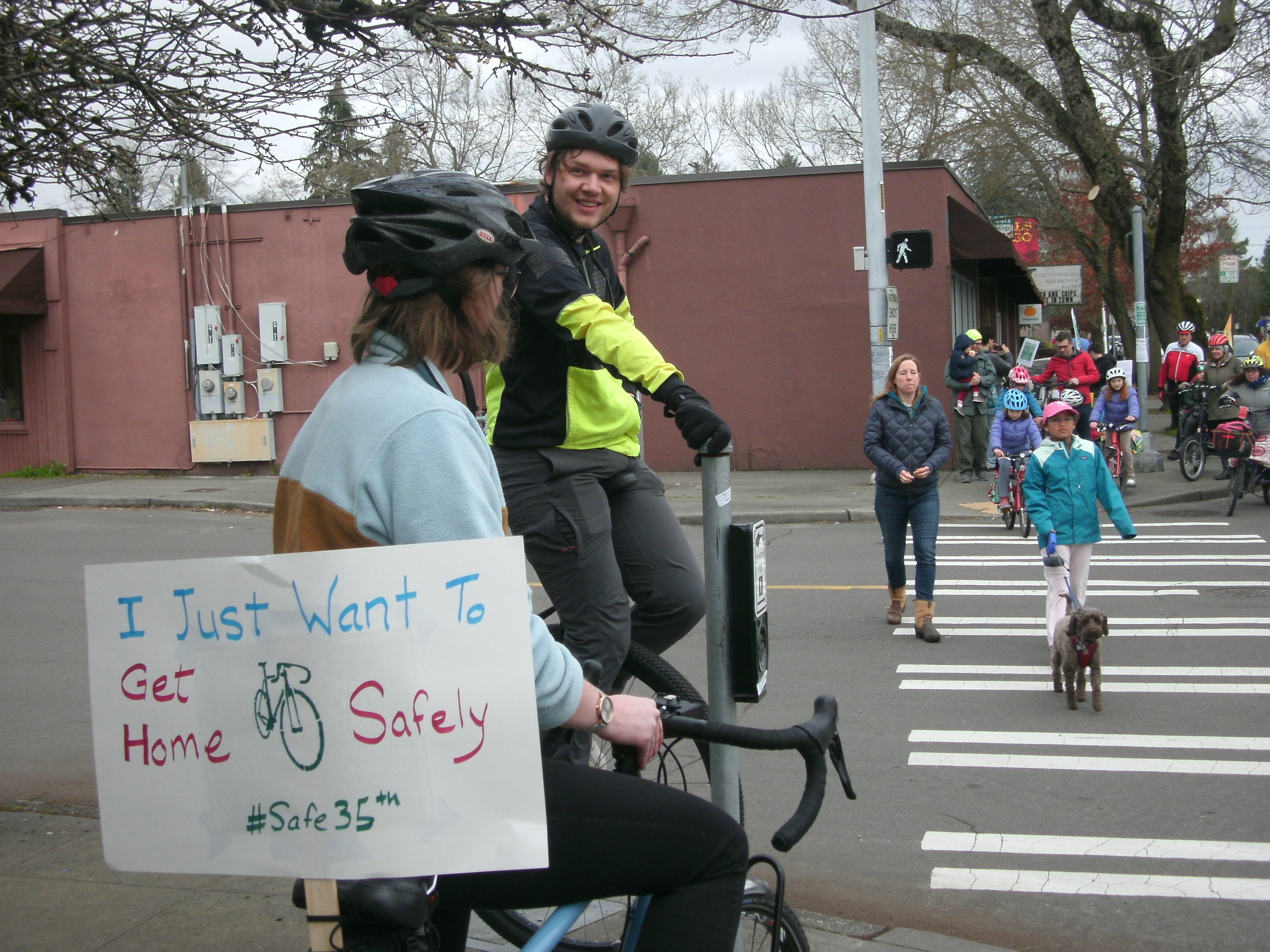 Just before 10am on a recent Sunday morning, around 30 people gathered outside Cafe Javasti, a neighborhood coffee shop just north of NE 85th St in the Wedgwood neighborhood. Many came on bikes, kids in tow, bundled up for the chilly late winter morning. A few, like me, came from outside the neighborhood, but most live close-by in northeast Seattle.
Cafe Javasti, had a red sign in its window: "Save 35th Ave," the sign reads, "Tell The City…Keep Our Parking."  Many businesses along this stretch of Wedgwood displayed the sign, including a dance studio, a law office, and an ale house.
The red signs had begun popping up on 35th Avenue NE a few months prior, when a group of neighborhood residents and business owners had organized to stop the Seattle Department of Transportation (SDOT) from including several changes to the road as part of the planned 2018 repaving project. Their biggest gripe was the removal of space allocated for parking from one side of the street to make room for buffered bike lanes. 35th Avenue NE currently has no bike facilities on it.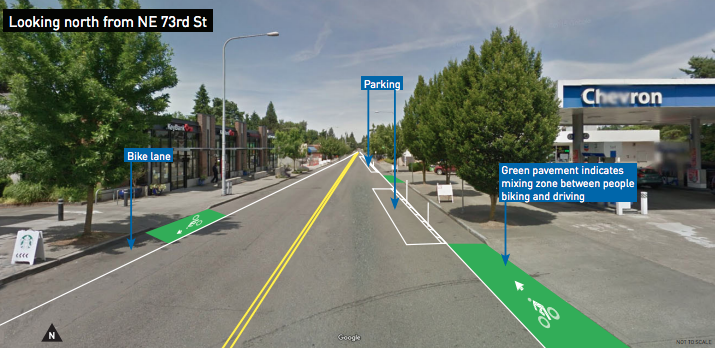 Cyclists and safety advocates gathered outside Cafe Javasti were brought there to show the neighborhood businesses that there's a large contingent of people in the neighborhood who do support adding bike facilities to the street and who would frequent businesses and spend money more regularly along 35th if they felt safe enough to do so. Several people I spoke to told me they find it hard to get to businesses particularly along the northern segment of 35th because the street is so intimidating and the way the street grid is structured doesn't allow them an easy alternative. Many in the group carried signs that serve as the counterpoint to the  "Save 35th Ave" crowd: they read "Safe 35th." Early that morning, someone had used spray chalk to paint Safe 35th at several intersections along the street.
As the group headed south into the heart of Wedgwood, one of the more outspoken advocates for changes on 35th, Liam Bradshaw, posted signs at the intersections, informing passersby of how many collisions, usually between people in vehicles but frequently involving people on foot or on bike, happened at that intersection in the last decade or so. At NE 65th Street and 35th Ave NE there were 21 collisions causing injuries since 2004, including 4 pedestrians hit by cars. All the way from one end of 35th to the other, there have been 198 people injured since 2004.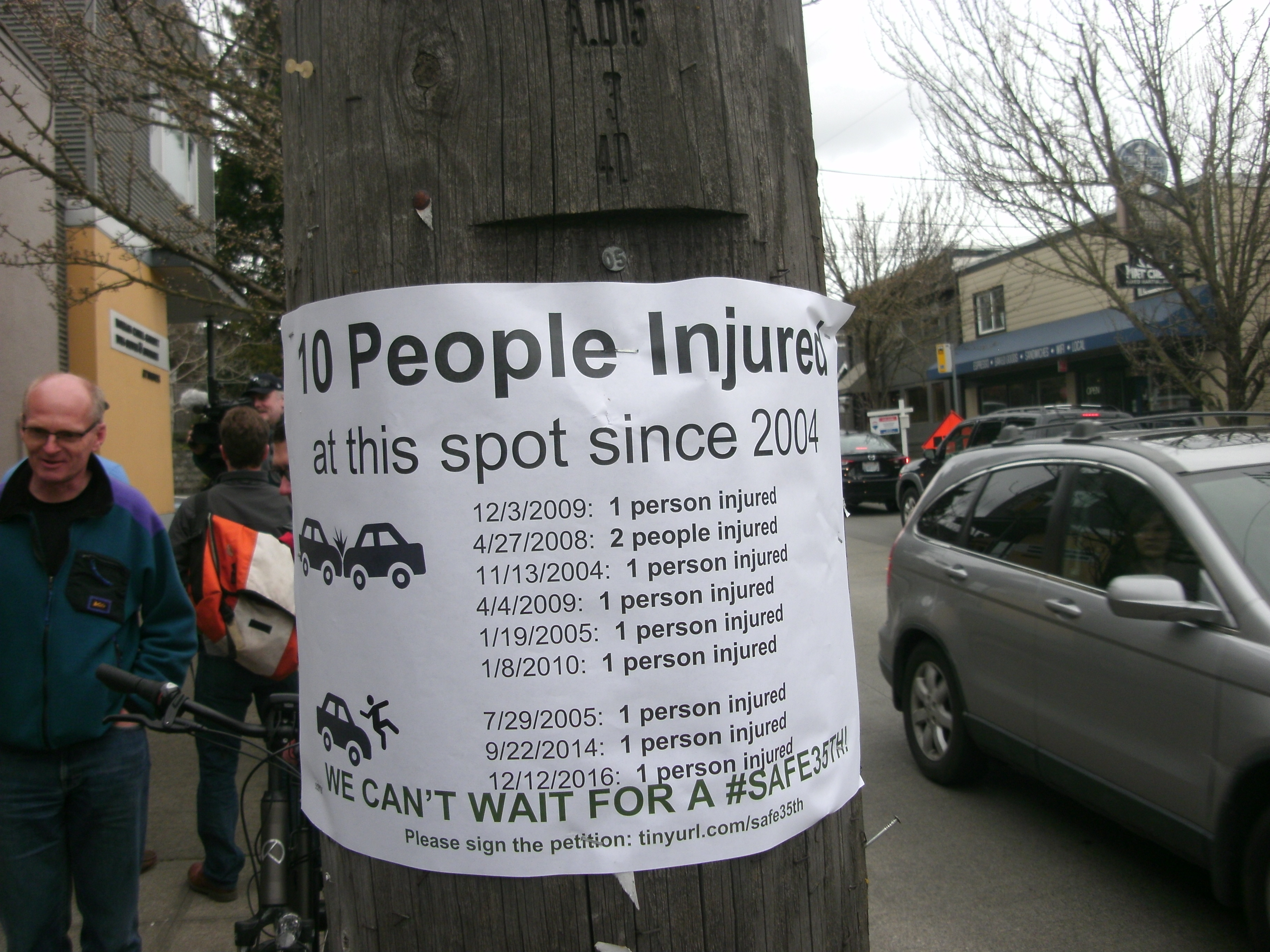 Many advocates for a safer 35th don't feel like the plans currently go far enough. The Seattle Bike Master Plan calls for protected bike lanes along the entire corridor. Creating a full all-ages-and-abilities cycling route would likely require removing all of the parking from 35th Ave NE, and creating costly transit islands to ensure that the buses that use the corridor, like Route 65, do not have to stop in the bike lane. As it currently stands, buses and bikes will have to mix at stops. There is a copious amount of off-street parking around the business districts on 35th, and SDOT's surveys only found around 40% of the on-street parking was used when they surveyed.
When the group of Safe 35th advocates got to the Northeast branch of the Seattle Public Library, at 68th Street, they encountered a small group of Save 35th advocates, who had set up a table as a counterprotest. While most advocates avoided directly confronting one another, there were some terse words shared between some residents. One man carrying a red sign complained that people on bikes should use the greenway, which is four blocks away at 39th Avenue and doesn't serve the stores and amenities along 65th. People with red signs waving them at people with green signs and vice versa heightened the tension on the walk, and no one left the scene better informed. It made me wonder: how could this have been avoided?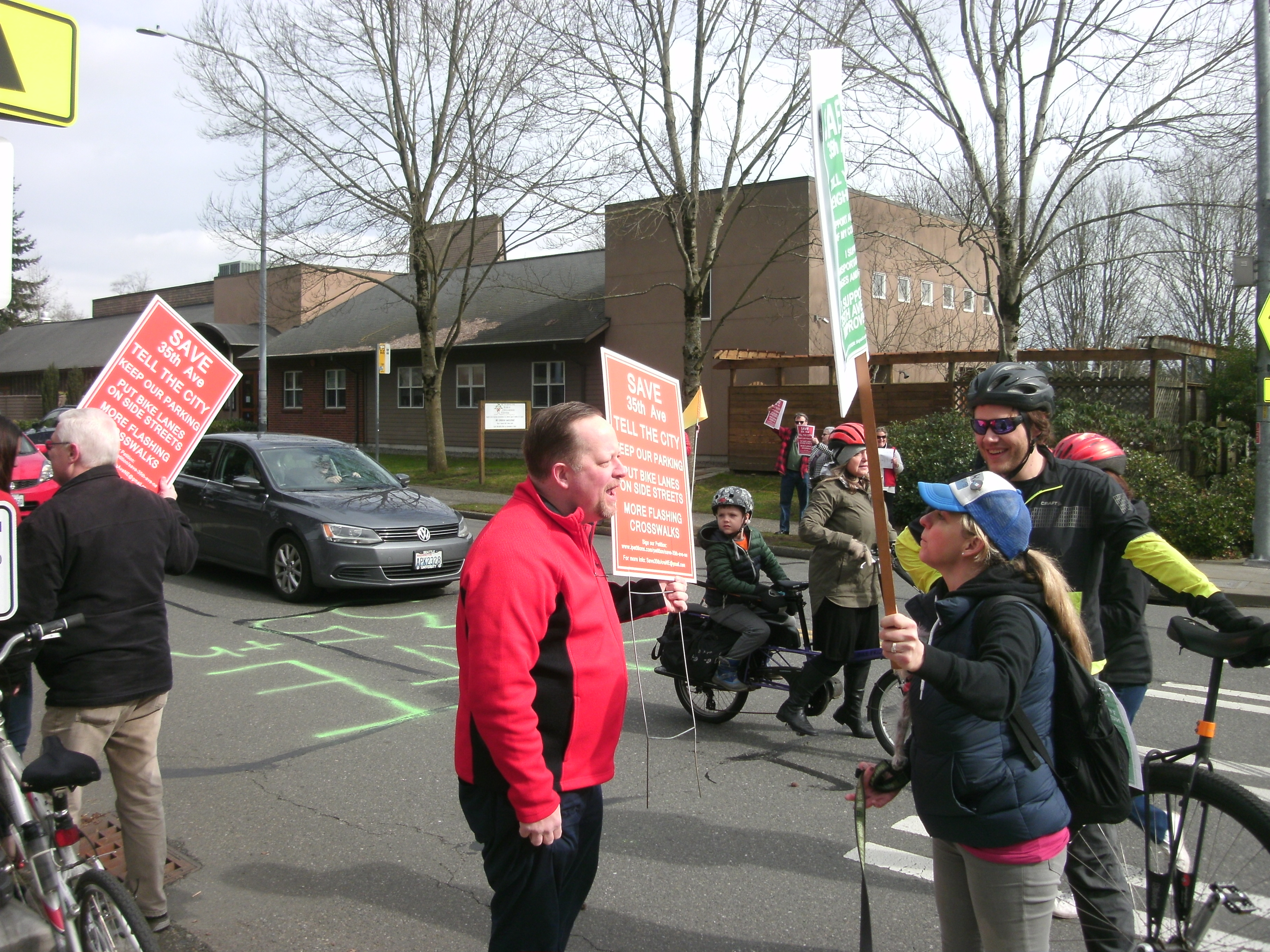 Many advocates blamed poor outreach on the Seattle Department of Transportation, particularly at an open house in October. At the Seattle Bike Advisory meeting earlier this month, Liam Bradshaw told the board that SDOT had made a "mess" in his neighborhood, pitting neighbor against neighbor. Lessons here can definitely be learned for elsewhere in the city.
Councilmember Rob Johnson, in a blog post earlier this month, came out strongly in favor of changes along 35th Ave, saying "it is imperative for me that we make this street safer for all–pedestrians, cyclists, and drivers alike." Because this paving project has been long planned–we first covered it in September of 2016–the contract has already gone out to bid for construction later this year. However, there is still a chance that pressure could cause the city to make changes to the design at the last minute, namely removing the bike lanes, probably the most contentious part of the project. But if the department continues to hear from advocates of safety-minded changes along 35th, we should see changes that benefit all users. More than 800 people have signed Safe 35th's petition calling on Mayor Jenny Durkan and SDOT to stick with the safer design, and they could use your signature too.
Hopefully, once folks experience the more people-friendly street design, neighbors will realize that they weren't that far apart after all.
An Open Letter to My Neighbors Who Oppose Safety Improvements to 35th Avenue NE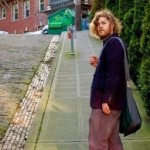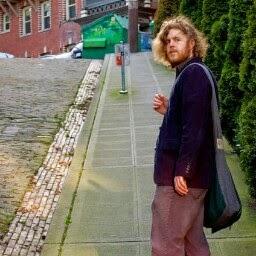 Ryan Packer lives in the Summit Slope neighborhood of Capitol Hill and has been writing for the The Urbanist since 2015. They report on multimodal transportation issues, #VisionZero, preservation, and local politics. They believe in using Seattle's history to help attain the vibrant, diverse city that we all wish to inhabit. Ryan's writing has appeared in Capitol Hill Seattle Blog, Bike Portland, and Seattle Bike Blog, where they also did a four-month stint as temporary editor.