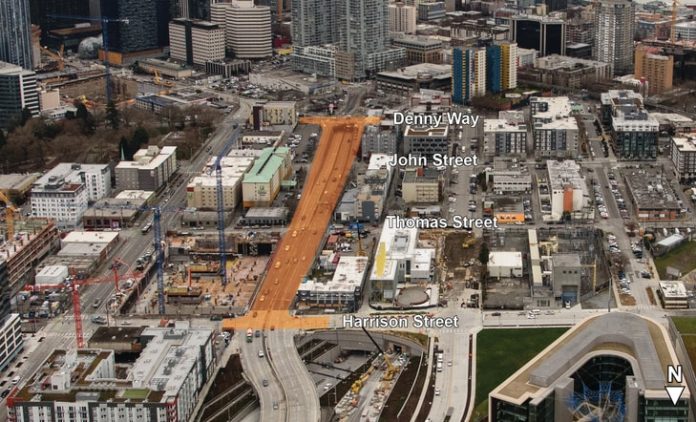 On Monday, the Seattle City Council chose to rename two sections of Aurora Avenue North and Aurora Avenue–without the directional–leading into Belltown. The new names? "7th Avenue North" and "Borealis Avenue". The change comes on the heels of the SR-99 tunnel opening and changes to the local street network.
"This is an exciting step for folks in the community around the new tunnel opening; probably more exciting than the tunnel in fact that we get to rename these three or four blocks," Councilmember Mike O'Brien said. "We heard a lot of support from community members who have been working on this for years."
Changing the name of the streets has indeed been a community priority for years, particularly the last six. A former community member, John Tony, spurred the effort to rename Aurora to its historic 7th Ave N designation. One community member described the post-viaduct reconnection of the street grid around Aurora as "important pedestrian causeway" and suggested that renaming the street a reflection of that. After all, Aurora was only named as such when the state turned the street into a limited-access highway, largely bereft of pedestrian and connectivity considerations in the automobile-is-king era.
A three-block stretch of Aurora Ave N will become 7th Ave N from Harrison Street to Denny Way. This is the historic name for the street, falling just east of 6th Ave N. Between Denny Way and Battery Street, Aurora Avenue will become Borealis Avenue, a single block. The Seattle Department of Transportation (SDOT) chose not to recommend Seventh Avenue for this segment since there is already a Seventh Avenue to the east, which could be confusing to emergency responders.
According to SDOT, the name "Borealis" was the first ranked choice by community members. The name "Borealis" undoubtedly fits well as a play on "Aurora", but it was actually in reference to nearby apartments (itself a play on Aurora).
Over the next year and a half, contractors for the Washington State Department of Transportation will thread the street network south of Harrison Street back together. Improvements will include:
Transit lanes in both directions of 7th Ave N;
Upgrading 7th Ave N as a boulevard with new sidewalks, trees, lighting, planter strips, and landscaping;
Reopening John Street and Harrison Street as east-west streets;
Pedestrian crossings each at Harrison Street, Thomas Street, and John Street; and
A bicycle-only crossing at Thomas Street;
Filling the trench that leads to the Battery Street Tunnel.
John Street and Thomas Street could eventually be upgraded as Green Streets, which WSDOT's work will accommodate.

Stephen is a professional urban planner in Puget Sound with a passion for sustainable, livable, and diverse cities. He is especially interested in how policies, regulations, and programs can promote positive outcomes for communities. With stints in great cities like Bellingham and Cork, Stephen currently lives in Seattle. He primarily covers land use and transportation issues and has been with The Urbanist since 2014.