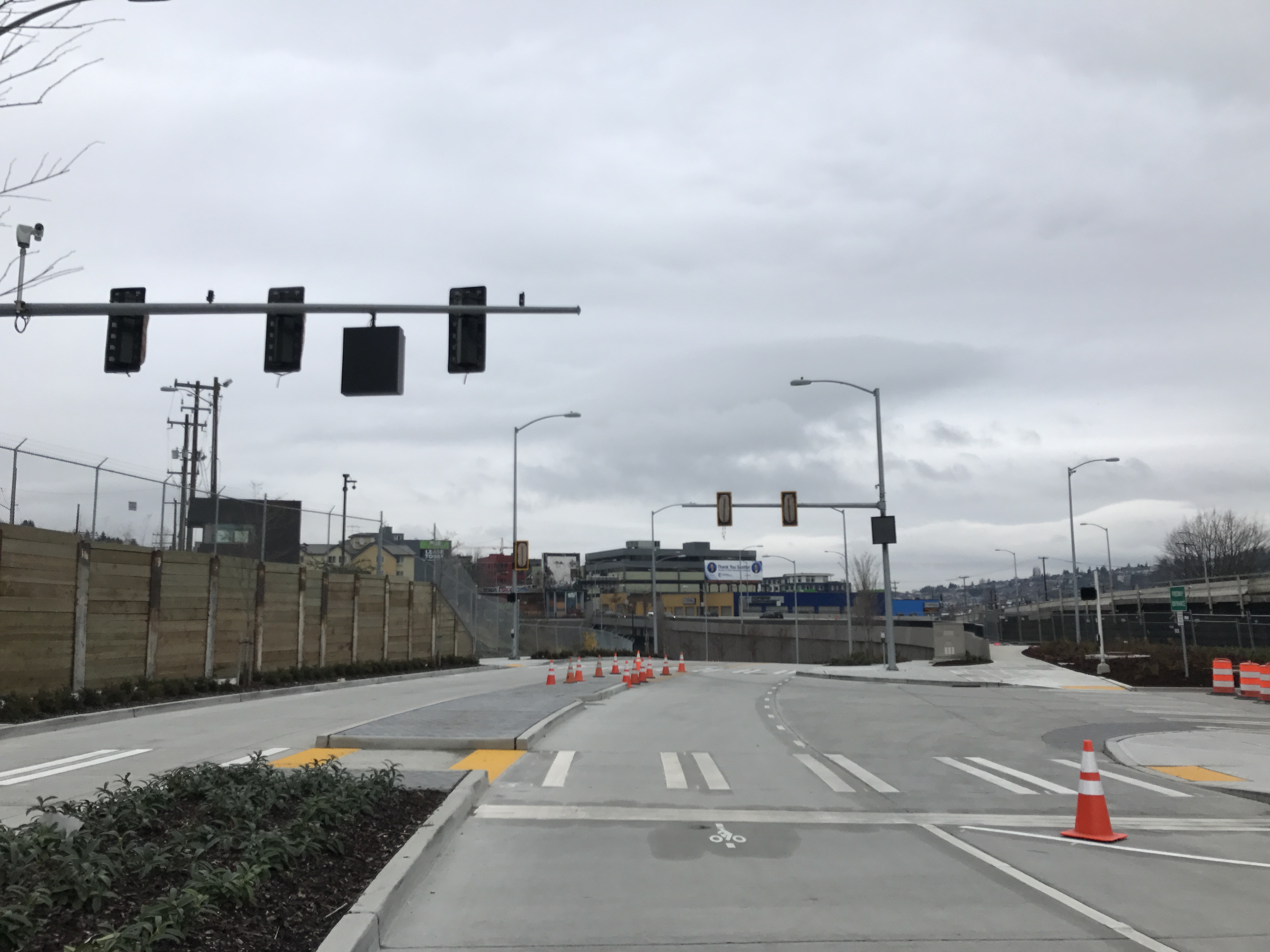 While we've been deeply critical and reasonably skeptical about many aspects of the Viaduct replacement boondoggle, the best pieces of the flawed project to reengineer SR-99 through Downtown Seattle are nearing completion, and a few of them have already been delivered. Last Tuesday, the Washington State Department of Transportation (WSDOT) opened a new stretch of 6th Ave N in the Uptown (Lower Queen Anne) neighborhood. The street extension connects Mercer St to Harrison St next to the Bill & Melinda Gates Foundation headquarters. With the opening of the 6th Ave N extension, an additional two half blocks on Harrison St are reopened, but access to SR-99 (Aurora Ave N) and a portion of 6th Ave N will remain closed for the time being.
Adding back 6th Ave N to the local street grid will be welcome to many Uptown residents and workers since it will offer new connections for pedestrians, bicyclists, and motorists. WSDOT's improvements include new landscaping and street trees (mostly complete), sidewalks on both sides of the street, and roadway. But the work also provides a little more for pedestrians. WSDOT has added sidewalks to the SR-99 bridge over Mercer St allowing pedestrians to utilize them both sides of the highway; one set leads to 6th Ave N while the other set connects to paths linking up to Mercer St and Republican St.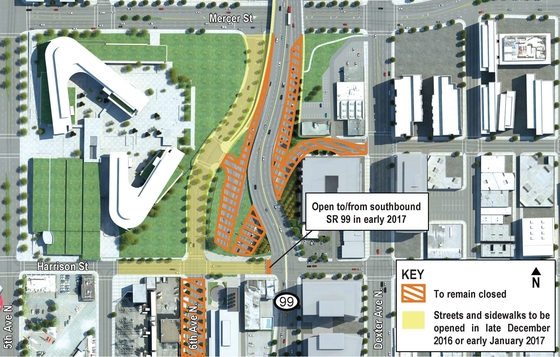 Earlier this year, WSDOT unveiled a "signature tree" and plaza space to bolster the aesthetics of the project. The plaza is still a ways off with completion slated for 2019, but the beginnings of it are already visible from SR-99.
WSDOT has constructed an operations building on the southeast corner of Harrison St & 6th Ave N to facilitate the new SR-99 tunnel. It will largely provide ventilation and other safety features for tunnel operations and is easily visible with its four yellow stacks on top of a glass structure. A portion of the operations site will feature a plaza area that public can access. This pocket park will certainly be a welcome feature to residents in the area, but it will also offer visitors who are curious about the workings of the tunnel a window into its daily operations. Centrifugal fans within the structure will be visible and air will be dispersed through the ground of the plaza allowing visitors to feel the facility in action.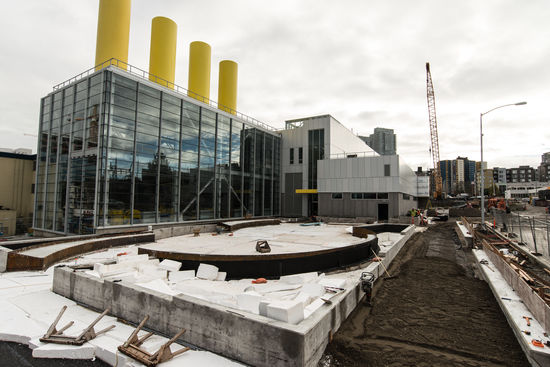 Meanwhile, the story behind the "signature tree" is best told by WSDOT itself:
In developing the landscaping for the tunnel portals, the state coordinated closely with local tribes to honor the indigenous history of this part of Seattle. Designers wanted to incorporate a "signature tree"–one that would have cultural or historical significance–to mark the entrance to the tunnel.

The Garry Oak "signature tree" planted by WSDOT. (WSDOT)

This is where the Garry Oak came in. There used to be a trail between Elliott Bay and South Lake Union. Among local villages, the area was known as Baba'kwob prairie. Historically, tribal members used to collect camas, wild onions, and other native plants in the prairie. They also hunted ducks on the flyway between the bay and South Lake Union.

The state's design team coordinated plant selection at the portals with the tribes to invoke this past landscape, of which the Garry Oak tree was an important part. Members of the Muckleshoot Tribe plan to transplant camas, onions, and other prairie bulbs to the north portal under the tree later in the project. They hope to bring school children to the site in the future to see this recreated slice of prairie that their ancestors would have actively utilized.
Best Yet To Come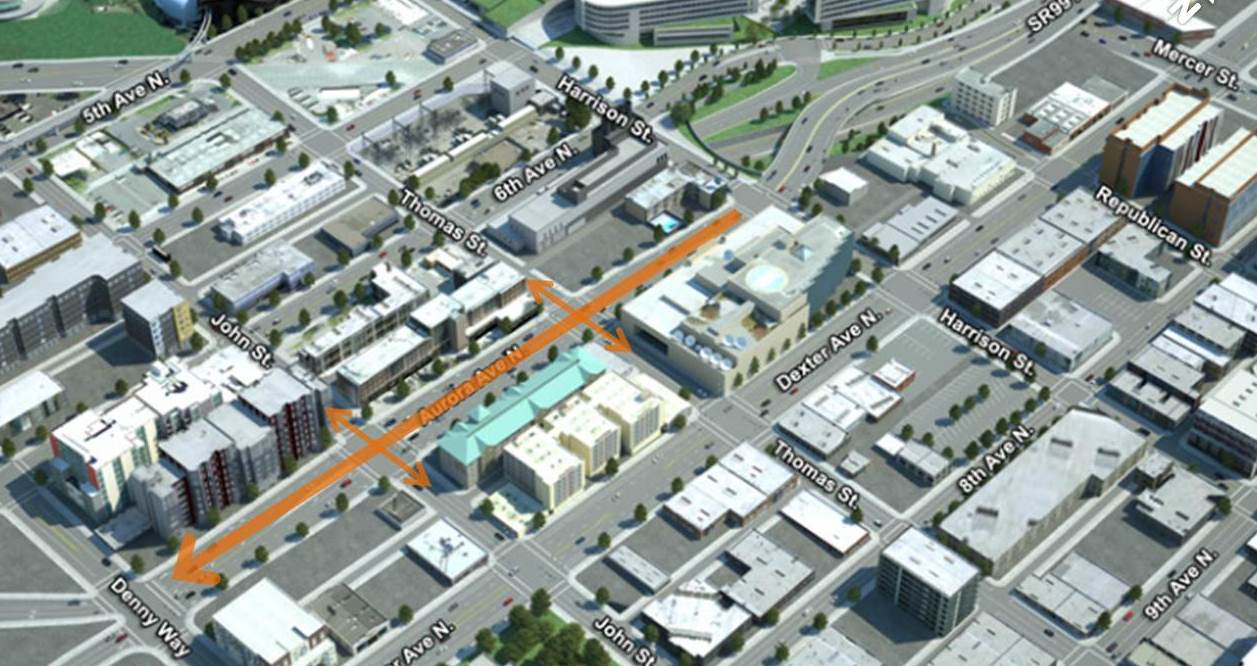 The 6th Ave N extension is just the first wave of changes coming to the street grid near the North Portal. WSDOT will roll out a completely reconnected street grid from Harrison St to Denny Way allowing people to cross Aurora Ave N for the first time in many, many decades. Part of the grid was restored when the Broad Street extension northeast of 5th Ave N & Thomas St was removed a few years ago. But when SR-99's North Portal opens to traffic, WSDOT will be able to focus their efforts on filling the soon-to-be old SR-99 highway trench, bringing Aurora Ave N up to grade with the adjacent streets and removing highway jersey barriers. These new street connections will, in essence, create a cohesive South Lake Union and east Uptown neighborhood, and provide more options for people walking, biking, and driving to get around. WSDOT will also make minor improvements to Wall Street and Aurora Avenue south of Denny Way.
However, for all the good that the new connections will do, we shouldn't forget that this is a WSDOT project. True to form, the agency is still planning to construct an unnecessarily wide Aurora Ave N. WSDOT wants to build three lanes in both directions and install a combination median and turn pocket in the middle of the roadway to funnel car traffic to and from SR-99. So it may function closer to a Mercer Street than a 9th Ave N. And disappointingly, WSDOT will create discontinuity with the north-south sidewalk pattern north of Harrison St, which even the soon-to-be old SR-99 never did.
But the new streets will also have greatly reduced speeds from current Aurora and traffic controls, improving overall road safety.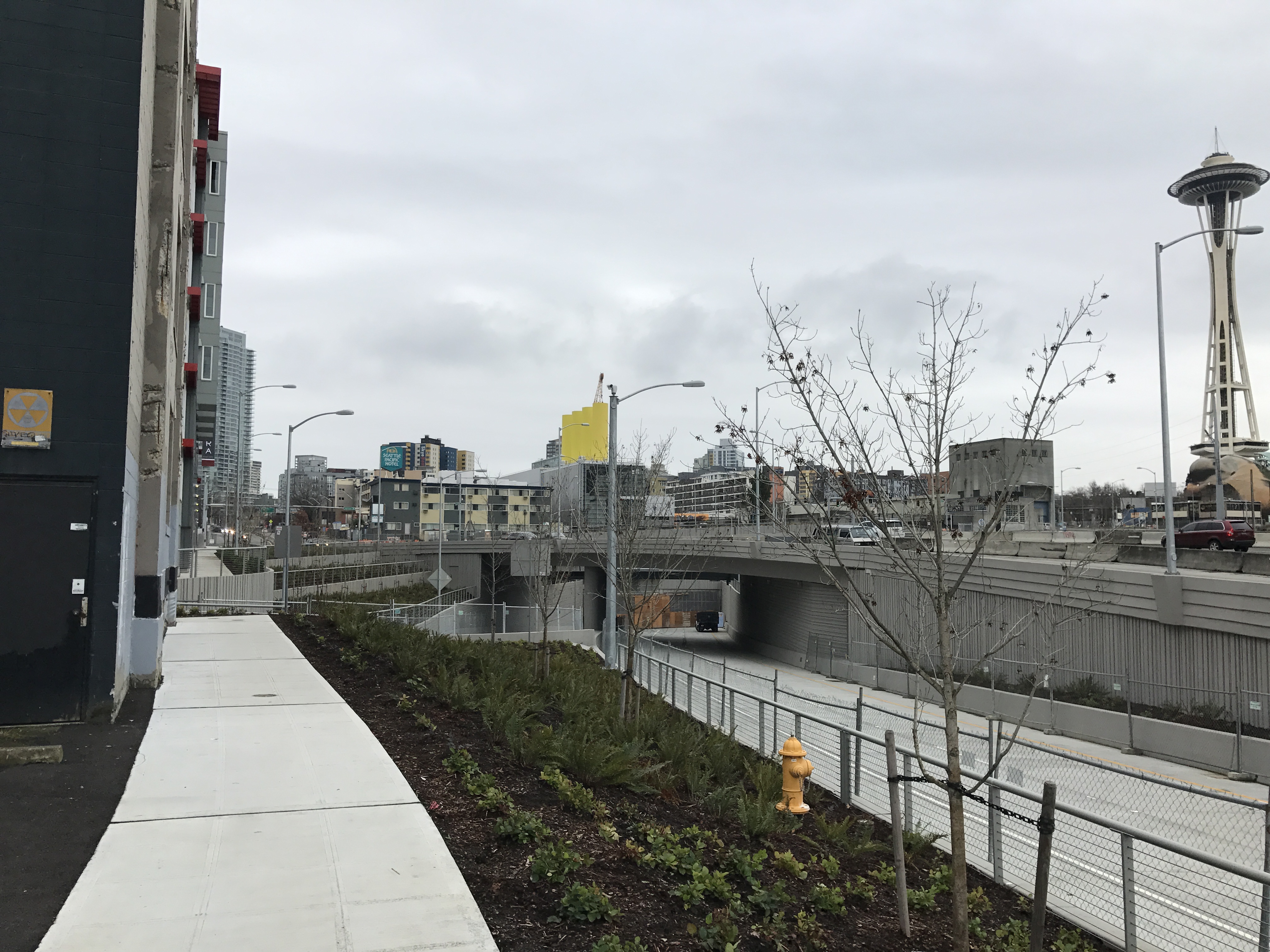 Aside from the local transportation benefits of this improvement, reconnecting the grid will have a profound impact on reducing air and noise pollution, and increasing desirability of the areas around the new connected street grid for investment and redevelopment. SR-99 has not just been a physical barrier to this area, it has been a barrier to urban livability and success by limiting access and opportunity. One could imagine, for instance, a new retail district springing up on John St and Thomas St with ample new housing–things that would not have been very highly desirable for most proprietors or residents up to now, let alone the development and investment community.
King County Metro Transit's long-range plan envisions buses running east-west on Harrison St, with a future light rail station at Harrison St & Aurora Ave N planned as part of Ballard-Downtown forming a transfer spot in South Lake Union for transit riders. In the immediate future, it's not clear if Metro will reinstall the bus old Aurora Ave N bus stop at Mercer St. Given that there is pedestrian access in the area and safe room for buses, it seems plausible. Meanwhile, Thomas St has an entire green street concept plan developed for it, which involves encouraging low vehicle volumes on the street and turning the street into a de facto greenway between Seattle Center and South Lake Union. Many new developments in the area, including one on 8th Ave N we profiled back in 2014, are focused on orienting themselves toward the pedestrian nature of the new streetscapes.
Are Washington State's Highway Expansion Plans A Good Investment?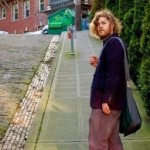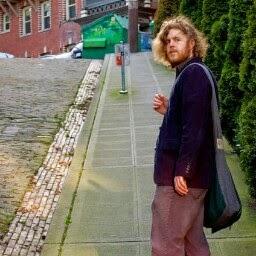 Ryan Packer lives in the Summit Slope neighborhood of Capitol Hill and has been writing for the The Urbanist since 2015. They report on multimodal transportation issues, #VisionZero, preservation, and local politics. They believe in using Seattle's history to help attain the vibrant, diverse city that we all wish to inhabit. Ryan's writing has appeared in Capitol Hill Seattle Blog, Bike Portland, and Seattle Bike Blog, where they also did a four-month stint as temporary editor.