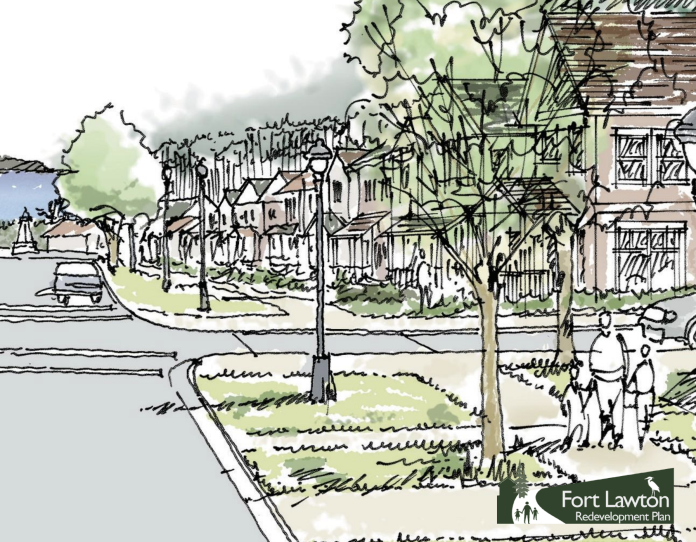 On Monday, the Seattle Office of Housing (OH) release a draft plan for affordable housing development at Fort Lawton. A total of 34 acres would be set aside for up to 237 homes and green space. The development plan calls for a mix of housing types, including low-income rental apartments for families and individuals, self-help ownership units, and supportive senior housing.
"As we continue to address Seattle's housing and affordability crisis, this plan builds on our commitment to drive the development of hundreds of more affordable homes while ensuring that our neighborhoods can be vibrant, livable spaces for this generation and the next," Mayor Jenny Durkan said in a statement. "We will continue to listen to the community as we move forward on the redevelopment of this critically important public space."
Meanwhile, notable housing obstructionist Elizabeth Campbell has pledged to continue to fight low-income housing ever touching the shores of Magnolia. Campbell told KUOW she has tricks remaining up her sleeve–something about process complaints. "I think it's fair to say that we plan legal action," Campbell said.
Fort Lawton is on the footsteps of Discovery Park, one of Seattle's most expansive park spaces. For more than 100 years, the area was used as a military installation. However, in 2005, the Fort Lawton Army Reserve Center was declared as surplus under the United States Base Realignment and Closure Act, essentially closing the facility and making it available for other purposes. The following year the city became eligible to acquire the property for redevelopment and began a process in 2008 to consider how it may be reused. The redevelopment plan that followed, however, was highly contested by local residents and got tied up in court battles for years.
In 2017 and 2018, the city picked back up its planning effort for redevelopment of the property. The city prepared a new Environmental Impact Statement and went through appeals process. Ultimately, the city hearing examiner determined that the Final Environmental Impact Statement was adequate, paving the way for a formal redevelopment plan–the one that OH has published. The redevelopment plan essentially mirrors the studied preferred alternative from last year.
According to the draft redevelopment plan, the housing mixture, tenure of households served, funding, and sponsors will include:
85 dwelling unit units for seniors. The units will be designed for supportive housing and set aside for households making at or below 30% of the area median income. Catholic Community Services of Western Washington and United Indians of All Tribes Foundation will sponsor these units. The total cost is estimated to be approximately $28.3 million with $9.1 million in funding coming from Seattle.
Approximately 100 dwelling units will serve low-income families and individuals. The apartments will include some two- and three-bedroom units and serve households making up to 60% of the area median income. Catholic Community Services of Western Washington will sponsor these units. The total cost is estimated to be approximately $40.2 million with $7.7 million in funding coming from Seattle.
Up to 52 "self-help" ownership homes. These dwellings will serve households making up to 80% of the area median income. Habitat for Humanity will sponsor these units. The total cost is estimated to be approximately $18.4 million with $4.7 million in funding coming from Seattle.
Housing will be located toward the north of the redevelopment site and be focused around the existing Texas Way street. The distance between the main redevelopment area and W Government Way, the main entry to Fort Lawton and Discovery Park, is about a half mile. The draft redevelopment plan contemplates installation of new sidewalks along Texas Way. Unfortunately, the draft redevelopment plan does not call for any pedestrian connections directly to 36th Ave W, despite the fact that redevelopment would essentially abut the street.
The draft redevelopment plan also identifies a substantial portion of the site being set aside for open space and recreation:
Approximately four to five acres of land would be added to Discovery Park.
Six acres would serve as active recreation space, which could be acquired by Seattle Public Schools for their use.
Another 13 acres could remain as passive recreation within the redevelopment area.
Additionally, the site boasts an existing maintenance parking lot and maintenance structure, which could be reused.
The redevelopment process will still take years to complete, perhaps by 2026 if all goes according to plan: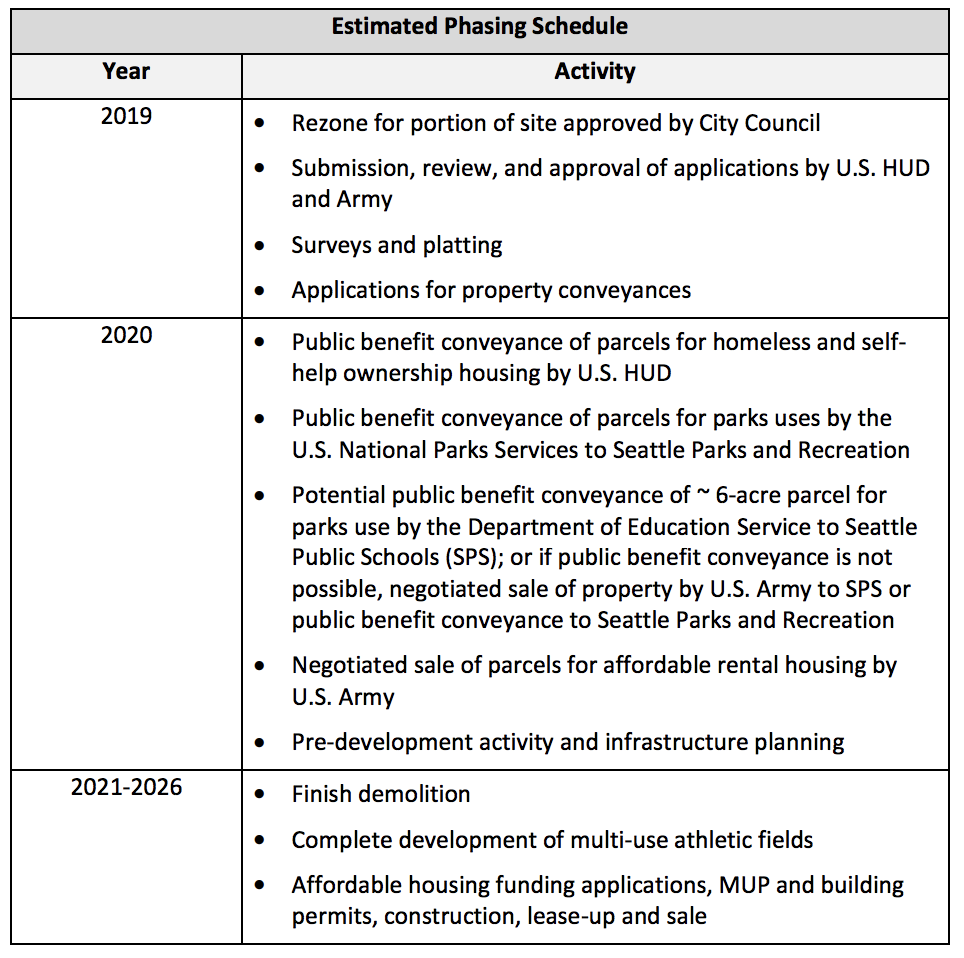 The draft redevelopment plan is open for public comment. Comments can be sent via email to OH through March 6. Additionally, a public hearing on the proposal will be held on Monday, March 4th. We expect the public hearing to be heavily attended, so it's a big opportunity to provide public testimony and counter anti-affordability folks. The public hearing will be held at Catherine Blaine School from 5.30pm to 8.30pm in Magnolia.
Following this process, the Mayor's Office has indicated that a final redevelopment plan will be transmitted to the Seattle City Council for consideration. Authorization from the city council would allow OH to acquire the property and begin redevelopment with the affordable housing partners.
Correction: Due to the severe weather on February 11th, the Seattle Office of Housing rescheduled the public hearing to a new date in March and extended the public comment period, which is reflected in the updated version of this article.

Stephen is a professional urban planner in Puget Sound with a passion for sustainable, livable, and diverse cities. He is especially interested in how policies, regulations, and programs can promote positive outcomes for communities. With stints in great cities like Bellingham and Cork, Stephen currently lives in Seattle. He primarily covers land use and transportation issues and has been with The Urbanist since 2014.