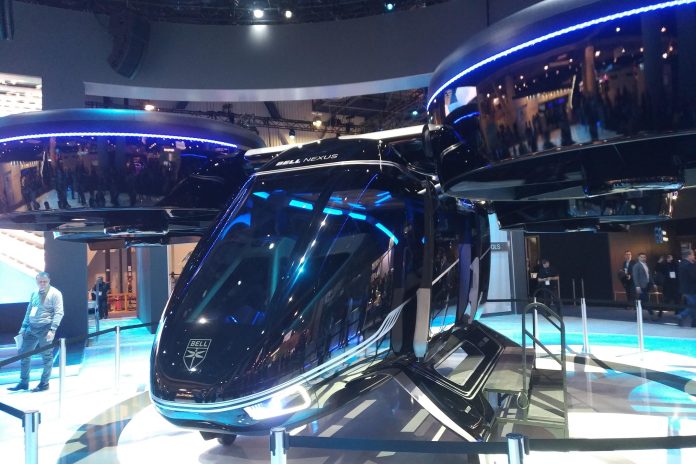 The Consumer Electronics Show (CES) is "the global stage where next-generation innovations are introduced to the marketplace." More than 180,000 people attend, and about 4,400 companies exhibit in 2.7 million square feet of trade show space. It is enormous by any measurement with the Las Vegas Convention Center, the Sands Expo Center, the Venetian, Mandalay Bay, Wynn, Aria, and other casinos devoting their exhibition halls to the show and an accompanying conference and speaking series.
A significant portion of CES is devoted to emerging transportation technology and advances that will affect mobility. Companies ranging from Toyota to Harley Davidson to John Deere debut their bleeding edge technology and advancements they believe will change our lives soon. While remaining grounded and carbon-heavy (Ford and Toyota both said they'll be selling SUVs and trucks for the foreseeable future), there was a pervading sense of optimism about the future of transportation and mobility at the show. EVs and hydrogen-cell/EV hybrids were prominent, last-mile technology connecting to transit, and light electric vehicles were everywhere, and several companies announced their entrance into the alternative transportation market.
Electric, autonomous shuttles
Every major automotive, mobility and battery company showcased their own version of people movers—from full electric, autonomous shuttles that have entertainment, work spaces, and other amenities for larger groups, to smaller, two- to four-person autonomous vehicles designed for commuting.
The one everyone was talking about was Bell Helicopter's electric flying taxi. Calling it "the nexus of transport and technology and of comfort and convenience," a prototype was available on the tradeshow floor, and Bell offered tours of the interior and flight simulation pods. The flying taxi represents Bell's adoption of EV technology to change the helicopter industry and potentially how people will commute one day (they've partnered with Uber with the plan to create a network of on-demand, electric vertical vehicles in the future).
Remaining grounded, Bosch's IoT Shuttle is the German car component manufacturer's vision for how autonomous EVs will win over commuters in the near future. At CES, they presented a comfortable, sleek shuttle that features entertainment/work screens, four (with a potential for more) stations isolated when needed by lighting and shaded screens, and Bosch is developing apps to allow users to schedule and organize shuttles. Bosch believes large companies could transport employees in the shuttles, transportation and transit agencies could provide them for their carpool fleet, and individuals could sign up with independently with rideshare and ridehailing companies.
Panasonic also showed off the SPACe_C—a scalable, autonomous, electric people mover. All about the so-called Internet of Things, the SPACe_C moves people around without any need for a driver and offers amenities like work stations, entertainment, snacks, and more. The SPACe_C has two modules, an upper for storage and a lower (the E-Torta) that houses the electric motor. The upper portion can house just about anything, and Panasonic envisions roving snacks and beverages, a small grocery, deliveries, a mobile sales floor, and other uses.
Along with Bosch and Panasonic, just about every vehicle-related company had a version of an autonomous EV shuttle. Major car manufacturers and their suppliers see this as the future of urban mobility and they believe they can entice people away from their cars by providing conveniences, luxury, and amenities. Continental's Cube shuttle includes robotic dogs capable of transporting things like packages from the vehicle to mailboxes, Schaeffler's e-Mover has wheels that can turn 90 degrees to get in and out of parking, and ZF Friedrichshafen debuted the 15-person e.Go Mover concept, which they seem to be positioning for companies like Microsoft and Amazon's private transportation programs.
Last mile technology
Segway, Razor and Jetson had large, impressive booths with several e-assist and full electric transportation options. With foldable e-scooters (super easy to go from street to subway) and e-assist bikes, these three companies (as well as numerous smaller ones) are developing and selling direct to consumer products that make that last mile of your commute easier and more convenient. The idea being of course that it's that last mile (or first mile) that discourages people from using public transportation. The concept is that if commuters had small, quick, agile vehicles that could zoom them through those last few yards, they'd rethink their commute. Microsoft's sprawling campus (now being refreshed) and Amazon's South Lake Union hive both are perfect for short-range mobility, and with a basic bike network, the light rail tunnel, and other safety improvements, more people are going to be choosing convenient, mobile tech that's all about being "almost there."
Swagatron has an assortment of light electric vehicles (LEVs), from e-skateboards to foldable e-bike/e-scooter hybrids. Long known for their cost-effective e-bikes, Swagatron intentionally debuted a new fleet of LEVs at this year's CES to showcase the quality and convenience of their numerous last mile products. The Swagcycle 2.0 is an incredibly affordable $299-$499 electric scooter/bike with pedal drive, e-assist technology, and foldable convenience, while the Swagskate is an offroad e-skateboard that can handle just about any pothole, reach nearly 25 mph, and keep going almost 20 miles on a charge.
E-bikes, escooters, and hybrids
Panasonic, Bosch, and several other companies showcased e-bikes, as well as hybrids (everything from hydrogen cell/e-bikes, to e-assist that can convert to scooter with a flip of a switch), as well as smaller companies specifically dedicated to e-bike technology.
Panasonic debuted three new e-bikes (touring, gravel and mountain/sport) with their partnership with Kent International that sell direct to consumers (available in the spring of 2019). This represents Panasonic's official debut into e-bikes—a market they expect to grow significantly and "transform urban micro commuting." All e-assist bikes, the bikes combine Kent's history of making world-class bicycles with Panasonic's expertise in battery technology.
On the other side, there's Pragma Industries' hydrogen fuel cell bikes—such a game changer, they were nominated for a Smart Cities award at CES (the hope is to develop sharing programs throughout the US). These bikes can charge in two minutes, have a 36V electric motor, and can go over 60 miles on a charge. With the first ever electric assist with a hydrogen fuel cell, Pragma is poised to have a significant impact on alternative forms of transportation—especially if they can launch a successful sharing program.
Meanwhile, Razor, who seems to have been late to the electric scooter race, has debuted Razor Share in several cities (LA, Dallas, Tempe, etc.), and at CES, they introduced an electric scooter/bike hybrid that they hope will challenge Lime and Jump. Topping out at 18 mph, the scooter/bike has an adjustable seat, a basket for groceries, pedals with e-assist and a throttle for full electric, and can run for 40 minutes on a charge.
Finally, probably one of the coolest new products at CES was the Schaeffler Bio-Hybrid, a four-wheel, partially enclosed hybrid that can be pedaled like a normal bike or changed to electrical assist or full electric (up to 16 mph with a 60-mile range). The Bio-Hybrid reverses, has storage space and weather protection, and is specified to make sure it remains bike lane legal. I signed up to test drive one of these, and it was remarkably comfortable, easy to use, and smart (you can plug your phone in for navigation and it has turn signals).
Smart gear
Several companies, including Cosmo, offered smart helmets with brake lights and even turning signals built directly into the helmet or as attachments for existing helmets. Livall's helmets have turn signals, as well as eight impact sensors inside that once triggered can send an SOS message, and smart features (speakers and a microphone) that can connect with your phone so you can take calls, navigate or just enjoy a podcast.
Then, there was the very smart, B'Safe Smart Vest from Helite. When a cyclist is hit or takes a fall, the vest instantly inflates (about 80 microseconds) like an airbag, protecting the neck and body. The vest is automatically activated once it's zipped up and is fully reusable after it is deployed. The vest has shock detection and motion sensors so it learns how its wearer rides. It has wireless connectivity and is made of water repellent, breathable fabrics (it doesn't feel heavy or restrictive) with reflective strips.
In addition, there were pedals that can detect when a bike is stolen, helmets that warn cyclists when they are in a car's blind spot, a helmet from Coros that allows riders to listen to music without disrupting their ability to hear what's going on around them, and shoes that unlock bicycles just by clicking the side of the bike.
Mobility and transportation technology and advancements at CES paint a positive picture of the future. The light electric vehicles are intended to complement existing transportation systems while e-bike and e-scooter companies are positioning themselves to revolutionize commuting by "flattening cities" and improving safety and convenience. The autonomous people movers and shuttles (most electric) are intended to be a little more disruptive. While several companies said their shuttles could be used in support of public transportation (linked trains of vehicles or carsharing programs), for the most part, it seemed like the intention was to change ridehailing and company transportation fleets.
There were few exhibitions that addressed more democratic means of mobility and none that I found that seemed to offer new ideas for public transportation systems. Still, the experience was one of optimism. It seemed like the large multinational corporations and the small startups and everyone in between are pushing advancements that would truly be improvements and offer more options for commuting. If they're right and if they can convince people to adopt some of these innovations, we could be in for an incredible ride.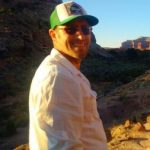 Chris Priest is a writer and community advocate who lives in northeast Seattle. Chris is a founding member of Safe 35th--a community-based group focused on bringing planned and agreed upon safety improvements to 35th Avenue NE in the Wedgwood, Ravenna and Bryant neighborhoods. He is a frequent cyclist, runner, transit rider, and walker who believes safe, inclusive modes of transportation are the way of the future.