On Wednesday, King County Metro in conjunction with Sound Transit and City of Seattle released their plan for March 23rd service change. This one is significant because all remaining bus routes in the Downtown Seattle Transit Tunnel will move to surface streets as it transfers to light rail-only operations. To facilitate this transition, Third Avenue will become an all-door boarding corridor, buses will move to new transit pathways, and other speed and reliability improvements will be rolled out. Metro also unveiled some route-specific improvements.
Sound Transit needs buses to move out of the tunnel as the agency readies it for future light rail extensions to the Northgate (opening in 2021), Eastside (opening in 2023), and Lynnwood (opening in 2024). Interim work will begin on a tie-in to East Link next year and sequential extension openings will drive up demand for light rail operations in the tunnel, making the bus changes to surface streets imperative now.
Third Avenue Improvements
Metro will transform how buses operate on Third Avenue by allowing all-door boarding. This will allow buses to depart much quicker at busy stops and increase overall corridor capacity as additional trips are added to the street.
ORCA card reader kiosks have been installed at 21 of 30 bus stops along the corridor. Riders will be able to pay by tapping their cards before entering at any door. Riders can also pay their fare by tapping onboard or paying cash as they normally would.
For the nine stops without the ORCA card reader kiosks, Metro will have ambassadors withs handheld card reader devices during weekday afternoon peak hours from 3:30pm to 6:30pm. At other times, riders will need to pay fare as they normally would. Metro plans to have ORCA card reader kiosks installed at these progressively throughout the year with completion by December.
Fare enforcement officers will be sweeping all buses operating from Third Avenue like they do for RapidRide lines that already use the all-door boarding procedure.
Customer Service Center Closure
Leading up to the service change, Metro will close its customer service center at Westlake Station on March 6th. Customers can purchase ORCA cards at other vendors (i.e., local grocery stores and drug stores) or manage their special pass needs by visiting the Metro customer service center at King Street Center in Pioneer Square.
New Boarding Locations
Riders of Routes 41, 74, 76, 77, 101, 102, 150, 255, 301, 308, 316, and 550 will want to take note of new boarding locations. These will be moving on March 23rd as part of the service change. New pathways are consolidated on Second through Sixth Avenues.
Fifth Avenue and Sixth Avenue Transit Pathway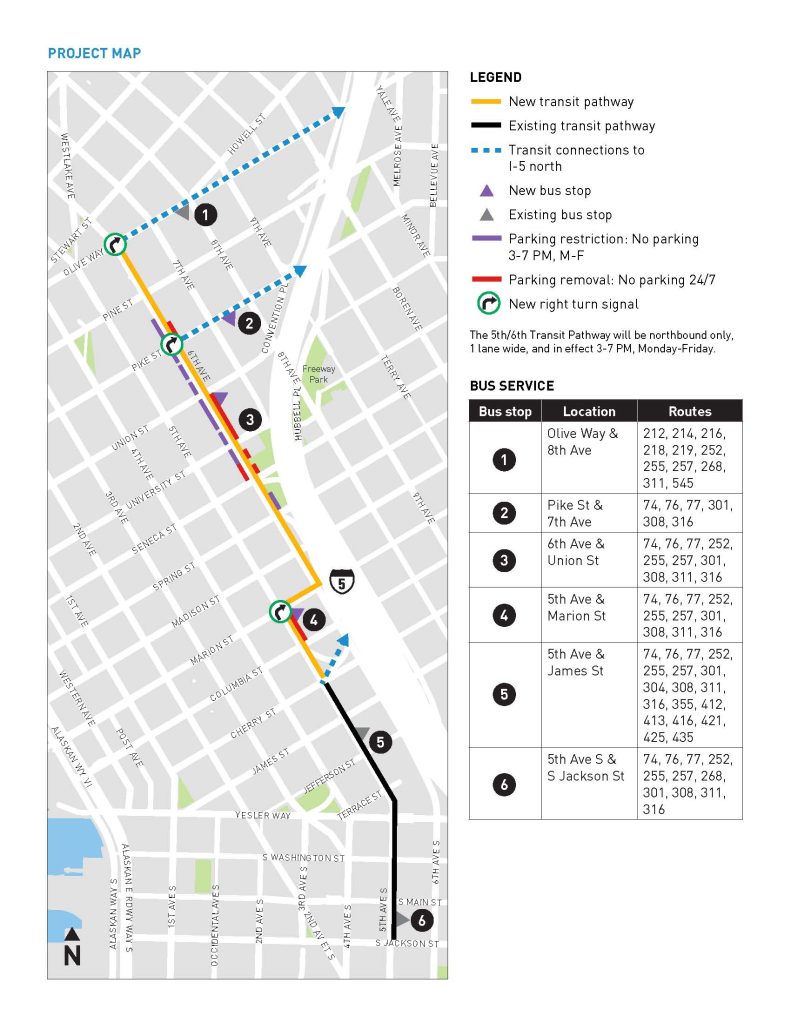 Metro and Sound Transit will begin sending weekday afternoon peak-hour buses, from 3pm to 7pm, northbound on a new transit pathway along Fifth Avenue and Sixth Avenue to help avoid traffic and move the routes on to I-5. This will affect Routes 41, 74, 101, 102, 150, 255, and 550. Three new stops will be added in addition to right turn signals and bus-only lanes to facilitate this.
Route-Specific Service Changes
Metro and Sound Transit plan to make a variety of other service adjustments beginning on March 23rd. Nearly a dozen routes will receive additional trips while a lesser amount will see operational and schedule adjustments. Only route is slated for deletion, which is Route 201. That route will have its service hours reinvested into Route 204.
The following fall into the service improvement category:
Route 15 will receive one new morning trip on weekdays.
Route 40 will receive several additional daytime trips on weekdays to improve frequency. Schedules will accordingly be adjusted to balance trips.
Route 41 will receive two night owl trips on Saturdays to improve late-night frequency.
Route 50 will receive six new daily trips on weekdays to improve midday frequency.
Route 106 will receive several additional trips on Sundays to bring service to every 15 minutes.
Route 111 will receive one morning and one evening trip each weekday to address crowding.
Route 120 will receive several additional trips on weekdays and Saturdays to improve overall frequency.
Route 204 which serves Mercer Island will be getting a big upgrade with the introduction of hourly Saturday service. The route currently only has weekday service. The route will also become a flexible DART route on the island.
Route 224 will become a flexible DART route in Duvall.
Route 301 will receive several additional daily trips to address crowding.
Route 312 will receive one added weekday peak morning trip.
The following routes fall into the service adjustment category:
Route 55 will have one weekday afternoon trip depart from West Seattle earlier.
Route 105 will no longer serve Edmonds Ave NE and NE 4th St to and from the Renton Highlands. The route will instead operate no NE 3rd St and receive a new stop pair at NE 3rd St and Edmonds Ave NE.
Route 158 will have two morning trip times adjusted to connect with Sounder service at Kent Station.
Route 169 will have trip times adjusted.
Route 513 will be extended to Seaway Transit Center to complement Community Transit's launch of the Swfit Green Line.
Route 541 will receive a temporary stop pair at on 156th Ave NE at NE 31st St.
Route 555 will be scaled back to operate only between Northgate and Bellevue. Service will no longer operate to Issaquah. Alternative routes already provide similar service.
Route 580 will have its operations scaled back by focusing most trips between South Hill and Puyallup and cutting out service on SR-512 to and from Lakewood Station. Only select trips would only be extended between South Hill and Lakewood Station when a Sounder train operates to or from Puyallup Station but does not originate or terminate at Lakewood Station. Additionally, all reverse commute trips would be fully eliminated
Route 952 will no longer serve stops along Boeing Perimeter Rd at Boeing Everett. Service will operate to and from the Seaway Transit Center.
RapidRide E Line will have early morning weekday trips adjusted to complement the Swift Blue Line at Aurora Village Transit Center.

Stephen is a professional urban planner in Puget Sound with a passion for sustainable, livable, and diverse cities. He is especially interested in how policies, regulations, and programs can promote positive outcomes for communities. With stints in great cities like Bellingham and Cork, Stephen currently lives in Seattle. He primarily covers land use and transportation issues and has been with The Urbanist since 2014.