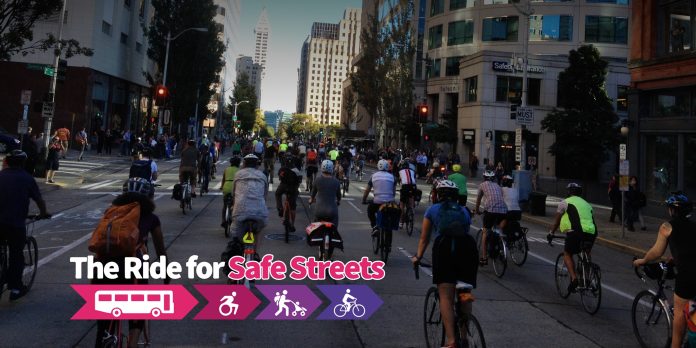 Seattle's streets should be safe for everyone: people of all ages, languages, ethnicities, genders, races, and abilities. But currently many of our streets aren't and the Durkan administration hasn't made fixing them a priority.
Join a coalition of groups that care about our safety, our climate, and our city on Sunday, June 16 to celebrate the joys of biking, rolling, and walking, and urge City leaders to fast-track improvements to make Seattle's streets safe for everyone.
We'll meet at Seattle City Hall at 1pm for a lively rally with face painting and other family activities and then travel with hundreds of people down 4th Avenue to Westlake Park. It'll be a family-friendly fun Father's Day afternoon coming together to make our streets safe for all families.
There's also a bike train from Othello Station and Plaza Roberto Maestas to help the Southeast Seattle contingent arrive safely and in style. See below for details.
Ride for Safe Streets
Sunday, June 16, 1-3 pm
Seattle City Hall to Westlake Park
RSVP here and share the event on Facebook.
There will be a marching band, public officials, calls to action, and plenty of fun as we urge Seattle leaders to be bold and take action. At the event, the Move All Seattle Sustainably (MASS) Coalition will launch a Green Transportation Package for Seattle! Don't miss out on being a part of history.
ASL interpretation will be provided. If you have other accessibility needs or questions please reply to this email. RSVP here and share the event on Facebook.
Bike Train from Southeast Seattle to the Event
Southeast Seattle is disproportionately effected by traffic dangers and lacks safe all ages and ability connections to downtown Seattle and the larger city. For this reason volunteers from The Urbanist will be leading a bike train from Othello Station to the event. We will meet at 11:45am at/outside of Cafe Red and ride up the Chief Sealth trail and across Beacon Hill roughly following the Neighborhood Greenway route.
We will make a second stop to pick people up at The Station/Plaza Roberto Maestas at around 12:20pm before proceeding the rest of the way to City Hall. This is meant to encourage people to ride who might otherwise not feel comfortable and as such we will go slow and steady and no one will be left behind.
Sponsors
This event is sponsored by a coalition of groups that care deeply about our city, our climate future, and making our streets safer for all users. They include:
Seattle Neighborhood Greenways and many of its chapters
Cascade Bicycle Club
Rooted in Rights
The Sierra Club
350 Seattle
Seattle Subway
The Urbanist
Seattle Transit Riders Union
Bike Happy Cascadia
Seattle 500 Women Scientists
Seattle Transit Blog
Washington Physicians for Social Responsibility
We hope to see you there! Progress on the basic bike network and prioritizing people-centered streets is within reach, but we must demonstrate critical mass. The rally downtown promises to have some special guests.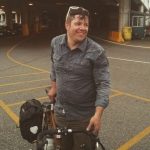 Patrick grew up across the Puget Sound from Seattle and use to skip school to come hang out in the city. He is an designer at a small architecture firm with a strong focus on urban infill housing. He is passionate about design, housing affordability, biking, and what makes cities so magical. He works to advocate for abundant and diverse housing options and for a city that is a joy for people on bikes and foot. He lives in the Othello neighborhood with his fiance and kitty.