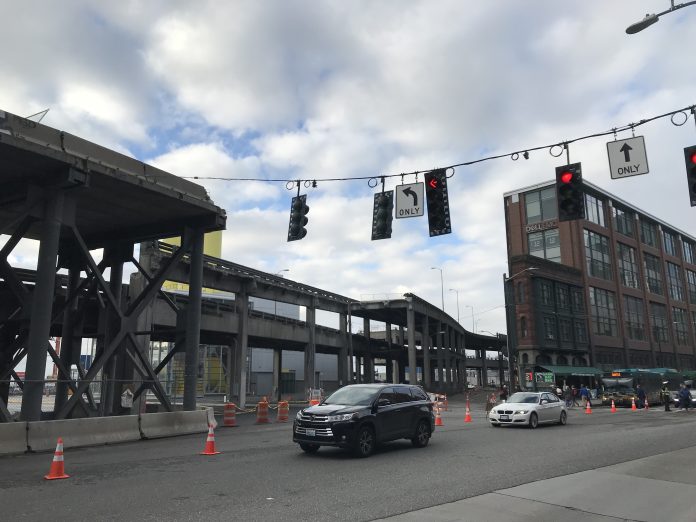 The Seattle Squeeze is still on, affecting bus routes to and from West Seattle. Until a new pathway opens on Alaskan Way in 2021 as part of the Waterfront Seattle program, King County Metro is left with limited pathways and solutions to ease the pain for riders headed into and out of Downtown Seattle. This week, Metro outlined several strategies that the transit agency and Seattle Department of Transportation (SDOT) are pursuing in the interim. Some of the strategies are based off of ideas that riders themselves provided to the agencies.
Approximately a dozen West Seattle routes are still routinely affected by the ongoing Seattle Squeeze. These include Routes 21X, 37, 55, 56, 57, 113, 120, 121, 122, 123, and 125 as well as the RapidRide C Line. To complicate matters, buses are running along First Avenue between Edgar Martinez Dr S and Cherry Street to reach Downtown Seattle instead of the Alaskan Way Viaduct due to its closure, forcing them onto surface streets sooner and delayed by congestion and stoplights.
Target locations for changes this year are on First Avenue and nearby streets where West Seattle bus routes are currently operating. Improvements to be deployed involve adjusting signal timing. Several intersections will get revised signal timing, including 1st Ave S at S Dearborn St and Alaskan Way S at S Dearborn St, to improve bus operations. Along the First Avenue corridor in Pioneer Square generally, SDOT will give priority to north-south traffic at stop lights. Other changes will target pre-game times in the area with special signal timing adjustments to keep buses moving.
In 2020, Metro and SDOT will take additional steps to improve bus service for West Seattle riders. The next set of changes is predicated on the Alaskan Way Viaduct fully coming down and being cleared–which it nearly is–as it is the primary barrier to better transit pathways to and from Downtown Seattle. Early in the year, Metro hopes to move West Seattle bus service off of First Avenue and onto Columbia Street. The street will be a small four-block transit pathway connection between Alaskan Way and Third Avenue, allowing two-way transit priority.
Metro acknowledges that the switch to Columbia Street will not be all roses, at least not initially, since work on Alaskan Way and parallel Waterfront Seattle construction projects will continue past 2020. However, the reliability and speed of the connection and Alaskan Way should still be superior to First Avenue and other congested streets in Pioneer Square. Later in 2021, permanent bus-only lanes will open on a fully rebuilt Alaskan Way that thread together SR-99 and Columbia Street.
In January during the peak of the Seattle Squeeze when the Alaskan Way Viaduct was closed, SDOT had deployed temporary bus-only lanes on 4th Ave S in SODO, in parallel with others, to help buses avoid congestion. That measure was eventually taken away and riders wondered if that and alternative pathways could be reinstituted, according to Metro. However, the transit agency wrote in a blog post that it would be impractical now.
"That pathway worked in January because many commuters changed their travel times and patterns for a month and also because of several temporary bus lanes and uniformed traffic control officers at key intersections," Metro wrote. "These measures would be difficult and costly to renew and maintain for an extended time. We are continuing to look for options to improve the operations of these pathways in coordination with SDOT."
Though details are still forthcoming on specific trips and frequency changes, Metro says that extra service will be added to several West Seattle routes beginning in the upcoming September service change. Routes 21 and 120 as well as the RapidRide C Line will each get extra trips planned for weekends and off-peak periods on weekdays.
But absent more significant transit priority improvements, transit riders may have to be resigned to only minor reliability improvements and continued delay, particularly at peak hours and game days.

Stephen is a professional urban planner in Puget Sound with a passion for sustainable, livable, and diverse cities. He is especially interested in how policies, regulations, and programs can promote positive outcomes for communities. With stints in great cities like Bellingham and Cork, Stephen currently lives in Seattle. He primarily covers land use and transportation issues and has been with The Urbanist since 2014.