In conjunction with the RapidRide I Line planning process, King County Metro is developing a mobility plan to be implemented in September 2020 for the Kent, Renton, and Auburn areas. The RapidRide I Line will thread all three cities together. The mobility plan will result in some long-needed bus restructures and new flexible services to address local community mobility needs. Feedback on the proposals is open through August 25th through an online survey. A final plan is due this winter.
Among the bus restructuring, Metro has proposed deletion of at least eight routes, additional frequency for five routes, and routing changes for a further 11 routes. Routes on the chopping block primarily are peak-hour express routes and low-performing dial-a-ride (DART) routes. These include:
Express Routes 102 (Downtown Renton-Seattle), 157 (Lake Meridian-Seattle), 158 (Lake Meridian-Seattle), 159 (Timberlane-Seattle), and 192 (Star Lake-Seattle); and
DART Routes 908 (Renton Highlands-Renton Transit Center), 910 (North Auburn-Auburn Outlet Mall), and 913 (Kent Station-Riverside).
The express routes in Kent and Covington all compete with the Sounder and two of them pass through Kent Station. Light rail will open in 2024 to serve the Star Lake and West Hill areas, and Renton already has ample regular bus routes to Downtown Seattle that are equally competitive. In short, many of the routes are duplicative and may be better served by reinvesting service hours into more frequent local routes and improving span of service and coverage.
In terms of added frequency, Metro has proposed increasing trips on Routes 101 (Downtown Renton-Seattle), 105 (Downtown Renton-Renton Highlands), 164 (Kent Station-Green River College), 166 (Kent Station-Burien), and 186 (Enumclaw-Auburn Station).
The 11 routes up for notable routing changes include Routes 148, 166, 168, 169, 180, 181, 183, 906, 914, 916, and 917.
Fairwood area restructure options
In the Fairwood area, Metro has developed two proposals. Both involve routing changes to Routes 148 and 906. Under both proposals, Route 148 would be moved off of Lake Youngs Way SE, 123rd Ave SE, and 126th Ave SE and onto SE 168th St and 116th Ave SE. The route would continue its deviation to the Royal Hills Apartments, which provide affordable housing in the area. The realignment should help attract better ridership and replace service that Route 906 already provides to SE 168th St. Route 906 would be moved off of 128th Ave SE, SE 168th St, and 116th Ave SE under both proposals and consolidated to SE Petrovitsky Rd. That segment has ample nearby apartments, which should improve ridership and provide better access to residents. Option 2 would involve a peak-hour extension of the Route 906 tail to Tukwila Station for connections with Sounder commuter rail.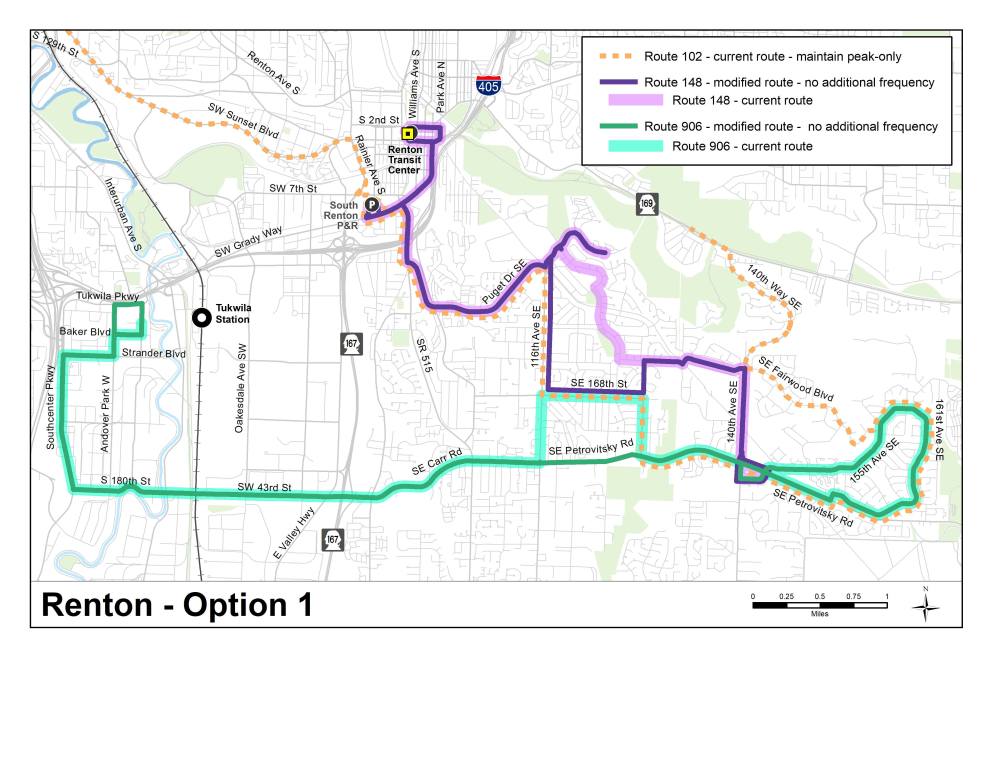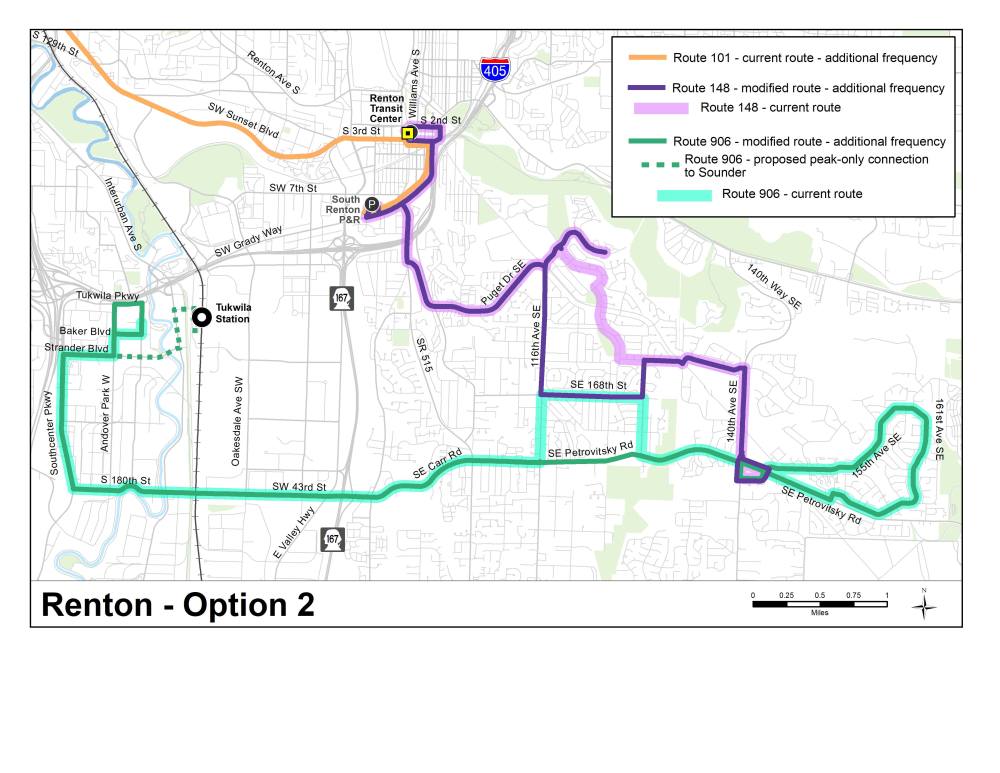 East Hill and Lake Meridian area restructure options
In the East Hill and Lake Meridian areas, Metro has come up with four different options for restructured local service. This would affect Routes 164 and 168 while 169 continues to operate to and from Kent Station and Downtown Renton via Canyon Dr SE and 104th Ave SE (the route will eventually be upgrade to the RapidRide I Line). All options would maintain service on S 240th St as far east as 104th Ave SE and along the entirety of E James St and Canyon Dr SE. East of 104th Ave SE, however, local service could be adjusted.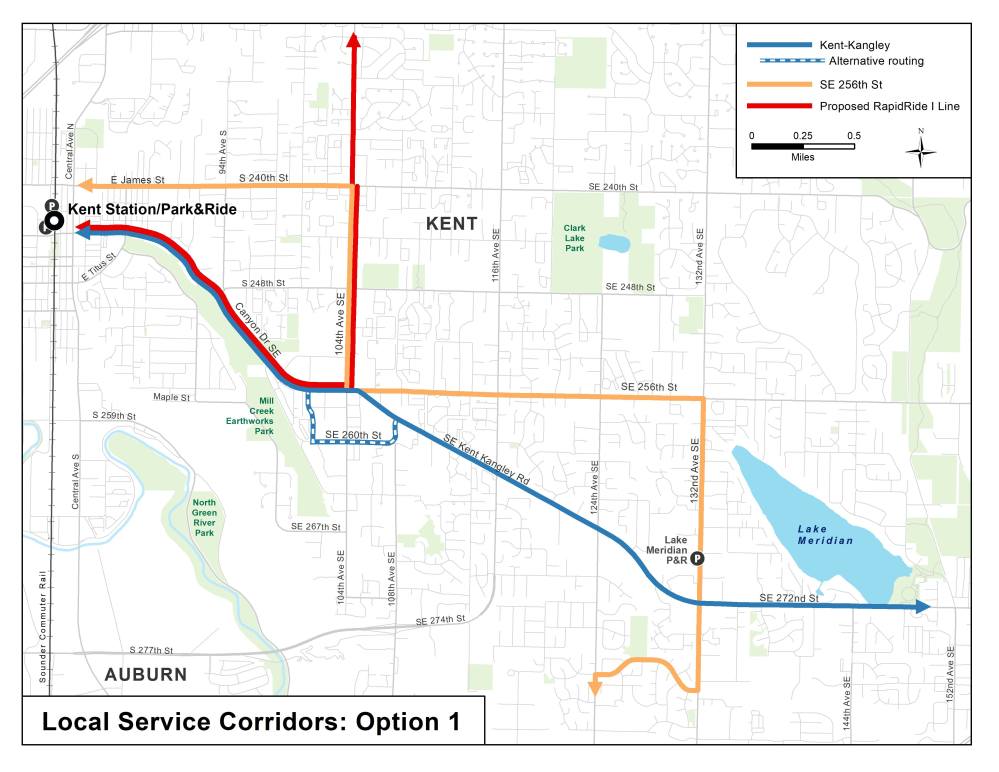 Option 1 would essentially maintain the status quo, except that a small deviation off of Canyon Dr SE and SE Kent-Kangley Rd could be introduced. This would route buses onto 101st Ave SE, SE 260th St, and 108th Ave SE to more directly serve the shopping centers and apartments along those streets. SE Kent-Kangley Rd is widely known as a major barrier in the area for foot and bike traffic since it is a wide state highway–a stroad you might say–and consistently congested with traffic. Speeding along the road is also highly prevalent, often leading to collisions, injuries, and fatalities. While a deviation may delay buses, it could be a warranted choice to improve access for riders and improve ridership.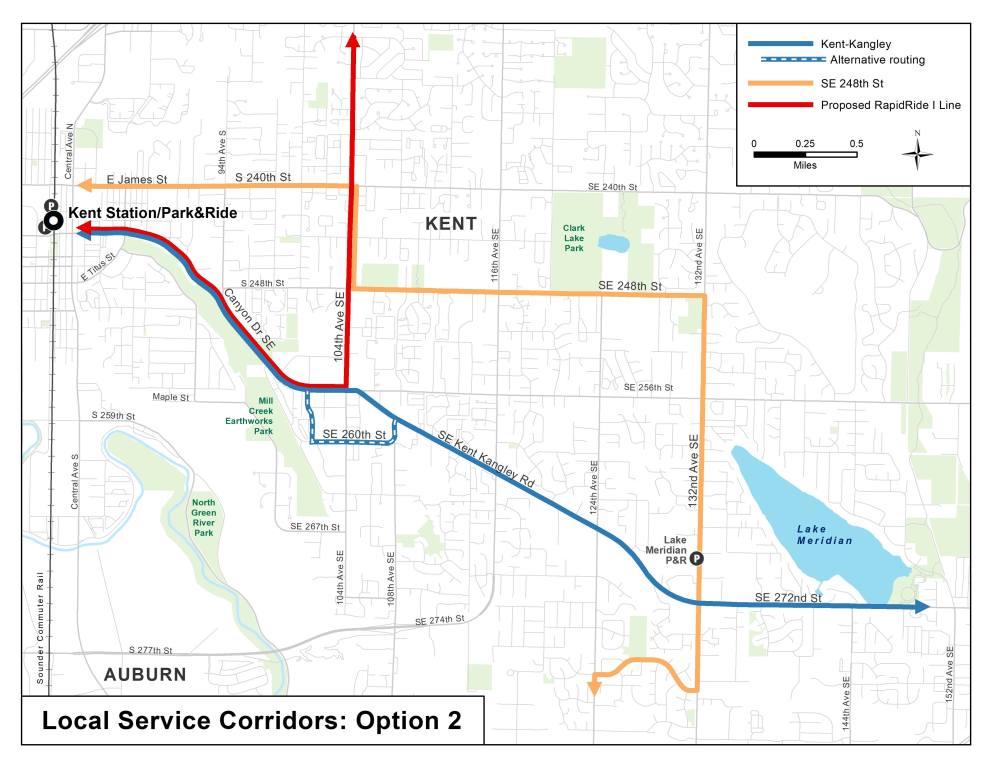 Option 2 would route service off of SE 256th St and instead put it onto SE 248th St and extend service on 132nd Ave SE a half-mile north to SE 248th St. The major weakness of this concept, however, is that the corridor is almost exclusively single-family residential. Only three small multifamily developments (Kent Shire Condos, Kent Meadows Apartments, and Walnut Park Apartments) would have marginal access on the new corridor and at considerable less densities.

The concept seems to rely on the idea that many residents in apartments on SE 248th St would switch to service along SE Kent-Kangley Rd and 104th Ave SE. Ultimately, the concept does provide little clear ridership and equity benefit over the status quo. Reinvesting service hours from Routes 914 and 916, both DART routes, in addition to express Routes 157 and 158 into a new fixed-route service may provide a better solution if the corridor is to be served with an all-day route.
The service concept also presents a similar deviation off of Canyon Dr SE and SE Kent-Kangley Rd as Option 1.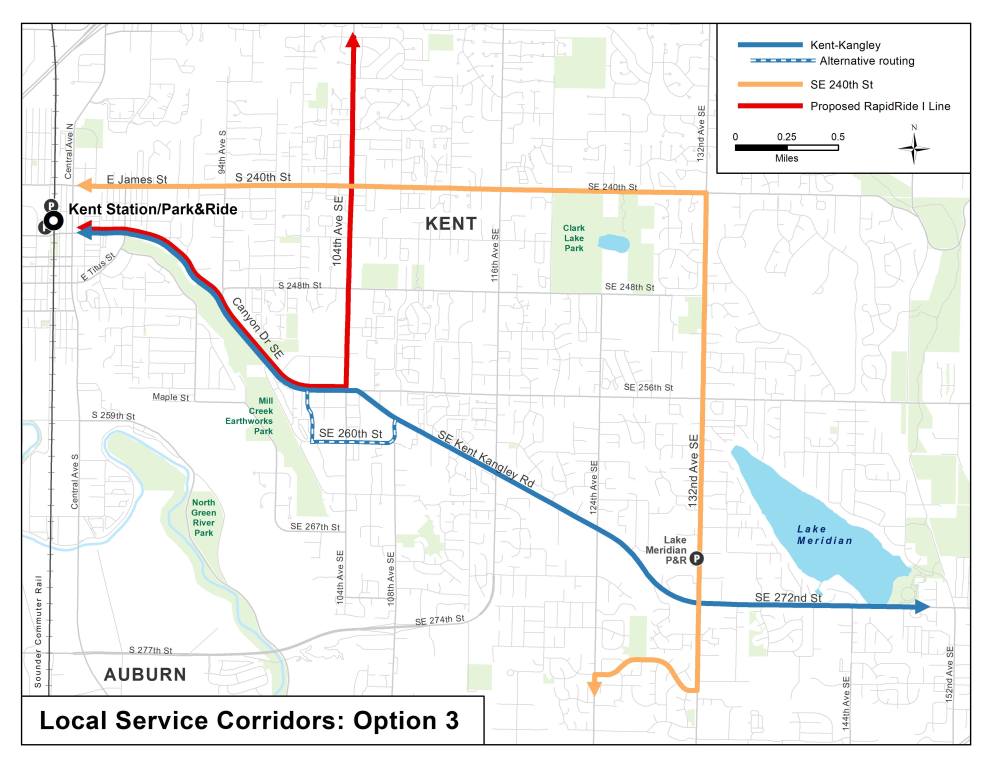 Option 3 would route service off of SE 256th St and instead put it onto SE 240th St and extend service on 132nd Ave SE a mile north to SE 240th St. SE 240th St does merit all-day service, particularly given that the street has commercial and ample multifamily housing along it. The major weakness of this concept, however, is that residents of denser areas along SE 256th St would have to walk farther to transit along SE Kent-Kangley Rd and 104th Ave SE. It is hard to say on balance if the trade is worth it. But similar to the suggest for Option 2, retaining all-day service on SE 256th St should probably be a priority with service hour savings from deleting Routes 157, 158, 914, and 916 being reinvested into a new all-day route along SE 240th St.
The service concept also presents a similar deviation off of Canyon Dr SE and SE Kent-Kangley Rd as Option 1.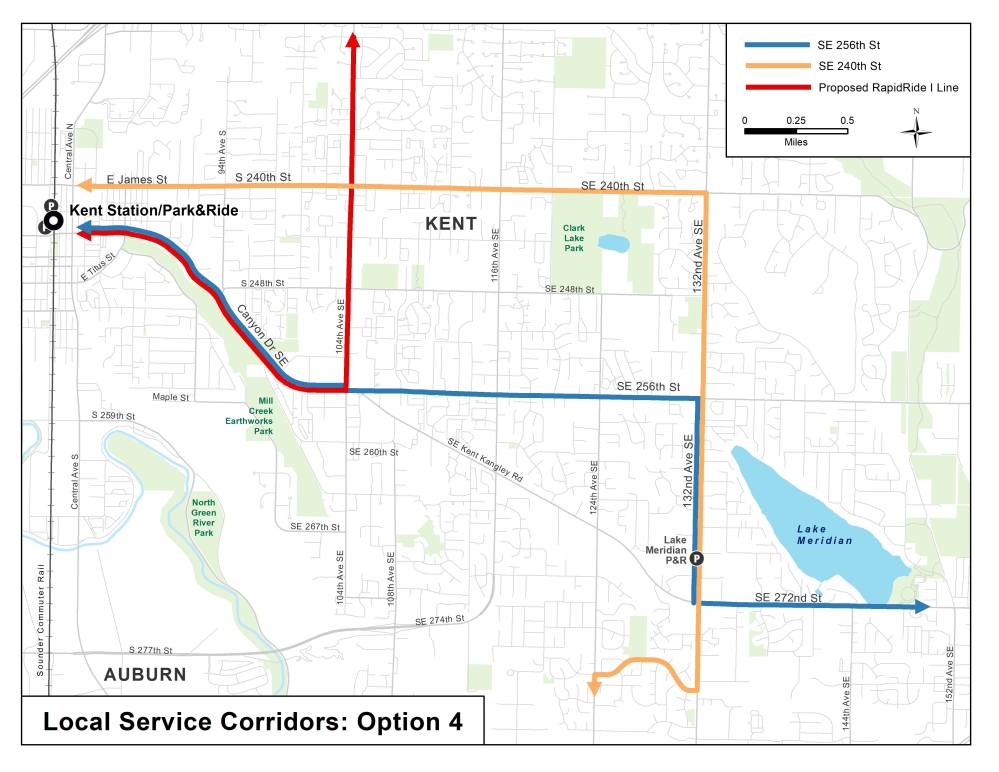 Option 4 is a radical concept to entirely remove service on SE Kent-Kangley Rd and add all-day service to SE 240th St. Service on 132nd Ave SE would be extended a mile north of SE 256th St and service levels on the street would likely double between SE 272nd St and SE 256th St, despite very low single-family residential densities. Broadly speaking, the SE Kent-Kangley Rd portion conceived for service elimination contains a strong presence of multifamily housing and commercial uses. This concept should be a concerning one since it would greatly drive down ridership and fail to meet equity goals.
Kent Valley area restructure options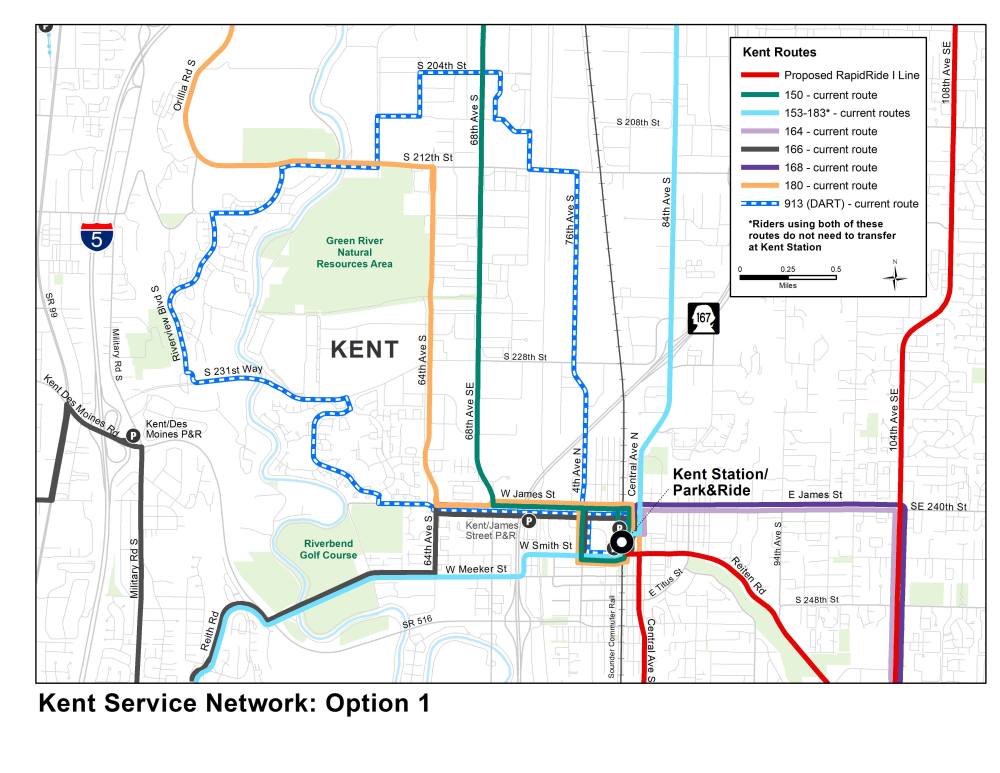 Metro has put forth one restructure option for all-day bus routes operating in the Kent Valley area. Several of the routes would be through-routed and the pattern through Downtown Kent would be simplified in reaching Kent Station. Route 913, a DART service for the Riverside area, would be deleted. In its place, Routes 150 and 166 would be adjusted to serve the area. The densest portion of the Riverside area is near W James St and 64th Ave S with many apartments.
The drawbacks to this concept, however, is that riders on Route 150 would be forced to endure even longer trips to jobs in the Kent Valley, Tukwila, and Downtown Seattle. The route is a lifeline for riders transferring at Kent Station and who generally do not live in the Riverside area. Loss of all-day service on Military Rd S is also a bit concerning, but a secondary one given how low-density the corridor is. On the flipside, the more frequent service on 64th Ave S between W James St and W Meeker St could benefit apartment residents with more options. Putting Route 150 on W Smith St may also aid infill mixed-use and high density residential development in the heart of the city center since it is very frequent and will eventually get the RapidRide treatment.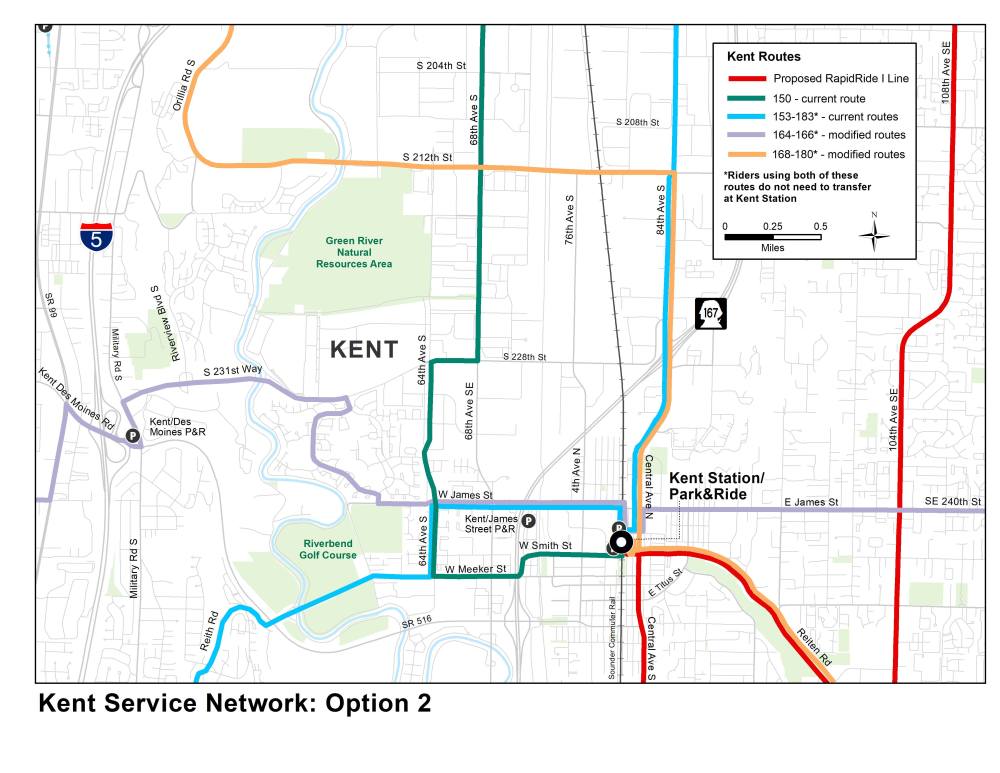 Route 180 would be routed off of 64th Ave S entirely and moved to 84th Ave S–a corridor already served by Route 153. This means extension of service along S 212th St, which is mostly adjacent to warehousing, light manufacturing, and suburban office space. 64th Ave S is a blend of the same in addition to housing whereas 84th Ave SE has all of the aforementioned uses in addition to general commercial. Adding frequency on 84th Ave S should certainly be a high priority given the number of residents and jobs along the corridor.
Finally, Route 168 would be moved off of E James St and 104th Ave SE to Canyon Dr SE. The amount of service on E James St, when combined with Route 164, is probably more than necessary. And while the RapidRide I Line will increase frequency on 104th Ave SE over Route 169, loss of Route 168 may still mean fewer trips along the corridor. Increasing service along Canyon Dr SE by putting Route 168 is only useful if the RapidRide I Line will have few stops along the street. Density of the corridor is not as high as it might otherwise be given low-slung apartment only on the north side of the street while a parkland canyon is on the south.
Routes that would be through-routed under the proposal are: Routes 153 and 183, Routes 164 and 166, and Routes 168 and 180. Presumably, these routes would receive new numbers since they effectively supplant the existing ones by combination.
West Hill area restructure options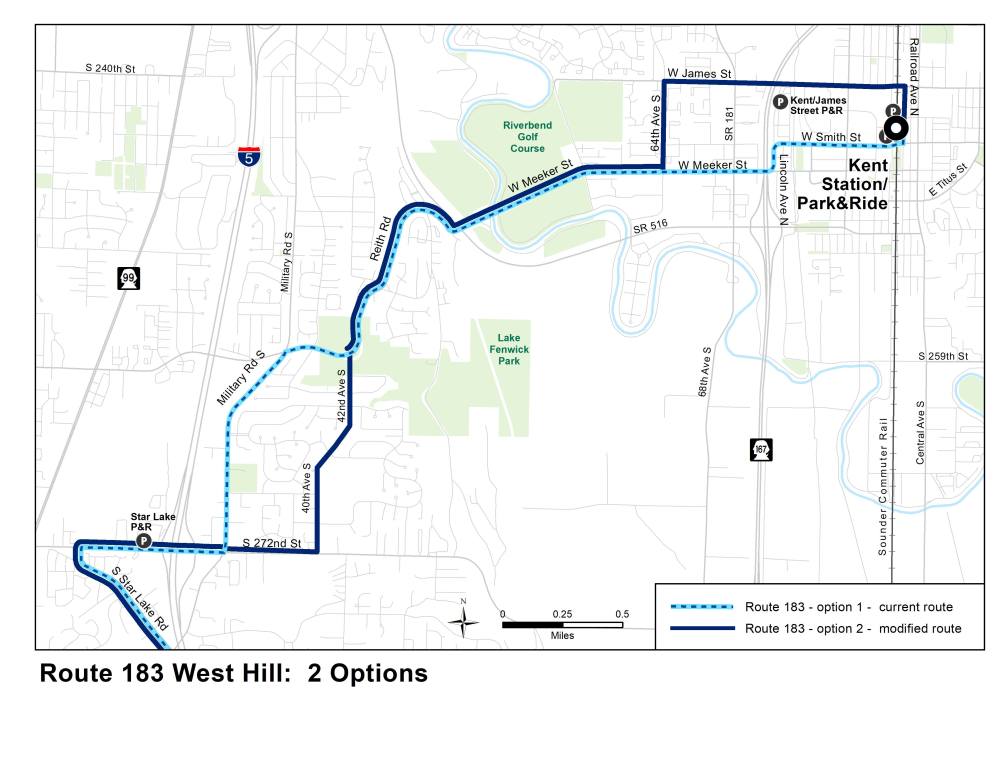 The restructure concept for the West Hill area in Kent is simpler. Route 183 would be moved off of W James St and 64th Ave S in favor of W Smith St and W Meeker St. This differs slightly from the Kent Valley restructure concept, which would retain the status quo for this segment in Downtown Kent. In West Hill, Route 183 would be routed off of Military Rd S so that it would serve 42nd Ave S, 40th Ave S, and extend service further east on S 272nd St. The remainder of route segments would be maintained. While the West Hill area is largely single-family residential, this change would expand the local walkshed and allow more people to ride the bus.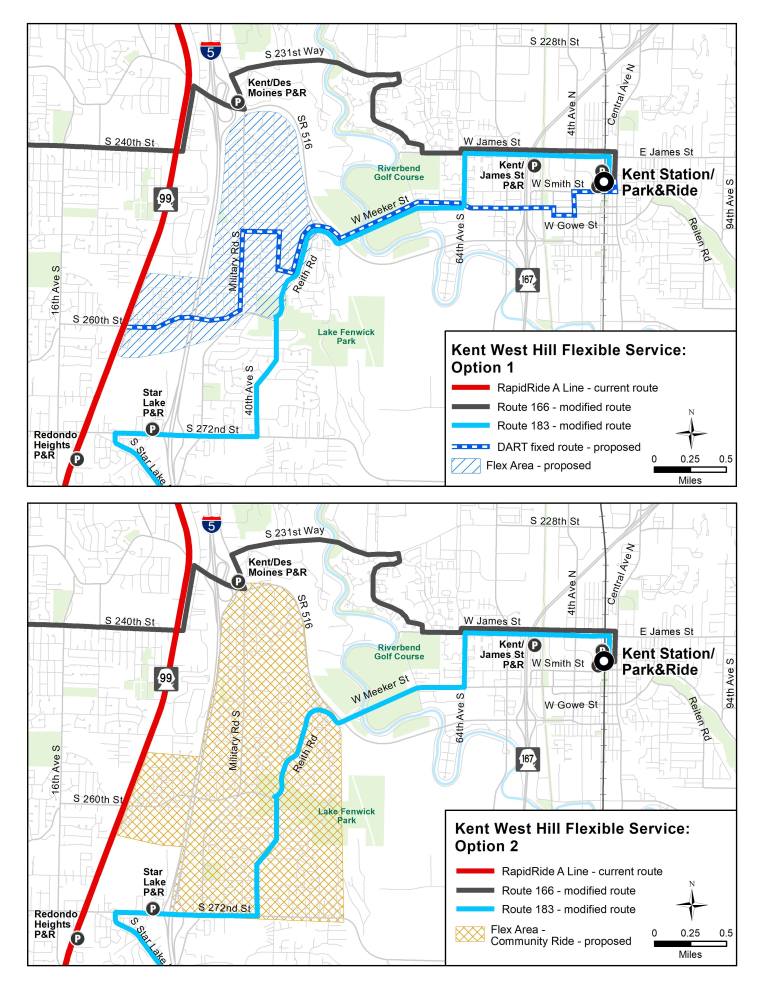 To compensate for loss of service in some areas of West Hill, Metro is proposing to flexible service concepts. Option 1 would involve the creation of the new DART route, which would also benefit Downtown Kent. Option 2 would involve creation of a Community Ride service only in the West Hill, but a larger portion that the DART flex area.
Auburn area restructure options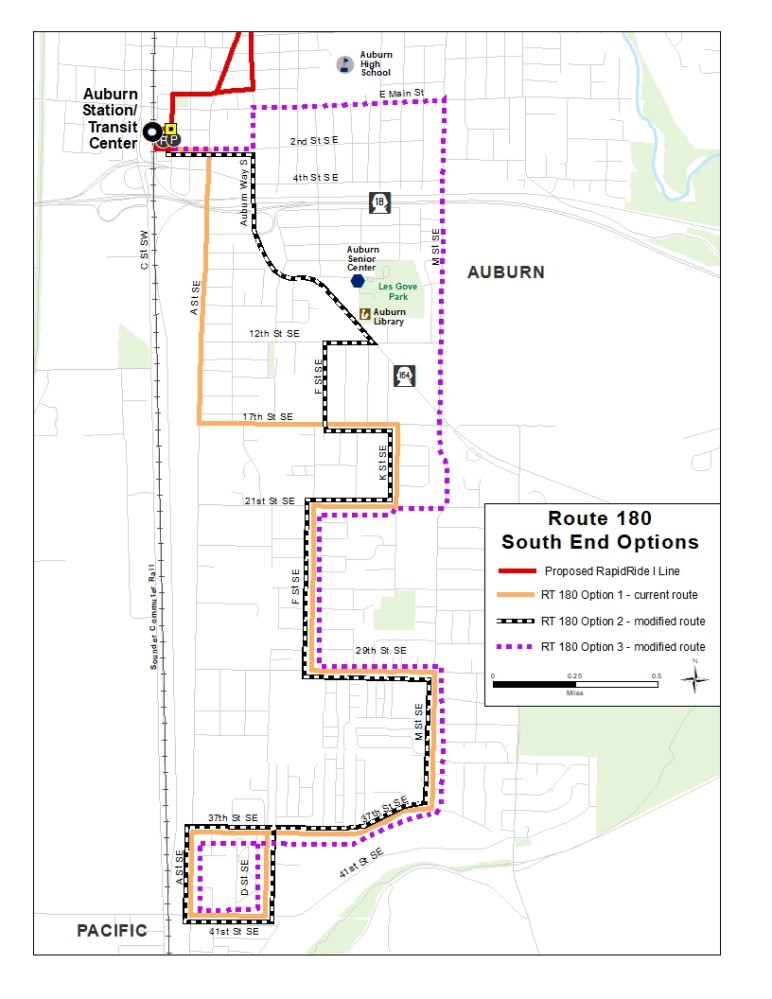 Metro is proposing substantial changes in the Auburn area. With the introduction of the RapidRide I Line, Route 180 would no longer operate to Kent and points north. That also opens options to revise its routing throughout Auburn. Option 2 would move service to Auburn Way S as far as 12th St SE and F St SE between 12th St SE and 17th St SE while the remainder of the route stays the same. This would provide a much better walkshed access to commercial areas and denser blocks. Option 3 would move service to E Main St and along M St SE between E Main St and 21st St SE and then continue as normal. This option does pick up some commercial and multifamily areas on the way. Option 1, however, would maintain the current routing.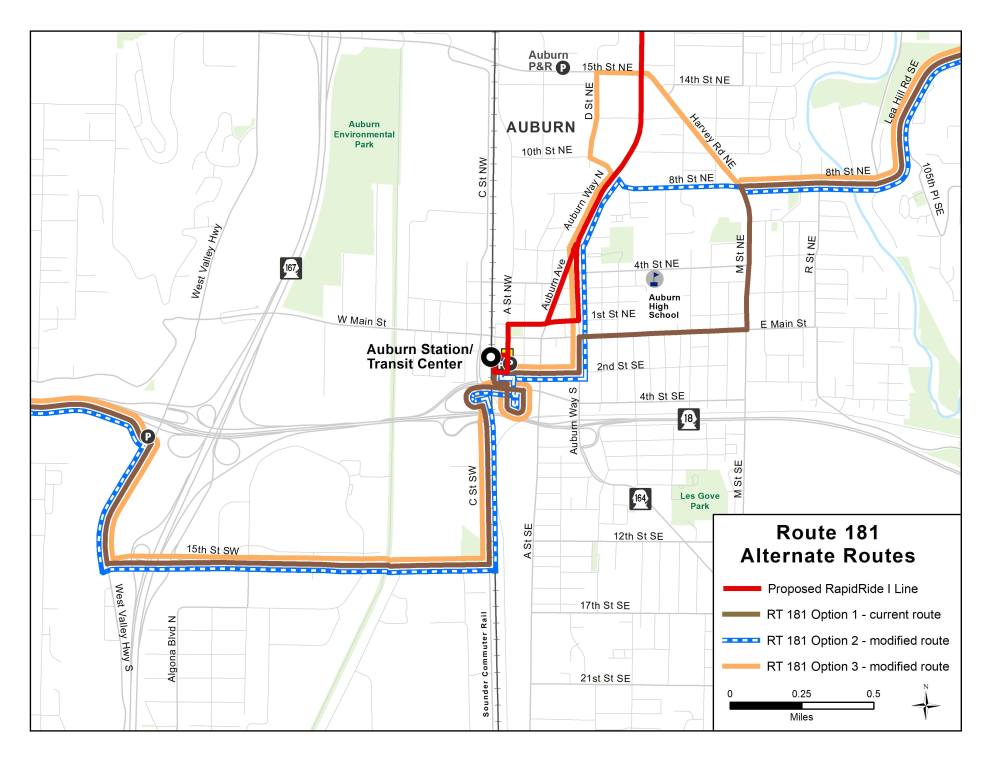 Finally, Route 181 could be adjusted off its existing route along E Main St. Option 2 would move the route to Auburn Way between E Main St and 8th Ave NE and then place it on 8th St NE between M St NE and Auburn Way N. Option 3 would do the same, except that it would run along D St NE as far north at 15th St NE then along 15th Ave NE and Harvey Rd NE to reach M St NE in a loop fashion. Option 1 would maintain service as-is. Options 2 and 3 would help serve more multifamily and commercial areas than the status quo.

Stephen is a professional urban planner in Puget Sound with a passion for sustainable, livable, and diverse cities. He is especially interested in how policies, regulations, and programs can promote positive outcomes for communities. With stints in great cities like Bellingham and Cork, Stephen currently lives in Seattle. He primarily covers land use and transportation issues and has been with The Urbanist since 2014.