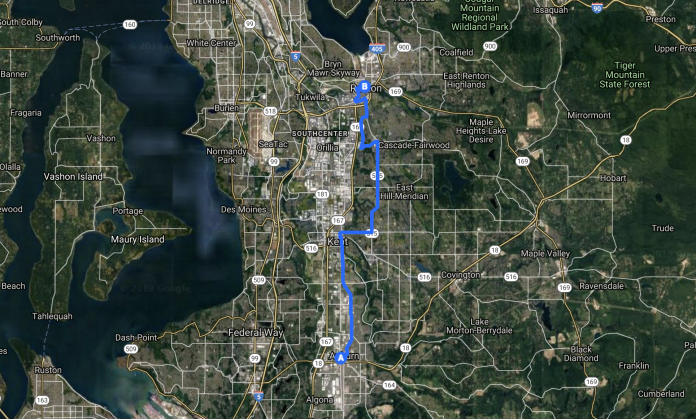 King County Metro has released a draft proposal for the RapidRide I Line that would stretch from the Downtown Renton to Downtown Auburn. Along the way, the route would run through Fairwood, East Hill, Kent Station, and the East Valley Highway. The entire corridor is about slated to be about 17 miles long as it snakes its way through the three cities from the Renton Transit Center to Auburn Station. Metro is seeking feedback on the proposal through August 25th.
The RapidRide I Line will essentially blend together Route 169 (Renton-Kent) and major portions of Route 180 (Auburn-Kent-Burien), which collectively have about 8,000 daily riders. The corridor will run through a mix of suburban residential areas, denser multifamily areas with some local commercial districts, and the downtown areas of each of the three cities. A short ten-block segment will run through some of the last farms in the Green River Valley. Metro has also released draft concepts for other local routes to better integrate with the RapidRide I Line (we will cover this in a subsequent article).
The RapidRide I Line will connect to Sounder Stations in Kent and in Auburn–both major transit centers in their own right–and Renton Transit Center and South Renton Park-and-Ride, a major transit hub in its own right. In the Renton area (Area 1), Metro has identified nine specific station locations that are set; five of the stations will be shared by the existing RapidRide F Line. Sixteen other locations are still being studied and open for feedback, as shown in the following map:
The alignment out of Downtown Renton generally follows along Talbot Rd S, SE Carr Rd, and 108th Ave SE in the Fairwood area before reaching the East Hill area in Kent. For the East Hill area, the alignment generally will follow along 108th Ave SE, 104th Ave SE, and Canyon Dr SE to reach Kent Station and Downtown Kent. Metro has identified three set station locations along the segment for 108th Ave SE and 104th Ave SE (Areas 2 and 3). This includes stations at SE 192nd St, SE 208th St, and SE 240th St–the latter two both form major commercial and multifamily districts. Twenty other possible station locations are under consideration.
For the rest of the Kent segment, Metro is proposing to loop the RapidRide I Line off of Central Ave S to serve Kent Station, which has many connections to local bus routes, a park-and-ride facility, and Sounder commuter rail. Two station locations for the RapidRide I Line are set on Canyon Dr SE at SE 256th St and 94th Ave SE. Another two stations are set at Kent Station and on Central Ave S at SE 259th St. Metro is still considering 13 other possible station locations along Canyon Dr SE and Central Ave S.
In Auburn, Metro will run the RapidRide I Line primarily along Auburn Way N and Auburn Ave to reach Auburn Station. Six station locations have been set at 37th St NE, 22nd St NE, 15th St NE, 9th St, 2nd St NE, and Auburn Station. Nine other possible station locations along Auburn Way N are still under consideration.
When the RapidRide I Line opens in 2023, Metro projects it will serve about 6,000 daily riders and come with 10-minute or better service during peak weekday hours and 15-minute or better service during daytime hours. Service will also be extended deeper into the night and expanded on weekends and buses will be branded and designed in the traditional RapidRide fashion with high quality stations along the corridor.
Additionally, the Metro Connects long-range plan indicates that several RapidRide lines would intersect with the RapidRide I Line, in addition to the existing RapidRide F Line (Renton-Tukwila-Burien). These include:
Route 1515 (Federal Way-Kent via West Hill);
Route 1056 (Des Moines-Green River Community College via East Hill and Lake Meridian);
Route 1052 (Federal Way-Green River Community College via Auburn);
Route 1075 (Rainier Beach-Highlands Park via Renton); and
Route 1030 (Renton-Crossroads via Newcastle).
Metro plans to use community feedback to winnow down the number of final station locations and begin preliminary design for the RapidRide I Line, which is set to be released next summer. Comments and feedback on the proposals are being taken through an online open house through August 25th.

Stephen is a professional urban planner in Puget Sound with a passion for sustainable, livable, and diverse cities. He is especially interested in how policies, regulations, and programs can promote positive outcomes for communities. With stints in great cities like Bellingham and Cork, Stephen currently lives in Seattle. He primarily covers land use and transportation issues and has been with The Urbanist since 2014.