On Monday, the Seattle City Council passed a resolution identifying possible Comprehensive Plan amendments to be further processed in advance of a final ordinance in 2020. The resolution specifies several amendment topics to be addressed by the Office of Planning and Community Development (OPCD) including:
A general docket of two site-specific proposals;
Industrial lands amendments;
Impact fee amendments;
Mandatory Housing Affordability program-related amendments;
Amendments related to the Delridge Neighborhood Plan; and
Amendments related to limiting fossil fuel production and storage.
Industrial lands amendments
Amendments related to industrial lands has been an ongoing issue for years with no sweeping changes having been recommended to date. Mayor Ed Murray restarted the process to review industrial lands policies during his tenure in 2015. Work on the issue dates back at least to 2013 and has continued ever since in various capacities.
On Monday, the city council approved a general objective for the OPCD to "transmit to the Planning, Land Use and Zoning Committee (PLUZ) a detailed work plan for the industrial land review including, at least, a calendar of key meetings, milestones, and deliverables and list of the stakeholders engaged in the process by December 31, 2019" in order to lay out a plan and eventually inform update of industrial lands policies. The city council noted that any specific docket proposals to amend the Comprehensive Plan for industrial lands on particular sites or areas, in the meantime, would be considered premature until "the more comprehensive review is complete" for industrial lands, which may take longer than the current 2019-2020 Comprehensive Plan amendment cycle.
In committee, Councilmember Mike O'Brien sponsored an amendment to strike site-specific docket proposals in industrial areas and table a proposal to establish Stadium District changes. The amendment passed removing those provisions from the draft resolution. A substitute resolution further refining objectives and expectations surrounding industrial lands noted that specific requests related to a Stadium District should not be entertained until after a full industrial lands policy review has been completed.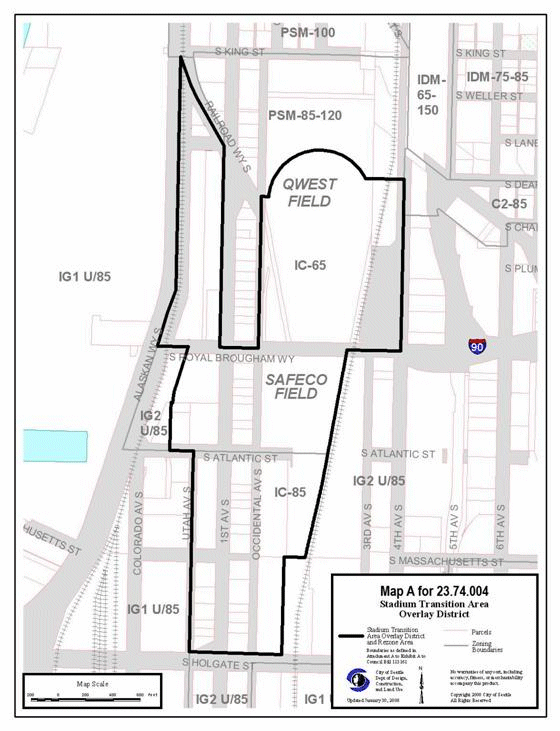 The Stadium District amendment proposal was docketed by the Washington State Public Stadium Authority (CenturyLink Field) and the Washington State Major League Baseball Stadium Public Facilities District (T-Mobile Park) as a means to create a new unique Future Land Use Map (FLUM) designation for the existing Stadium Transition Overlay Area District. In conjunction with this, the proponents had drafted goals and objectives to realize a vibrant mixed-use Stadium District comparable to other cited examples, such as Petco Park in San Diego and Coors Field in Denver.
The proponents envision a district that has a successful public realm and that is well programmed for game and concertgoers. They also seek flexibility for allowing housing (particularly workforce housing), retail, and lodging uses in addition to their event and stadium uses. (This is similar to the 2012 Stadium District Concept Plan that was covered toward the end of this article.)
In 2018, Resolution 31762 included four docket proposals to amend the FLUM for individual sites. These included:
A proposal to take the Interbay Armory site out of the Ballard-Interbay-Northend Manufacturing Industrial Center (BINMIC) and give it a "Commercial/Mixed-Use" land use designation. This could help facilitate its use as a mixed-use or commercial site, which is what the Washington State Department of Commerce is currently evaluating once it is surplussed from Washington Army National Guard.
Another proposal take properties out of the BINMIC (1819-1893 15th Ave W and 1855-2033 15th Ave W) and give them a "Mixed Use/Commercial" land use designation. These properties are adjacent to Interbay Armory site right on 15th Ave W.
A proposal to take properties targeted for educational development by Seattle Pacific University out of the BINMIC. The proposal also entails adjusting policies of the Comprehensive Plan and development regulations to allow for expansion of the Major Institution Overlay and activity on land zoned industrial outside of the BINMIC and south of the Ship Canal.
A proposal to amend the FLUM so that Pier One (2130 Harbor Ave SW) is taken out of the Greater Duwamish Manufacturing/Industrial Center and given a "Mixed Use/Commercial" land use designation.
None of those docket proposals will be entertained by city council for the time being.
Impact fees amendments
The city council is already poised to consider a budgetary amendment this year to allow transportation impact fees under new development regulations and the Comprehensive Plan. However, the city council has also requested that OPCD evaluate further Comprehensive Plan policy amendments to authorize and refine implementation of impact fees for parks, open space, recreation facilities, and school facilities in addition to transportation improvement programs. In conjunction with this, OPCD may recommend policy changes "to update or replace level-of-service standards."
Mandatory Housing Affordability program-related amendments
Several amendments related to the Mandatory Housing Affordability program could come back to the city council next year. One of them could result in a name change for Single Family areas, such as a more neutral change to "Neighborhood Residential" to reflect the character of those areas, and if appropriate, other changes to implement the new name. Single Family areas often include a variety of uses beyond single-family residential. Another proposal involves a process for community planning that would result in a proposal to create a transit-oriented Urban Village in and around N 130th St and I-5 where a future light rail infill station will open in 2031–or perhaps sooner. Additionally, the city council is requesting that OPCD provides a report on how the South Park neighborhood meets the criteria for an Urban Village designation.
Site-specific docket proposals
Two site-specific proposals could alter mapped Urban Center and Urban Village boundaries and modify their land use designations. One proposal would extend the Northgate Urban Center boundary to include properties at 11316 5th Ave NE and 11318 5th Ave NE. This would eliminate the Single Family area land use designation on the FLUM and potentially allow dense mixed-use. Another proposal would extend the West Seattle Junction Hub Urban Village boundaries to include an eight-acre site where Providence Mount St. Vincent is located at 4831 35th Ave SW. The site is currently designated as a Multi-Family area and houses hundreds of residents in nursing housing.
Fossil fuel production and storage amendments
In committee, Councilmember O'Brien sponsored an amendment to address limitations on fossil fuel production and storage in the city. The objective of the amendments would be to protect public health and help the city better realize its climate change goals. Several Elements of the Comprehensive Plan (e.g., Elements related to the environment, land use, and utilities) could be affected by related policy changes.
Delridge Neighborhood Plan amendments
Earlier this year, the city council approved the North Delridge Action Plan. The plan contained a variety of specific Comprehensive Plan amendments that should be implemented in order to ensure the city realizes goals and objectives that the plan outlines. Many of the proposed amendments deal with parks, open space, and community facilities that the community would like to see in the future. But there are also proposed amendments that would deal with transportation, cultural, and healthy food policies.
Tabled private amendment proposals
The city council's directive did table a variety of private amendment proposals (in addition to the aforementioned industrial lands proposal), which included:
The amendment proposals will not move forward for further consideration.

Stephen is a professional urban planner in Puget Sound with a passion for sustainable, livable, and diverse cities. He is especially interested in how policies, regulations, and programs can promote positive outcomes for communities. With stints in great cities like Bellingham and Cork, Stephen currently lives in Seattle. He primarily covers land use and transportation issues and has been with The Urbanist since 2014.