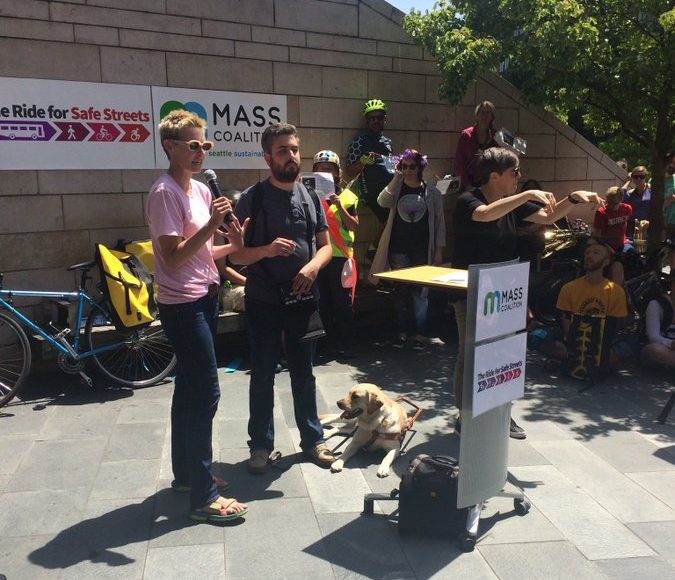 This month The Urbanist will be joined by the MASS Coalition (Move All Seattle Sustainably) at our monthly meetup 5:30pm Tuesday. We will be talking about The MASS Transportation Package, a proposal from the coalition to make walking, rolling, biking, and using transit in Seattle safer and more accessible. It's not a comprehensive vision for transportation in Seattle, but it is a set of projects and policies we believe the City can advance rapidly in 2019. The package includes long overdue policy reforms and investments in sidewalks, bus lanes, and bike paths that our growing city needs.
Three MASS-sponsored resolutions have already been passed by City Council. Here's what those three resolutions do, as MASS members described in an op-ed:
A Bicycle Safety Ordinance requiring that major road work projects simultaneously implement routes outlined in the Bicycle Master Plan. This ordinance strengthens Seattle's existing Complete Streets Ordinance from a recommendation to a requirement, so that our streets are designed for all users and promote safety for the most vulnerable. Linking projects is also the most fiscally responsible choice–combining construction of already-planned bike lanes with repaving projects saves the City money.
A resolution requesting that unfunded projects in the Bicycle Implementation Plan be funded, including all south-end projects and two-way bike lanes on 4th Avenue downtown. Seattle currently has very little safe infrastructure for people riding bikes in lower-income areas and in neighborhoods with higher percentages of people of color.
A resolution requesting that in 2020 Seattle double the number of planned off-sidewalk bike and scooter parking spaces and institute financial penalties for improperly parked devices. By keeping bikes and scooters off the sidewalks, we ensure access for pedestrians, especially those of us with disabilities who rely on accessible sidewalks as a critical part of our transportation network.
MASS is just getting started though with plenty more pieces planned for the busy budget season this fall.
If you'd like more information in preparation for the discussion, you can read the vision for the MASS Transportation Package here. Seattle Neighborhood Greenways also did an interview explaining the ins and outs of the package here.
The MASS Coalition includes:
350 Seattle
500 Women Scientists Seattle
Cascade Bicycle Club
Disability Rights Washington
Rooted in Rights
Seattle Neighborhood Greenways
Seattle Subway
Seattle Transit Blog
Sierra Club Seattle Group
The Urbanist
Transit Riders Union
This monthly social event is free, all ages, and open to everyone. Come by if you want to meet other people who care about our city, network, or hear from an inspirational speaker at a local establishment. You can find us mingling in the lower room starting at 5:30pm, and our guest speakers start at 6:30pm.
We will be at the Panama Hotel Coffee and Tea House in the Chinatown/International District again. They have coffee, tea, beer and wine, and food available. They are also a cool independent cafe in a wonderful historic building in one of Seattle's great urban neighborhoods. We hope you can join us!
To optionally register for the event you can do so here.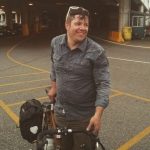 Patrick grew up across the Puget Sound from Seattle and use to skip school to come hang out in the city. He is an designer at a small architecture firm with a strong focus on urban infill housing. He is passionate about design, housing affordability, biking, and what makes cities so magical. He works to advocate for abundant and diverse housing options and for a city that is a joy for people on bikes and foot. He lives in the Othello neighborhood with his fiance and kitty.