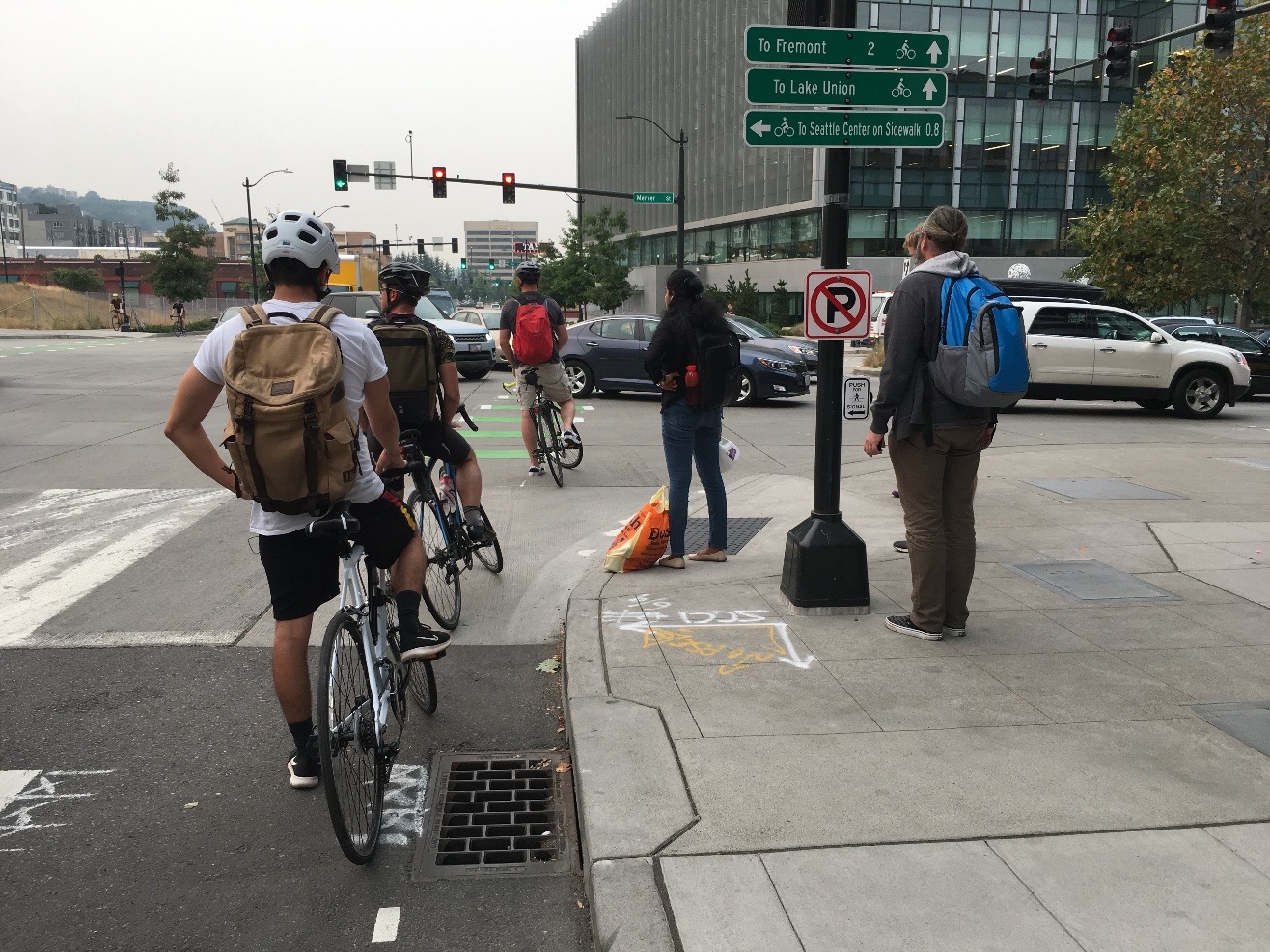 Our region faces a car-dependence crisis. Traffic is among the worst in the country, and recently announced congestion delays cost us $3.1 billion a year. At the same time, the more we drive, the worse our prognosis is for a livable climate future. The majority of Seattle's climate pollution comes from road transportation, with about half of the total emissions from cars, trucks and SUVs. And the negative impacts of our dependence on cars fall disproportionately on low-income people, immigrants, people of color and disabled people. 

This is who is most likely to live near busy highways and busy streets with poor air quality and high pedestrian fatalities. Disabled and poor people are most impacted and least able to afford mitigations to deal with smoke, heat, floods and other severe weather impacts of climate change. Low wage workers and communities of color are also most likely to be priced out of homes near employment centers like Seattle and Bellevue, facing long car-commutes in areas poorly served by transit.

The MASS Transportation Package, released last month by the Move All Seattle Sustainably (MASS) Coalition, includes long overdue policy reforms and investments in sidewalks, bus lanes, and bike paths that our growing city needs. It's not a comprehensive vision for transportation in Seattle, but rather a set of projects and policies we believe the City can advance rapidly in 2019 to take concrete steps to address the climate crisis. 

City Council will vote on three of our policy proposals on September 3rd, and will consider additional pieces of the MASS Transportation Package throughout this fall. The first three pieces of legislation include:

A Bicycle Safety Ordinance requiring that major road work projects simultaneously implement routes outlined in the Bicycle Master Plan. This ordinance strengthens Seattle's existing Complete Streets Ordinance from a recommendation to a requirement, so that our streets are designed for all users and promote safety for the most vulnerable. Linking projects is also the most fiscally responsible choice–combining construction of already-planned bike lanes with repaving projects saves the City money.
A resolution requesting that unfunded projects in the Bicycle Implementation Plan be funded, including all south-end projects and two-way bike lanes on 4th Avenue downtown. Seattle currently has very little safe infrastructure for people riding bikes in lower-income areas and in neighborhoods with higher percentages of people of color.
A resolution requesting that in 2020, Seattle double the number of planned off-sidewalk bike and scooter parking spaces and institute financial penalties for improperly parked devices. By keeping bikes and scooters off the sidewalks, we ensure access for pedestrians, especially those of us with disabilities who rely on accessible sidewalks as a critical part of our transportation network.
The MASS Transportation Package also includes proposals for pedestrian safety and speed and reliability improvements for our buses. By eliminating chokepoints and building a robust network of bus priority corridors, we can reduce traffic and make it easier for people to get around without driving alone. And by enhancing the sidewalk repair program, building more sidewalks along dangerous, busy streets, and prioritizing pedestrian safety in intersections, we can create a city where our kids have safe routes to school and our elders and those with limited mobility can have independence in mobility. 

We recognize that too often better transit and more pedestrian-friendly and bikeable communities lead to displacement of low-income families, immigrants and communities of color. So at the same time that we are pushing for a safer and more accessible city, we will also fight for living wage jobs and affordable housing, and support transit, biking and pedestrian improvements throughout King County and the region.

We want our communities to have a livable climate future – which is why it's so critical we support these proposals that will decrease our carbon footprint while increasing equity and access to transportation in our city.

The Urbanist is a member of the MASS coalition. The authors of this particular op-ed are listed above.