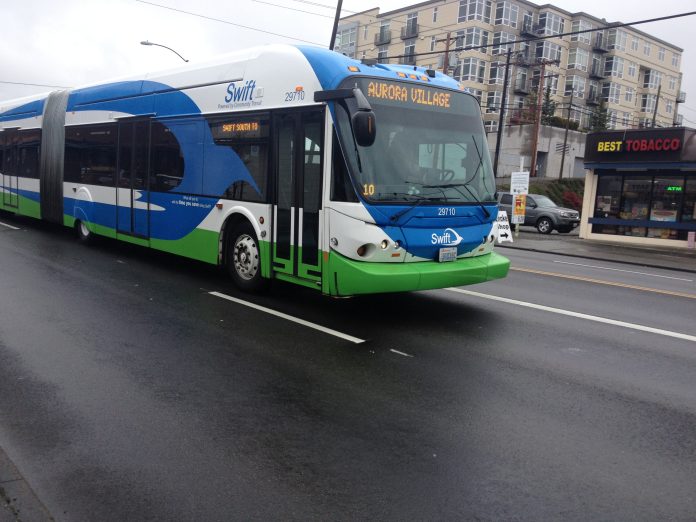 Community Transit is moving into the active public engagement process in its project development for the Swift Orange Line, a planned bus rapid transit line for Southwest Snohomish County. While there is little new routing and specific corridor improvement information to be had, the transit agency has shared some conceptual design information about the terminal stations planned at Edmonds Community College and McCollum Park Park-and-Ride. Community Transit is now seeking initial feedback on priorities that should be considered in project development, such as desire for reduce travel times, amenities, and boarding process.
The Swift Orange Line, when opened, will serve the communities of Lynnwood, Edmonds, and Mill Creek, providing connections to local and commuter routes beginning in 2024–the same year that the Lynnwood Link light rail extension launches. It will complement existing Swift Green and Blue Lines with direct connections along Bothell-Everett Highway and at SR-99 and regional bus service at Ash Way Park-and-Ride.
For the western terminal at Edmonds Community College, the Swift Orange Line station would occupy space that is currently dedicated to parking lot uses. The transit center loop would no longer be necessary with the terminal station located closer to 68th Ave W. Local bus routes would be provided with a new bus loop just off of 68th Ave W with several bus bays and layover spaces. The Swift Orange Line station would be located on the west side of 68th Ave W in the southbound direction of the street.
In conjunction with this terminal, Community Transit would provide all of the accoutrements that go with Swift service, such off-board payment, ticket vending machines, and enhance stop facilities for passenger shelter and seating. Bus bays for local routes would also benefit from new passenger shelters. Pedestrian facilities would be extended from the terminal to college campus entrance while new pedestrian crossings would be added at 202nd Pl SW. Other enhancements indicated in the conceptual layout include extensive landscaping for beautification, adjusted parking configuration, and bus operator restroom facilities.
The approach for the McCollum Park Park-and-Ride terminal is somewhat similar. The terminal would be centered on a new bus loop within the park-and-ride next to Dumas Rd and SR-96. This would require the elimination of a parking row, but this would be compensated for by relocated spaces to the southern portion of the county park. One station for the Swift Orange Line would be located on the bus loop along with several other bus bays for local bus routes. The bus loop would also include passenger shelters and a restroom for bus operators.
Pedestrian facilities at the junction of SR-96 and Dumas Rd would be upgraded to provide safer crossings to connect with the Swift Green Line stations on SR-96. In addition, the existing slip road from Dumas Rd and SR-96 to the McCollum Park Park-and-Ride transit stop would be removed to make way for the new terminal.
Community Transit is taking online feedback on Swift Orange Line priorities through November 7th. An in-person open house will be held on Thursday (October 24th) from 4:30pm to 6:30pm at the Lynnwood Library.

Stephen is a professional urban planner in Puget Sound with a passion for sustainable, livable, and diverse cities. He is especially interested in how policies, regulations, and programs can promote positive outcomes for communities. With stints in great cities like Bellingham and Cork, Stephen currently lives in Seattle. He primarily covers land use and transportation issues and has been with The Urbanist since 2014.