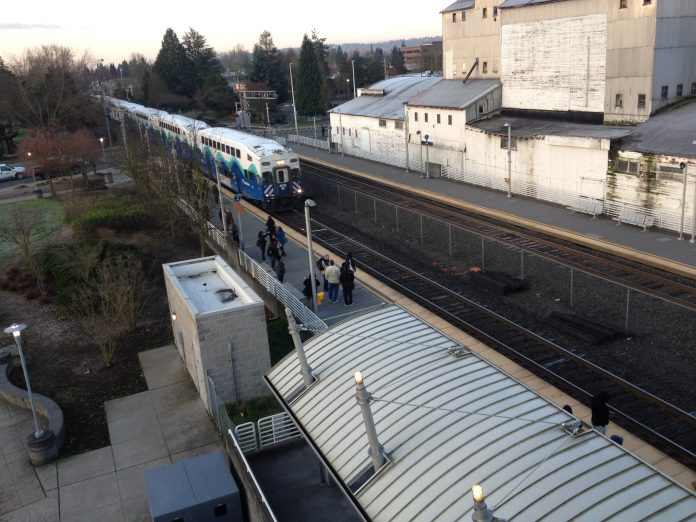 Related to the RapidRide I Line program, King County Metro is proposing an overhaul of the bus network in parts of Kent, Renton, and Auburn. Three bus routes would be eliminated while nine would become more frequent and more than a dozen others would be restructured or rerouted. In tandem with this, Metro is proposing that new flexible service be added in the Renton Highlands, Benson Hill, and Algona/Pacific areas.
Among the cuts are Routes 908, 913, and 952, which are low-performing and considered duplicative of other proposed alternatives. Frequency increases would go to Routes 105, 148, 164, 166, 168, 180, 183, 906, and 917. But much of the restructure is focused on untangling the web of mishmash routes to build a cohesive, coherent, corridor-based system of routes structured to play to local strengths and activity nodes.
Changes proposed for Kent
Responding to popular opinion of commuters, Metro is proposing to keep some form of the peak-only express routes in the Kent area. Routes 157, 158, and 159 would be reformed by a revised alignment of Route 157 off of SE Kent-Kangley Rd to SE 256th St and 132nd Ave SE to and from the Lake Meridian Park-and-Ride as well as a new Route 162 consolidating Routes 158 and 159. Route 162 would operate from Lake Meridian Park-and-Ride to Kent Station via SR-516 and onward to Seattle via West Hill and I-5. Express bus service would no longer run eastward to Covington and Timberline nor around Lake Meridian and along 240th St SE. Routes 192 and 952 would be entirely eliminated from the peak-express route network in Kent.
Among other proposed changes, Metro is would like to make adjustments as follows:
Route 150 would be slightly modified to briefly peel off West Valley Highway to serve a dense residential known as "The Lakes" via 64th Ave S. A limited peak-hour only deviation on S 196th St would be eliminated entirely.
Route 164 would be realigned in East Hill to serve SE 240th St as far east as 132nd Ave SE and run the full length of 132nd Ave SE from SE 240th St to SE 278th Pl. It would no longer 104th Ave SE and SE Kent-Kangley Rd. Frequency on the route would be increased to every 20 to 30 minutes during the hours that Sounder service is operated. Additionally, weekday service would be extended until 11pm and the route benefit from improved Saturday service and new hourly Sunday service.
Route 166 would be realigned to wind its way between Kent Station and Highline College via S 231st Way, 64th Ave S, W Meeker St, and W Smith St. The remainder of the route in Des Moines would remain unchanged. Route 166 would no longer serve West Hill on Military Rd S from SR-516 to S Reith Rd nor Reith Rd and W Meeker St west of 64th Ave S. On weekdays, service could be boosted during peak and evening hours while Saturdays could benefit from half-hourly service during evening hours.
Route 168 would be significantly adjusted to provide more direct service to Covington and Maple Valley via S Canyon Dr, SE 256th St, and SE Kent-Kangley Rd between Downtown Kent and 132nd Ave SE. A small deviation in East Hill would serve the commercial area south of SE 256th SE. The route would no longer run along E James St, SE 240th St, 104th Ave SE, SE 256th St, and 132nd Ave SE. Service would be improved with later operations on weekdays and weekends until 12am.
Route 180 would be curtailed to no longer run south of Kent Station to Auburn once the RapidRide I Line launches and service frequency would be boosted to every 15 minutes, up from every half hour. The route would also be realigned to run further east on S 212th St as far as 84th Ave S and run between Kent Station and S 212th St via Central Avenue and 84th Ave S. The route would no longer serve 64th Ave S and W James St.
Route 183 would be slightly adjusted to serve 64th Ave S and W James St in Downtown Kent instead of W Smith St and a portion of W Meeker St east of 64th Ave S. On Saturdays, service could be increased to half hourly during midday hours.
Routes 914 and 916 would be consolidated into a single route to serve riders in East Hill. Service would be improved to every half hour and the alignment on East Hill would be revised to provide better coverage and connections with other routes. This particularly make up for the loss of regular service on SE 256th St, which has a very substantial number of residents living in affordable multifamily housing.
Finally, Route 169 would be replaced by a new route than operates along the same corridor to Renton assumes a portion of Route 180 to Auburn. It will eventually be replaced by the RapidRide I Line.
Changes proposed for Renton
In the Renton area, Metro is proposing several changes for the Benson Hill and Renton Highlands. Route 102 would no longer between the South Renton Park-and-Ride and Benson Hill neighborhoods. Route 148 would provide comparable access to Downtown Renton. Meanwhile, Route 908 would be revised slightly to stay on SE Petrovitsky Rd instead of deviating to SE 168th St for several blocks; it would also be extended for some peak-hour trips to Tukwila Station so that commuters have direct access to Sounder commuter rail.
Among other proposed changes, Metro is would like to make adjustments as follows:
Route 148 would see consequential changes in Benson Hill to provide service on 116th Ave SE, SE 168th St, and 128th Ave SE where public amenities and higher densities are located instead of very suburban blocks. Additionally, Route 908 would be deleted and Route 169 will be converted to the RapidRide I Line once that line launches.
Route 169 would be replaced by a new route than operates along the same corridor to Kent and Auburn, and will eventually be replaced by the RapidRide I Line.
In terms of frequency, Route 105 could benefit from service every 15 minutes during peak weekday hours while Routes 148 and 906 would see more service and frequency across the board. Filling any gaps, Metro is also conceiving flexible service areas where Community Van or Community Ride options could be provided.
Changes proposed for Auburn
In the Auburn area, Metro is proposing full deletion of Routes 910 and 952 as well as the realignment of Route 917. The revised Route 917 would take over some of Route 910's alignment but no longer serve southern Auburn, instead operating in a large loop in Pacific. Service become more frequent and improve in terms of span of service. Metro is also considering a flexible service area in Algona and Pacific that would involve Community Vans.
Among other proposed changes, Metro is would like to make adjustments as follows:
Routes 186 and 915 would be combined into one consolidated route for all-day service.
Additionally, Route 180 would be modified in several ways. The route would be split in two at Auburn Station with the north portion realigned to its future RapidRide I Line alignment and paired combined with Route 169. This would create a continuous route from Auburn to Renton via Kent until it is upgraded to the RapidRide I Line in 2023. The southern portion of Route 180 would be slightly adjusted for its tail in southern Auburn.
Feedback and next step
Metro is seeking feedback on the restructure proposals through November 10th via an online open house. A final plan will be drafted this winter and adopted by the King County Council before going into effect in September 2020.

Stephen is a professional urban planner in Puget Sound with a passion for sustainable, livable, and diverse cities. He is especially interested in how policies, regulations, and programs can promote positive outcomes for communities. With stints in great cities like Bellingham and Cork, Stephen currently lives in Seattle. He primarily covers land use and transportation issues and has been with The Urbanist since 2014.