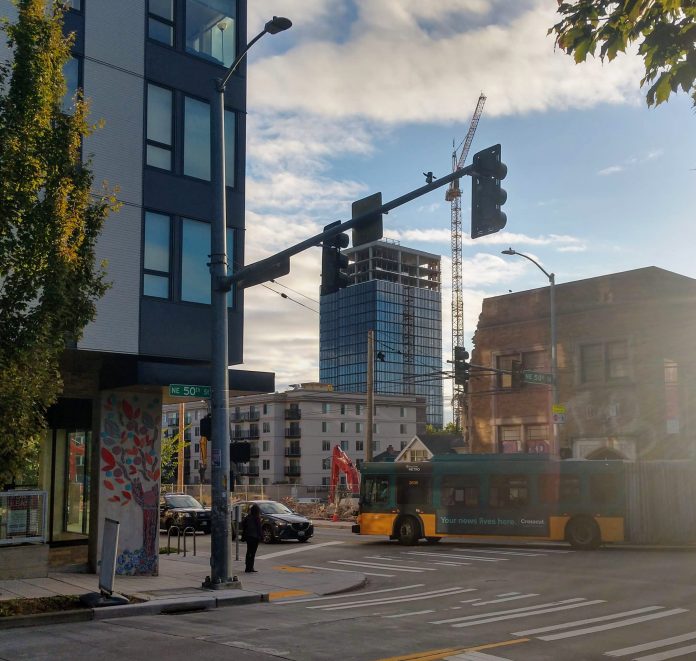 Too often, our city has spent years delaying policy with infighting, time that we could spend on collaborative efforts to address our growing housing affordability crisis. Our city grew by over 15,000 people in 2018, and with the Puget Sound region expected to grow by 1.8 million people and 1.2 million new jobs in the next 30 years, we need to act now. To meet the ensuing housing and transportation crisis, we must focus this growth on continuing to build transit-oriented density.
With a light rail station and a new RapidRide line set to open right in its midst, the U District is an ideal place to steer growth. While my time on Council will be over, I will remain an engaged member of my neighborhood and community, and I believe we can work together to allow additional growth in a way that prevents gentrification and displacement while providing needed access to transit.
It's important to understand how Mandatory Housing Affordability, or MHA, impacts these considerations. MHA is a program that requires new commercial and multifamily residential developments to provide affordable housing, by including it in their building or paying into the City's affordable housing fund. All told, MHA will provide at least 6,000 new rent-restricted homes for low-income people in the next ten years. Additionally, MHA includes a new requirement that ground-floor retail includes small commercial spaces, making it easier for small businesses to lease in key commercial zones.
But MHA requirements are only triggered when areas are rezoned. Following the citywide MHA rezones that were adopted earlier this year, University Way, better known as The Ave, is now the only commercial strip in the entire city where MHA requirements do not apply. Growth will happen regardless of whether we rezone the Ave or not–-The Ave is currently zoned for 65 feet, taller than most current buildings in the area. Not rezoning The Ave to implement MHA incentivizes redevelopment of this street without contributing to needed affordable housing.
Seattle is currently considering studying five alternatives to rezoning The Ave with MHA. However, due to the already underutilized height available on The Ave, I believe that we should instead utilize three of those rezone proposals in addition to rezoning of The Ave. By combining these proposals, we would take some of the development pressure off the main corridor of The Ave while allowing us to further orient density around new light rail stations and in one of the most pedestrian-friendly neighborhoods in Seattle. We cannot afford to delay–-we are in a housing crisis, and we're falling behind on our own Climate Action Plan, to which transit-oriented density is a crucial component of success.
To take pressure off the development of The Ave, we have several options that we should include. First, we should increase zoning heights near the University Playfield between Roosevelt Way and I-5. This would help alleviate current safety and lack of use concerns at the playfield while also providing us increased density in this crucial transit zone.
Secondly, we could add more housing on the Roosevelt Way corridor, which has far fewer historical structures than The Ave. As Roosevelt Way also features a protected bike lane and a future Rapidride J Line, this would also increase mobility options for residents in this area.
Third, we should raise the heights for towers in the U District Core. This area is already zoned for highrise development and features easy access to I-5, the new light rail station opening at Brooklyn and 45th, multiple bus routes, and a short bike trip to the protected bike lane on Roosevelt Way. By raising heights in this core area, we concentrate our new needed residential density. This growth would provide many new potential shoppers for the pedestrian-friendly Ave, helping local businesses.
While my time on Council is ending, I still care deeply about how our city is going to grow and change. I hope that our city will recognize how essential this kind of pro-transit growth is to our quality of life in Seattle. Failing to act means our problems will only worsen. Instead, let's work together to build our city of the future equitably and sustainably.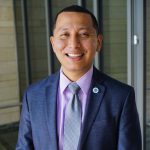 Councilmember Abel Pacheco (Guest Contributor)
Abel Pacheco represents Northeast Seattle's District 4 as its appointed City Councilmember. He has a Masters in Public Administration from the Evans School of Public Policy and Government at the University of Washington. Before his stint on the city council he worked for the University of Washington's Office of Minority Affairs and Diversity. He chairs the Planning, Land Use, and Zoning Committee and serves as vice chair of the Sustainability and Transportation Committee.