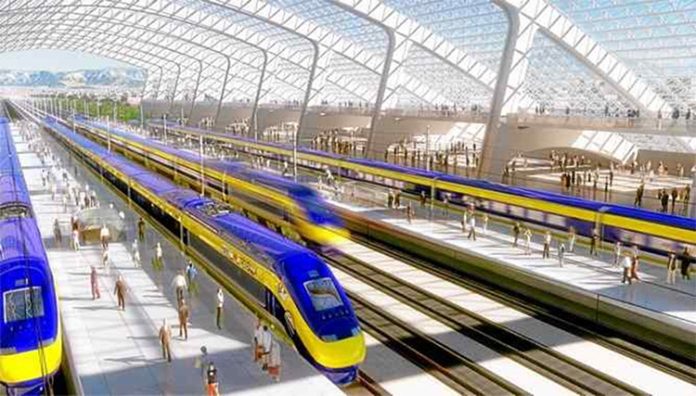 At some point in our recent history, we got complacent. Our society stopped its foresighted quest of reaching higher. This year marked the 50th anniversary of Apollo 11, the pinnacle of American ambition and ingenuity, a time when big ideas were met with unity driven towards monumental achievements.
There were undeniable challenges, yet they were overcome with togetherness, detection, and unparalleled vision. But at some point, we got complacent.
We now live in a world where we expect improvements, but undertake so little to move past our many "what-ifs". Imagine stepping back to the mindset proclaimed by John F. Kennedy in 1961; to accept a challenge. Imagine readopting the unified vigor to take on a project that alters our daily lives. Imagine connecting our region, the Pacific Northwest, through high-speed rail, a feat that has yet to be achieved within the United States.
Constructing a high-speed rail network in the Pacific Northwest is a daunting proposal. It is the kind of project where you do not know where to start. But the benefits that would come through a fast, reliable connection of Portland, Seattle, and Vancouver are beyond our comprehension. Thousands of new green jobs during construction and operation. Capitalizing on the economic potential of the Pacific Northwest, connecting our thriving businesses while encouraging new innovations. And above all, providing our people with a convenient, comfortable, and sustainable way to travel without hassles or delays. There are alternatives to high-speed rail in this desire for connectivity, but none that offer the chance for such shattering transformations.
Our region has an opportunity, and the time to act is upon us. Yes, it is a strenuous and laborious task. And yes, it will undoubtedly be costly. But what is holding us back from attempting to achieve our highest possible quality of life? Are we not going to accept our challenges head-on? We need to address our issues of mobility, sustainability, and stability, and protect our prospects to grow as a region.
High-speed rail would not only transform the way we move around the Pacific Northwest but change the dynamic of our region altogether. Air Quality. That much cleaner. Business trips. That much shorter. Friends and Family. That much closer. We love the Pacific Northwest for what it is, but we have yet to scratch the surface of what it may become. Take the first step towards a better quality of life. Accept the challenge.
Brandon Geiger (Guest Contributor)
Brandon is graduate student at University of Oregon in Portland studying historic preservation. He works with Oregon Department of Transportation in the Rail and Public Transit Division in Salem.