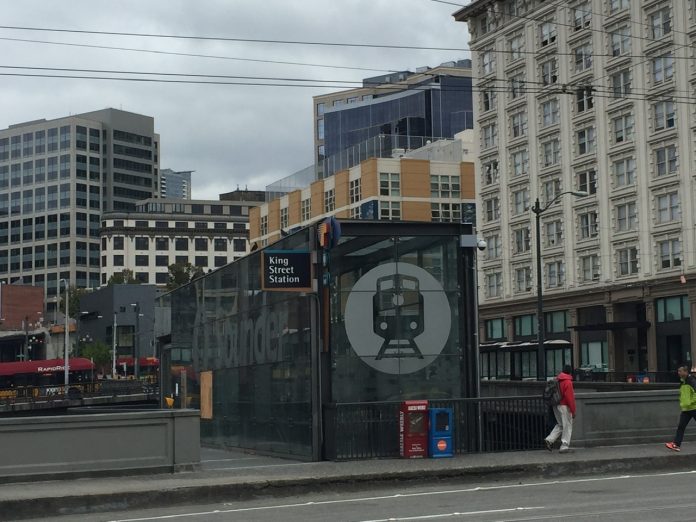 On Thursday, members of the Sound Transit's System Expansion Committee heard an update from agency staff on the the Sounder South capital expansion program. The program is funded as part Sound Transit 3 (ST3) and is expected to provide about $1 billion in capital investments to expand capacity of the commuter rail line through 2036. These investments are planned to be made on a rolling basis and ahead of line extension southward to Tillicum and DuPont, which are due to enter operational service by 2036.
In the fall, Sound Transit outlined a variety of possible capacity options, including adding more trips throughout the day, increasing peak-hour frequencies, modifying span of service, and extending platforms and adding cars to trains. Other station access improvements are already underway and are expected to be included in any new round of capacity expansion in ST3.
Having taken the temperature of the public on priorities and conducting early outreach with Burlington Northern Santa Fe (BNSF) Railway on additional track use, the project management team has developed some initial concepts to deploy capacity expansion improvements. The concepts are based upon identified constraints, ridership demand modeling, and program priorities.
While the cost of added slots for track use and extensive negotiation process with BNSF is an obvious challenge and constraint, agency staff emphasized two other key constraints to keep in mind.
One of those key constraints is King Street Station where over 80% of all riders board and disembark from trains. The station and its tracks are in heavy use from commuter rail and other transit services at peak times–including from about 16,000 daily riders on South Sounder service. Access to commuter rail platforms is especially tight, given the two modestly sized accessways and street-level pedestrian space. Adding capacity to trains, while useful to riders, is also a challenge since station access demand is often already at capacity.
The other key constraint is getting BNSF to allow track use outside of the morning and afternoon peak hours. The railroad company generally schedules its freight rail service during the midday and at night. Adding commuter rail trips during those times could be in conflict with those operations and be delayed.
Sound Transit's ridership forecasts affirm what is already well born out in ridership data: demand is highest during peak hours. That is anticipated to continue into the foreseeable future due to land use, station access, and economic factors. The data from last year clearly showed that midday and reverse commute trips do not have the near the level of demand that peak-hour, peak-direction trips do. That, of course, could change with time and added companion trips to make the midday and reverse commute trips more viable, but the demand is already there in peak-hour, peak-direction so putting limited resources there may be best course of action.
The forecast shows that when light rail service starts from Federal Way to Tacoma (and operates to Seattle), which is billed for opening in 2030, demand for Sounder South will temporarily fall before again increasing. Agency staff said this is because some riders will find the regular light rail service more competitive and reliable to form their travel habits around. Still, the forecasts are clear that additional commuter rail trips have a virtuous cycle of increasing demand for service similar to light rail. Ultimately, they predict the added capacity will win out even with competition.
Operationally, tightening headways to every 15 minutes during peak hours may prove to be a challenge if pursued as a capacity expansion option. Agency staff said that lower headways come with the risk of cascading delays or cancelled trips if something goes wrong with equipment, particularly when in service. When a mechanical failure occurs at a station or midway between stations, that can block trains further behind and ultimately make things go awry systemwide. Another less than promising finding is that adding capacity during evening hours could wind up being very unproductive.
Agency staff did note that the public surveyed in the fall indicated support for improvements that would result in more reliable and on-time service as well as new trips and longer trains. In terms of added trips, the public appear to be supportive of more trips during the evening, shoulder, and peak periods. Other supported improvements include more station amenities and better station circulation.
Agency staff explained that ridership is beginning to plateau, but that ultimate capacity is likely to be met by 2022. This means that adding capacity during the mid- and late-2020s will be especially important to keep up with demand, at least until the Tacoma Dome Link light rail extension opens. As previously mentioned, demand is expected to fall after light rail opens to Tacoma before ramping up again, making additional capacity expansion warranted in the middle to late part of the 2030s.
Committee members did ask about the level of confidence that agency had about when these timeframes would need the added capacity highlighted. Agency staff indicated that these ridership forecasts were very certain about need. One of the early ways proposed to meet increasing demand is the introduction of eight-car trains. Sounder South currently consists of seven-car trains, but the eight-car train option is a relatively inexpensive and quick stopgap measure to add seats on existing service. Agency staff noted that only King Street Station and Tacoma Dome Station can accommodate eight-car trains, which means that the eighth car will be limited primarily to Tacoma-Seattle riders and require special information campaigns to make riders aware that they will not be able to access other station platforms from the eighth car, but could enter or exit doors in the first six cars at other stations.
Around the middle to late part of the 2020s, Sound Transit would add additional trips and then 10-car trains around 2028. Additional trips, of course, are at the mercy of BNSF approval. Making the 10-car train option work will require lengthening other Sounder South stations, except for Seattle and Tacoma. That will take time to complete and could partially impact riders during construction. Even though King Street Station's platforms are long enough, the station area will need improvements to accommodate the additional presence of passengers. Another capacity expansion option during this timeframe are additional station access improvements in Lakewood and South Tacoma. Finally, moving into the 2030s, likely after 2032, Sound Transit could deploy additional trips.
One capacity option that was given no mention during the briefing by agency staff was the Amtrak RailPlus program. Sound Transit currently is authorized to allow ORCA passholders ride certain Amtrak Cascades trips between Everett and Seattle. The program has been in operation for many years, but has yet to make its debut to the southend where it could benefit some riders using stations at Tacoma, Tukwila, and Seattle. Seats routinely run empty for part of their journey on Amtrak Cascades due to the through-booking system used where seats are blocked for riders starting or ending their journey outside of the Central Puget Sound. Technically, the capacity option is an operational one since virtually no new infrastructure would be required. Only agency agreements need to be put in place, which would require subsidy payments from Sound Transit to Amtrak Cascades.
In the next several months, Sound Transit will decide on a course of action. Sound Transit is hoping to begin implementation of program project this summer and fall. That could include installation of new station access improvements at South Tacoma and Lakewood as well as platform extensions.

Stephen is a professional urban planner in Puget Sound with a passion for sustainable, livable, and diverse cities. He is especially interested in how policies, regulations, and programs can promote positive outcomes for communities. With stints in great cities like Bellingham and Cork, Stephen currently lives in Seattle. He primarily covers land use and transportation issues and has been with The Urbanist since 2014.