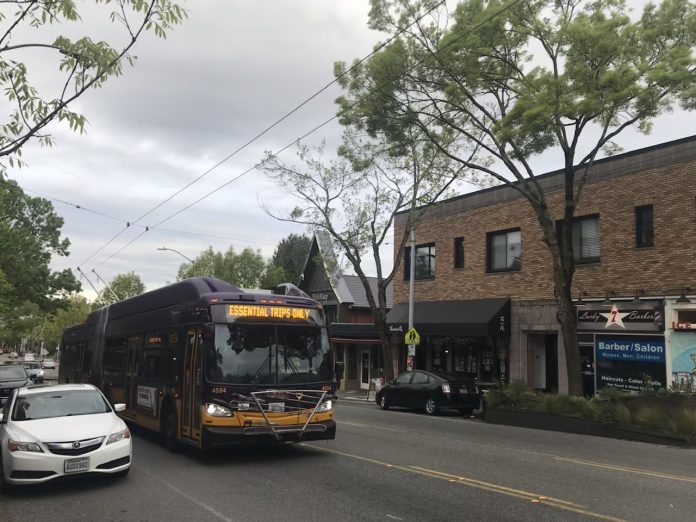 King County Metro has, for the second time since the pandemic started in earnest, restored some bus service as of Monday. The transit agency said that extra trips were being added to several routes because capacity restraints were leaving some riders on the curb, an indication that Metro may have cut too deeply. Metro also plans to extend fare-free service through the end of May, which is aligned with Governor Jay Inslee's extended stay-at-home order.
The extra trips come on the heels of three rounds of service cuts since mid-March when ridership began cratering in response to COVID-19 community spread in the region and the statewide stay-at-home order. Service cuts have primarily affected weekday service, resulting in nearly a 30% reduction of trips. The latest counts indicate that weekday bus ridership has somewhat stabilized at around a 73% drop over last year. That means there were about 100,000 rides per day from April 20th through 24th compared to 413,000 rides per day from the same time a year prior, the transit agency reports. Ridership that has remained appears to have consolidated on key routes serving communities that rely primarily on transit to get around, particularly in lower-income and dense urban areas where car ownership rates are lower.
Metro has reported that 15 extra buses are being provided for more frequent trips on Routes 7, 36, and 180 as well as the RapidRide A, D, and E Lines. This should help reduce the likelihood of riders being passed up on the curb by buses and aid onboard social distancing protocols. The extra buses will provide service on weekdays during the 10am to 5pm timeframe, but other times of day and even weekends are a concern for similar rider accessibility problems.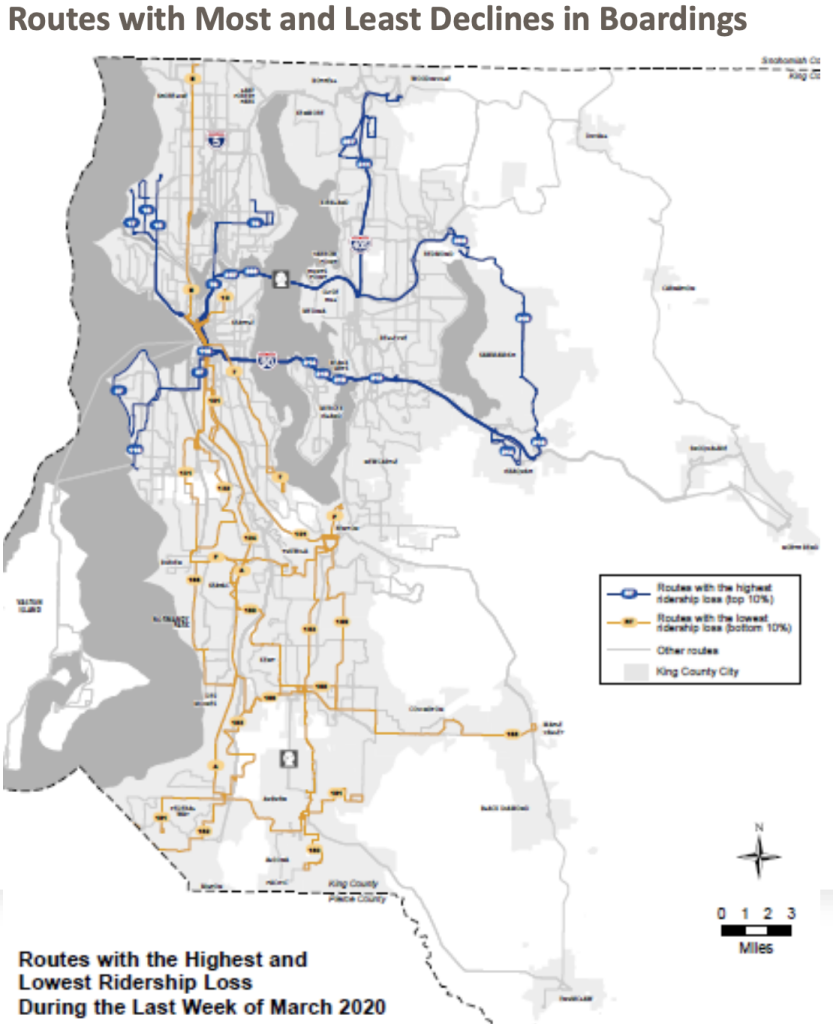 Where extra bus trips are going does seem to track fairly well with a recent report by Metro that shows where ridership has been strongest despite COVID-19. RapidRide Lines and local routes serving Southeast Seattle and South King County have seen ridership fall much less than other corridors throughout the county, according to Metro's ridership data.
This week, Metro and Sound Transit will also begin rolling out an additional public health strategy by installing signage in vehicles that instruct riders to observe social distancing protocols. Waterproof placards will indicate seats that are closed to aid in social distancing. These will be placed in seatbacks, Metro reports, so that family members can still sit next to each other even if a seat is technically closed. The signs should start appearing on the whole fleet of Metro buses and ferries as well as Link light rail trains, Sound Transit buses, and Seattle Streetcar trains over the next two weeks.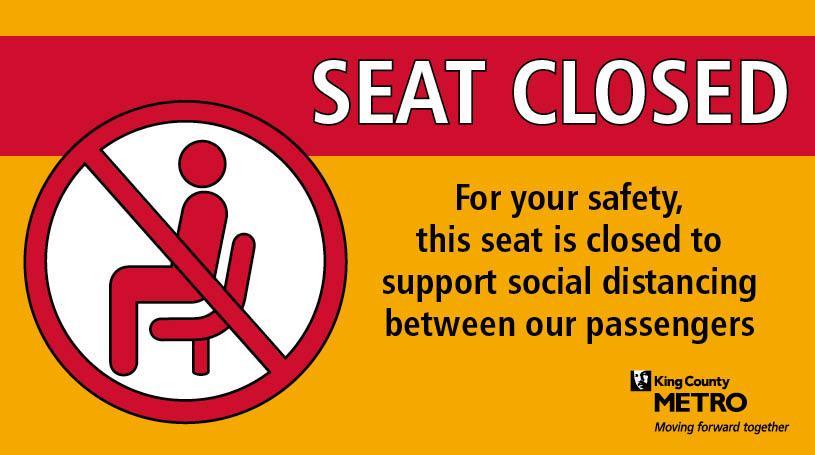 Metro has increasingly sought to protect riders and staff from COVID-19 transmission during the pandemic. Riders who feel sick or are exhibiting symptomatic respiratory illnesses asked to avoid riding transit. Riders are also required to wear face masks and use common cough and sneeze etiquette. Onboard, Metro has moved to a rear- and side-door boarding system to keep riders away from operators, except those who need accessibility features in the front. That has meant ending fare payment. Other strategies involve limiting capacity on buses to 12 riders on 40-foot buses and 18 riders on 60-foot buses, running onboard public health announcements, and adding electronic and static signage that transit is for essential trips only. Despite these precautions, several staff members have contracted COVID-19 and at least one operator has died of the disease.
With statewide stay-at-home restrictions being eased, there is a good chance that there will be more essential trips by riders, increasing the demand for transit service. Perhaps these additional trips are a sign that things have bottomed out, at least for now. But given the deep financial stress that COVID-19 is having on Metro and its regional transit partners through decimated sales tax receipts, responding to ridership may be a very challenging endeavor without additional federal cash assistance for operations.

Stephen is a professional urban planner in Puget Sound with a passion for sustainable, livable, and diverse cities. He is especially interested in how policies, regulations, and programs can promote positive outcomes for communities. With stints in great cities like Bellingham and Cork, Stephen currently lives in Seattle. He primarily covers land use and transportation issues and has been with The Urbanist since 2014.