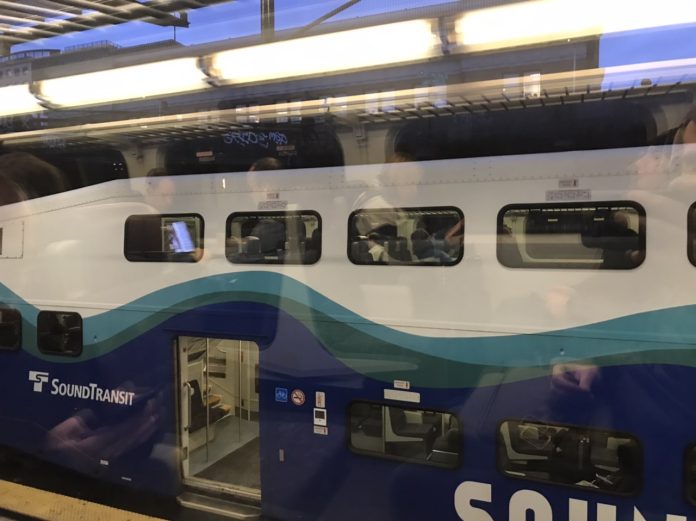 Sound Transit is moving ahead with the the South Sounder Capacity Expansion program and has approved funding to proceed with acquisition of additional passenger cars as soon as next year to expedite expansion. This is just a small piece, however, of a larger $1 billion capacity expansion program that will deliver incremental improvements through at least 2032.
The Sound Transit Board of Directors approved two companion actions for capacity expansion. The first is Motion No. M2020-27 which authorizes the transit agency to execute a contract for 11 passenger cars (three cab cars and eight coaches) at a cost of $42.23 million (up to $46.45 million with a 10% contingency). The passenger cars will be procured from Bombardier, a Canadian-based train manufacturer.
A second action (Resolution No. R2020-07) modified the total project budget by allocating the requisite funding necessary to procure the vehicles. The total project allocation for Sounder fleet expansion was increased to $100.28 million, up from $67.2 million. A separate resolution in 2019 technically had already approved funding of the three cab cars, so the new resolution is ultimately carrying the remaining balance for added procurement.
Bombardier is expected to deliver the vehicles in 2022 and 2023, allowing them to go into service shortly thereafter. Seven of the coaches will be added to existing trainsets, which will increase the total number of cars in each trainset from seven to eight. The current configuration of trainsets include one locomotive, six coaches, and one cab car. This procurement would bump that configuration to seven coaches. As part of this acquisition though, the eighth new coach will be retained as spare equipment while the cab cars are set aside for future use.

As a temporary operational measure, riders who use the eighth passenger car will need to board and exit from the seventh passenger car unless at King Street Station. That is because existing platforms are only built to accommodate seven passenger cars. Sound Transit does plan to right this issue of platform extensions at all stations prior to further expanding the size of trainsets later this decade, though King Street and Auburn Station present the biggest challenges in how to expand platforms.
The new Bombardier vehicles should complement the existing Sounder fleet which is entirely composed of other Bombardier vehicles that have been procured since 1999 with the last order arriving in 2016 and going into service in 2017. The fleet encompasses 67 passenger cars, split among 27 cab cars and 40 coaches, as well as 14 locomotives.
Bombardier was the only company to respond with a proposal to Sound Transit's solicitation for procurement of new vehicles. That proposal was considered to be a fair bid and met the specifications outlined for procurement. As part of the contract with Bombardier, Sound Transit will retain options to purchase 16 additional vehicles at similar negotiated costs and specifications, but it remains to be seen if that will be financially wise down the road.
In January, Sound Transit outlined several strategies to increase overall system capacity on the South Sounder corridor through at 2032. These strategies have now been finalized in a development and implementation plan published last month. The strategies outlined in the plan include:
Procuring additional vehicles and instituting eight-car passenger trainsets by 2024;
Expanding maintenance and storage space of vehicles in Seattle;
Expanding platforms at all South Sounder stations capable of handling 10-car passenger trainsets;
Implementing an additional trip in the mid-2020s;
Procuring additional vehicles and instituting 10-car passenger trainsets around 2028;
Implementing additional trips around 2032; and
Delivering other station access improvements throughout the program.
Aside from the target for seven-car passenger trainsets, most of the capacity expansion strategies are a bit squishy on timing. As ridership demand rebounds, Sound Transit hopes to keep up with capacity increases. Sound Transit will follow up the decade-plus period of capacity expansion of South Sounder with the line's second extension. Two more stations will be added in 2036 at Tillicum and DuPont, which are several miles south of the existing Lakewood terminus. The main issue with that project is construction of the stations and station amenities since the railway tracks are already in place, though additional track and signal improvements may be required.

Stephen is a professional urban planner in Puget Sound with a passion for sustainable, livable, and diverse cities. He is especially interested in how policies, regulations, and programs can promote positive outcomes for communities. With stints in great cities like Bellingham and Cork, Stephen currently lives in Seattle. He primarily covers land use and transportation issues and has been with The Urbanist since 2014.