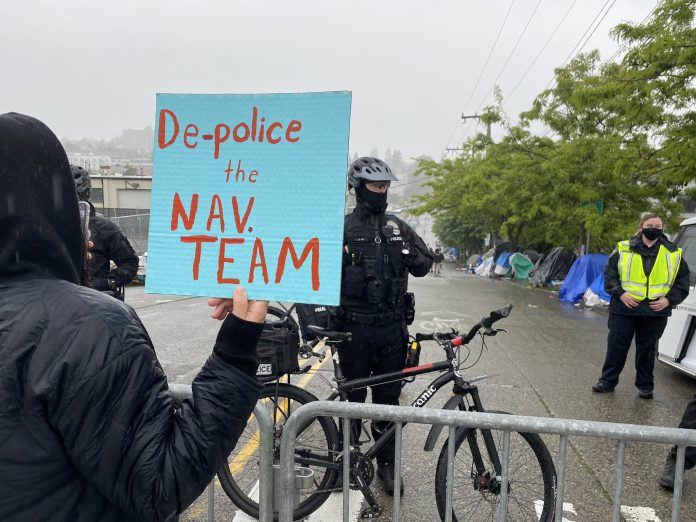 The Covid-19 pandemic has thrust the world into uncertain times. In the United States, the coronavirus has now claimed the lives of over 100,000 people. This devastating public health crisis has affected our region in particular. The first death linked to Covid infection happened in King County. Washington was the worst infection hotspot in the country until New York overtook us. Even as the death toll continues to climb, millions have lost their jobs as unemployment reaches unprecedented rates.
Stemming the tide of evictions
Legislators at all levels of government have scrambled to come up with a patchwork of temporary measures that are intended to offset the tremendous strain coronavirus has placed on our communities, neighborhoods, and families. Earlier this month, for example, the Seattle City Council unanimously passed an emergency ordinance that extends the eviction moratorium enacted by Governor Jay Inslee through the end of the year.
Unfortunately, we still have not yet seen substantial movement from the Governor's office on the prospect of a rent and mortgage moratorium, meaning tenants still face the daunting prospect of paying an accumulated rent balance at the end of the year. Despite this frustrating inaction, the City Council's extension on the eviction moratorium will genuinely help many Seattleites who are struggling to make ends meet from losing housing, especially those who have lost jobs and are now facing increasingly expensive childcare costs.
It remains to be seen whether the federal government will pass a housing and rent relief package, though it seems unlikely that the Washington Legislature, with its tendency to rush to budget cuts rather than pursue progressive revenue streams, will pass a corresponding state-level relief package either. Moreover, we still do not know when a special legislative session to address the state budget and the impacts of Covid will be convened.
A housing crisis long in the making
Undoubtedly, the coronavirus pandemic has impacted all aspects of our daily lives and our long-term goals. The housing crisis in Seattle has not been any different. If anything, Covid-19 has exposed just how much further we have to go in order to address the housing crisis and how urgently any and all solutions must be pursued.

While many have benefited from Seattle and King County's tremendous and rapid growth in the past several years, many more have been priced out and subsequently displaced from their homes and communities. For those already living in the margins, the city has become increasingly expensive to live and work in, let alone lay roots down.
In 2018, the PSRC calculated since 2010, job growth has increased by 21% and our population has grown by about 12%. Meanwhile, the availability of housing has not grown at a proportional or adequate rate, with the housing stock only having grown by about 8%. These discrepancies are only amplified due to the effects of Covid. Even before the coronavirus arrived in the United States, we needed to "up" housing production significantly to meet the needs of our community. Reports commissioned by King County indicate that our region has to build 44,000 new affordable homes every five years to adequately address the growing need for affordable housing.

The state of housing in King County was already dismal before this public health crisis, with nearly one in three households being "cost-burdened." That means that many–renters and homeowners alike–are spending over 30% of their income on housing costs. When families are spending almost half of their earnings just to keep a roof over their heads, other essential expenses like food, childcare, and healthcare costs can quickly become overwhelming. It has been reported that over half of all adult renters in the United States have delayed medical care because of the cost associated with healthcare. While it may not be surprising, an overwhelming majority of renters say that rent is consistently their most important bill.

While the state of the housing crisis has been bleak since well before the coronavirus came to King County, COVID-19 does represent an extraordinary opportunity to address the fundamental needs of our region. To do so, however, we need to survive this public health crisis as a united community. There are immediate steps that our city can take to mitigate the impacts or coronavirus on housing while simultaneously setting us up for long-term solutions that are desperately needed.
A policy moment for rental assistance?
One such temporary measure is rental assistance, which we briefly touched on earlier. A new federal survey finds that one-fifth of Americans fear that they will not be able to make their June rent or mortgage payments. Immediate rental assistance will go a long way in keeping our neighbors in King County housed.
For perspective, someone working at minimum wage in King County would have to work over 90 hours a week to afford the average, market-rate two-bedroom apartment. Low-wage earners like those in the gig economy or who work on hourly schedules are keeping what's left of our grocery stores and other essential businesses. Given that the majority of these workers are typically renters, they, along with out of work employees and small business owners, can all directly and materially benefit from rental assistance.
At the federal level, the HEROES Act intends to provide $100 billion in emergency assistance to help low-income renters at risk of homelessness avoid eviction. The HEROES Act has been approved by the House of Representatives, and awaits consideration by the Senate. This critical funding could be used for short- and medium-term rental assistance as well as housing-related costs, like utility bills and deposits. While it was approved in the U.S. House, it is unlikely to pass muster in the Senate without a tremendous amount of public support and pressure. Organizations like the National Low Income Housing Coalition are asking individuals and organizations to urge Washington's Senators to support the bill as it makes its way to the Senate floor.

While the federal government remains in gridlock over a second stimulus package, our state legislature cannot decide on when (or if) to call a special session to order for the purposes of adjusting the state's budget to account for the strain of Covid. The fact is that many communities and families cannot wait for legislators at state and federal levels of government to pass relief packages. Rental assistance is especially necessary for the organizations that provide supportive housing for low-income households. With minimal margins, unpaid rents threatens solvency of nonprofit subsidized housing. To meet urgent demands, many non-profit housers and organizations, like Capitol Hill Housing, have developed their own resilience funds for vulnerable residents. Coupling these emergency funds with rental assistance programs from local governments can and will help many whose housing situations are at risk or have been destabilized because of the coronavirus pandemic.
Homeless sweeps continue despite CDC guidance
Some of our most vulnerable people in our community, however, are those who are not housed or sheltered. Just last week, the Seattle Police Department (SPD) and Navigation Team swept two encampments in the Chinatown-International District (CID) where dozens of houseless people were living. Thursday's sweep, which targeted the encampment on Weller Street between 12th and Rainier, was attended by a handful of community organizers, local activists, and neighborhood leaders.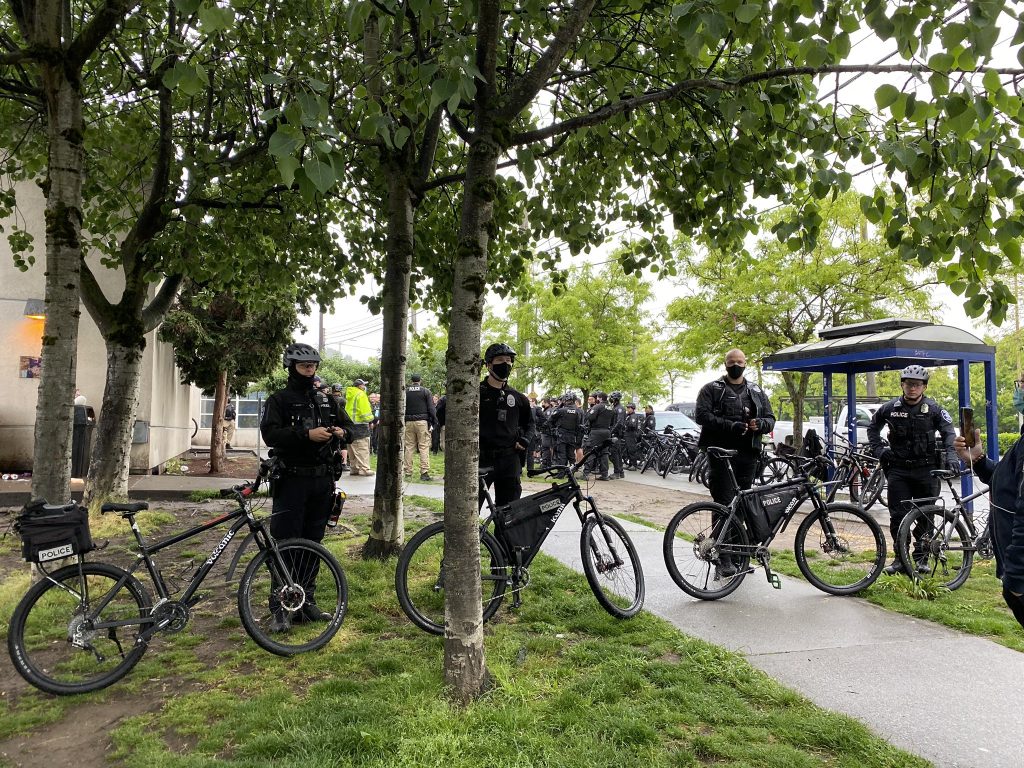 These community members were prevented by SPD officers from distributing masks, gloves, hand sanitizer, and plastic bags to help unhoused people collect and move their belongings. Social workers from REACH, a division of Evergreen Treatment Services, were prevented from entering the cordon zone and assisting unhoused folks get connected to shelter space, food, and sanitation supplies. Later, a dump truck from Seattle Parks and Recreation arrived on scene, and the majority of the encampment's tents and peoples' personal belongings were dumped into the truck. 

These actions were loudly decried, not only by the community members at the scene, but later by many Seattleites as photos and videos from the sweep made their rounds on social media. Some pointed out that the cops present were not obeying social distancing guidelines nor wearing masks properly to protect people around them. Community groups and organizations like the CID Coalition, PARISOL, and Real Change News have since circulated signature petitions to ask that City Hall put an end to the sweeps of houseless encampments, particularly as a global pandemic continues to escalate. In fact, the CDC recommends that no sweeps of any encampments take place unless there are adequate, reliable, and clean housing and shelter options. Seattle's shelters are at capacity, and by continuing these sweeps, the city might very well be exacerbating our public health outcomes.
Councilmember Morales offers bill to rein in sweeps
Seattle City Council's Select Committee on Homelessness & Housing Affordability met yesterday to consider a bill sponsored by Councilmember Tammy Morales (who represents Seattle's Council District 2) which calls for the stoppage of sweeps of encampments for the duration of the Covid crisis. The emergency ordinance is co-sponsored by Councilmembers Kshama Sawant (who represents Council District 3) and Teresa Mosqueda (who represents the city-wide electorate in Position 8). The stop-the-sweeps legislation had already drawn sharp criticism from the Mayor's Office, particularly in the form of an inflammatory letter penned by Deputy Mayor Mike Fong, which we were able to read courtesy of journalist Erica C. Barnett. In this letter, Fong states that Morales's bill is "as poorly drafted and analyzed as [he's] ever seen."
Despite a five hour long committee meeting that encompassed a wide spectrum of opinions in public comment, committee chair Andrew Lewis (who represents Council District 7) has opted to postpone a vote on Councilmember Morales's legislation until June 10th. A full council vote will take even longer. Councilmember Lewis cited that it appears that the Mayor's Office is deeply opposed to signing the legislation in its current iteration, and believes that the Council and the executive branch can work collaboratively to update the policies and multi-department rules that govern the Navigation Team's sweeps.
Unfortunately, neither the Mayor's Office nor the Human Services Department have, of their own initiative, imposed greater restrictions on sweeps involving the Navigation Team; rather, they have trended in the direction of greater frequency and fewer restrictions. Until June 10th, the Navigation Team will continue to operate at status quo in deciding when and which encampments to sweep, despite the ongoing pandemic.

In light of yesterday's disappointing committee meeting, public efforts to stop the sweeps will only escalate. Sweeps of encampments present a credible danger to our community's public health. Furthermore, sweeps are a costly practice relying on a disproportionate amount of police officers on site. Sweeps represent the worst instincts of a city obsessed with its public image. Rather than spending money on supportive housing programs and getting houseless folks connected to case managers or mental health professionals, sweeps simply relocate encampments while disrupting relationships that unhoused people might have formed or be forming with social workers.
In the coming weeks, we will see if the Seattle City Council can muster the political will to deliver Councilmember Morales's bill to Mayor Durkan's desk. If the legislation passes, it will give us an insight into a post-pandemic future where the city is spending more money on addressing the root causes of homelessness, rather than punishing those who dare to be poor in public.
Covid can be a turning point in the fight for housing justice
If we are able to do these two things: pass local rental assistance relief packages and stop the sweeps of houseless encampments, we will have taken tremendous steps to protect our most vulnerable neighbors whose housing instability has only worsened because of Covid. Taking these steps will poise us for success in undertaking longer-term projects that will more effectively address the housing crisis in Seattle. One such project includes increasing access to hygiene stations and sanitation products. While the effort to expand hygiene centers across King County is commendable, hygiene programs should be a stable presence in our communities. It should not require a global pandemic for our elected officials to prioritize the basic health and safety of all our community members, especially those for whom access to showers and hygiene products can truly affect their employment and housing stability.

Above all else, we must be careful not to rush back to the status quo that allowed an urgent housing crisis to develop pre-pandemic. Organizations that provide shelter to individuals and families have found success in experimenting with innovative partnerships to provide shelter for more and more people. Their success is just more evidence to support the principle that a "housing-first" approach is the best way to keep people sheltered, especially if these housing projects are publicly-funded, and coupled with an emphasis on wrap-around social services, climate protocols, and generating good union jobs for our community.

As we emerge from one of the most unprecedented times in recent history, we must ask ourselves: what will be our new normal?
For too long, we have relied on measures that have proved to be insufficient to meet the growing challenge of ensuring housing for all. We have penalized our unhoused neighbors for the crime of being poor in public while becoming comfortable with the trend of increasingly more working-class people of color becoming farther and farther displaced from the urban core.
While Covid is an incredible challenge to our communities' well-being, we have the tools at our disposal to meet this challenge. We can help those most at risk of housing instability and treat our unhoused neighbors with compassion. And we can learn from our best practices to radically and fundamentally recommit to the project of building social and public housing (not merely "affordable" housing dictated by the whims of the private market) that will keep more people closer to the dense, urban core that we are lucky enough to call home.
The Crossroads is a new monthly column. At the core of urbanism is the desire to see our cities become more accessible, sustainable, and equitable. Meanwhile, Seattle is home to incredible activists and community leaders who are organizing around racial justice, the climate crisis, disability rights, the labor movement, and so much more. This recurring column will attempt to put urbanism into conversation with all of these intersectional issues and will feature many different guest co-authors.