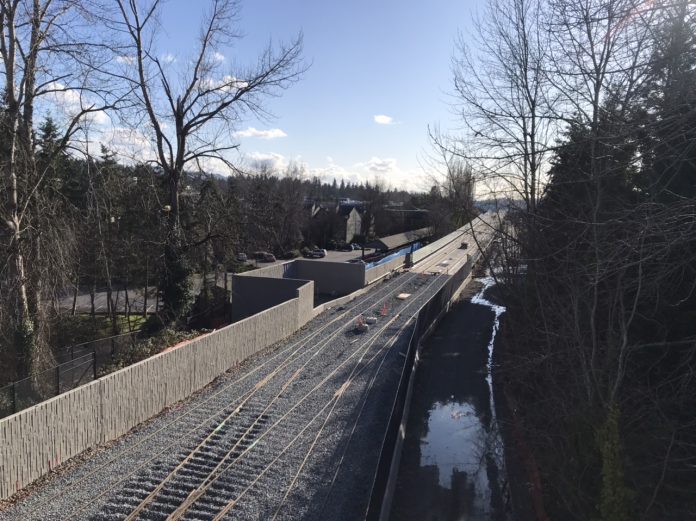 With inevitable fallout from the pandemic, Sound Transit has pushed ahead with a program realignment process for voter-approved Sound Transit 3 projects. In a meeting on Thursday, the Board of Directors Executive Committee met to discuss which criteria should be used to screen program realignment, if projects need to be modified or delayed. A preliminary motion on criteria passed out the committee without recommendation to the full board alongside a companion motion to study scenarios with more financing resources.
At an earlier workshop meeting, the Sound Transit Board of Directors were briefed on likely budget challenges facing the transit agency in the years ahead and options that could be sought to keep the overall Sound Transit capital program affordable. That could include a mix of new taxes, better financing tools, trimmed project scopes, and splitting up or delaying projects. Another promising option is simply increasing debt capacity, which would eliminate affordability issues on the horizon. Future state and federal governments could be much more transit-friendly, too, pumping significant sums of grants into the hands of the transit agency.
During Thursday's briefing, agency staff emphasized again that delaying the entire Sound Transit 3 capital program would ensure the whole program is affordable. That would stop major expenditures across all subareas and allow tax receipts to pile up in the bank while the recession works itself out. That could, however, mean no new major transit expansions until 2030–six years after the Sound Transit 2-funded Lynnwood Link light rail extension opens. The option seems like political suicide and likely dead on arrival, but agency staff provided them nevertheless to show that affordability could be solved in a single program decision.
Agency staff also provided a slide showing eight initial criteria that the board could consider in making program realignments. These criteria touch on objective and subjective measures to screen projects. They include things like the ridership potential, connection to Regional Centers, and possibility for third-party funding of specific Sound Transit 3 projects.
The process screening process that agency staff has outlined, includes the following:
Develop the criteria framework;
Build out program realignment scenarios;
Present scenarios to board for review;
Refine program realignment scenarios;
Repeat review by the board; and
Adjust program schedules and funding.
The overall process would seek to create affordable program realignment scenarios that include a severe recession scenario. It would also include consideration of how to maintain shovel-readiness for projects in the event that the situation improves on the horizon to deliver projects earlier, such as a windfall in state and federal grants or other third-party revenue.
Executive Committee Chair Kent Keel started his remarks by saying it is "not a question of if, but a question of when" capital projects should be reshuffled to deal with financial realities ahead. The sooner a program realignment plan could be devised by the board, he said, the better off the transit agency would be in resetting Sound Transit 3 in a smart way. To allay some concerns, Chair Keel also emphasized that program realignment would not entail cutting major projects from the overall plan.
Turning to the criteria for program realignment, Chair Keel shared his draft motion (Motion M2020-36) containing eight criteria, which are based off of agency staff-compiled criteria presented at the previous meeting. Five of the criteria are core development principles for Sound Transit 3 and the other three criteria are additional considerations that agency staff provided. Five other criteria that agency staff presented (i.e., operability, sequencing, constructibility, readiness, and equity) did not make the cut. Initial screening criteria for system affordability and subarea affordability also went unmentioned.
Several members of the committee commented on the proposed criteria. Roger Millar, a member of the board and Secretary of the state transportation department, said that he was "not really enamored by the project tenure criteria." He explained that in his agency, many of the longest projects sitting around on the shelf were simply reflective of the fact that were not a priority. Millar suggested the same situation could apply to some project on the Sound Transit 3 project list, but he did not name any specific projects that might fit that bill. Separately, Millar wondered why subarea equity was not a listed criteria despite being an agency-wide foundational principle.
King County Executive Dow Constantine then weighed in agreeing with Millar on the project tenure criteria. He said that many communities to be served by projects would not fit the bill for project tenure since they were not specified in the original Sound Move (Sound Transit 1) measure, despite having been rapid transit candidates as far back as the failed Forward Thrust measures in 1968 and 1970. One could argue that communities like Ballard and West Seattle have been waiting patiently much longer than Tacoma or Everett, but the proposed criteria would dismiss that fact. Constantine was ultimately of two minds, saying that the criteria would be used as "talking points" among boardmembers to support projects they perceive as the highest priority and that getting "hung up on one criteria" was not necessarily useful in the larger exercise in determining program realignment.
Paul Roberts, an Everett City Councilmember, said that he was generally supportive of the agency staff-compiled criteria and hit back against Millar's assertion that the tenure criteria may be unwarranted. Roberts predictably argued that Everett has been waiting a very long time for light rail to arrival, not mentioning that Snohomish County put all its eggs in the Sounder basket in the original Sound Move measure rather than building out light rail sooner. Saying that project tenure was an important criteria for communities, he essentially argued his way for completion of the spine to Everett.
Taking a very different tact, King County Councilmember Claudia Balducci suggest that the "first and primary consideration" that the board should have is what level of service should be provided through transit, including when and how to deliver it. She was concerned about criteria and more interested in mapping scenarios out so that boardmembers could clearly see the implications, things that screening matrices and tables might not do as well. Balducci said that by doing so, could the board could ask questions like how a program realignment could serve the most people or the most places, or provide the most amount of services as soon as possible before funding is tapped out.
Councilmember Balducci also echoed sentiments of her colleagues that Sound Transit could build out stations but hold off on fully completed light rail tracks until funding became available, operating exceptional bridge bus service in the interim. If program spending cuts were necessary, she said that the board could do this in stages rather than a blanket set of cuts since the future is fairly murky.
Rounding out the committee members for general discussion, Pierce County Executive Bruce Dammeier said that he generally supported the draft criteria. He was especially supportive of the ridership potential, connecting centers, and completing the spine criterions. Though, Dammeier emphasized that recent events with pandemic, employment, and social unrest over racism made socio-economic equity a timely and relevant criteria to consider for program realignment.
Chair Keel had hoped that the committee members would support his motion as-is with the staff-compiled criteria. However, some members opposed wholesale adoption of the motion. Councilmember Balducci said that it felt as if the committee was moving too quickly on deciding criteria without the input of the larger body and that there was not enough information to know if these criteria were the right ones. Executive Constantine agreed, suggesting that it would be a risky move if the criteria would later create Board of Directors-wide dissatisfaction with realignment scenarios and decisions down the line.
Hearing these and other opinions, Chair Keel moved a modified version of his motion for adoption that would send it to the full board, but without a recommendation on the listed criteria. This would ensure that program realignment criteria would appear before the full board meeting this month, but allow time for members to weigh which criteria they want in a final motion–possibly criteria not already contained in the list. Keel also noted that he wants agency staff to come up with multiple realignment scenarios that account for different revenue situations. A severe recession is just one possible scenario, but a moderate recession, third-party revenue, and change in debt capacity could greatly change the equation.
Relatedly, Executive Constantine proposed a companion motion (Motion M2020-37) that would direct agency staff to develop program realignment scenarios based upon additional financial resources. Specifically, the scenarios would need to consider different outcomes where tools such as state or federal funding, or increased debt capacity support capital program objectives. Constantine seemed particularly optimistic that federal funding could come through in the years ahead. His motion passed to the full board with recommendation for adoption.
Later this month at the full board meeting, the Board of Directors will weigh what the final criteria framework motion looks like and whether or not to proceed with the alternative financing motion. Then in the summer and fall period, Sound Transit hopes to proceed ahead with development of realignment scenarios based upon those motions for further board consideration and refinement. Taking this another other factors into consideration, Sound Transit expects to provide an updated financial plan in the fall and a transit improvement plan in the winter, which will both be predicated on a program realignment plan–whatever that end up looking like. But so far, there is little clarity on where the board is headed on the overall effort with many ideas still hanging in the air.

Stephen is a professional urban planner in Puget Sound with a passion for sustainable, livable, and diverse cities. He is especially interested in how policies, regulations, and programs can promote positive outcomes for communities. With stints in great cities like Bellingham and Cork, Stephen currently lives in Seattle. He primarily covers land use and transportation issues and has been with The Urbanist since 2014.