Mayor Durkan and Police Chief Carmen Best remain at odds with the City Council over reducing the police budget.
The Capitol Hill Organized Protest (CHOP) is now only a memory, but public discourse around defunding the Seattle Police Department (SPD) remains in the spotlight as sharp divisions persist between Seattle City Council and Mayor Jenny Durkan, who continue to present different positions on defunding SPD.
Both have pledged to decrease SPD's budget and shift certain services, such as 911 dispatch, out of the police department's control; however, the City Council has been much more bullish about defunding the police, with a veto-proof majority of seven out of nine Seattle City Council members voicing support for activists calls to reduce the SPD budget by half this year–only Councilmembers Debora Juarez and Alex Pedersen are holdouts against the 50% call. In contrast, Mayor Durkan has not backed down from her initial proposal to reduce SPD's budget by about 5% for the remainder of the year, and she recently laid out a plan to reduce SPD's budget by $78 million, or about 20%, in 2021.
During a press conference in which Mayor Durkan was visibly upset over councilmembers' declaration of support for a 50% budget reduction, Durkan accused the councilmembers of advocating for "blunt budgets cuts" without having engaged in the necessary data collection, analysis, and preparation to transition to a new "model in policing."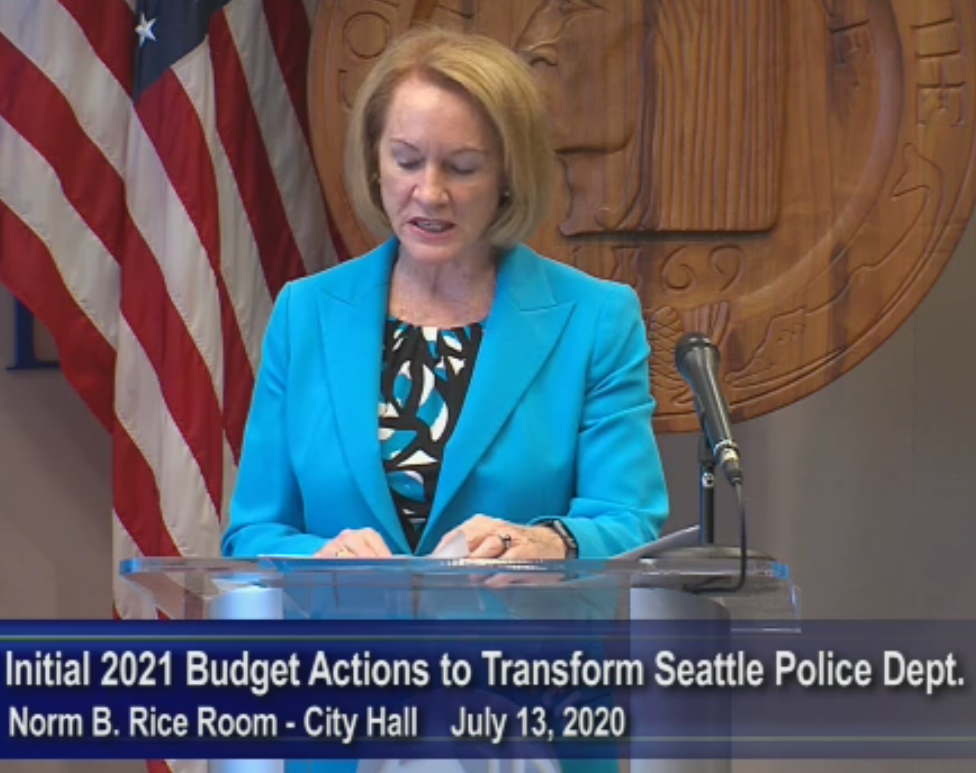 "You can't govern by Twitter or bumper sticker. Community safety is too important," said Mayor Durkan, who also criticized the council members for not engaging in discussion with Seattle Police Chief Carmen Best before declaring support for activists' demands.
Chief Best, a thirty-year veteran of the SPD, has been outspoken about her opposition to defunding the police department. "It is reckless to advocate for this type of cut that has been proposed by the City Council especially with no time or plan to have a realistic alternative response in place," Best said. "Let me be clear. I will not choose to fire officers. But if they leave me in this circumstance I will have no other choice."
However, the some members of the City Council, including Councilmember Dan Strauss (D-6) were quick to rebuke the Mayor's criticism that the Council was moving forward with defunding the police without engaging in planning beforehand.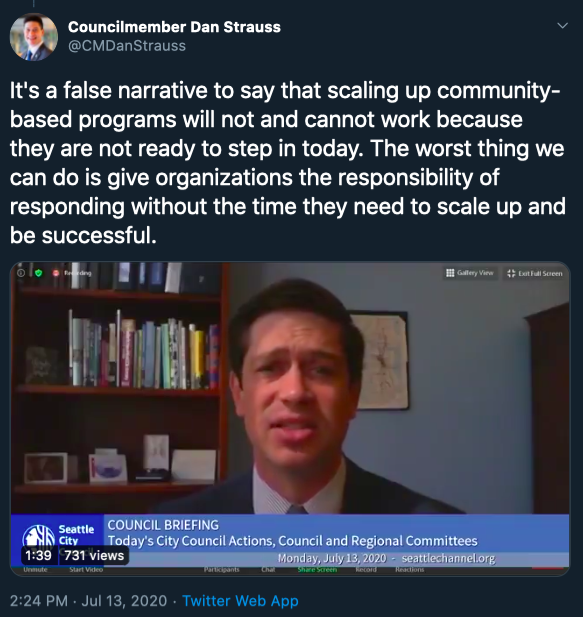 "We are clearly defining where these cuts are coming from so we are not taking a percentage off the top of the budget," Strauss said in a video statement released on Twitter. "We need and we are using a scalpel, not an axe, to change how we provide public safety."
Councilmember Lisa Herbold, chair of the City Council's Committee on Public Safety and Human Services, also defended the council's current position on the budget on Twitter. "The Council is continuing to work through the SPD budget and we are in the very beginning stages of developing proposals," wrote Herbold.
With the release of Mayor Durkan's plan for a $78 million budget decrease for SPD in 2021, the pressure will be on City Council to present their plan for defunding SPD sometime soon, but questions remain over how much their plan will differ from Durkan's proposal. With activists like the King County Equity Now Coalition and Decriminalize Seattle already heatedly criticizing Durkan's statements and proposal for defunding the SPD, advocates expect the City Council to devise a bolder plan.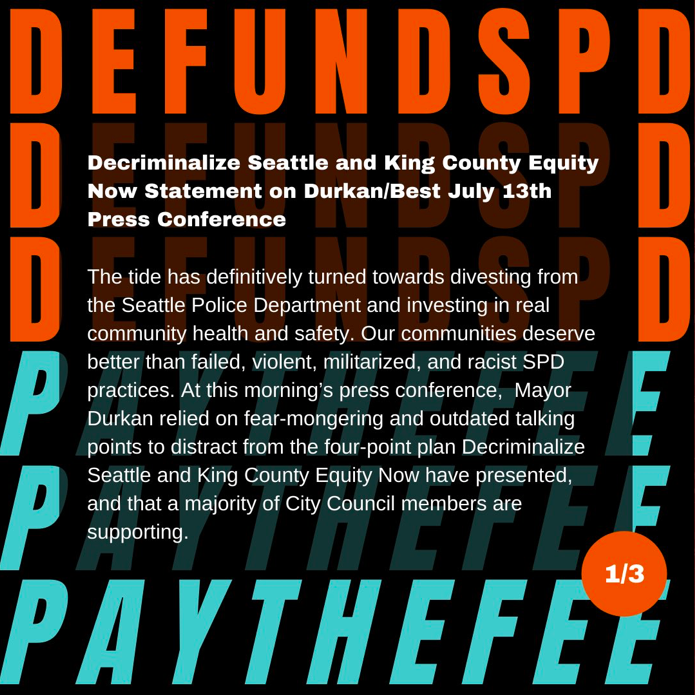 How Does Durkan Plan to Defund the Police?
It is likely the the timing of Mayor Durkan's recent proposal to reduce SPD's budget in 2021 was accelerated by fears that the council would continue advancing plans to SPD's budget by 50%. Previously when Durkan had committed to reducing the SPD's budget by $20 million (5%) for the remainder of 2020, she had promised to develop 2021 budget scenarios for cuts of 20%, 30%, and 50% to share with the City Council and public by the end of July.
However, while Durkan referenced the need for data collection and analysis several times during her unveiling of her proposed SPD budget for 2021, she did not reference whether or not work was being completed on these budget scenarios. She also reasserted her position that she was not open to making any further reductions to SPD's remaining budget for 2020.
So what exactly is Durkan proposing to remove from SPD's budget? For starters, she is proposing removing 911 dispatch from SPD into a new civilian controlled department, likely the Office of Emergency Management, which is also being removed from the SPD. These changes are notable because removing 911 from the SPD was the first in a list of a Four Point Plan put forth by activist groups Decriminalize Seattle and King County Equity Now, which has received support from councilmembers–Councilmember Andrew Lewis had already proposed it. Additionally, Durkan has also proposed moving parking enforcement into SDOT and making the Office of Police Accountability independent from SPD.
The changes described above would amount to defunding the SPD by about $58 million; however, the move would be largely revenue neutral since no service cuts in these areas have been proposed.
In fact, very few–if any–actual budget cuts are part of Durkan's proposed plan. The additional $20 million defunded from SPD would result from a hiring freeze and reductions in overtime. Cutting more funds from the SPD budget would need to come in the form of layoffs, since according to data parsing by SCC Insight 82% of SPD's current budget expenses are directly personnel-related and another 14% is administration and interdepartmental services that scale to head count, roughly speaking.
Chief Best has pushed back hard against any potential layoffs of officers, arguing that the department's requirement to follow a "last in, first out" model for layoffs would reduce the officer diversity since the officers of color tend to be younger and newer to the force.
However, Councilmember Herbold openly questioned this lay-off policy on Twitter, stating that the "Chief can request the Public Safety Civil Service Commission ED for permission to lay off 'out of order' when doing so is in 'the interest of efficient operations of his or her department.'"
During her remarks, Durkan returned often to the need for more data collection and analysis before further reductions can be made SPD's budget, and pledged that an assessment of "how many officers we actually need to respond to calls throughout the city" would be completed before any layoffs took place.

In terms of abolishing the SPD, the Mayor was unequivocal in her dissent. "We will not support any effort to abolish the police department or cuts that will compromise the chief and SPD's ability to serve the people of Seattle," she said.
When questioned by journalist Omari Salisbury of Converge Media about how much she had engaged with community members before creating the proposed budget, Durkan stated that had been meeting with Black-led organizations throughout the process of making the budget. The Mayor attempted to support that statement with a list provided to Salisbury, which he shared on Twitter.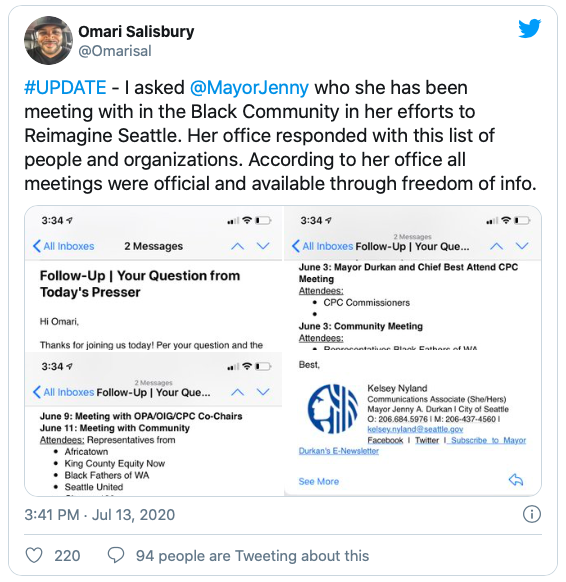 "I don't believe any mayor or any chief should just meet with people they agree with or with people they deem legitimate," Durkan said.
A chorus of leaders with the Defund movement sharply questioned whether the Mayor's action matched her lofty words. "[Y]our community engagement is inauthentic and disingenuous. And in some instances, you are straight up lying," Nikkita Oliver said to the Mayor in a tweet.
Oliver and others pointed out that on several occasions Black activists were not formally invited to meetings with the Mayor's office. They had to invite themselves or found that that informal meetings with individual members were being counted as official meeting with the organizations they were associated with but not leading or representing in an official capacity, she said.
In terms of support for community programs like activist Oliver's Creative Justice, which works to disrupt the school-to-prison pipeline, Durkan referenced the need to increase funding, but held fast to her previous offer of $100 million in new spending. The Mayor has yet to offer specifics on the source of the $100 million in funding she has promised communities of color, despite herself criticizing the council for a lack of specifics and otherwise highlighting the need for cuts to due to the Covid recession.

Is It Possible for the Two Sides Agree on a Final Budget?
It was clear by her statements that Mayor Durkan is upset that a majority of councilmembers voiced support for defunding SPD at 50% without first demonstrating where those funds would come from. At the same time, some members of the City Council expressed dismay at how SPD handled recently protests against police brutality and systemic racism, and Councilmember Kshama Sawant (District 3) even urged Mayor Durkan to resign over her role in how the protests were handled by SPD. Durkan later requested in an open letter that the City Council conduct an investigation into Councilmember Sawant's "contemptuous behavior," but the request for investigation was declined by Council President Lorena Gonzalez.
Is it possible for two sides engaged in such contentious debate to agree on a budget by September? According to Salisbury, it might be likelier than Seattleites expect.
In a June 10th, Morning Update entitled "Is there common ground between community organizers and police?" Salisbury compared statements from Nikita Olivier and Police Chief Best, highlighting how both call for the need to develop new and better solutions for dealing with common social problems like mental illness. "I'm always trying to build bridges when possible and it seems to me, at least on this topic of police responding to mental health issues, we find that the defund SPD movement and Chief Best might very well be on the same page or close to it," Salisbury wrote in an accompanying article.
And while councilmembers might be unhappy with a 20% cut for 2021, they may also find that defunding SPD at 50% might be more difficult than anticipated. SCC Insight analyzed about 20 years of the SPD budget and found that the SPD budget has generally kept pace with the City budget as a whole, meaning that unless services are eliminated those costs will be moved from SPD to new programs and departments.

SCC Insight also analyzed specific expenditures over the same time period, and came to the conclusion that "[t]here will be difficult choices to be made in where to place those cuts," particularly if the goals to free up funding to reinvest in community-based programs and services. For instance, after the tear gassing of protestors, many activists have called for deep cuts to SPD's equipment budget including elimination of spending on crowd control equipment. But all equipment, falls under the category of "discretionary spending," which only amounted to about 1.2 percent of SPD's 2020 budget. If the SPD budget is to be defunded at a deeper level, significant reductions are going to need to come from the elimination of personnel and services. So far the proposal on SPD defunding presented by Mayor Durkan largely avoids making those difficult choices, placing the dilemma on the shoulders of the City Council.
Will the councilmembers argue for deeper and bolder cuts to SPD's budget in both the near and long term? Will they present additional ideas for restructuring services so that fewer fall under the banner of the police force? And if the City Council does engage in bolder action, will enough councilmembers remain on board to assert a six-vote majority that withstands the Mayor's veto?
At this point it is difficult to say what events will unfold next in what has already been a year full of surprises.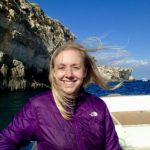 Natalie Bicknell Argerious (she/her) is a reporter and podcast host at The Urbanist. She previously served as managing editor. A passionate urban explorer since childhood, she loves learning how to make cities more inclusive, vibrant, and environmentally resilient. You can often find her wandering around Seattle's Central District and Capitol Hill with her dogs and cat. Email her at natalie [at] theurbanist [dot] org.